Thinking of switching to Plusnet Full Fibre 74?
In this article, we've reviewed our experience with Plusnet Broadband, since joining them in 2019.
We've discussed Plusnet's customer service, Wi-Fi router, and value for money, and we've also performed speed tests of our Full Fibre 74 connection.
Before we begin, check out the Plusnet website to see what broadband speeds they offer at your address.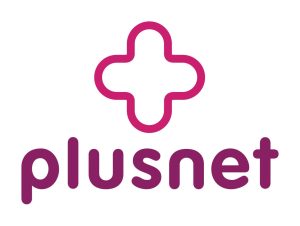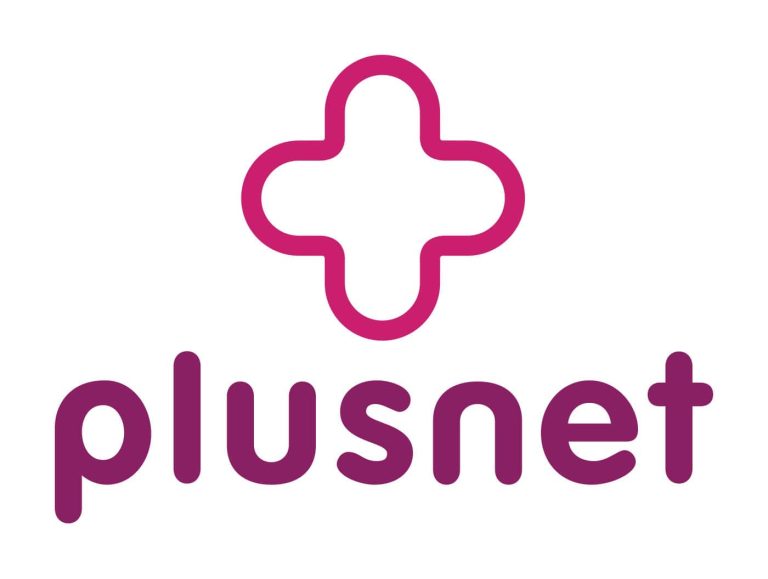 Average upload speed
20 Mbps
Contents
Plusnet Broadband overview
| | |
| --- | --- |
| Brand | Plusnet |
| Name | Full Fibre 74 |
| Average download speed | 74 Mbps |
| Average upload speed | 20 Mbps |
| Contract length | 24 months |
| Our rating | 4.3 (out of 5) |
| Price | Check on Plusnet |
Plusnet Broadband is a subsidiary of BT. This means that their broadband deals are quite similar to those of their parent company.
No matter whether you order BT or Plusnet Broadband, you'll get the same Hub 2 router, and you'll speak to the same UK-based customer service team when you call them up.
The difference is, Plusnet is positioned as a more budget-friendly broadband provider.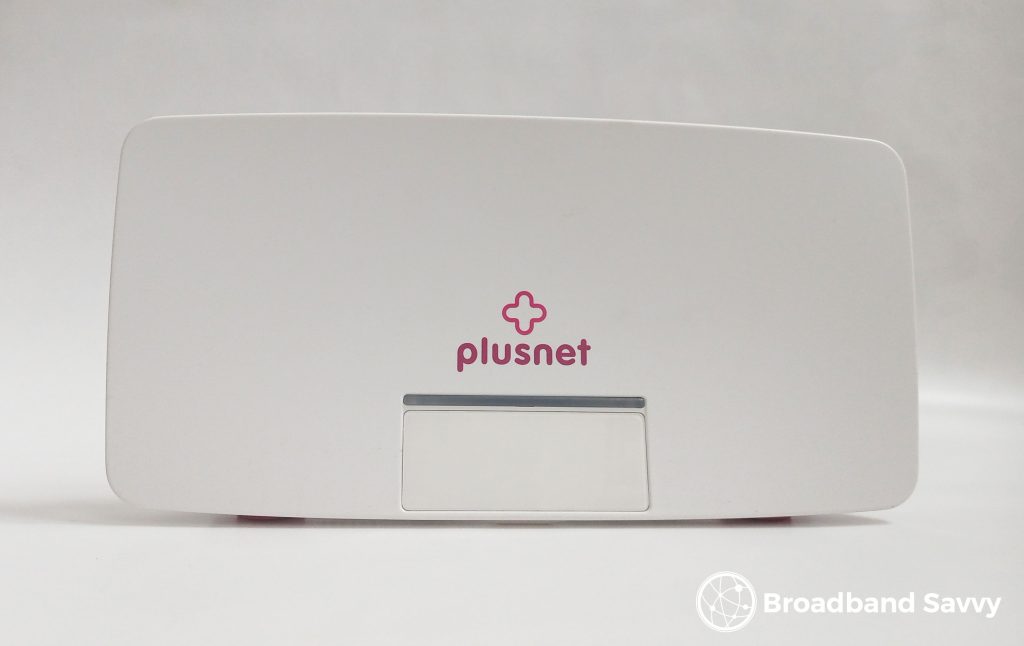 They don't have much in the way of add-ons, such as TV deals or calling packs – you can't actually get a landline phone service with Plusnet full fibre. But as a result, their monthly costs are cheaper, and their upfront fees are normally a bit lower as well.
Plusnet uses the Openreach broadband network to provide broadband service. This means that it's easy to switch to them from another Openreach provider, like Sky, TalkTalk, BT, or Vodafone. Plusnet will handle the cancellation of the old connection once you place an order.
You can get ultrafast download speeds with Plusnet of up to 900 Mbps, if available in your area. We are currently using their superfast Full Fibre 74 tariff, which offers speeds of up to 66-74 Mbps in most areas.
From testing other postcodes, we have found that Plusnet advertises this broadband deal with different download speeds depending on where you live. You can use their website to find out exactly what speeds you'll get at your address.
Why we chose Plusnet Full Fibre 74
Prior to joining Plusnet back in 2019, we were with Sky Broadband.
We made the switch because we were experiencing inconsistent download speeds with Sky, and moving to Plusnet allowed us to upgrade to a faster broadband plan.
We chose Plusnet because we had heard good things about their customer service – having access to good UK-based customer support was quite important to us. They also offered reasonable monthly costs compared to most other providers.
We decided to go for Full Fibre 74 because it was the fastest broadband package available from Plusnet at our address.

Plusnet Broadband ordering process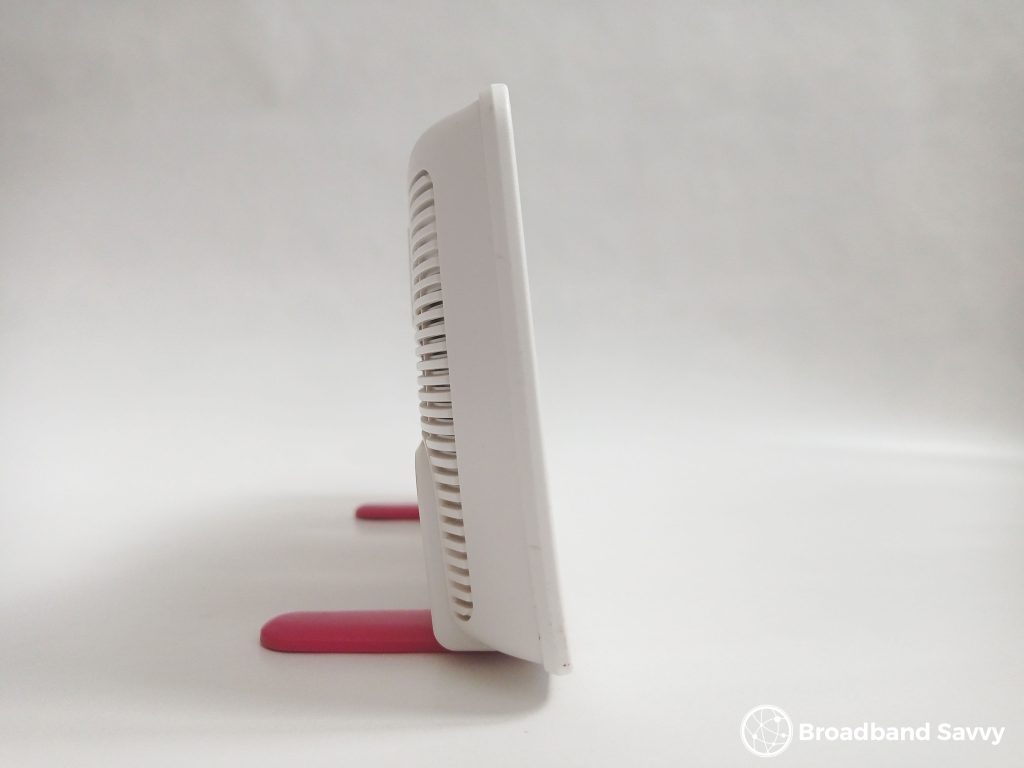 Buying Plusnet Broadband was very straightforward.
To get started, all we needed to do was place our order online. Plusnet then contacted our old provider, Sky, to cancel the connection.
After placing the order, Plusnet shipped us a new Wi-Fi router, and we had to send our old router back to Sky. We were also given a go-live date by Plusnet.
In total, the process took about two weeks. Plusnet shipped our new Wi-Fi router within a few business days of us placing the order.

Getting set up with Plusnet Full Fibre 74
It was also very easy to go live with Plusnet once our router arrived in the mail.
No engineer visit was needed, since we were using the same Openreach broadband infrastructure we were on before.
This meant that we had to set up the router ourselves, but this process was quite straightforward. The included instructions were easy to follow, and we only experienced a small amount of downtime when making the switch.
The only issue that arose was we made a mistake when typing in the admin password when initially setting up the router.
We called Plusnet for assistance in resetting the password, and they were very helpful – the issue was resolved in a few hours, and we were able to get online.

Plusnet's Wi-Fi router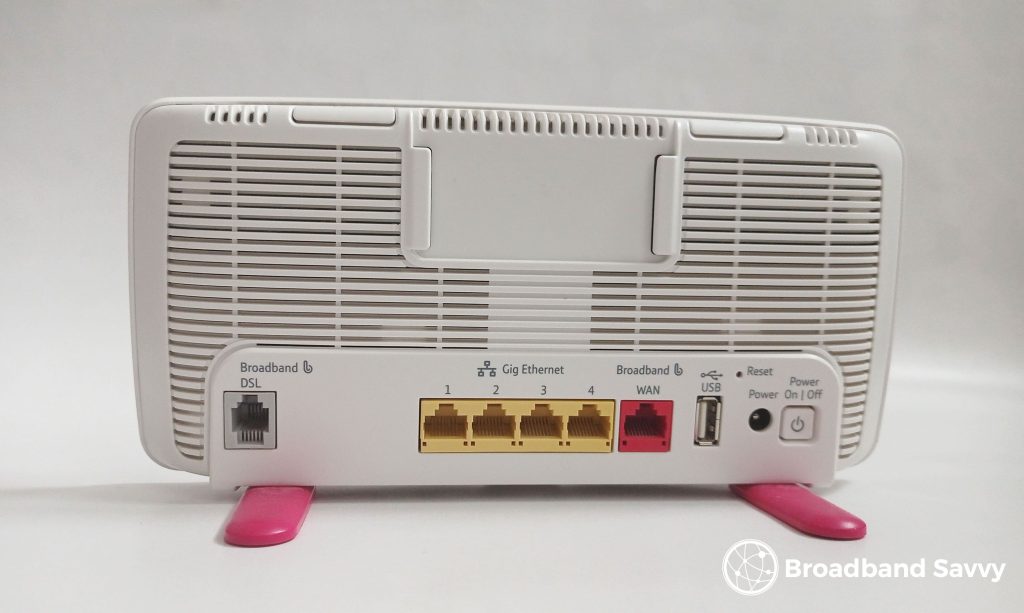 Since we joined Plusnet in 2019, they sent us their original Hub router to get online with, which is made by Sagemcom.
If you join Plusnet Broadband now, you'll get their updated Hub 2 router, which actually has quite similar specs, but includes seven instead of five Wi-Fi antennas.
Plusnet Wi-Fi router specs
| | |
| --- | --- |
| Brand | Plusnet |
| Name | Hub 1 |
| Antennas | 5 (internal) |
| Ethernet ports | 5 (4 LAN, 1 WAN) |
| Ethernet speed | Gigabit |
| Protocols | ADSL, ADSL2+, VDSL2 |
| WiFi | Dual-band (2.4GHz and 5GHz) 802.11b, 802.11n, 802.11g, 802.11ac |
| Colour | White |
Is Plusnet's Wi-Fi router any good?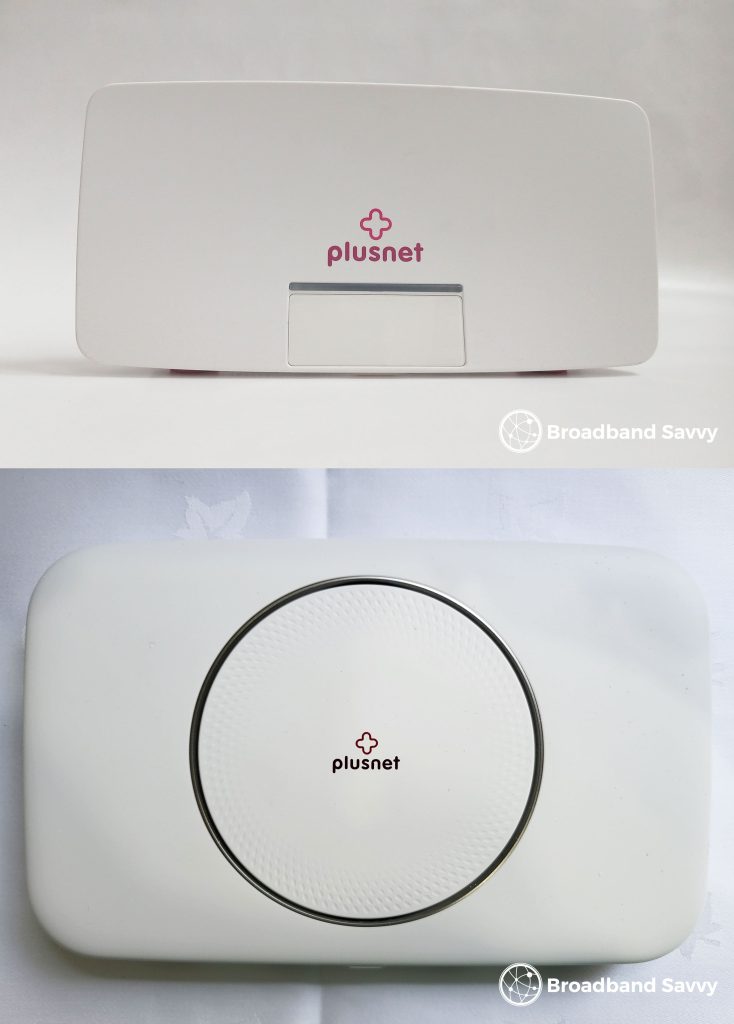 Plusnet's router has performed well, given our needs.
It offers good download and upload speeds (speed tests shown in the next section), and has four usable Gigabit Ethernet ports. This is actually more than you get with Plusnet's newer Wi-Fi router, which only has three LAN ports available to use.
The only real fault of this router is it doesn't support WiFi 6. This isn't a big deal for most people – it just means you might need a Wi-Fi extender if you have a large house. Most broadband providers, including Plusnet, still only ship WiFi 5 compatible routers with their superfast broadband plans.
To learn more about Plusnet's newer Hub 2 Wi-Fi router, read our review of their full fibre broadband service, which another one of our team has been using at home.
Wi-Fi signal performance
We have had Wi-Fi signal issues with this router, but this is due to the way our property is built, rather than being a fault of the router.
We're using Plusnet Broadband in an old Victorian terrace, with brick interior walls. As a result, we initially experienced poor Wi-Fi signal upstairs, as well as on the other side of the ground floor to where the router was plugged in.
Fixing this issue was relatively straightforward. To get better Wi-Fi signal, we purchased a TP-Link AC1750 Wi-Fi range extender and installed it upstairs.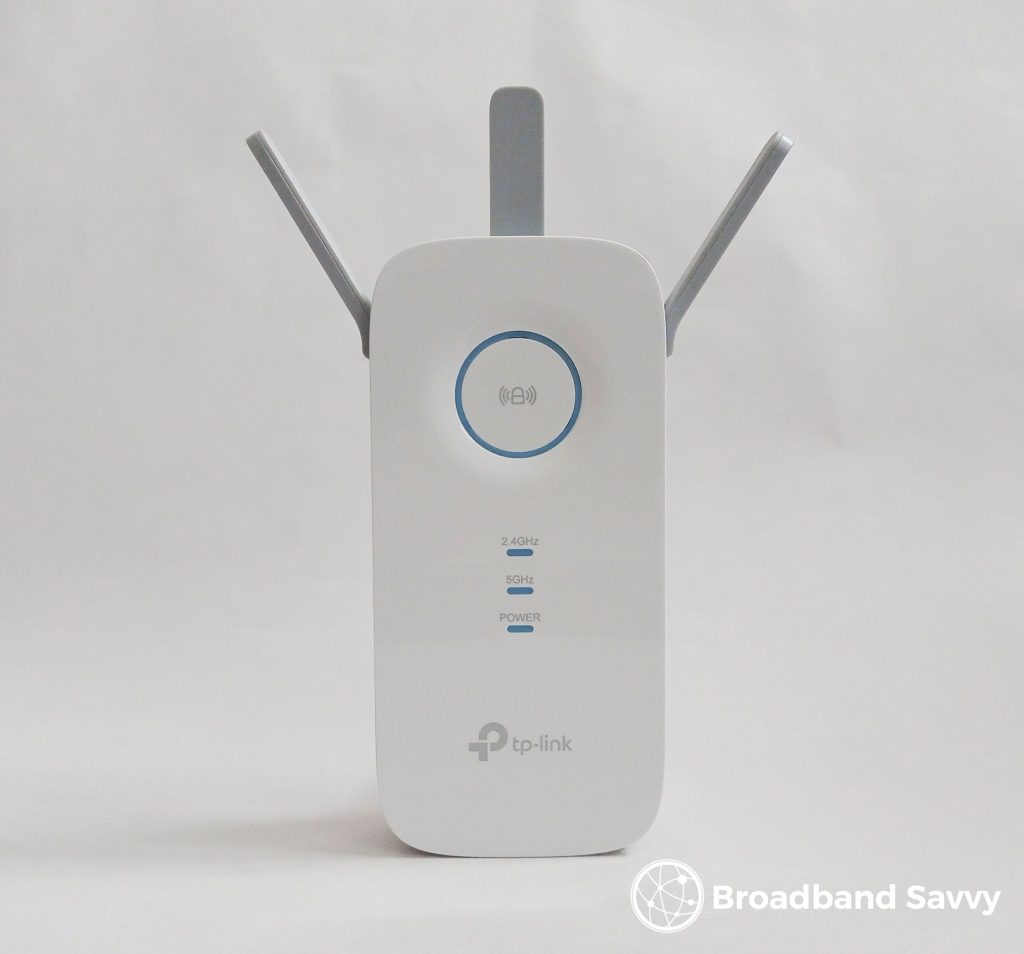 Ever since switching on the Wi-Fi extender, our Wi-Fi signal has been flawless throughout the house.
On the whole, we think that Plusnet's Hub 1 and Hub 2 routers perform very well in most households. We only need to use an extender because our internal walls are made out of brick.

Plusnet Full Fibre 74 speed tests
The advertised average broadband speeds we're paying for are:
Download speed: 74 Mbps
Upload speed: 20 Mbps
Plusnet may give you slightly different advertised speeds depending on where you live. It's worth checking the Plusnet website to see what speeds you'll get with Full Fibre 74.
Wi-Fi speed test
Over Wi-Fi, a typical speed test result is:
Download speed: 67-74 Mbps
Upload speed: 18-19 Mbps
Ping: 18-25 ms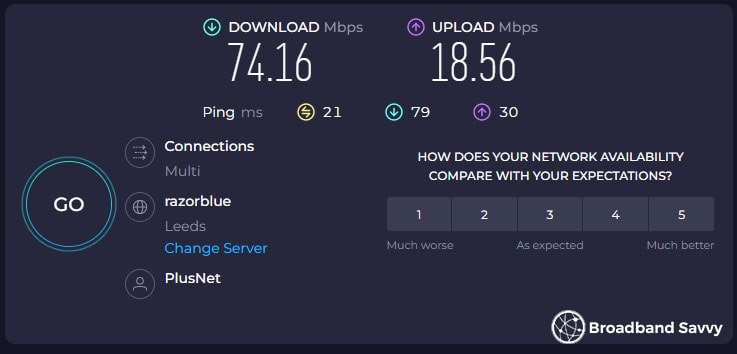 Ethernet speed test
Using Ethernet, a typical speed test result is:
Download speed: 67-74 Mbps
Upload speed: 18-19 Mbps
Ping: 15-20 ms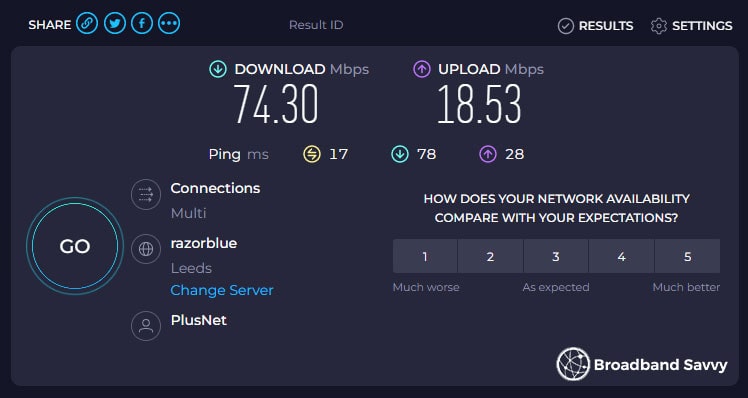 We're quite happy with the download and upload speeds we're getting from Plusnet.
Most of the time, the speeds we're experiencing are actually higher than what we are paying for. We never experience buffering, even when multiple people get online, and our latency is also very stable.

Plusnet Broadband customer service
Our Plusnet broadband connection has been basically flawless since the moment we went live. As a result, we have only been in contact with them on rare occasions.
The first time we contacted Plusnet customer service was when we set up the wrong router admin panel password, and needed their help to reset it. Plusnet was very clear in explaining what to do, and we were able to get the problem resolved fairly quickly.
The other times we're spoken to Plusnet have been when we have renewed our contract. We've found that they aren't too pushy, and they were quite clear in explaining our options when it came time to renew.
We can't fault Plusnet Broadband's customer service. We think that since their support is still UK-based, and they're essentially part of BT, Plusnet is able to provide slightly better service on average than many other providers.

Is Plusnet Full Fibre 74 good value for money?
We have just faced an in-contract price rise from Plusnet Broadband. They emailed well in advance to explain what was happening, which was good, but the increase made somewhat of a difference to their value for money in our opinion.
Prior to the increase, the monthly cost was very fair, but now it's a bit less reasonable. However, most other broadband providers have also implemented similar price rises, so it might be that Plusnet still offers good value, relative to the competition.
Looking at Plusnet's broadband deals for new customers, they do offer good value, however they're not quite as cheap as some other providers, like NOW Broadband.
In saying this, you do get a lot of value in return for the slightly higher monthly costs with Plusnet.

The verdict: should you buy Plusnet Full Fibre 74?
Given our overall experience with Plusnet Full Fibre 74, would we recommend buying this broadband deal?
What we like about Plusnet Broadband
Here's what we like about Plusnet Broadband, and why we have decided to keep renewing our contract with them:
Their customer service has been great – they've always been helpful and easy to reach on the phone.
Our speeds are very consistent, and we often get slightly faster download and upload speeds than we're paying for.
Our monthly costs are reasonable given the broadband speeds we're getting.
What we don't like about Plusnet Broadband
In saying this, we do have some complaints about Plusnet:
The router we're using is a bit dated, but new customers do get a newer Hub 2 router.
Since the recent price increase, Plusnet isn't quite as good value for money as it once was.
These issues are relatively minor compared to the things we like about Plusnet Broadband.
Verdict
Overall, we rate Plusnet Full Fibre 74 4.3/5.
We would recommend Plusnet Full Fibre 74 if you're looking for a superfast fibre broadband deal with a download speed of about 70 Mbps.
Plusnet's customer service and support have been great, and our download and upload speeds have been very consistent. And despite the Wi-Fi router being a bit dated, we still get great signal – we only needed to use an extender due to our house having brick internal walls.
Given the service they provide, Plusnet's monthly costs are reasonable, although they used to be lower before the recent inflation-linked price rise.

Alternatives to Plusnet Full Fibre 74
If you're looking for some other broadband deals to compare with Plusnet Full Fibre 74, here are some similar tariffs on the market at the moment, and how they differ from Plusnet's superfast broadband offer.
NOW Broadband Super Fibre offers almost the exact same average download speeds as Plusnet Full Fibre 74, but is sometimes cheaper to buy.
If you join NOW, you'll only pay a small upfront cost, and the default contract length is just 12 months. They even offer the option to buy broadband on a month-to-month basis, without a long-term contract, which most other broadband providers don't allow you to do.
The downside to NOW Broadband is their Wi-Fi router isn't as good as Plusnet's at the moment.
Read our full review of NOW Broadband to learn more about this broadband provider.
Since Plusnet is a subsidiary of BT, you'll find that the two companies offer a similar range of plans. They both also have similar levels of customer service.
BT Fibre 2 offers the same download and upload speeds as Plusnet Full Fibre 74, and comes with the same Wi-Fi router, but is normally more expensive.
The upside to BT is they have 12 month deals available (click here to see them), and a much greater range of TV channels and other add-ons to choose from, including Wi-Fi extenders, and data SIM cards.
Overall, we'd probably recommend going with Plusnet's 70 Mbps broadband deal instead of BT's, unless you want to build a broadband and TV or broadband and landline calls package.
Read our full review of BT Fibre 2 to learn more about this broadband deal.
Vodafone has two tiers of broadband package, each of which is available no matter how much download speed you need.
Their cheaper broadband deals are some of the most competitively priced on the market. They normally compete with NOW Broadband for the cheapest prices, although you do have to commit for 24 months with Vodafone.
The more expensive broadband plans come with a heap of extra benefits, such as a 4G broadband backup device, a WiFi 6E router, and a free Apple TV+ device.
However, although Vodafone Broadband doesn't charge any upfront costs, their monthly costs on the premium Pro II Broadband package can be quite expensive.

Conclusion
This is the end of our review of Plusnet Full Fibre 74.
In most cases, we would recommend comparing the price of this Plusnet Broadband deal to the similar plans offered by BT and NOW Broadband at the moment.
A lot of the time, NOW might be a bit cheaper, but their customer service isn't always as good.
If you have any questions about our experience with Plusnet Broadband, feel free to leave a comment below, and we'll get back to you as soon as possible.
About the author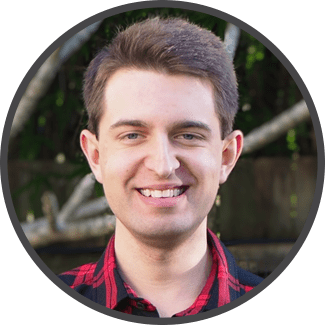 Tom is the founder of Broadband Savvy. When he's not writing about broadband, you'll find him walking his dog (Rex) or playing agar.io.