Considering joining Plusnet full fibre broadband?
We've been using Plusnet Full Fibre 900 since the beginning of this year, and in this article, we've reviewed their broadband service.
Before we begin, click here to view the best deals on Plusnet full fibre broadband, and to see what download speeds you can get at your address.
PLUSNET FULL FIBRE 900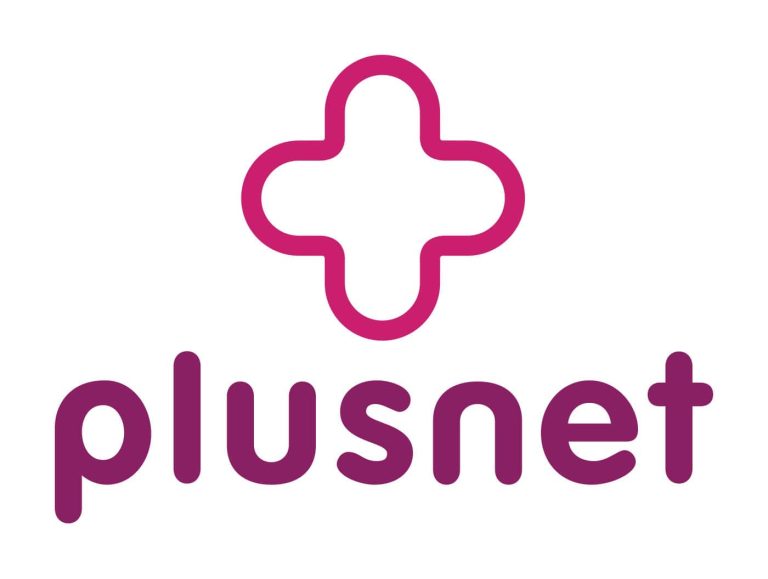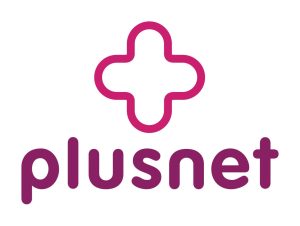 Average download speed
900 Mbps
Average upload speed
115 Mbps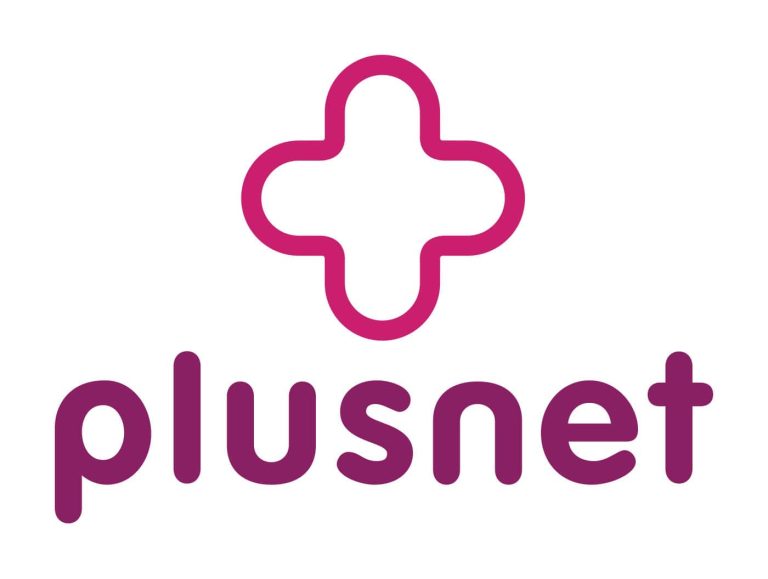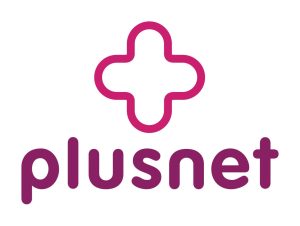 Average upload speed
115 Mbps
Contents
Plusnet Broadband overview
| | |
| --- | --- |
| Brand | Plusnet |
| Name | Full Fibre 900 |
| Average download speed | 900 Mbps |
| Average upload speed | 115 Mbps |
| Contract length | 24 months |
| Our rating | 4.5 (out of 5) |
| Price | Check on Plusnet |
Plusnet is a subsidiary of BT Broadband. Compared to its parent company, Plusnet provides a very similar range of packages. They also use the same broadband network infrastructure, and have the same customer service team.
Historically, Plusnet has always been a cheaper, more basic version of BT. They offered slower plans with fewer add-ons, and had lower monthly costs.
While this is partly true today, Plusnet now offers full fibre to the premises (FTTP) broadband, just like BT.
Apart from the typical superfast fibre broadband plans Plusnet has always offered (read our review of their superfast service to learn more), with an average download speed of about 70 Mbps, they now also offer broadband deals with a 145 Mbps, 500 Mbps, and 900 Mbps average download speed.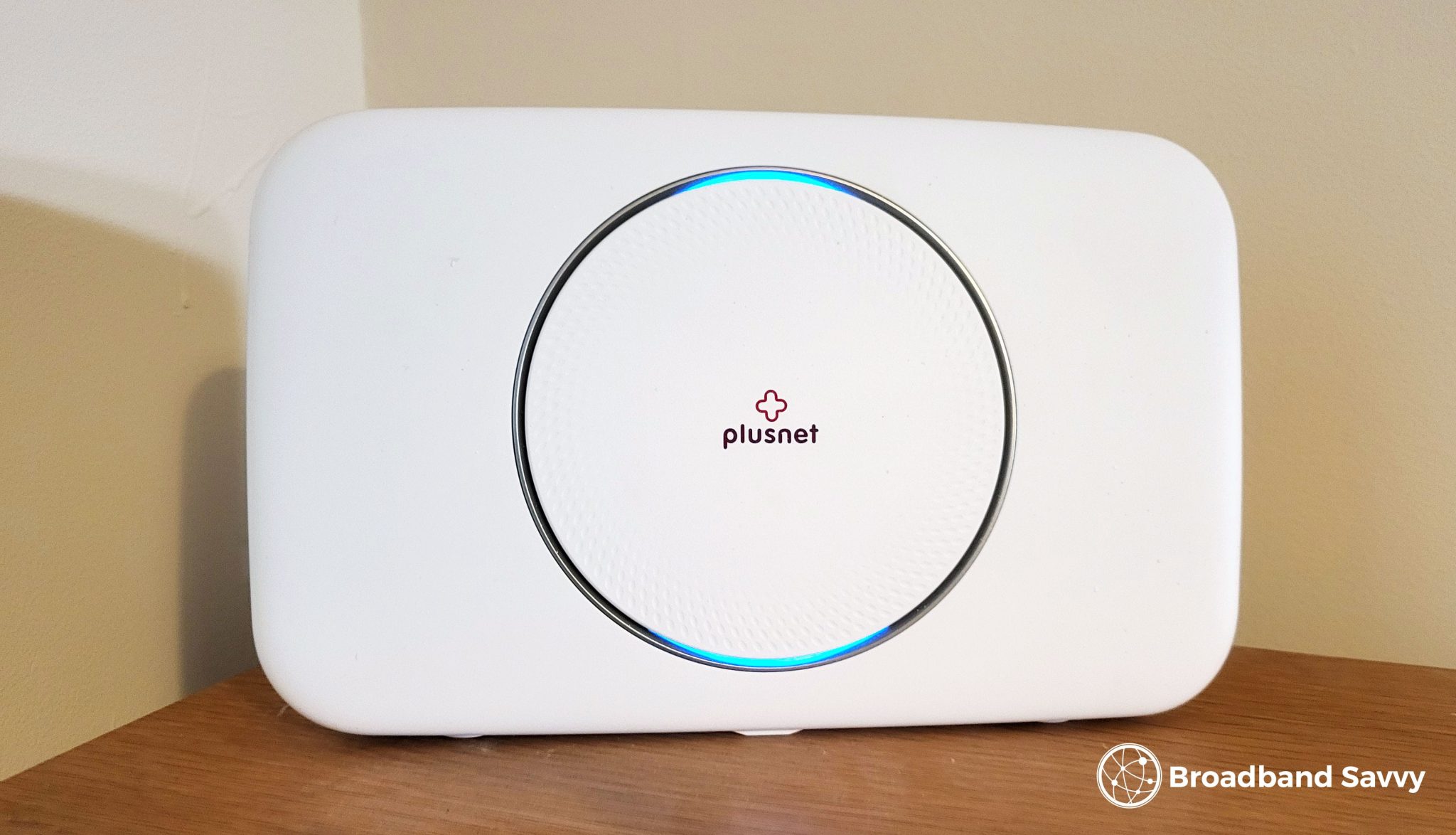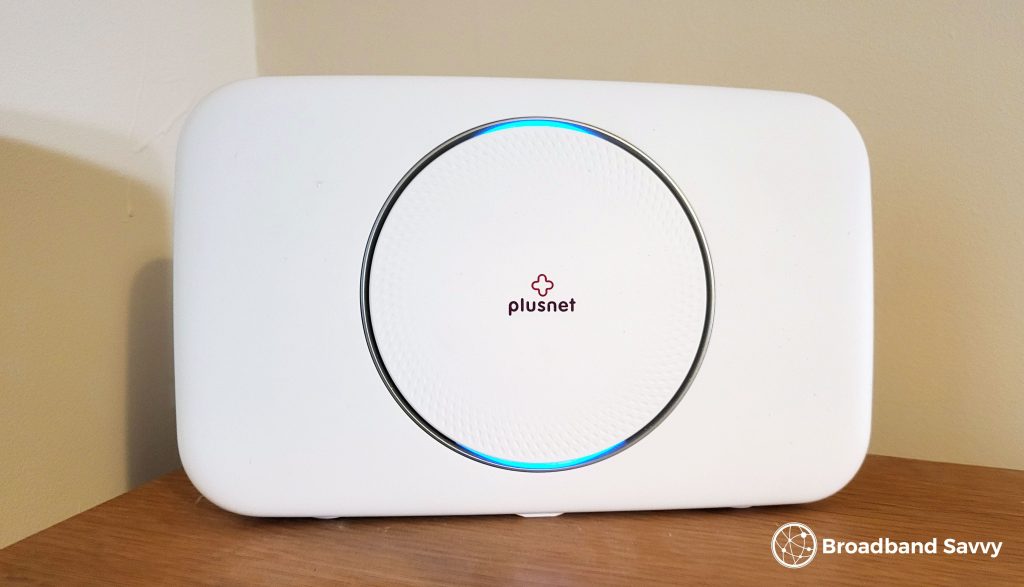 In general, Plusnet still offers cheaper prices than BT, and they normally don't charge any upfront costs. On the other hand, BT does sometimes charge setup fees, depending on the promotion currently running.
However, Plusnet doesn't offer many extras compared to BT – you can't get a landline phone service as a full fibre customer for example, nor can you choose to include Wi-Fi extenders, if you have a big house.
Plusnet sometimes has reward card offers for new customers, and they have a 24 month minimum contract, just like BT does. Click here to see what offers are available at the moment.
Their broadband plans are widely available throughout the UK, as Plusnet uses the Openreach network to deliver their service. However, Openreach full fibre is only available at about 10m homes in the UK at the moment.
Why we chose Plusnet Full Fibre 900
Before joining Plusnet, we were previously using BT fibre to the cabinet (FTTC), before moving house.
We tried to switch to FTTP at the new address, but Openreach was having issues getting us live. We needed broadband to be able to work from home, so we switched to Plusnet, as they were able to offer a FTTC connection – BT couldn't get us live with either FTTC or FTTP.
Later, when Openreach fixed the FTTP connectivity at our address, we upgraded to Plusnet Full Fibre 900.
We chose Plusnet because we had previously had good experiences with BT, and Plusnet's broadband packages are very similar to those of its parent company.
Also, Plusnet was offering very reasonable prices – they were cheaper than BT, despite offering the same ultrafast fibre download and upload speeds.

Plusnet Broadband ordering process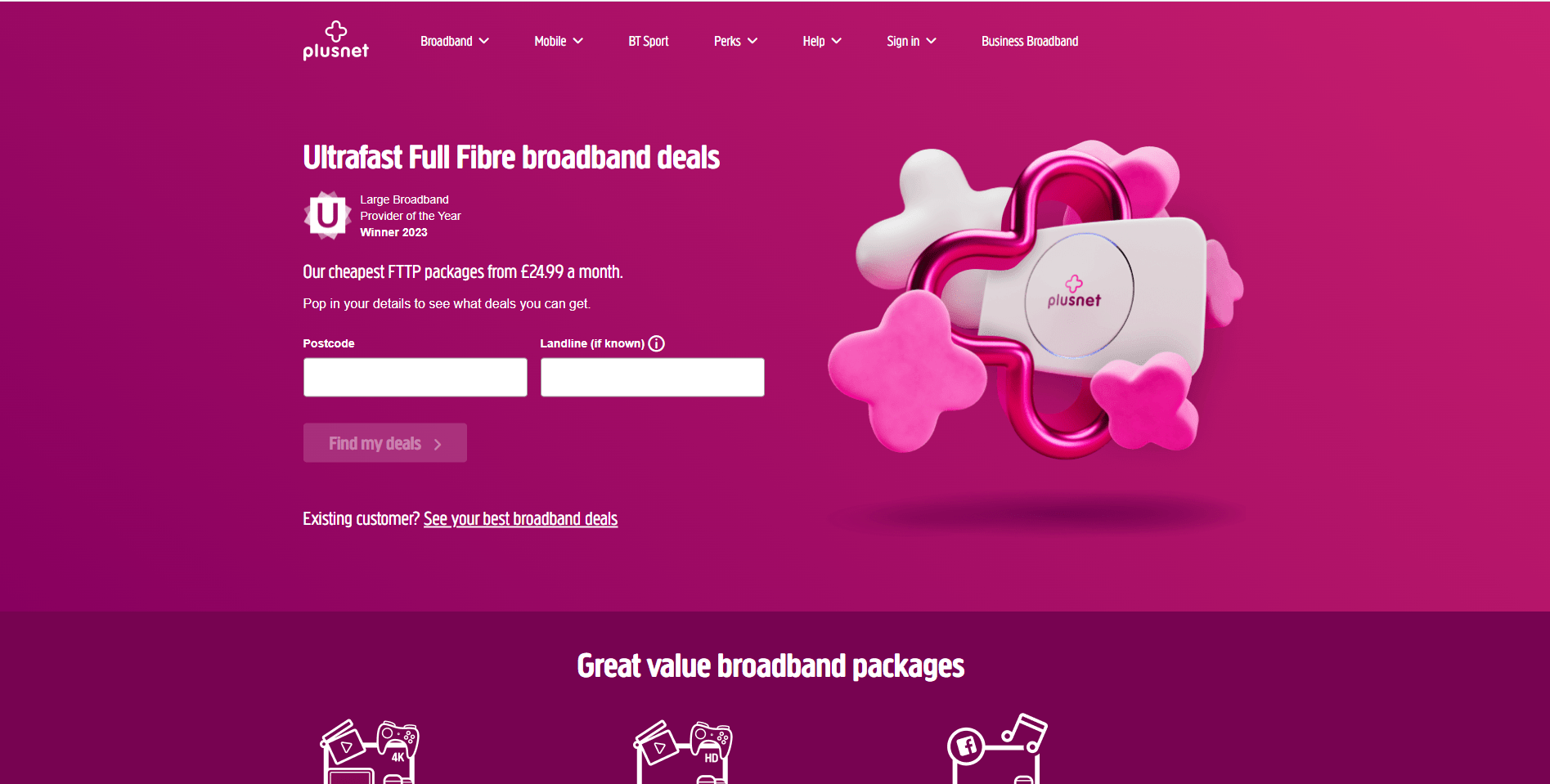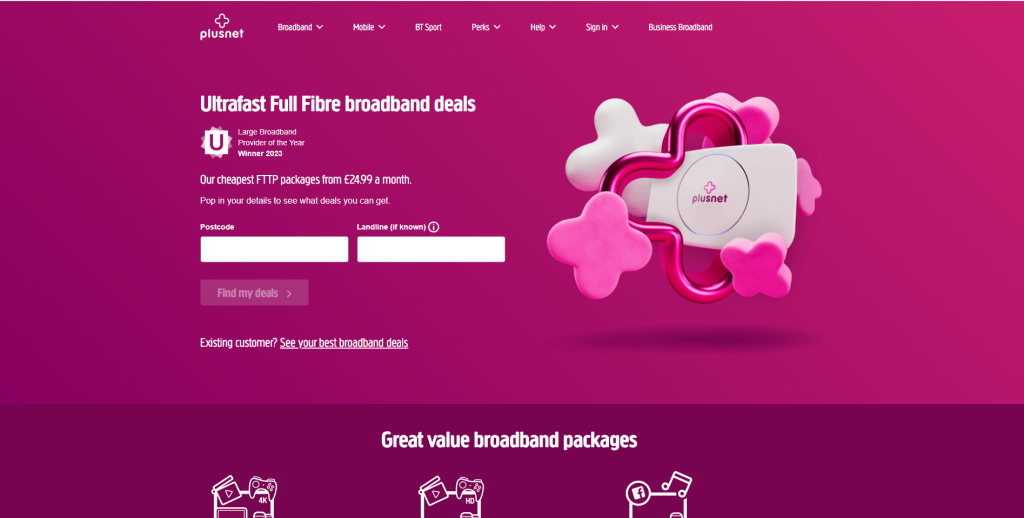 As our situation was a bit complex, we completed our Plusnet order over the phone, rather than using their website.
Plusnet's sales and customer support teams are located in the UK, which made this process a lot easier, given the complexity involved.
Overall, we found it quite straightforward to order Plusnet over the phone and get started as a customer.
It took a bit of explaining, and we had to get out of our agreement with BT, but Plusnet was very helpful in accommodating our needs when BT wouldn't allow us to get online at our new address.

Getting set up with Plusnet Broadband
Once we placed our order with Plusnet, the process of getting set up was quite straightforward.
We received our router in the mail quickly, and the connection was activated almost immediately.
The router was easy to set up, especially given the process was the same as setting up the BT Smart Hub 2 router that we were already using.
To switch from Plusnet FTTC to FTTP, an engineer had to come over and visit, which was arranged quite quickly.

Plusnet's Wi-Fi router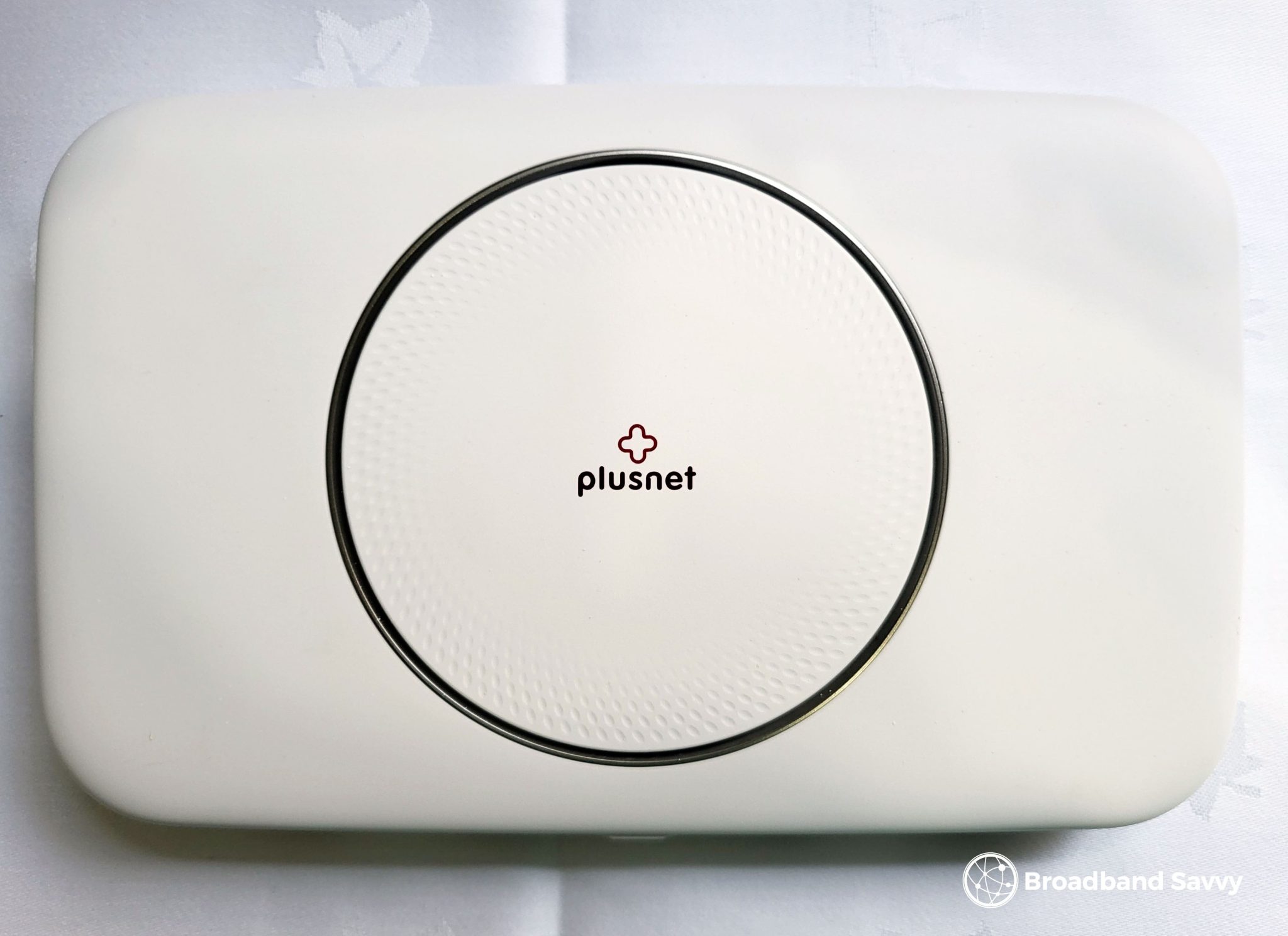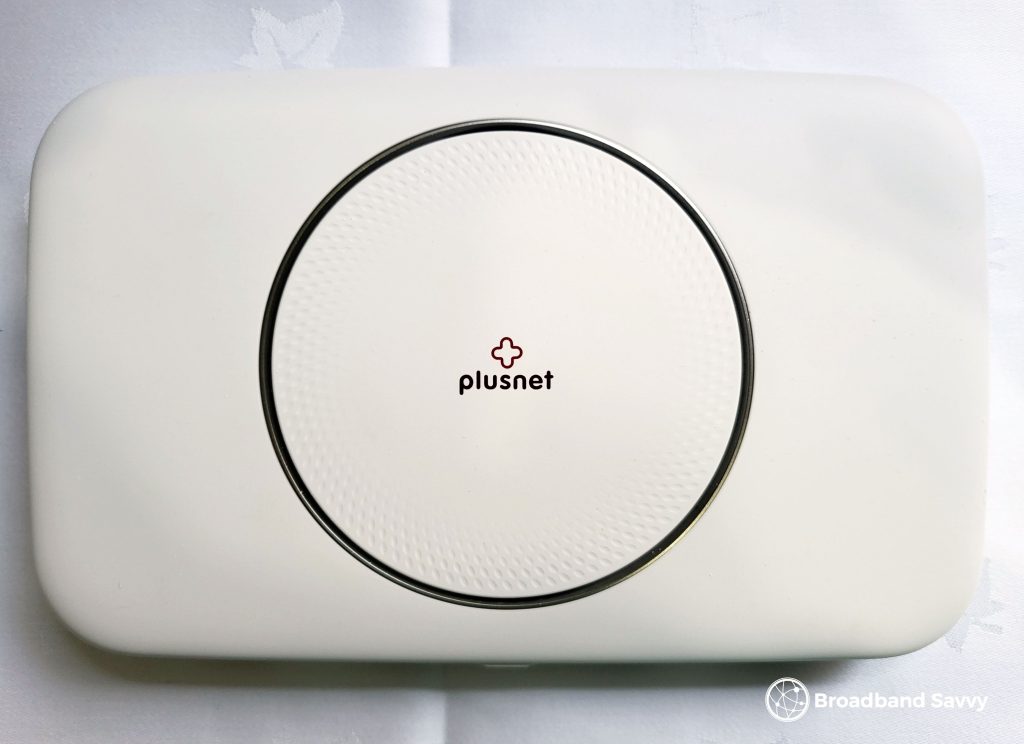 We're using Plusnet FTTP broadband with their Hub 2 router that they sent us free of charge when we signed up.
This router is actually a rebranded BT Smart Hub 2 – its performance is identical to BT's router.
Plusnet Hub 2 specs
| | |
| --- | --- |
| Brand | Plusnet |
| Name | Hub 2 |
| Dimensions | 254mm x 157mm x 30mm |
| Antennas | 7 (internal) |
| Ethernet ports | 4 |
| Ethernet speed | Gigabit |
| Protocols | ADSL, ADSL2+, VDSL2 |
| WiFi | Dual-band (2.4GHz and 5GHz) 802.11b, 802.11n, 802.11g, 802.11ac |
| Colour | White |
Plusnet Hub 2 vs BT Smart Hub 2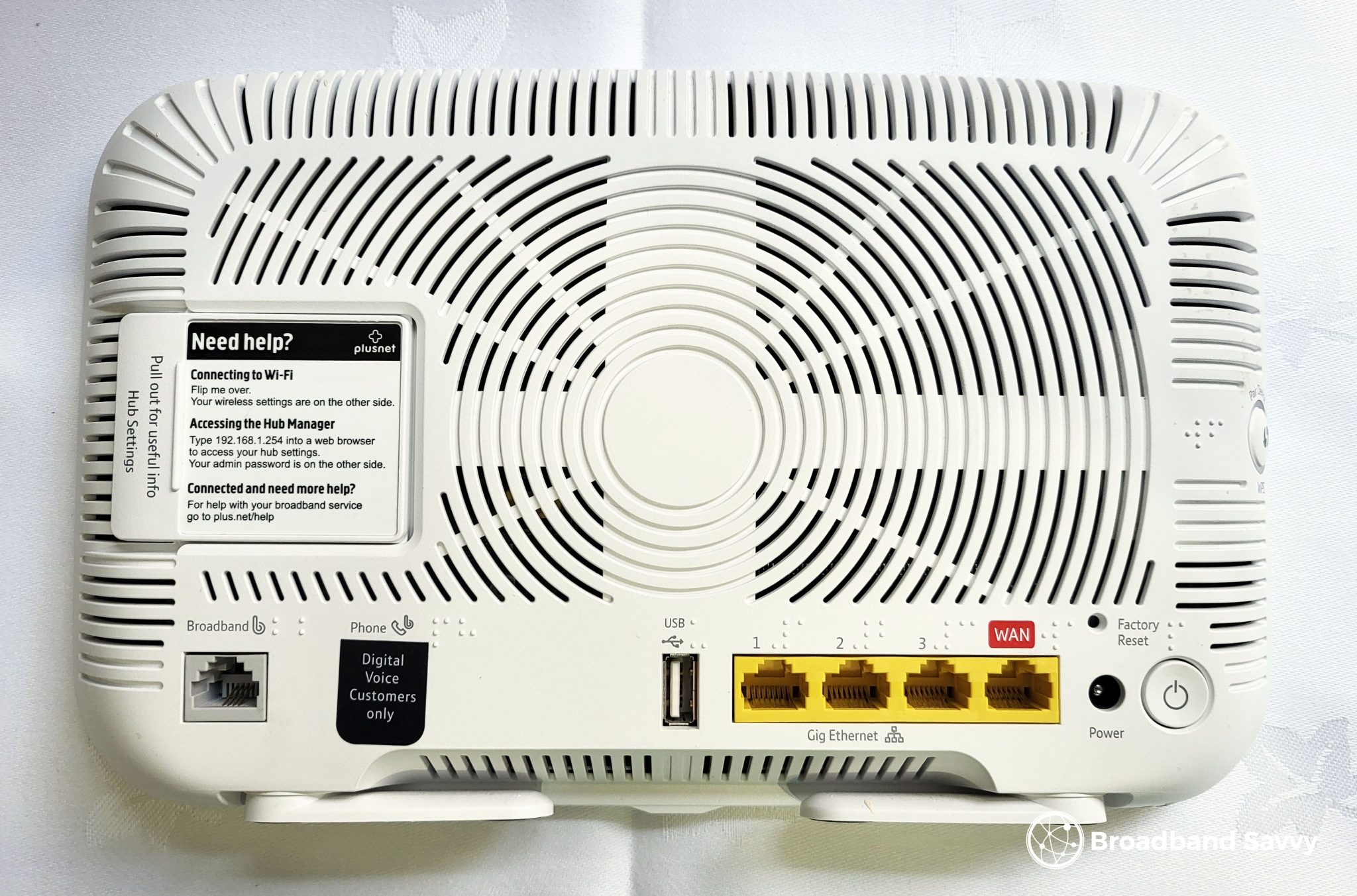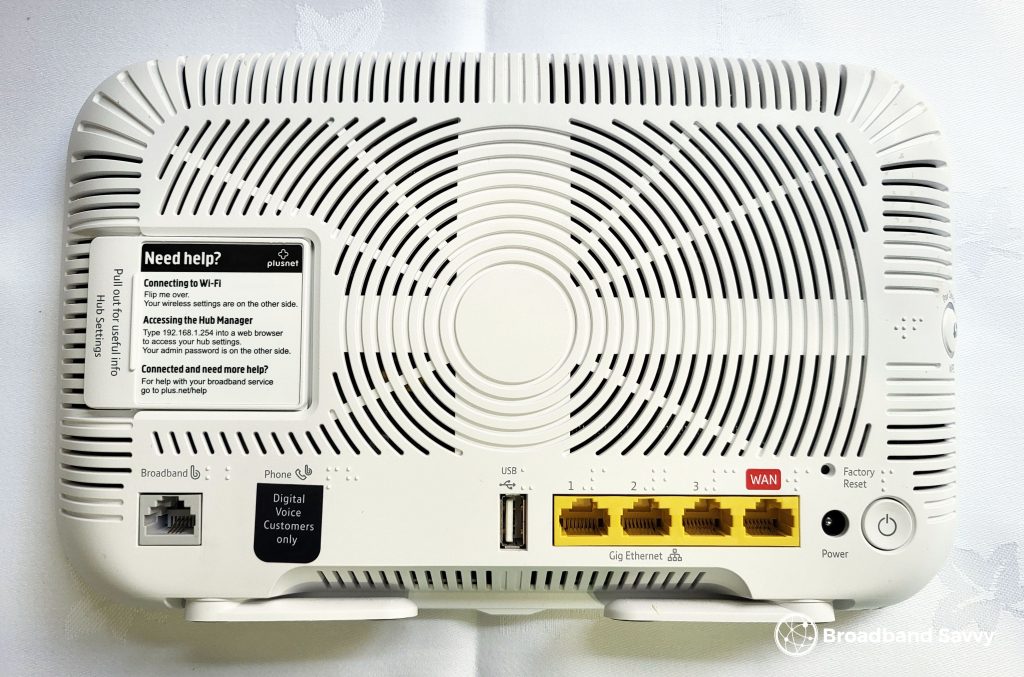 Although these two routers have very similar specs, there are some slight differences between them that we've noticed.
Plusnet's router does not create a public Wi-Fi network for BT customers. By default, the BT Smart Hub 2 will open a public access point with a limited amount of bandwidth that other BT customers can access. You can turn this off if you'd prefer on BT's router.
Plusnet's router comes with a WAN port, rather than four Ethernet ports.
You can't currently set up custom DNS servers on Plusnet's router.
Plusnet's router cannot be put into bridge mode.
Plusnet's router does not reboot automatically every 14 days, like the BT Smart Hub 2 does.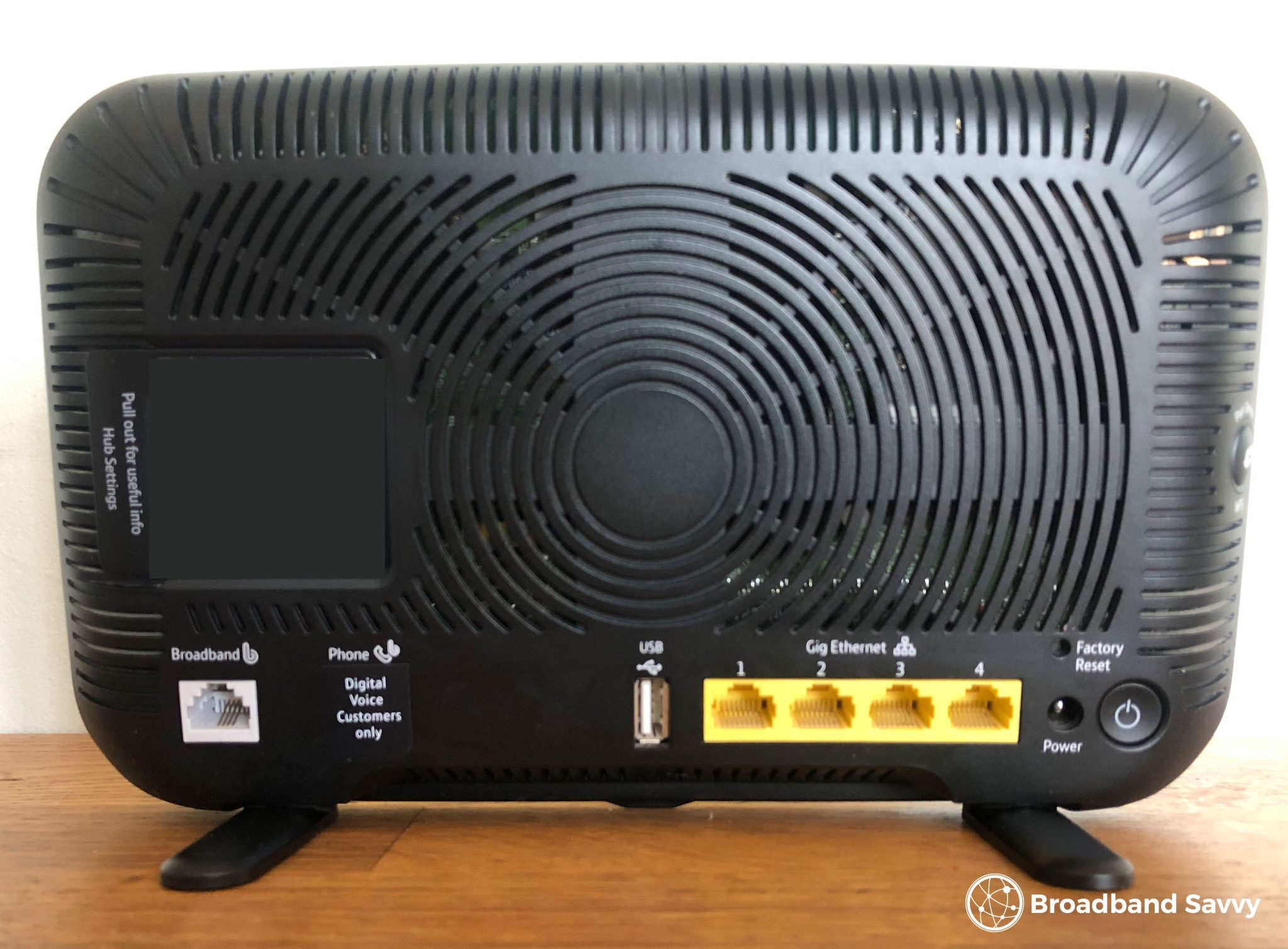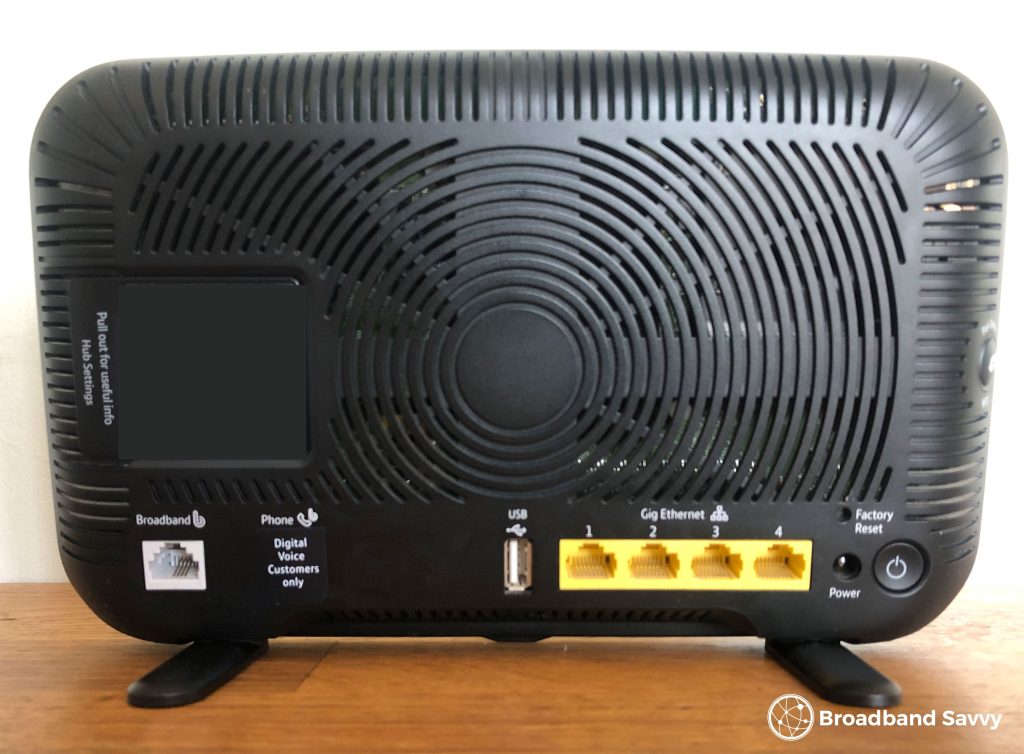 To learn more about the BT Smart Hub 2, read our review of BT Fibre 2.
Is the Plusnet Hub 2 router any good?
Since we started using Plusnet FTTP, we have been impressed with their Hub 2 router.
It has been able to handle our full fibre download speeds, and also provides a consistent ping.
We haven't had any issues with the router crashing, and its settings are also easy to configure.
Wi-Fi signal performance
We're using Plusnet Broadband in a two-storey terraced house, without any Wi-Fi extenders or mesh Wi-Fi systems set up.
We've been quite pleased with the Wi-Fi signal offered by Plusnet's router. We get strong, consistent Wi-Fi signal in all rooms in the house.
We also get good signal in the garden, as well as on the pavement at the front of the house, when walking to the car.
For an included Wi-Fi router from a budget broadband provider, we couldn't ask for more from the Plusnet Hub 2.

Plusnet Full Fibre 900 speed tests
Now for the most important thing: how have our download and upload speeds been with Plusnet Full Fibre 900?
With this Plusnet broadband plan, the average speeds that we're paying for are:
Download speed: 900 Mbps (500 Mbps minimum)
Upload speed: 115 Mbps
Wi-Fi speed test
Over Wi-Fi, a typical speed test result is:
Download speed: 500-700 Mbps
Upload speed: 100-115 Mbps
Ping: 5-15 ms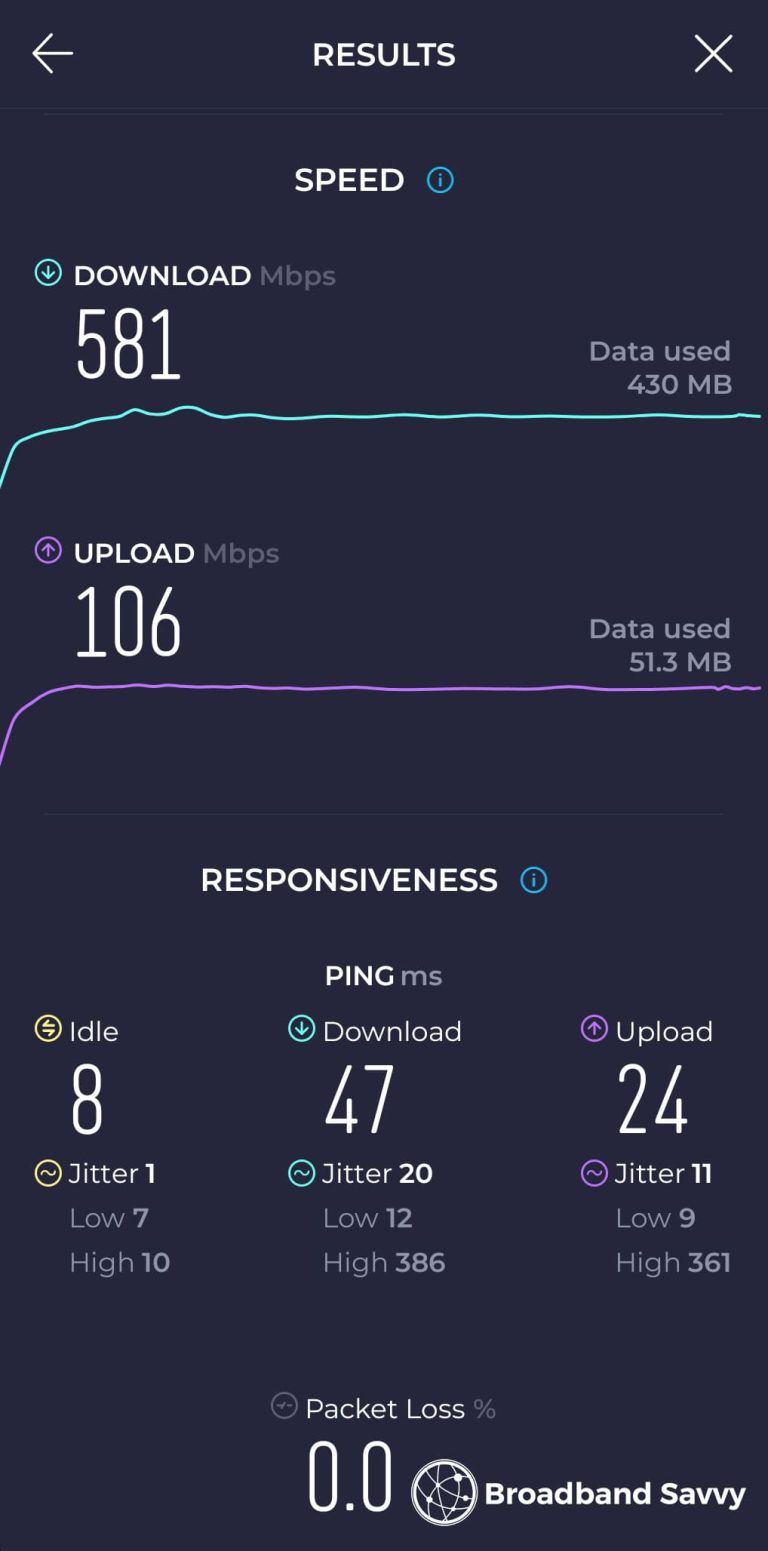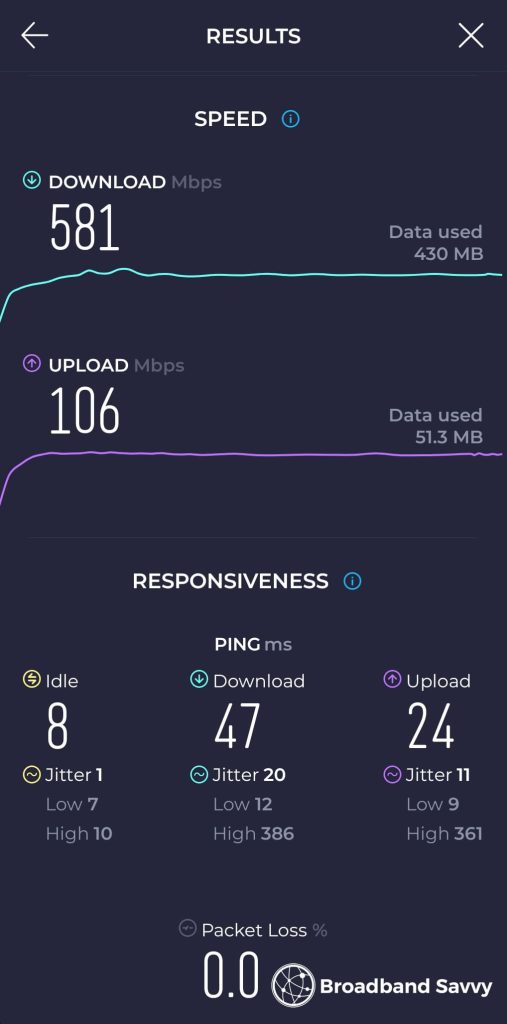 Ethernet speed test
Using Ethernet, a typical speed test result is:
Download speed: 900-950 Mbps
Upload speed: 100-115 Mbps
Ping: 5-10 ms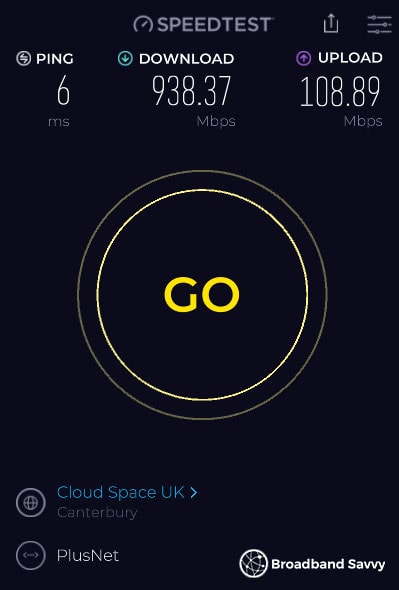 Overall, we're happy with the speeds we get with Plusnet full fibre broadband.
Over a wired Ethernet connection, we get the speeds we're paying for, or slightly over, all of the time. We don't experience any network congestion in the evenings, or any other slowdowns or dropouts.
Over Wi-Fi, our speeds aren't quite as good, but this is to be expected with an ultrafast broadband connection like this. Our speeds are limited by the Wi-Fi receivers on the laptops, phones, and other devices we're using.

Plusnet Broadband customer service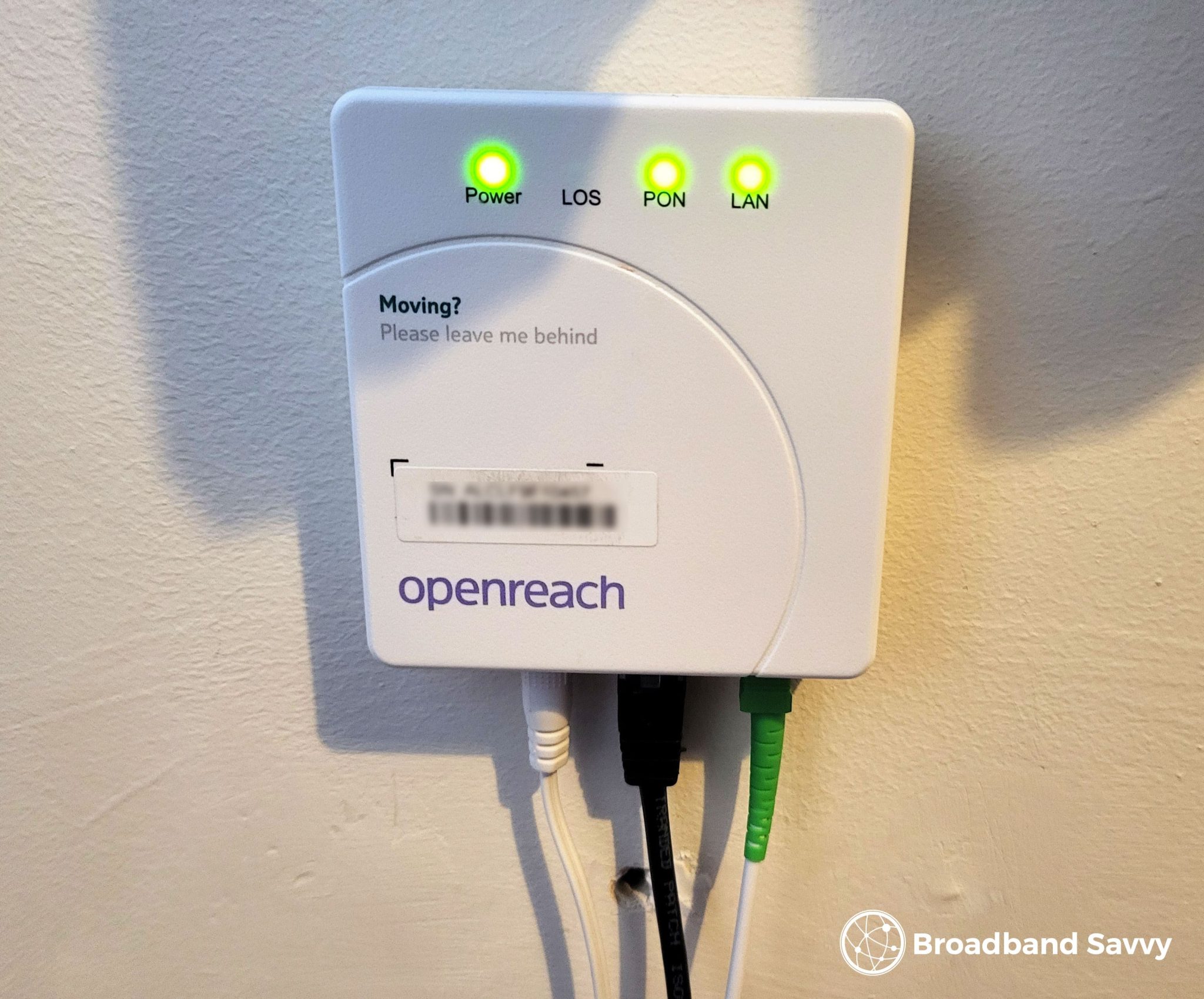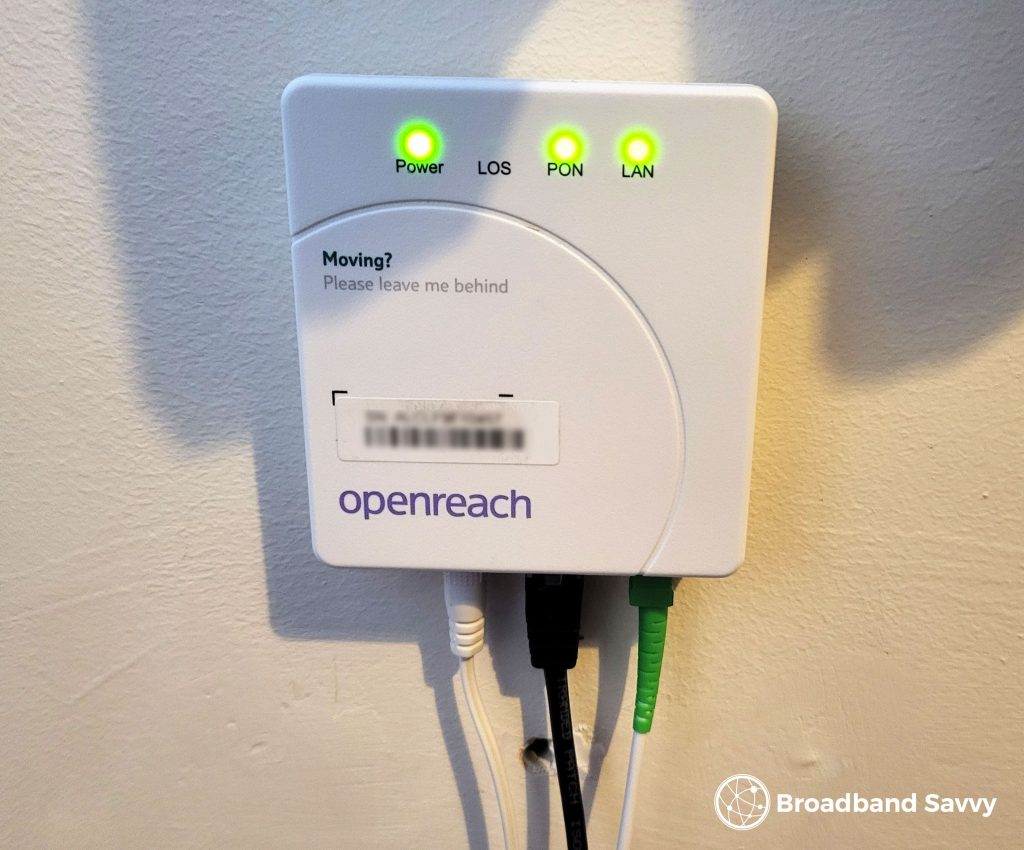 Because our broadband connection has been very consistent so far, we haven't had the need to reach out to their customer service team very often.
However, on the few occasions we have spoken to Plusnet, they have been very helpful.
We're not completely certain of this, but we think that Plusnet's customer service team is actually just a part of BT customer support.
Either way, they pick up the phone quickly, are helpful in resolving any issues, and are based in the UK.
According to Ofcom data, Plusnet takes two minutes and seven seconds on average to answer the phone, compared to one minute and 46 seconds with BT. Our experiences have been in line with this.
We recently faced a significant price rise, as Plusnet increases their monthly costs by the inflation rate plus 3.9% each year.
We phoned Plusnet, and they were actually quite helpful, even though the price rise is a condition of the contract. They allowed us to reduce our monthly costs by committing to a new contract, allowing us to avoid the bulk of the price increase we were going to be faced with.
It's worth mentioning, we haven't tested Plusnet's customer support with any complex technical questions at the moment, as our broadband connectivity has been faultless since we joined them.
However, we can say that when an engineer has had to visit, Plusnet has been able to book this in very quickly – normally within the next few days, which is a huge plus.

Is Plusnet Full Fibre 900 good value for money?
PLUSNET FULL FIBRE 900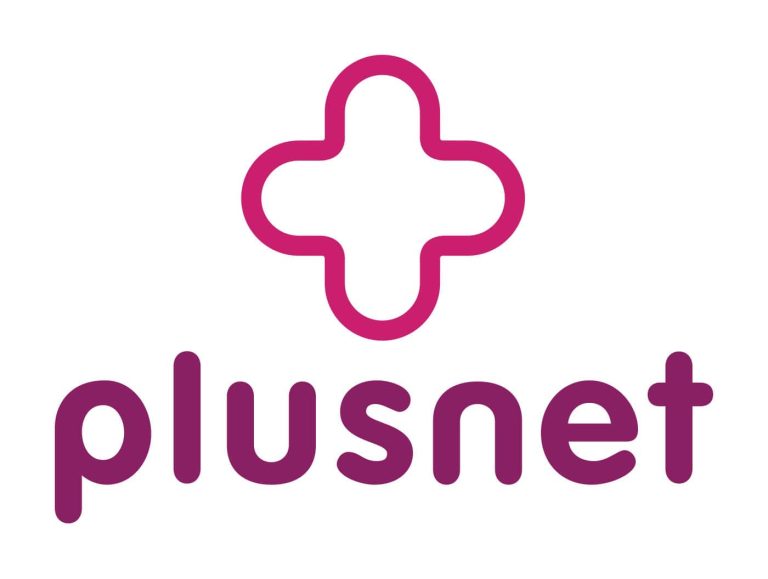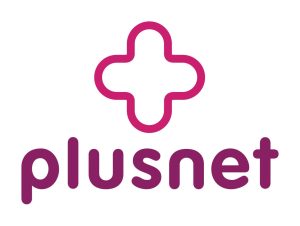 Average download speed
900 Mbps
Average upload speed
115 Mbps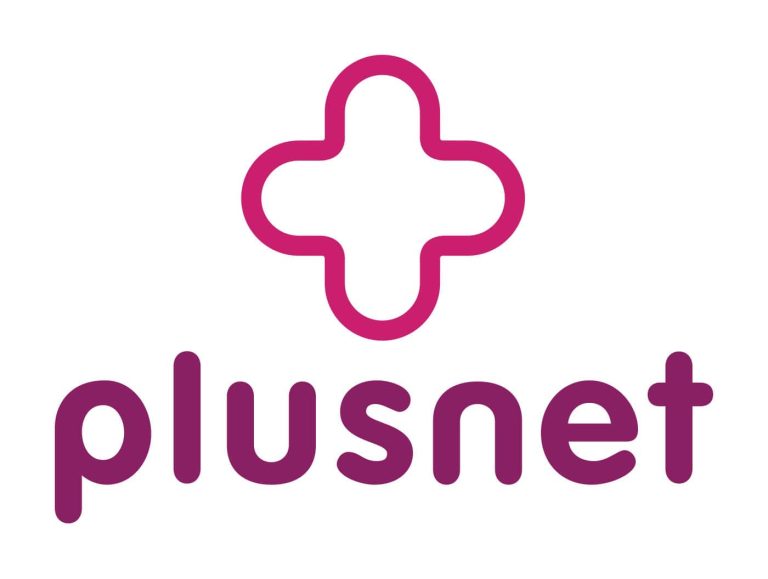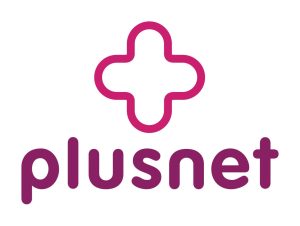 Average upload speed
115 Mbps
Other than their customer service, Plusnet's other big advantage is their value for money.
Our broadband plan isn't cheap – we're paying about £45 per month at the moment – but the price is quite reasonable given the download speeds we're receiving. Plusnet's superfast broadband plans are much cheaper, in case you don't need full fibre speeds, or you could consider another budget provider like TalkTalk.
We keep a close eye on the broadband market, in preparation for when our contract is due for renewal, and we have never been able to find another company that offers a 900 Mbps average download speed for a lower price than Plusnet.
There are a few things you miss out on with Plusnet, in return for the lower price. You can't get a digital voice connection with their FTTP broadband plans, for example – if you need a landline phone connection, you'll need to set this up separately.
However, if you're looking for a cheap broadband-only deal, it's hard to beat Plusnet's prices, especially given they don't normally charge an upfront cost.

The verdict: should you buy Plusnet Broadband?
All in all, would we recommend joining Plusnet Broadband?
What we like about Plusnet Broadband
There are a lot of things we like about Plusnet:
Their monthly costs are reasonable, and they don't charge an upfront fee.
Their customer support is UK-based, and is generally very helpful. We were able to get online when BT wasn't able to connect us, and Plusnet customer support were helpful when we faced a price rise recently.
Our broadband speeds and Wi-Fi signal has been faultness since we joined Plusnet.
What we don't like about Plusnet Broadband
However, there are also some drawbacks to Plusnet Broadband, that we've found:
They will increase your monthly cost each year, even if you're in a contract. Some other providers, like Zen, don't do this, although it is very common.
As a more basic broadband provider compared to BT, Plusnet's router is missing certain functionality, and you can't get a digital voice connection when using Plusnet FTTP.
Verdict
Overall, we rate Plusnet Broadband 4.5 out of 5.
If you're looking for ultrafast fibre broadband for a reasonable price, it's hard to go past Plusnet.
They have low monthly costs, don't charge setup fees, and have helpful, UK-based customer support.
Their Hub 2 router is a good bit of kit for small to medium-sized houses at least, and it offers consistent Wi-Fi signal.
If you're looking for broadband with heaps of extras, like a cable TV box, Plusnet isn't the best choice. But if you're after fast, cheap, consistent broadband, we think Plusnet is worth checking out – you can use this link to see the reward card offers they currently have for new customers.

Alternatives to Plusnet Full Fibre 900
If you're not sure about Plusnet Full Fibre 900, here are some other similar broadband plans on the market right now, and how they differ from Plusnet's full fibre broadband deal.
As we touched on before, BT actually owns Plusnet, and their service is very similar.
Their maximum-speed broadband plan offers the same download and upload speeds as Plusnet's, except you have a higher minimum speed guarantee.
It's delivered using the same technology, comes with the same router (although it's a slightly better version, in our opinion), and your customer service experience is also likely to be quite similar.
But compared to Plusnet, BT gives you more with their broadband deals.
You get the option to add cable TV channels, Wi-Fi signal extenders, and a landline calling service onto your fibre broadband package, if you choose to include any of these add-ons.
The downside is, even without these extras, BT's monthly costs and upfront fees are typically higher than Plusnet's.
Another Openreach provider that offers ultrafast broadband deals is Shell Energy Broadband.
Their fastest plan comes with a 944 Mbps average download speed, and just a 12 month contract. You don't have to lock in for 24 months, like you do with BT or Plusnet.
Also, you get access to special rewards as a Shell Broadband customer, such as discounts on Shell Energy.
However, Shell Energy Broadband's customer service isn't as good as most other providers. They receive more customer complaints, according to Ofcom.
If you can get Virgin Media Broadband where you live, they offer faster maximum download speeds than Plusnet, BT, or any other Openreach provider.
With Virgin Media Gig1, you can get a 1130 Mbps average download speed, rather than the 900-950 Mbps maximum speeds that most other broadband providers offer.
The downside is, with Virgin Media Gig1, your upload speed will be considerably slower than it would be with a 900 Mbps Openreach broadband package.

Conclusion
This is the end of our review of Plusnet full fibre broadband, specifically their Full Fibre 900 package.
If you have any questions about our experience with Plusnet Broadband, feel free to leave us a comment below, and we'll get back to you as soon as we can.
About the author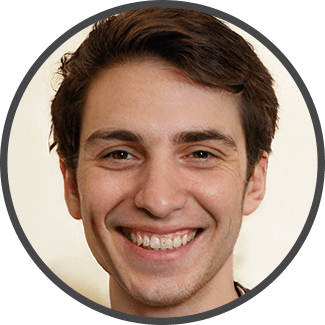 Tyler is the co-founder of Broadband Savvy. He has been helping people improve their broadband connectivity since 2018 by writing about fibre broadband and mobile broadband providers, as well as creating tutorials to help people improve their broadband speeds and Wi-Fi signal.
Tyler is responsible for the majority of buyer's guides and broadband reviews published on Broadband Savvy. He has a wealth of experience testing and reviewing different broadband tariffs, including fibre internet plans, as well as 4G and 5G broadband deals. He is responsible for testing and evaluating Wi-Fi routers, performing speed and latency tests, and comparing the value for money of different broadband providers on the market in the UK.
Before co-founding Broadband Savvy, Tyler had a long history of tinkering with computers. He built his first PC at the age of 12, and since then, he's become obsessed with all things networking and internet-related. He's a massive gamer, loves Rocket League, and also plays Sunday League football.