Looking at buying TalkTalk Fibre 150?
We've been TalkTalk customers since 2020, and in this article, we've reviewed their broadband service.
We'll discuss how consistent TalkTalk's download and upload speeds have been, how good their customer service is, and how their Wi-Fi router performs.
Before we begin, click here to see the latest deals on TalkTalk Fibre 150, and to see if you can get this broadband plan at your address.
Contents
TalkTalk Broadband overview
| | |
| --- | --- |
| Brand | TalkTalk |
| Name | Fibre 150 |
| Average download speed | 150 Mbps |
| Average upload speed | 29 Mbps |
| Contract length | 24 months |
| Our rating | 4.2 (out of 5) |
| Price | Check on TalkTalk |
Historically, TalkTalk has been a more basic broadband provider, and they used to focus on offering cheap internet and landline calling packages.
However, the company has now started offering full fibre broadband plans with faster download speeds of up to 944 Mbps, and since so few people use their landlines these days, home phone calling packs are less of a priority for the company.
In fact, our TalkTalk Fibre 150 connection has no landline service, helping us to save a few pounds per month on our bill.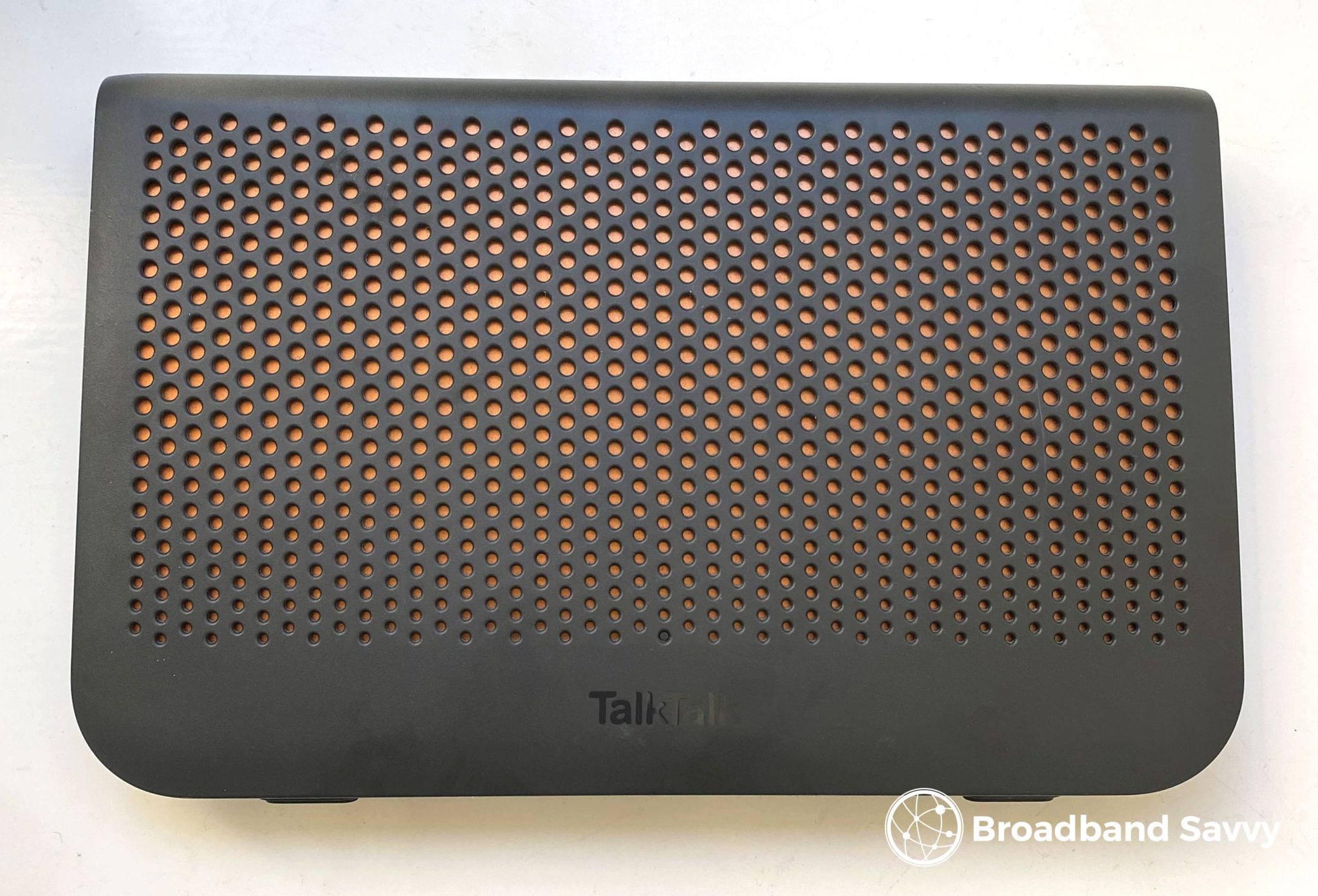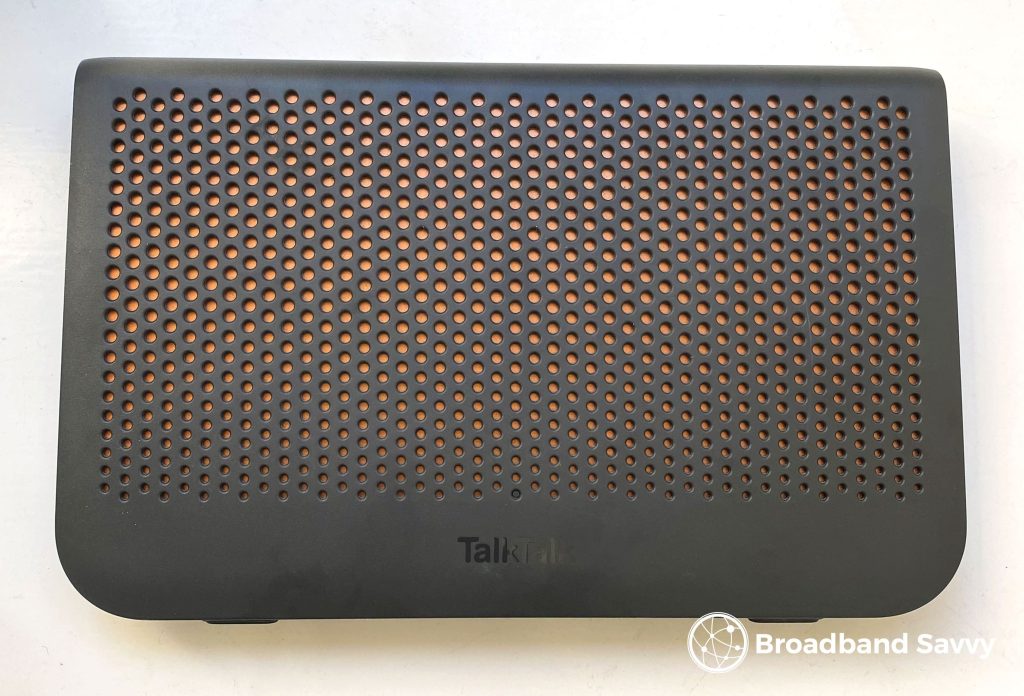 Despite offering faster broadband plans than they used to, TalkTalk is still a very reasonably-priced provider in most cases. They still try to offer lower prices than their competitors – they often have lower monthly fees and setup costs when compared to BT for example.
Also, while TalkTalk still offers reasonably-priced landline calling plans, their range of add-ons isn't as large as the offers available from the likes of Sky and Virgin Media.
While you can get broadband and TV with TalkTalk, their product is a TV box that's compatible with streaming services like Netflix and NOW TV, rather than being a fully-fledged cable TV offering.
It's also worth noting, TalkTalk uses the Openreach network to deliver its broadband service – the same network that most other providers, including BT, Plusnet, Sky, and more also use.
This means that:
Switching to TalkTalk is easy most of the time – they'll cancel your old connection for you, and you won't have to contact your old provider, unless you're coming from a non-Openreach provider, like Virgin Media.
TalkTalk Broadband is available in almost the entire UK, although you'll only be able to get their full fibre plans if you have fibre optic broadband in your area.
The range of different download speed plans you can get from TalkTalk is similar to most other Openreach full fibre providers, ranging from approximately 35 Mbps to 900 Mbps.
However, most other Openreach providers don't have a 150 Mbps plan. BT for example has 100 and 500 Mbps packages, with nothing in between.
So if you feel that 100 Mbps isn't quite enough download speed, but 150 Mbps would be, TalkTalk's Fibre 150 plan might be worth looking at.
Why we chose TalkTalk Fibre 150
When we joined TalkTalk broadband at this address, it was our first time buying broadband, so we didn't have an existing provider we were switching from.
Finding a good value broadband provider with fast download and upload speeds was a high priority for us. We didn't have any particular providers in mind, or ones we wanted to avoid.
We chose this TalkTalk broadband deal over other providers for a few different reasons.
For a 100+ Mbps broadband plan, their monthly costs were reasonable, and there was no upfront cost.
They were offering a year of free Amazon Prime when we signed up, which was quite useful for us.
We didn't mind entering into a 24 month contract.
We were recommended TalkTalk by a friend, who said they offered good service.
TalkTalk broadband ordering process
It was quite easy to order TalkTalk Broadband on their website. Unlike some other broadband providers, TalkTalk prominently displays the option to call them to order, but we found using their website to be quite straightforward.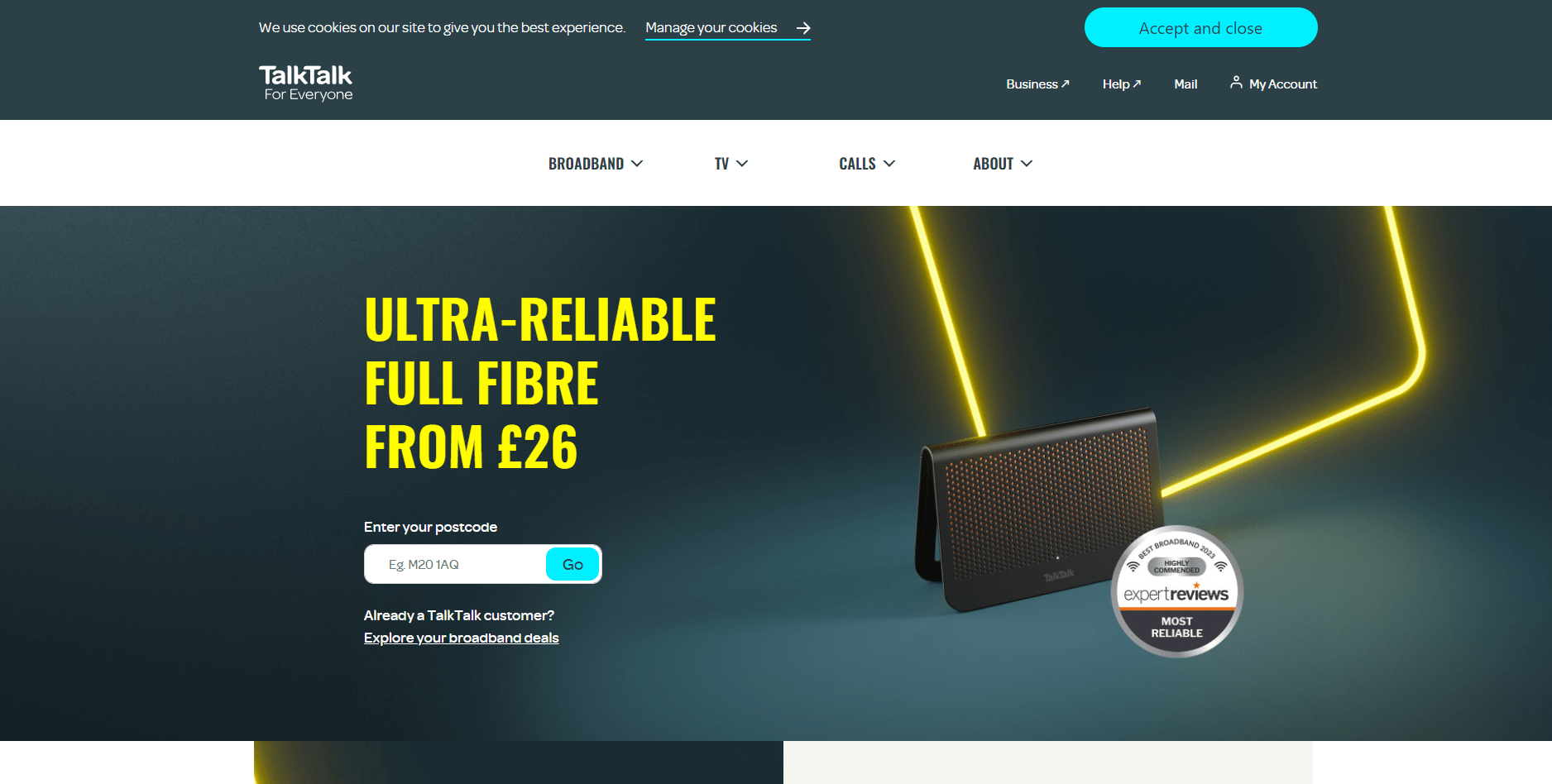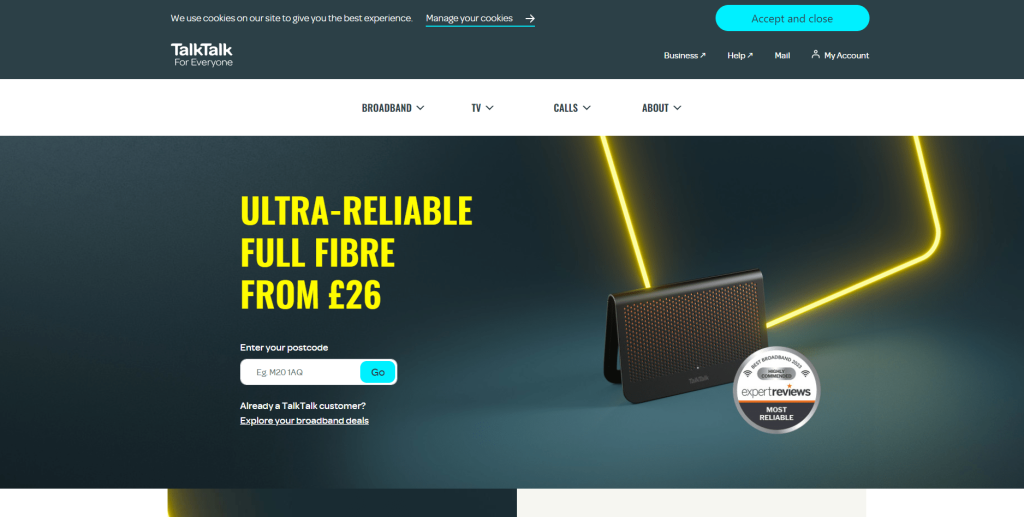 Once the order was placed, TalkTalk gave us a date when the connection would go live, and they were also quick to send out their introductory package, which contained the Wi-Fi Hub router, and some guides to help us get started.

Getting set up with TalkTalk Fibre 150
Getting live with TalkTalk Broadband was quite an easy process.
We placed our order before moving into the new property, and the connection was ready to go once we moved in. No engineer visit was necessary to get online.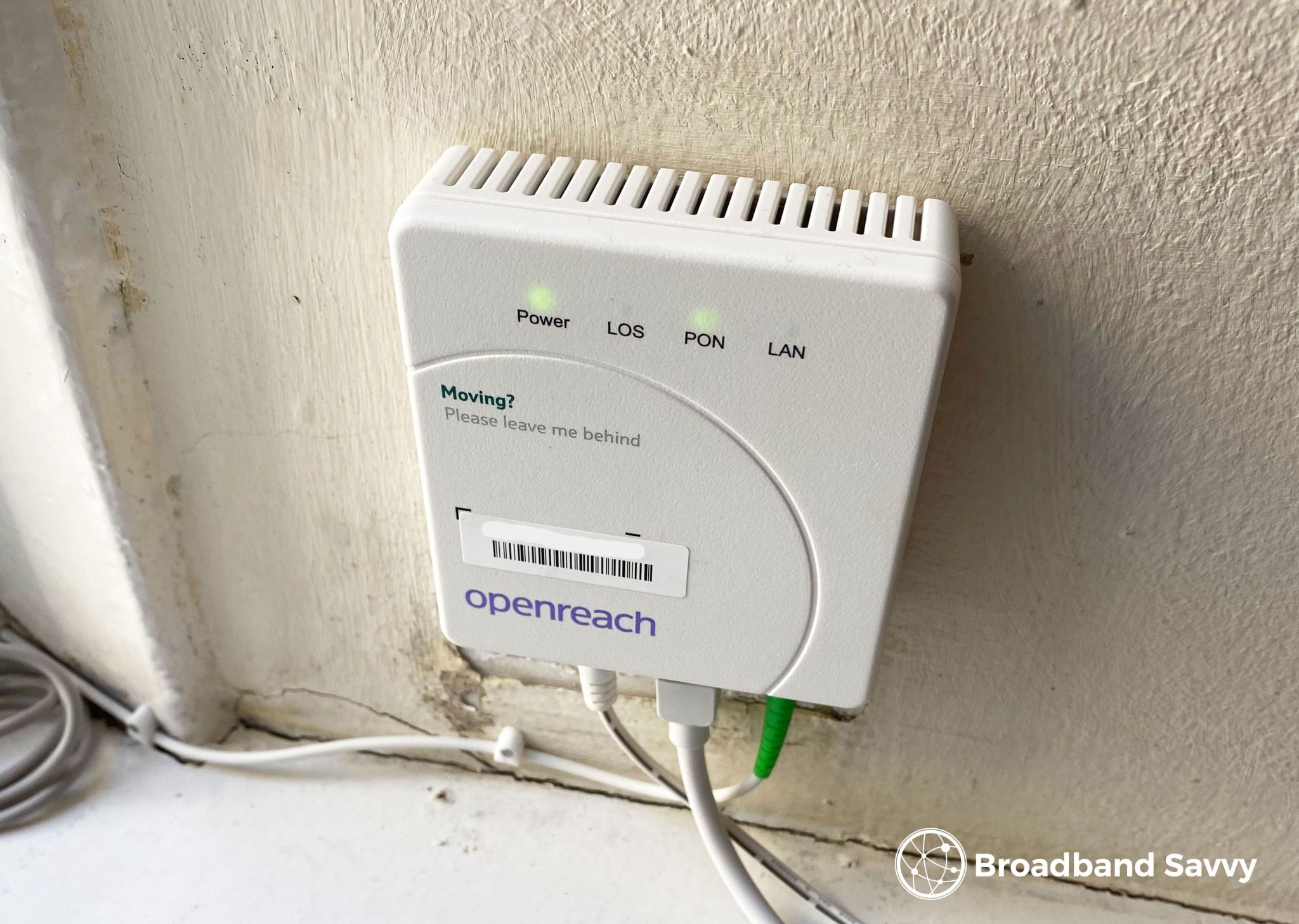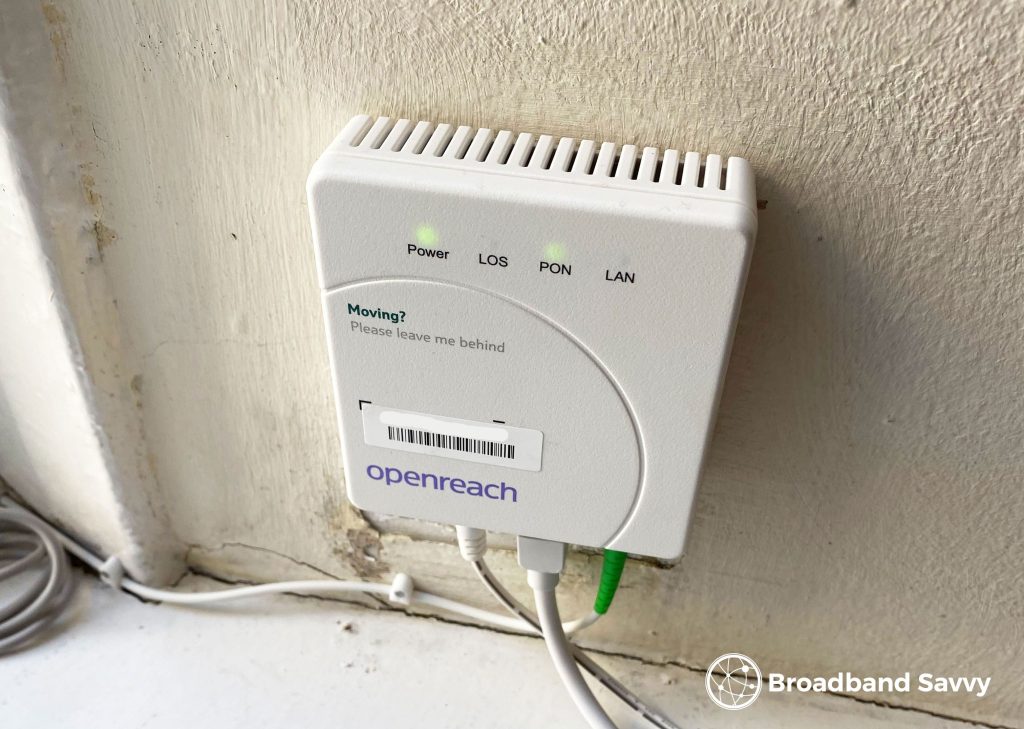 It was fairly easy to get set up with TalkTalk's Wi-Fi router. They included plenty of information about the Wi-Fi Hub, making it fairly straightforward to get it installed correctly.
The router was also quite quick to get itself set up and create a Wi-Fi network, once turned on. Then, we were able to connect to the hotspot using the login details printed on the router.

TalkTalk Wi-Fi Hub router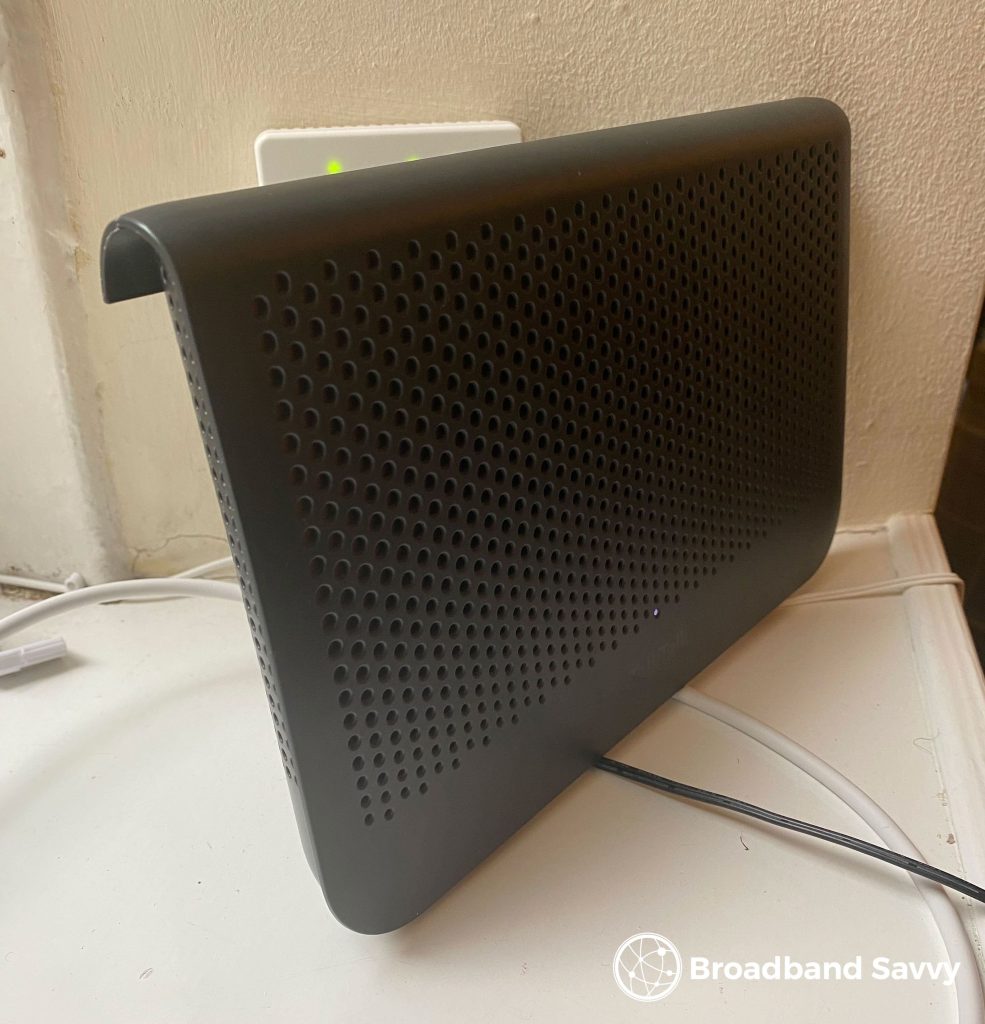 TalkTalk sent us their Wi-Fi Hub router in the mail when we signed up, free of charge. This is the router they used to include with all plans up to Fibre 250.
Note that if you buy TalkTalk Broadband now, you might get their upgraded Amazon Eero router, free of charge. This is a better router that is Wi-Fi 6 compatible, meaning you'll get better speeds over Wi-Fi, as well as better coverage.
TalkTalk Wi-Fi Hub specs
| | |
| --- | --- |
| Brand | TalkTalk |
| Name | Wi-Fi Hub |
| Dimensions | 255mm x 170mm x 35mm |
| Antennas | 7 (internal) |
| Ethernet ports | 4 |
| Ethernet speed | Gigabit |
| Protocols | ADSL, ADSL2+, VDSL2, G.fast |
| WiFi | Dual-band (2.4GHz and 5GHz) 802.11b, 802.11n, 802.11g, 802.11ac |
| Colour | Black |
Is TalkTalk's Wi-Fi Hub router any good?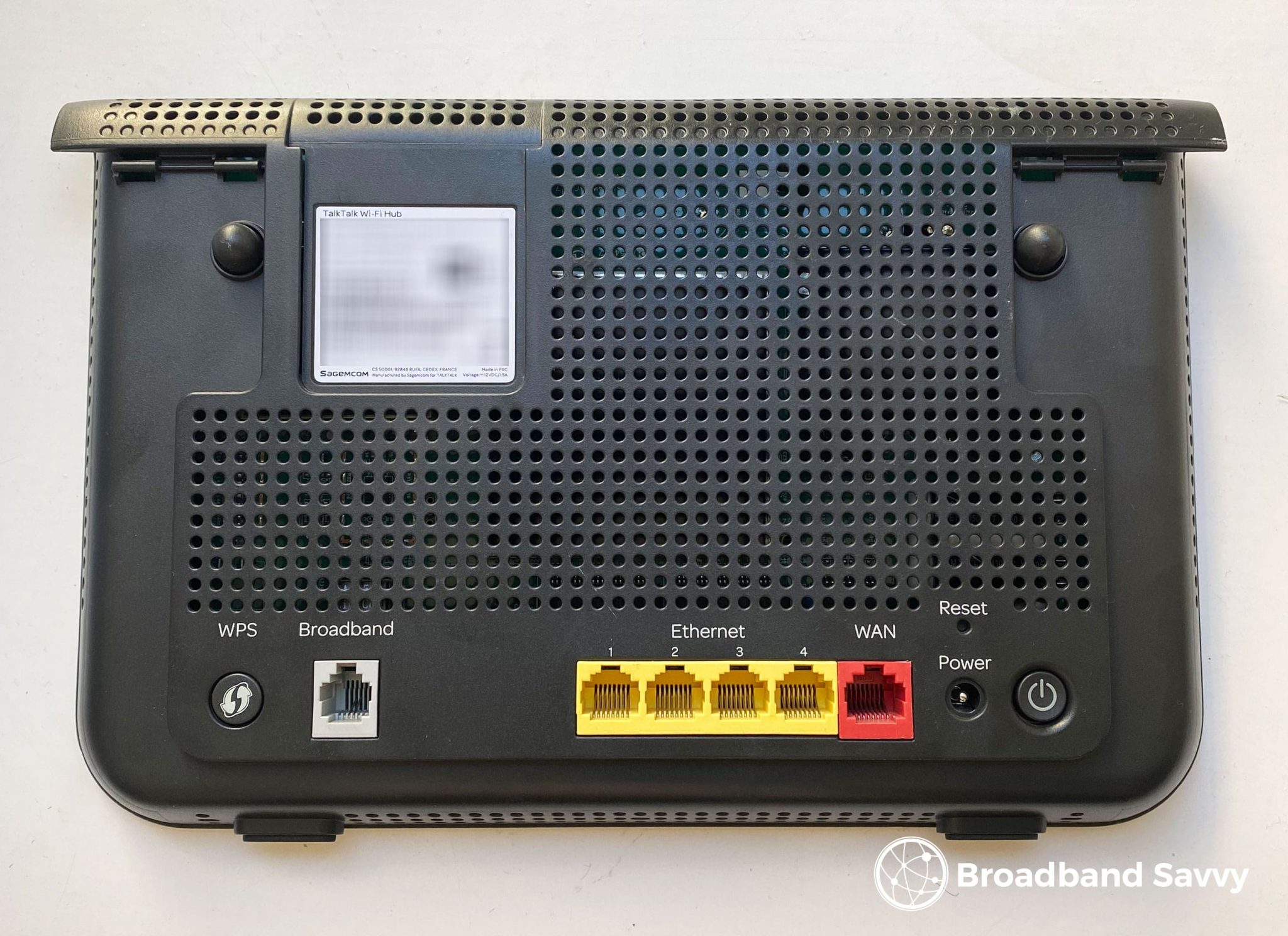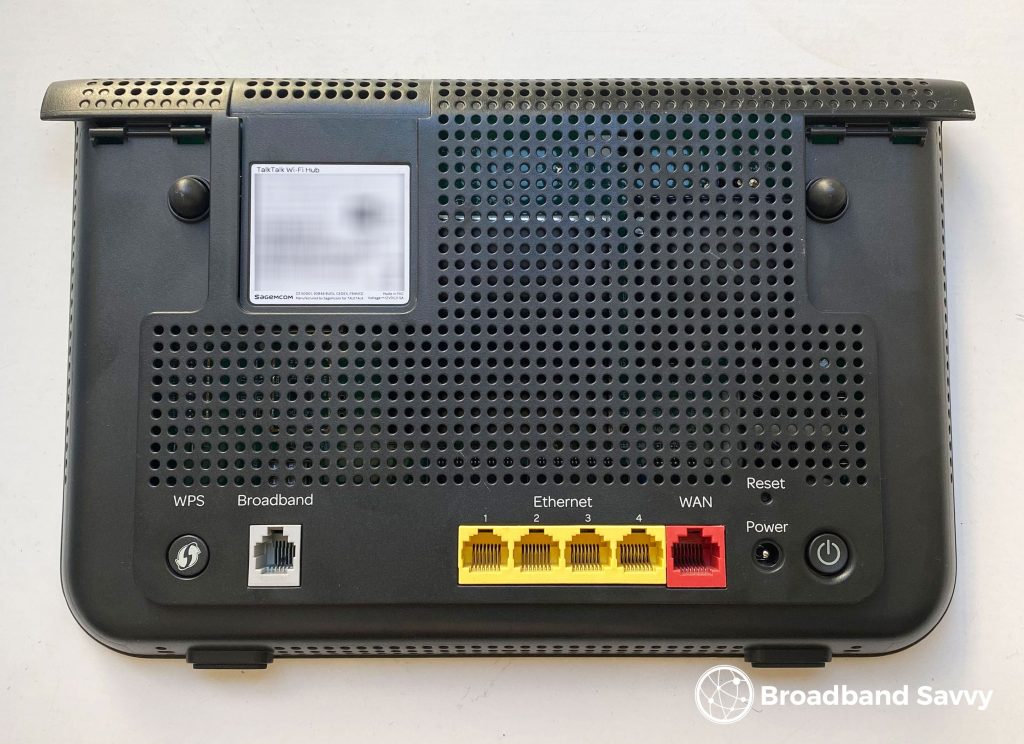 The TalkTalk Wi-Fi Hub is a bit dated these days, given it's not Wi-Fi 6 or Wi-Fi 6E compatible, but it still has performed very well for us since we joined TalkTalk.
This router comes with four gigabit Ethernet ports, as well as dual-band Wi-Fi, and we've found its speeds to be very consistent.
The one odd thing we noticed with this router is it was set to block certain websites in parental controls out of the box – most other providers don't enable these sorts of filters by default. We had to log into the router's settings to fix this, which took a bit of time to figure out.
Wi-Fi signal performance
When we first joined TalkTalk fibre broadband, we had some issues where the Wi-Fi signal would drop out occasionally, once or twice a month. This was resolved by restarting the router.
This issue persisted for a little while, but the problem stopped occurring before we got around to contacting TalkTalk support.
It could be that the router installed a firmware update automatically, resolving the issue, or it could be that there was a small line fault that Openreach got around to fixing eventually. We're not completely sure if this was a Wi-Fi-specific issue or not.
Since this issue was resolved, our experience with the TalkTalk Wi-Fi Hub has been faultless.
We've never had any issues with Wi-Fi signal, even when having lots of family members come to visit and get on Wi-Fi.
The apartment we're using TalkTalk in is not huge, so we don't really use this router at very long distances, however even on the other side of the flat we never experience Wi-Fi dropouts or our speeds noticeably slowing down at all.

TalkTalk Fibre 150 speed tests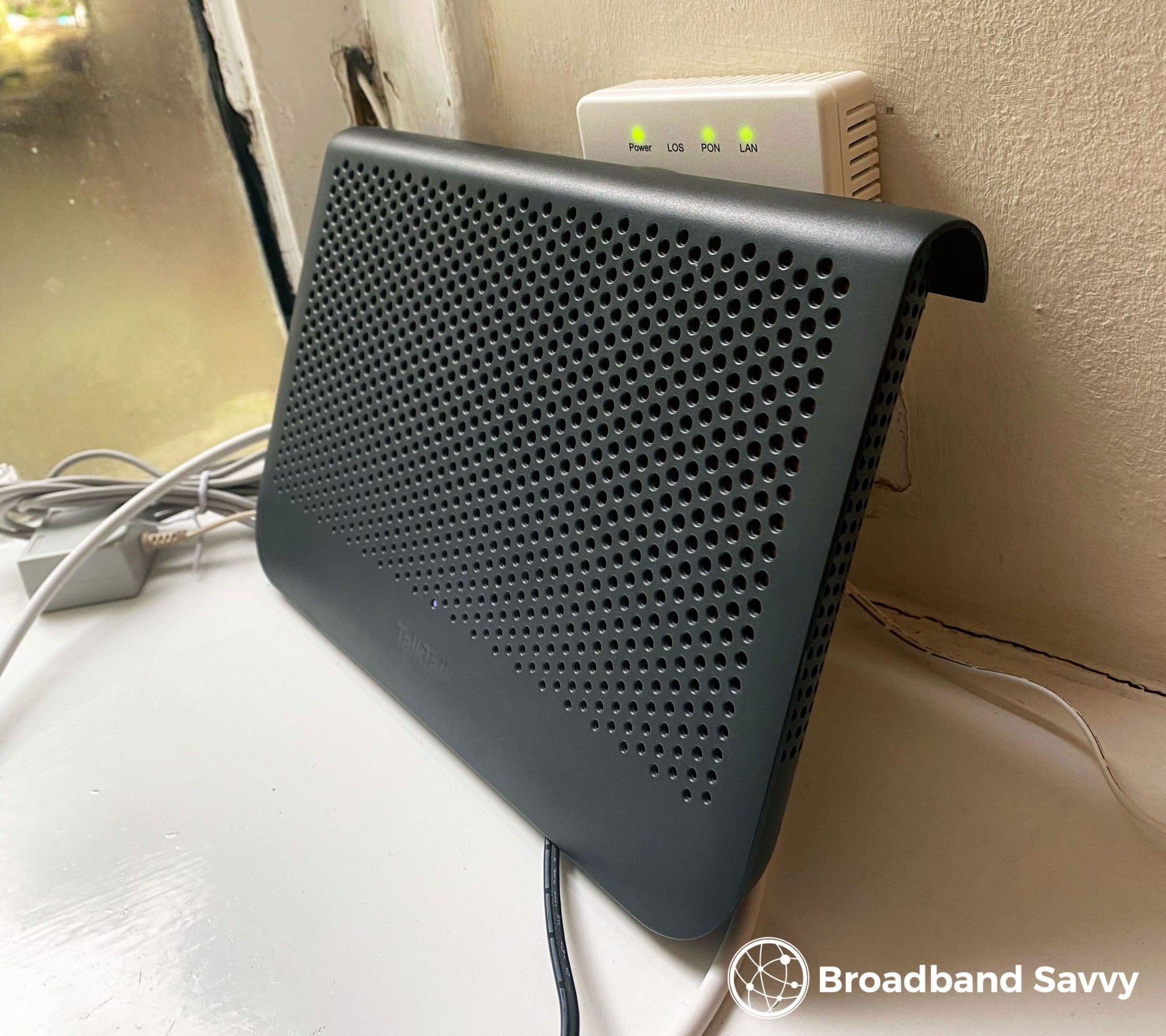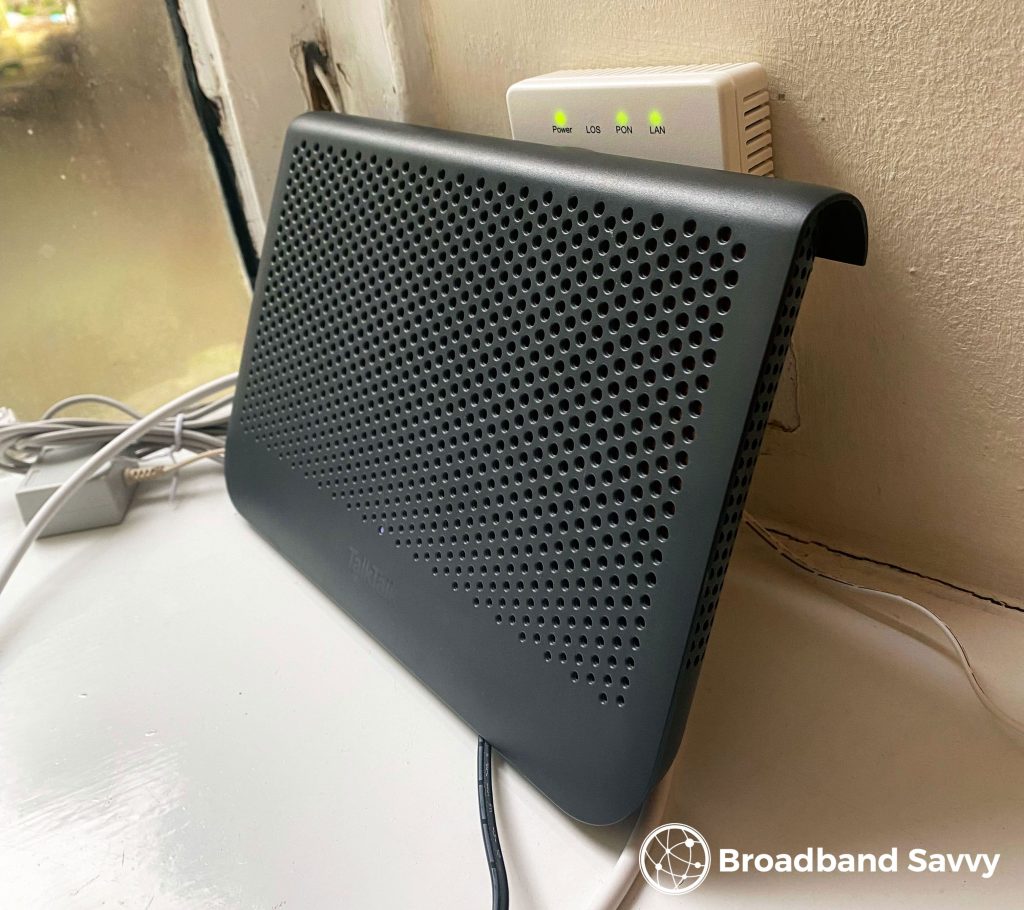 Now let's discuss the download and upload speeds we actually receive with TalkTalk Fibre 150.
With the TalkTalk Broadband plan we're on, our speeds should be:
Download speed: 150-153 Mbps (minimum guarantee of 120 Mbps)
Upload speed: 29-30 Mbps
Below, we've run a speed test to look at the speeds and latency we're actually receiving.
Wi-Fi speed test
Over Wi-Fi, a typical speed test result is:
Download speed: 150 Mbps
Upload speed: 29 Mbps
Ping: 15-18 ms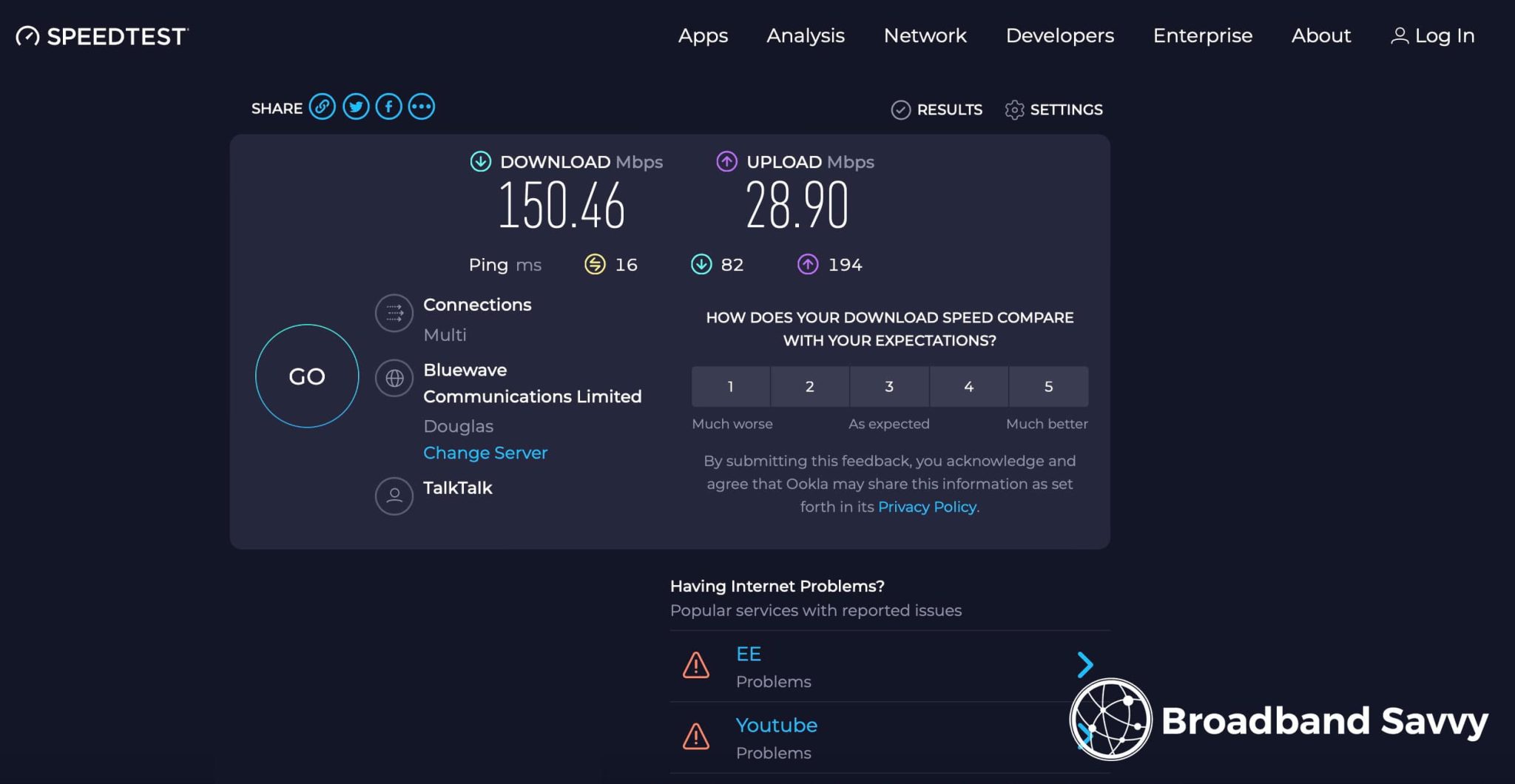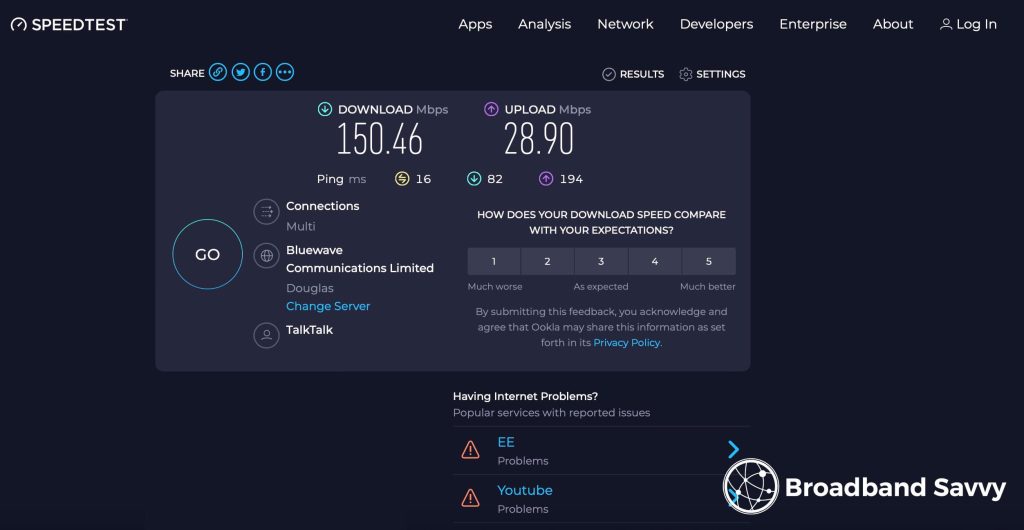 Ethernet speed test
Over Ethernet, a typical speed test result is:
Download speed: 150 Mbps
Upload speed: 29 Mbps
Ping: 12-15 ms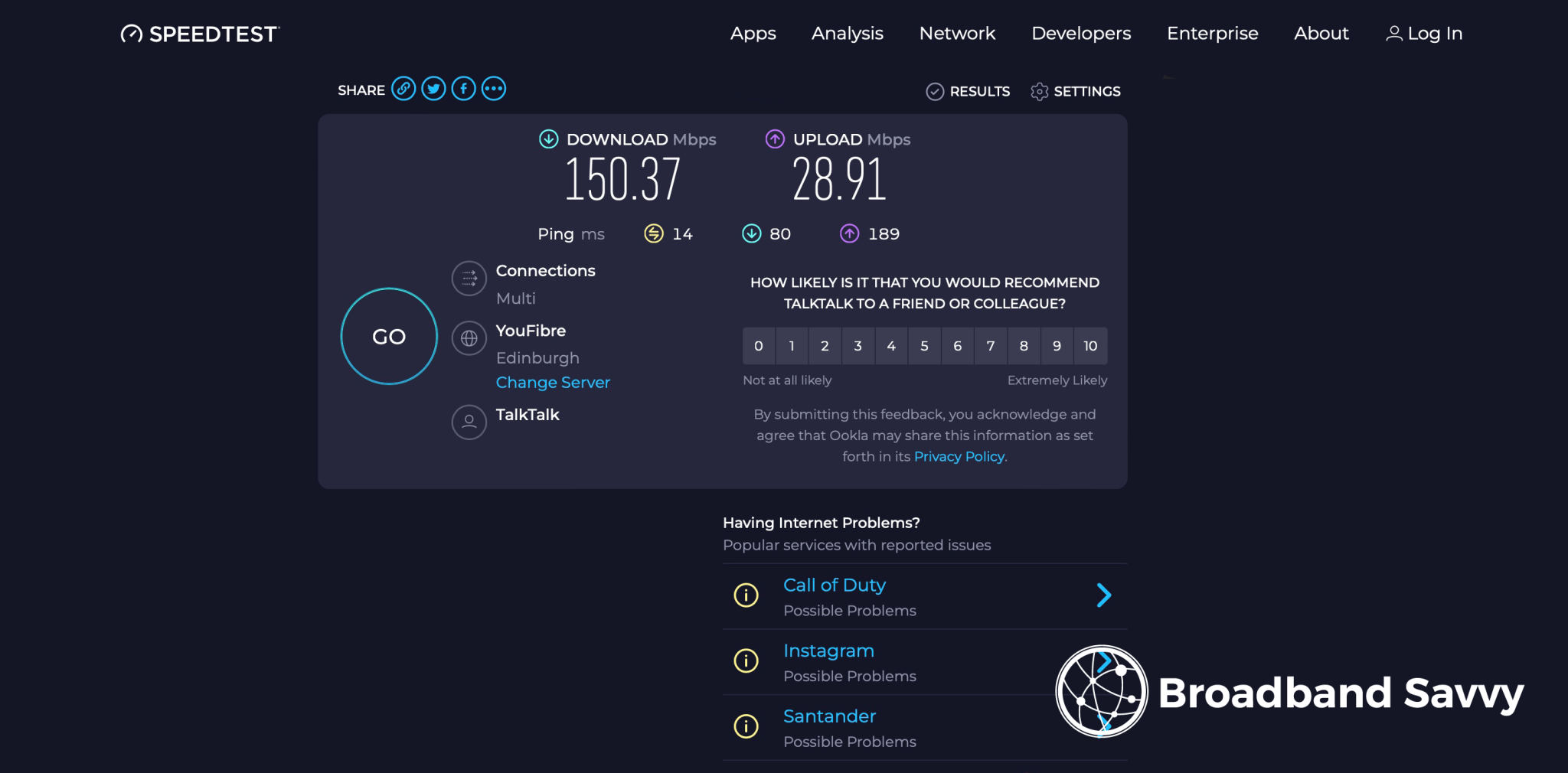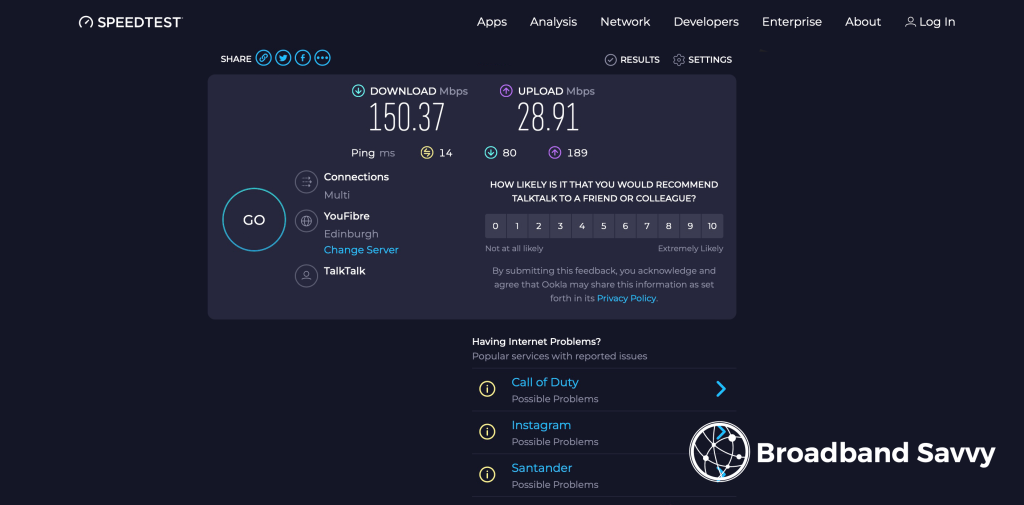 Our download and upload speeds with TalkTalk have been consistent enough that we never really need to check our speeds any more.
We get 150 megabits per second or thereabouts throughout the day, including in the evening – we haven't experienced any network congestion since joining TalkTalk. Our upload speeds have also been very consistent.
We also get the speeds we're paying for over Wi-Fi – we don't have to use an Ethernet connection to get good speeds or latency.
And although we don't play many online games at home, our latency has always been below 20ms, even over Wi-Fi, meaning that we probably wouldn't have any issues with lag if we did play online games.

TalkTalk Broadband customer service
We haven't had to speak with TalkTalk's customer service very often, but they have been relatively good during the few interactions we've had with them.
Although we didn't contact TalkTalk when we first joined and were experiencing occasional Wi-Fi dropouts, we did call them when we realised we were paying for landline service we weren't using.
We asked if there was anything we could do to remove our landline service and save a bit of money, and TalkTalk was very helpful. They took these add-ons off our plan, allowing us to reduce our monthly bill.
When we were initially having issues accessing certain websites due to the router's default parental controls, we tried to get in contact with TalkTalk over live chat, and this was a bit more difficult. The wait time to speak to someone was quite long.
We'd recommend calling TalkTalk if you need help, as in our experience the wait times have been reasonable, and each time we've spoken to them, they've been quite helpful.
As another example, when we renewed our contract over the phone, we were offered a free Amazon assistant device as an incentive, which was a nice touch. The price they offered on the renewal was also reasonable, and the sales rep didn't push us hard to upgrade our plan or add anything on.

Is TalkTalk Fibre 150 good value for money?
We have been very satisfied with the value for money offered by TalkTalk Fibre 150, which is why we've remained a customer for quite a long time now.
Although it might be possible for us to save a bit of money with a slower plan, we've got a lot of value in return for the price we're paying.
Our speeds are very consistent, as is our Wi-Fi signal, although it would be good to have a slightly more modern Wi-Fi router. And TalkTalk has been helpful each time we've spoken with them.
Also, relative to a 100-200 Mbps fibre broadband plan from another provider, the monthly cost we're paying is competitive. TalkTalk has made it quite easy for us to stay in-contract, to avoid paying more than we need to each month.
At this stage, we haven't faced any mid-contract price rises from TalkTalk, although we think they will add a price rise soon, like most other providers have been doing recently.

The verdict: should you buy TalkTalk Fibre 150?
After everything we've discussed, would we recommend buying TalkTalk Fibre 150?
What we like about TalkTalk Broadband
Here's what we like most about TalkTalk Broadband:
Apart from some minor Wi-Fi issues in the first few months, their broadband service has been incredibly consistent, including during the evenings when many people in the UK experience network congestion.
Fibre 150 offers quite good value for money, relative to what we'd be paying with other providers. We were also able to save a bit of money by getting broadband without a landline.
Our Wi-Fi signal is plenty good in our apartment, including when family comes to visit.
TalkTalk's customer service team has been quite helpful each time we've spoken to them.
What we don't like about TalkTalk Broadband
However, there are downsides to TalkTalk Broadband.
We did experience a few Wi-Fi connectivity issues when we first joined, although these were resolved fairly quickly.
Our Wi-Fi router, although it works great, is a bit dated and it would be nice to get an upgrade to TalkTalk's newer router that they're now shipping.
Although we haven't had one yet, we expect to get an in-contract price rise soon. Some other providers, like Zen and Cuckoo, don't increase prices during the contract term.
Verdict
Overall, we rate TalkTalk Fibre 150 4.2 out of 5.
We have been very happy with the download speeds, upload speeds, latency and Wi-Fi connectivity we're receiving with TalkTalk, in return for the price we're paying.
We'd recommend TalkTalk to others, and have no plans on switching at the moment.

Alternatives to TalkTalk Fibre 150
If you're not sure if TalkTalk FIbre 150 is the right broadband deal for you, here are some other plans from similar providers that are worth checking out, and how they differ from TalkTalk's offer.
Like TalkTalk, Vodafone also has a 24 month contract length, and no upfront costs. But they give you the choice of including a much wider range of add-ons, to get more from your broadband.
No matter which download speed tier you choose, you can pick either a basic package, for a quite competitive monthly cost, or go for Vodafone's "Pro" Broadband, which is more expensive, and comes with more add-ons.
For example, you can get a 4G broadband backup, better Wi-Fi support from Vodafone, anytime landline calls, and an Apple TV 4K device.
The downside is, Vodafone's minimum speed guarantee is just 50 Mbps with this broadband package – half the advertised download speed.
As we touched on earlier, BT doesn't have a 150 Mbps plan. However, if 100 Mbps is enough download speed for you, their Full Fibre 100 plan could be a good choice.
BT is quite similar to TalkTalk when it comes to contract lengths, and they also have good customer service.
Like Vodafone, the area where BT Broadband stands out is their add-ons and bonuses. They have a much better range of cable TV channels and Wi-Fi extenders, and they also include a free reward card for new customers, which is a nice touch.
Read our review of BT Broadband to learn more about our experience with this provider.
Virgin Media isn't available everywhere in the country, but if you can get their cable broadband service, they have a similar broadband plan to TalkTalk that offers slightly better download speeds.
The big upside to Virgin Media is since their network is separate to all other Openreach providers, you're less likely to suffer from slower evening speeds, although we've never had any issues with this on TalkTalk.
However, Virgin Media M150 has slower upload speeds than TalkTalk's 150 Mbps plan, and the company's customer service isn't performing very well at the moment, according to Ofcom research.

Conclusion
You've reached the end of our review of TalkTalk Fibre 150, and TalkTalk Broadband more broadly.
If you have any questions about our experience with TalkTalk Broadband or their Fibre 150 plan, feel free to leave a comment below, and we'll get back to you as soon as possible.
About the author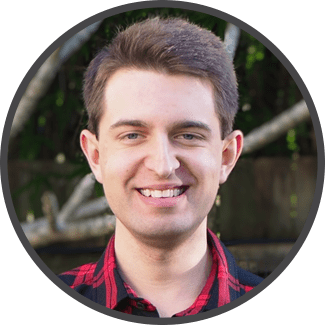 Tom is the founder of Broadband Savvy. He has more than five years' experience writing broadband tutorials, reviewing routers and internet service providers, and explaining broadband-related concepts. Tom is experienced as a writer, and also produces videos for the Broadband Savvy YouTube channel.
He currently specialises in writing content for Broadband Savvy designed to help people understand broadband jargon and terminology, increase their download and upload speeds, and improve their Wi-Fi connectivity. Tom also occasionally contributes to buyer's guides and review articles on Broadband Savvy, utilising his knowledge of the broadband market in the UK.
When he's not writing about broadband, you'll find him walking his dog (Rex) or playing agar.io.