Considering joining BT Broadband?
We recently switched to BT Fibre 1, and in this article, we've reviewed BT Broadband.
We've explained what our experience with BT Broadband has been like, including how their customer service and been, what download and upload speeds we're getting, and how their Wi-Fi router performs.
Before we begin, if you're looking for the best possible price on BT Broadband, use this page to see the latest offers. These deals on this page often include reward cards you won't find on the main BT website.
Contents
BT Broadband overview
| | |
| --- | --- |
| Brand | BT |
| Name | Fibre 1 |
| Average download speed | 49-50 Mbps |
| Average upload speed | 8-9 Mbps |
| Contract length | 24 months (12 months also available) |
| Our rating | 4.3 (out of 5) |
| Price | Check on BT |
BT Broadband is more of a premium broadband provider when compared to many of its competitors.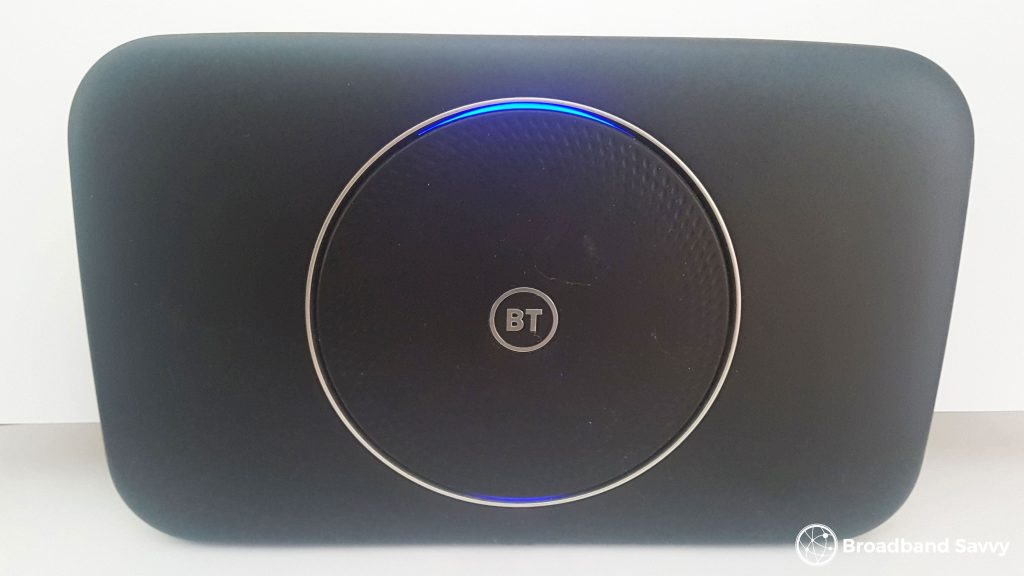 BT uses the Openreach network to supply its broadband service, just like Sky, Plusnet, TalkTalk, Vodafone, and most other broadband companies. They don't have a separate broadband network like Virgin Media does.
However, BT is not as cheap as most other Openreach competitors, such as NOW Broadband. Their monthly costs aren't the lowest, and they normally charge a setup fee.
In return for the higher price, you get:
A minimum speed guarantee – some other providers only offer an average download speed.
Better than average customer service, according to Ofcom data. We've talked more about our experience with BT's customer service later in the article.
A good Wi-Fi router – not the best on the market (no Wi-Fi 6E for example) but better than some cheaper competitors.
Reasonably good upload speeds, at least compared to Virgin Media.
BT Fibre 1, as well as all other BT Broadband plans, are available with the following contract lengths:
24 months – the default contract length – often includes a gift card – click here to see the current deal.
12 months – for a much higher price (these deals are quite hidden – click here to see them).
9 months – but only for students.
Another strength of BT is the range of add-ons they offer. Once you select a broadband package, you can choose to add on heaps of extras, including TV deals (with or without a TV box), phone calling minutes (not recommended – very expensive), Wi-Fi signal boosters, and BT Mobile SIM cards.
Finally, one other thing that sets BT apart is the range of fibre broadband plans with different download speeds they have. You can get up to 900 Mbps with BT Full Fibre 900, which many other Openreach providers don't offer.
View BT's current deals and put in your postcode to see what speeds you can get at your address.
Why we chose BT Fibre 1 broadband
We chose BT Broadband over other providers for a few different reasons:
According to Ofcom data, BT's customer service is quite good.
Neither Virgin Media nor any other alt-nets (small, non-Openreach providers) service our address.
We prefer to have very low latency, so we discounted Three's 5G Hub, even though we get good 5G signal.
We knew that BT's Smart Hub 2 router was meant to be quite a good bit of kit when compared to some other providers' routers, especially when it came to its Wi-Fi signal. We didn't buy any of BT's Wi-Fi signal booster products.
We were an existing BT landline customer, as we still use our home phone occasionally. Switching to BT Broadband allowed us to have everything under a single provider, rather than having to pay two different bills each month.
We didn't mind entering into a 24 month contract, because this would allow us to avoid having to think about renewing or switching providers for a long time.
We were previously with TalkTalk, and the price was extremely high considering the download speeds we were getting.
We bought BT Fibre 1 because this is the fastest BT Broadband package available to us at the time – we only have superfast broadband where we live, and only up to about 40 Mbps. BT Fibre 2 was not available to buy at our address.

BT Broadband ordering process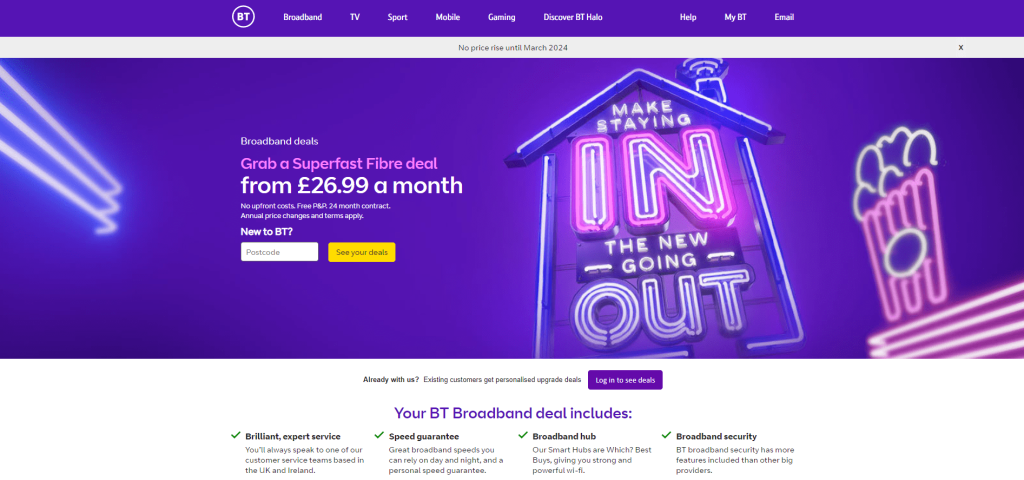 Placing our order on the BT website was quite straightforward.
It was a bit of a hassle to click through all of the screens with BT's different add-ons, since we weren't ordering any of them, but this was only a minor annoyance. And fortunately, these add-ons are quite easy to understand, especially compared to Virgin Media's add-ons, in our opinion.
However, once we placed our order, nothing happened for about a week. Although we received a confirmation email (and an email from TalkTalk, urging us to stay), we didn't receive any emails about our router being shipped.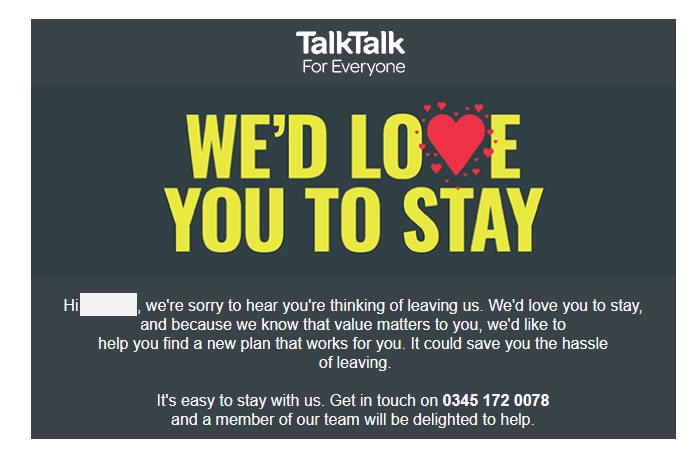 After calling BT, they said the order had been cancelled somehow. They re-submitted the order, and about three business days later we received our Wi-Fi router in the mail.
It's important to note, if you're switching to BT from another Openreach broadband provider, such as TalkTalk, Plusnet, or Sky, you don't need to contact your old provider to cancel the connection – you can just place your BT order.
However, if you're switching from a non-Openreach provider, such as Virgin Media, you'll need to let them know you want to cancel.

Getting set up with BT Broadband
Setting up our BT Broadband connection was a straightforward process, but we did have issues once we got online.
The Smart Hub router is easy to get going, and BT includes clear instructions to help you set it up. There's also a video you can watch on your phone if you'd prefer.
All you need to do to set up your BT Smart Hub is take it out of the box, plug it into a power socket, plug in the broadband cable, and turn it on. Everything you need to go live is included in the box, including a microfilter, in case your phone socket doesn't have a separate broadband port.
The router will then set itself up, which takes about three minutes. You can then connect to Wi-Fi using the details on the sticker on the router.
The issue was once we got up and running, our speeds were about a third of what we were supposed to be getting. We tried some basic troubleshooting steps, such as resetting the router, but couldn't fix the issue.
We called BT customer support again, and after doing some tests, they wanted to send an engineer to our house.
The engineer arrived three days later, and found that the physical broadband connection to our house was badly degraded, since it had been more than ten years since we last switched broadband provider, and we hadn't had a superfast connection before.
He fixed the issue in a few hours, and we began getting much faster broadband speeds.

BT's Wi-Fi router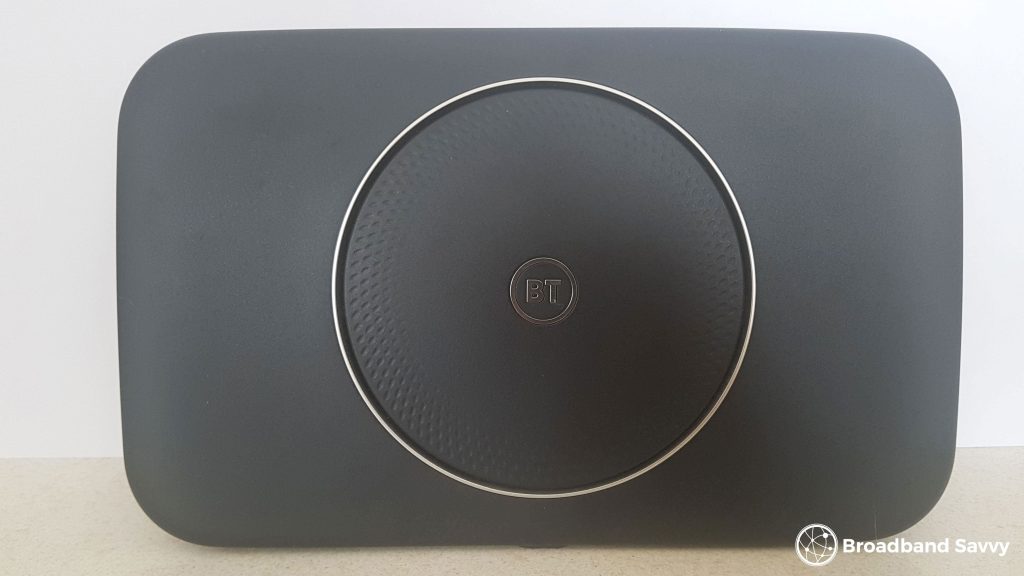 BT currently sends new customers their Smart Hub 2 broadband router – priced at about £200 – but you don't pay anything as a new BT Broadband customer.
BT Smart Hub 2 specs
| | |
| --- | --- |
| Brand | BT |
| Name | Smart Hub 2 |
| Dimensions | 254mm x 157mm x 30mm |
| Antennas | 7 (internal) |
| Ethernet ports | 4 |
| Ethernet speed | Gigabit |
| Protocols | ADSL, ADSL2+, VDSL2, G.fast |
| WiFi | Dual-band (2.4GHz and 5GHz) 802.11b, 802.11n, 802.11g, 802.11ac |
| Colour | Black |
Is BT's router any good?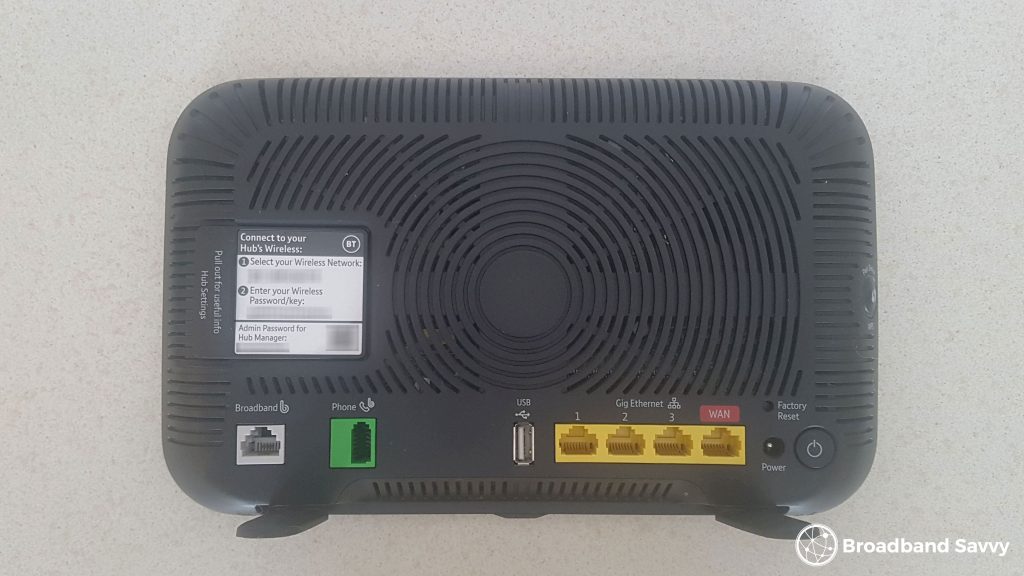 From our experience, the BT Smart Hub 2 has performed well. It offers good Wi-Fi signal (discussed in more detail below), and has four gigabit Ethernet ports – some providers' routers only come with two.
The router was also very easy to set up – we were able to get online in about 15 minutes. The Wi-Fi network details are printed on the back – you don't have to set an initial password yourself, meaning setup is very straightforward as long as BT have activated your connection.
We haven't used the USB port or any of the router's more advanced functionality, such as setting up Quality of Service (QoS) rules.
Wi-Fi signal performance
We're using BT Broadband in a four-bedroom, two-storey freestanding house. It's not the biggest house in the world, but isn't small either.
The router is placed by the front door because this is where the phone socket is located. We haven't set up any mesh Wi-Fi systems, or any other access points or signal extenders.
Despite this, our Wi-Fi signal has been quite good, considering where the router is. Upstairs on the other side of the house, we still get good signal over Wi-Fi, with our speeds dropping only about 5-10 Mbps or so most of the time.
We don't experience any dropouts inside the house. Walking into the back garden, Wi-Fi signal drops off pretty quickly since the access point is on the complete opposite side of the house and has to pass through two brick walls.

BT Fibre 1 speed tests
Now for the most important thing – how fast has BT Broadband been, and are we getting the speeds we should be with Fibre 1?
Remember, the broadband package we have is BT Fibre 1, meaning that our speeds should be:
Download speed: 49-50 Mbps
Upload speed: 8-9 Mbps
Wi-Fi speed tests
Over Wi-Fi, a typical speed test result is:
Download speed: 30-40 Mbps
Upload speed: 5-7 Mbps
Ping: 20-25 ms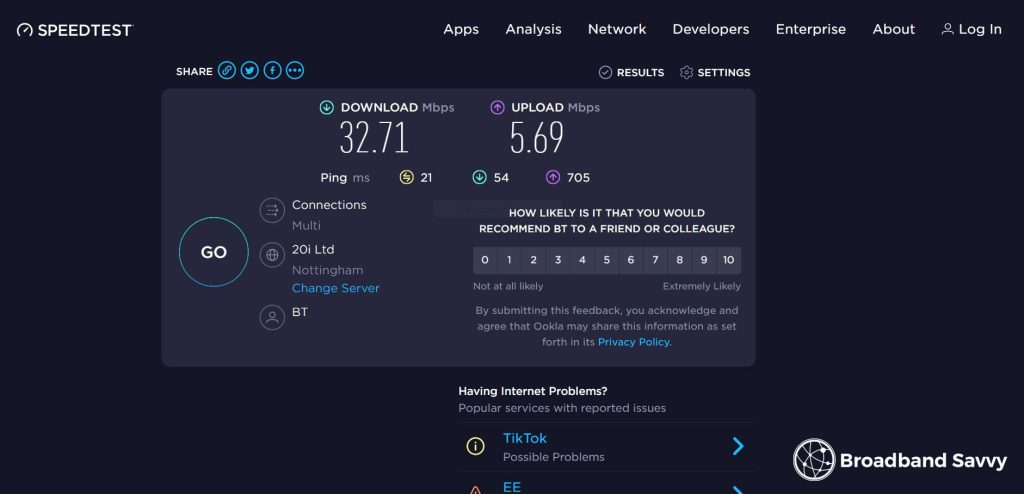 This was taken in an upstairs bedroom, a long way from the router. Closer to the Smart Hub, we get download speeds about 10 Mbps faster on average.
Since we're paying for an average download speed of 50 Mbps on BT Fibre 1, we're relatively happy with these sorts of speeds over Wi-Fi, especially quite far away from the router, and with no mesh Wi-Fi or boosters installed.
Compared to TalkTalk, which was basically an ADSL broadband plan with a 10 Mbps download speed, upgrading to Fibre 1 has made a big difference to our broadband experience, especially when more than one person gets online at the same time.
Ethernet speed tests
We have a desktop computer in an upstairs bedroom, a long way from the router, which we use to play online games and stream video on YouTube and Twitch.
To connect this computer to the internet, we use a powerline adapter. This device uses the electricity cables in our house to transmit a wired broadband connection, allowing us to avoid having to use Wi-Fi with this computer.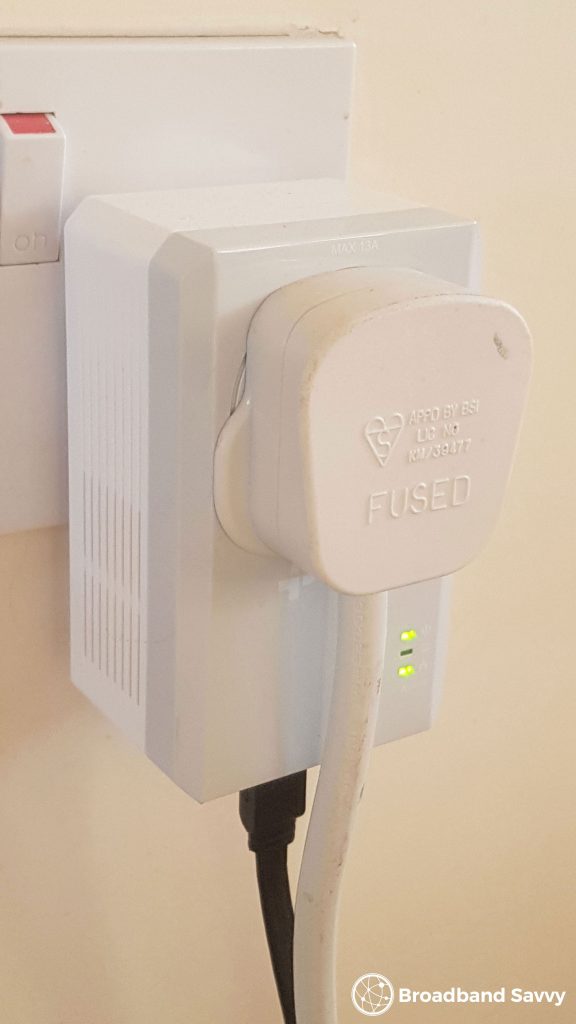 Using Ethernet, a typical speed test result is:
Download speed: 45-55 Mbps
Upload speed: 8-9 Mbps
Ping: 11-15 ms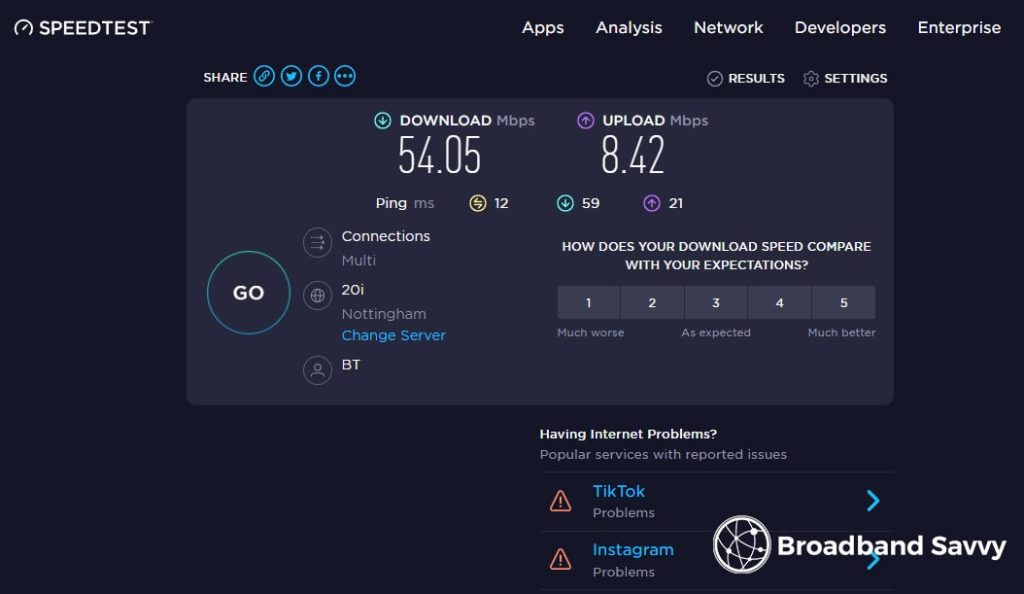 Playing online games is a smooth experience because the ping stays below 15 milliseconds essentially all the time. Watching 4K YouTube videos is also very smooth, including with multiple people online at the same time.

BT Broadband customer service
On the whole, we're quite happy with BT's customer service. Whenever we have called them, we were connected to someone in the UK, and we reached the front of the queue relatively quickly. Their customer support agents have been helpful each time we've spoken to them.
The engineer BT sent to fix our connection arrived when he was supposed to, and they were able to make the booking within a few days of us letting them know about the issue we were having.
However, it would have been better if BT hadn't cancelled our order in their system without telling us. Although they fixed the issue quickly, it was a bit annoying to have to wait an extra week to get online through no fault of our own.

Is BT Fibre 1 good value for money?
BT is not the cheapest broadband provider on the market. However, we're quite satisfied with Fibre 1's value for money.
We're paying about £30 per month for a 30-50 Mbps real-world average download speed. This is not the cheapest on the market, but:
We've never had any dropouts or downtime.
Our Wi-Fi signal is consistent.
BT is easy to reach on the phone, and their agents are helpful if we have any issues.
We also have a minimum speed guarantee, making it easier to complain to BT if our speeds ever drop significantly in the future.
The verdict: should you buy BT Broadband?
At the end of the day, should you buy BT Broadband?
What we like about BT Broadband
There are a lot of things we like about BT Broadband, since becoming a customer:
Their customer service is good, as Ofcom data suggests. Although we had issues initially, it was easy to get someone based in the UK on the phone, and the problems were resolved quickly.
Our speeds have been great for a superfast connection, as well as fairly consistent, including during the evenings.
BT's Wi-Fi router is quite good, and is easy to set up.
If you live somewhere with fibre to the premises (FTTP) broadband, you can get ultrafast broadband for a reasonable price with BT, and their upload speeds are much better than Virgin Media's.
What we don't like about BT Broadband
However, BT Broadband does have its flaws:
BT isn't the cheapest broadband provider. And even though we're locked into a long-term contract, we still have to deal with an annual price increase, although most providers also do this.
There were issues getting live. Our switchover was delayed by at least a week because BT somehow cancelled our order without telling us.
Verdict
On the whole, we're very happy with BT Broadband. We'd rate BT Fibre 1 4.3 out of 5 overall.
Although there were initial hiccups in getting connected, their customer service has been good, and our speeds have been great. Since the initial issues we had, and the engineer visit, we haven't had any real issues with BT Broadband.
BT's Smart Hub 2 Wi-Fi router has performed well for us, although we would need to get signal boosters to get better Wi-Fi connectivity around the house. Indoors, its performance has been basically flawless.
However, you shouldn't buy BT Broadband if:
You don't want a 24 month contract, or don't like how expensive their 12 month broadband deals are.
You just want the lowest-possible monthly cost, or want to avoid paying an upfront cost.
If you're looking for a cheaper, more flexible broadband provider, check out the alternatives we've looked at below, or read our broadband deals guide to see the best deals from a range of providers.

Alternatives to BT Fibre 1
If you're not quite sold on BT Broadband, perhaps due to their monthly costs, you might also like to consider these other similar providers.
On the surface, Vodafone Broadband looks very similar to BT Broadband.
Both mostly use Openreach (although Vodafone also takes advantage of CityFibre in some locations)
Both have a 24 month default contract
Both offer superfast fibre, as well as ultrafast download speeds
However, Vodafone has two tiers of broadband package, and both are available no matter what download speed you're looking for:
The first is quite barebones, and can be very competitively priced. It's normally cheaper than BT when comparing deals with a similar average download speed.
The first is more expensive, and comes with extras such as Apple TV, a 4G broadband backup device, and a much better Wi-Fi 6E router.
Vodafone also offers discounts to pay monthly Vodafone mobile customers. However, their cable TV offerings aren't as good as BT's.
NOW Broadband is cheaper than BT, and they offer 12 month default contracts. They also offer you the ability to buy broadband without a contract, for a higher upfront cost.
You don't quite get as good customer service with NOW, but their support is still known to be responsive and helpful.
The main downside to NOW Broadband is they use a Sky Broadband router that isn't as good as the one BT ships.
Another option to consider, especially if you're looking for ultrafast fibre broadband, is Virgin Media. They offer a package with a download speed of 1130 Mbps, while BT's maximum speeds top out at 900 Mbps.
Virgin Media also offer a similar range of optional add-ons as BT, but their upload speeds aren't quite as good.
Also, Virgin Media doesn't cover as many addresses as BT, and recently their customer service has been underperforming, according to Ofcom research. They can take a while to answer the phone, for example.

Conclusion
This is the end of our review of BT Fibre 1, and BT Broadband more broadly.
Essentially, if you don't mind paying a few pounds per month more than you would with some cheap broadband providers, BT offers consistent Wi-Fi, a good router, and responsive customer support.
If you're considering switching to BT, and you have any questions about our experience with their broadband service, please feel free to ask us in the comments below, and we'll get back to you as soon as we can.
About the author

Tyler built his first PC at the age of 12, and since then, he's become obsessed with all things networking and internet-related. He's a massive gamer, loves Rocket League, and also plays Sunday League football.