Considering getting online using Three 5G home broadband?
In this article, we've reviewed the Three 5G Hub, to see if it's any good.
We've unboxed the 5G router, showed how to set it up, tested its download and upload speeds, and explained whether or not it's good value for money.
Before we begin, you can type your postcode into the Three network coverage checker to see if you can use the 5G Hub at your address.
Contents
Three 5G Hub overview
| | |
| --- | --- |
| Brand | Three |
| Name | 5G Hub |
| Manufacturer brand | Zyxel |
| Manufacturer name | NR5103E |
| Dimensions | 132.5 x 134 x 230mm |
| Speed rating | Cat 22 |
| Ethernet ports | 2 |
| External antenna sockets | 4 |
| WiFi | 802.11a/b/g/n/ac/ax (WiFi 6), dual-band, 4x4 MIMO |
| Maximum connected devices | 64 |
| Colour | White |
| Rating | 4.7 (out of 5) |
| Price | Check on Three |
The Three 5G Hub is a broadband router that connects to the internet using 5G signal, rather than your phone line.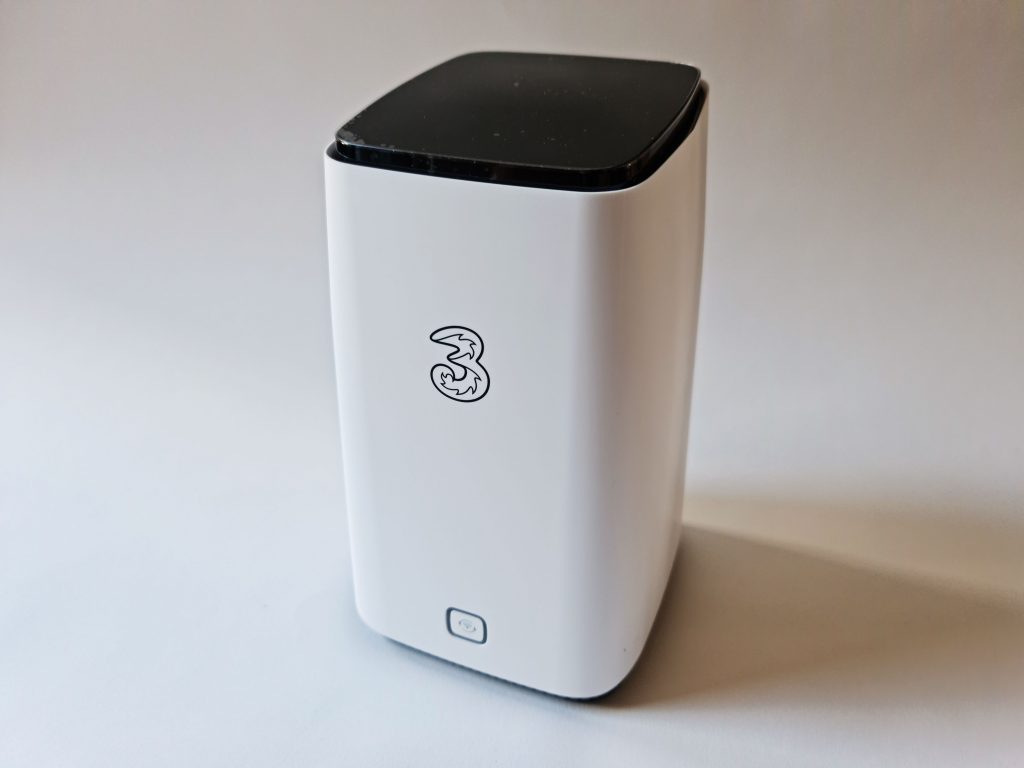 Just like a normal broadband router, the Three 5G Hub creates a Wi-Fi network to which you can connect your computers, phones, games consoles, and other devices. However, rather than plugging into a phone socket on your wall, the 5G Hub connects to the internet wirelessly, using 5G signal.
This means that there's no need to have an engineer visit your house, or wait to get your connection activated. Once the 5G Hub arrives, you're good to get online immediately – it's very easy to set up – you can pretty much plug and play.
The 5G Hub can allow you to achieve must faster download speeds and upload speeds than traditional broadband in some situations. The theoretical maximum download speed of this router on the Three 5G network is 1 Gbps (1000 Mbps), and we were able to achieve speeds of more than 700 Mbps in our real world tests.
Plus, since the 5G Hub only costs about £20-£24 per month, depending on the contract you choose, it can allow you to access ultrafast broadband for much less than it would cost with a provider like Virgin Media or BT.
While this router has Three branding on it, the device is actually a Zyxel NR5103E mobile broadband router.
How the 5G Hub is sold
Three sells the 5G Hub on a month-to-month or 24 month contract – the second choice has a much lower monthly cost. Each plan comes with unlimited data, meaning you don't need to worry about any usage caps or download limits, just like with a typical home broadband connection.
Before buying, you'll need to put in your postcode on the Three website, to see if you can get good 5G signal at your address. You can also use their network coverage map to check that you'll get good download speeds with this 5G broadband router.
Once you order your 5G Hub online, it will typically arrive in the mail in one to two business days – ours arrived the next day. You have 30 days to return the device once it arrives if you decide that 5G broadband isn't for you.
Also, you can now choose to add on an Amazon eero mesh Wi-Fi package with this router, if needed.
With this add-on, you'll get two Wi-Fi signal extenders you can place in different parts of the house, helping you get better signal if you have a large property. It's also possible to add-on more eero units as-needed, to help you get even better Wi-Fi coverage.
Three 5G Hub unboxing
When the 5G Hub arrives in the mail, it comes in a Three-branded box, which contains:
The 5G Hub
A 5G SIM card
A quick start guide
A ErP conformity notice
An Ethernet cable
A power cord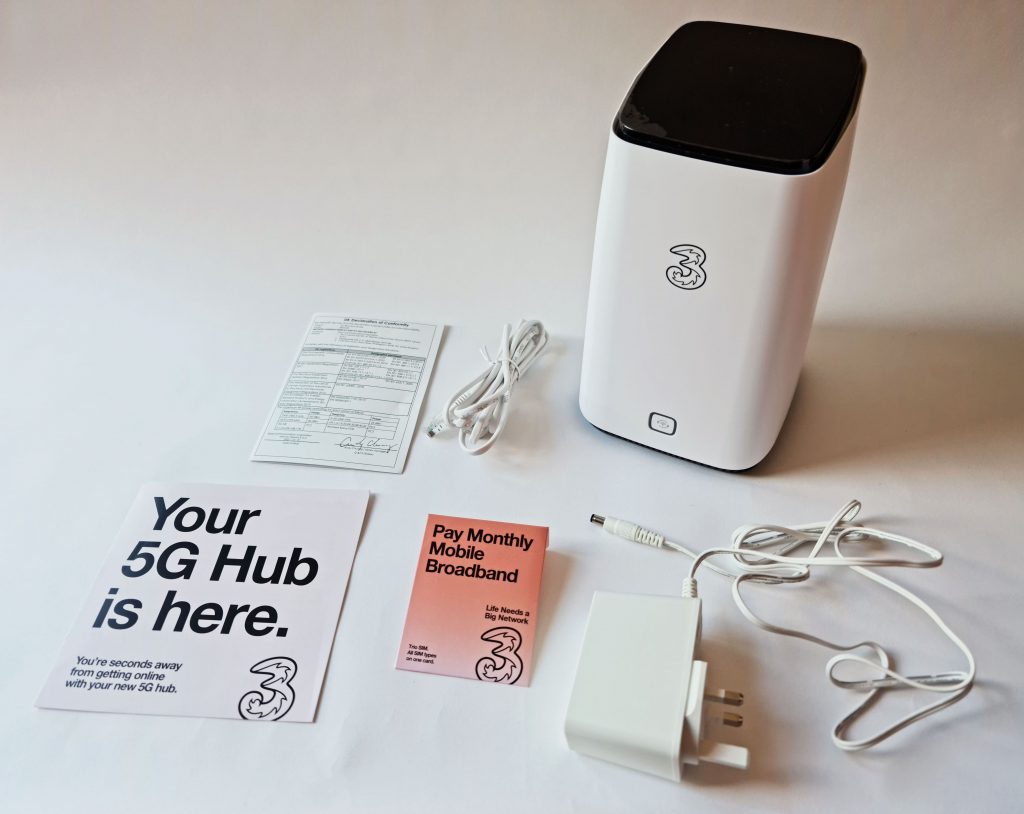 The first thing you'll see is the information guides, as well as the SIM card.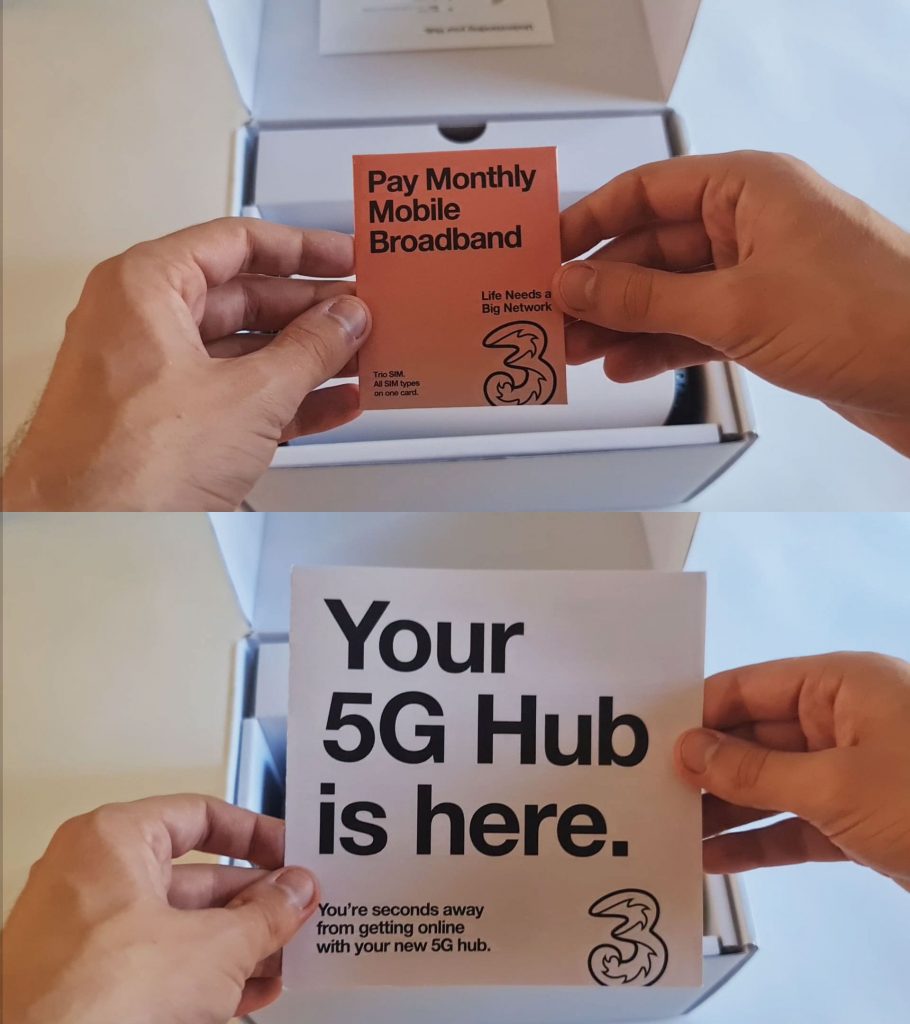 Below this, you can find the Zyxel NR5103E router with Three 5G Hub branding. It's reasonably heavy and there isn't much room to get a grip on the router inside the box, so be careful not to drop it when taking it out.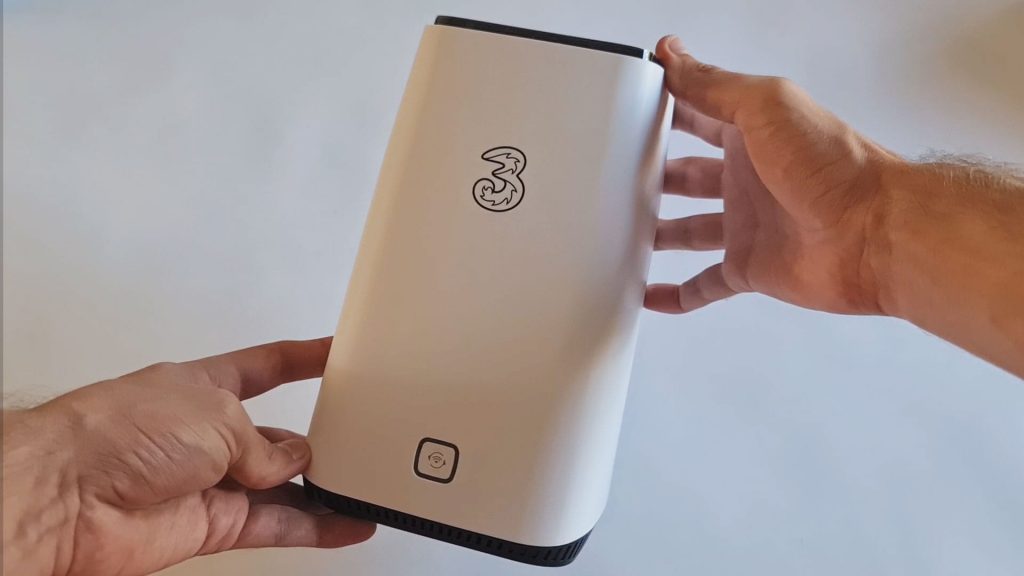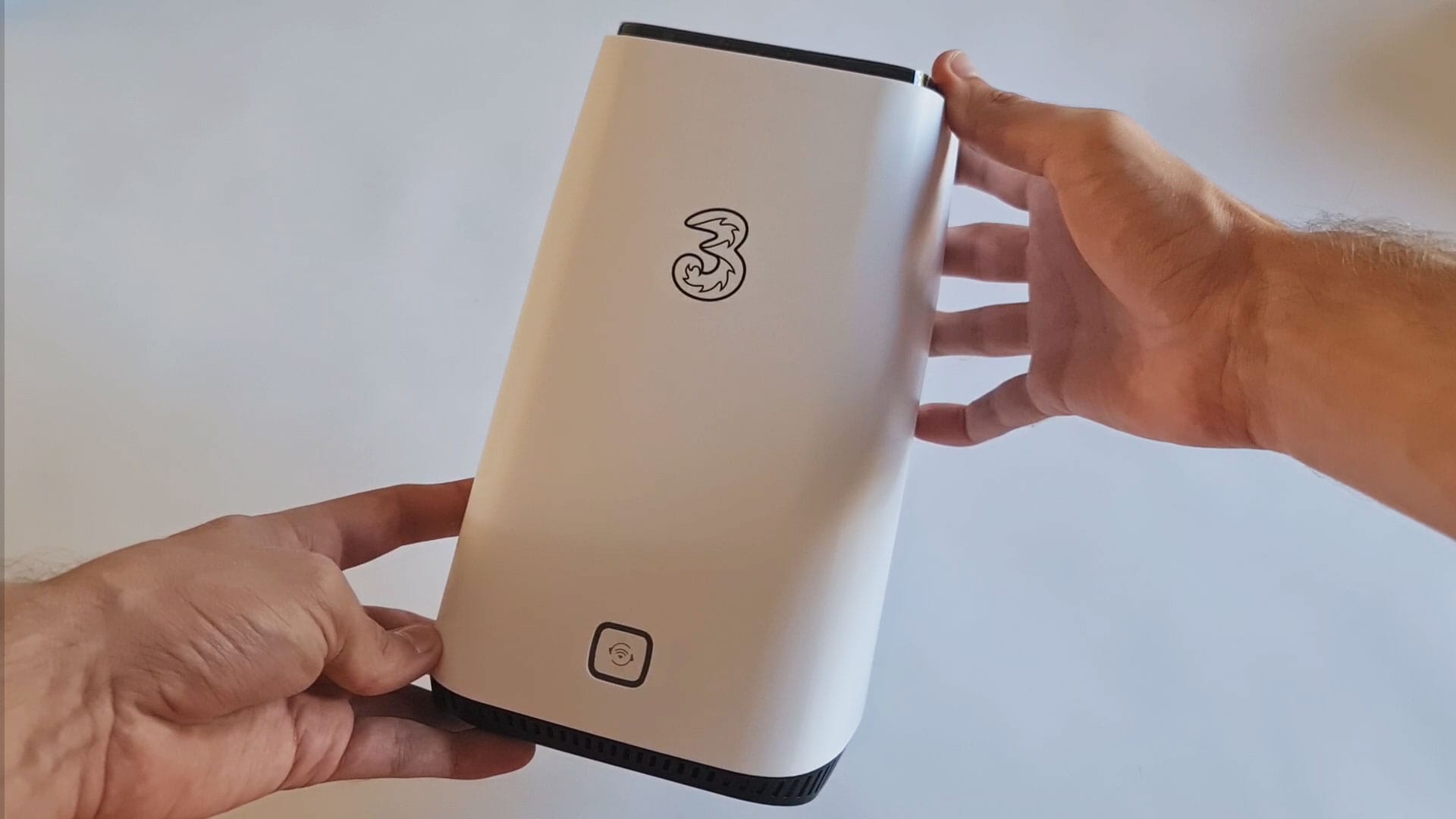 On the back of the router you'll find four external antenna ports, two Ethernet ports, a USB port, the on/off button, and the power port. Your Wi-Fi login information is also here.
There is no phone port on this router, meaning you can't use it with a home phone.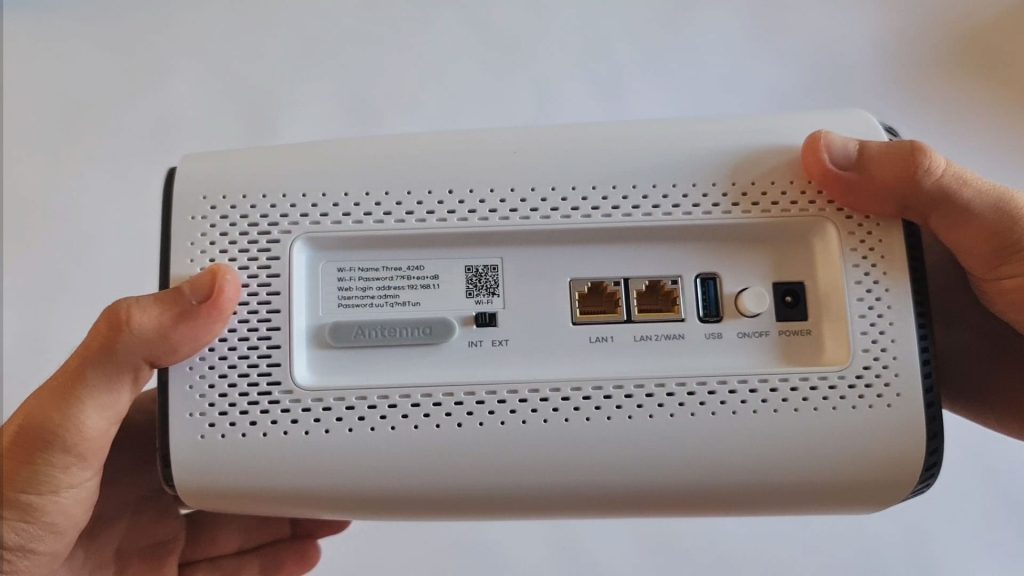 On the base of the router you'll find the SIM card slot.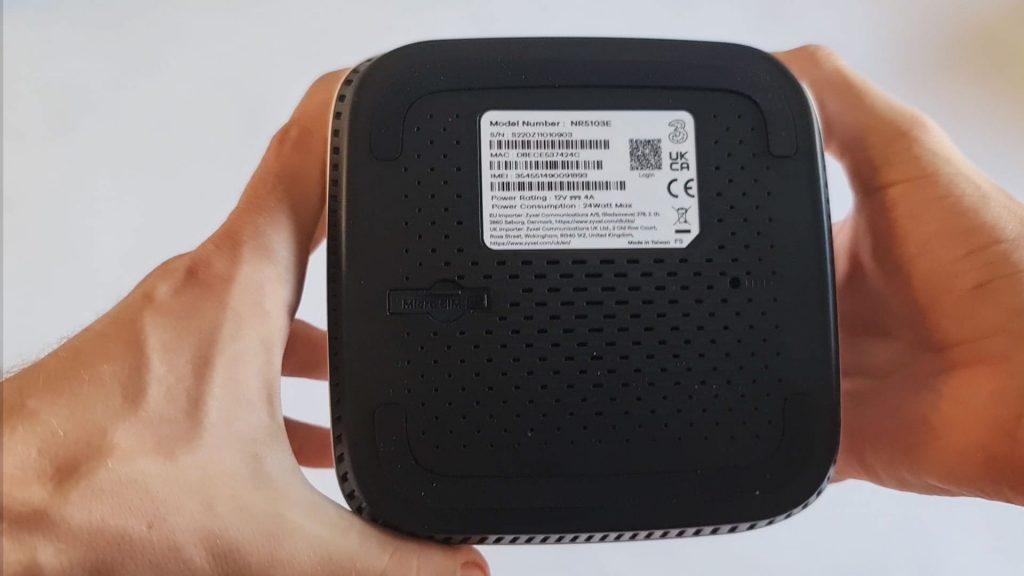 The power cord and Ethernet cable are contained in the cardboard pouch at the back of the box. You can use your Ethernet cable to connect computers and gaming consoles to the 5G Hub, for a more consistent broadband connection.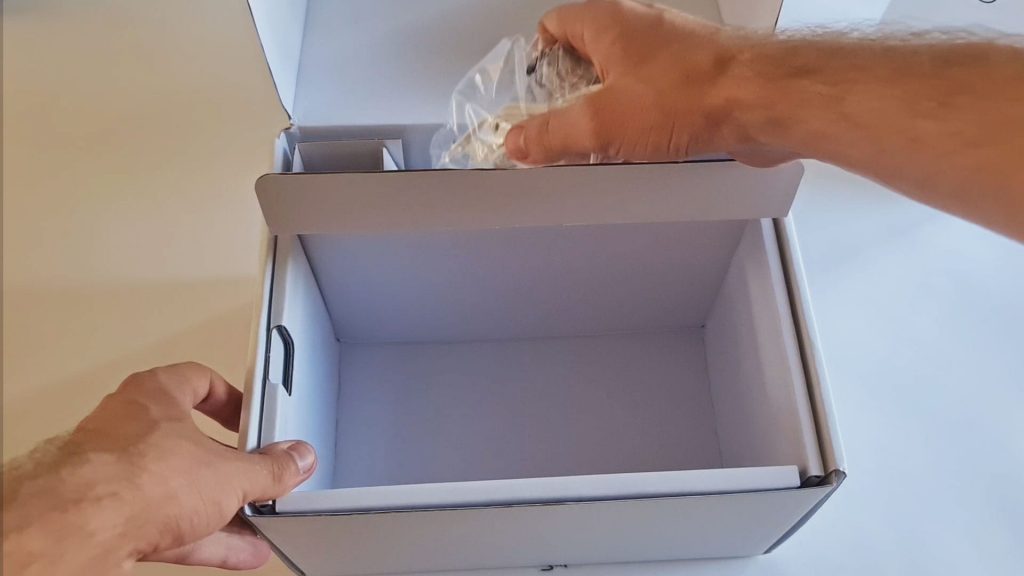 The status icons are located on the top of the router, but you can't see them unless the router is plugged in – we've shown what they look like in the next section.

Three 5G Hub setup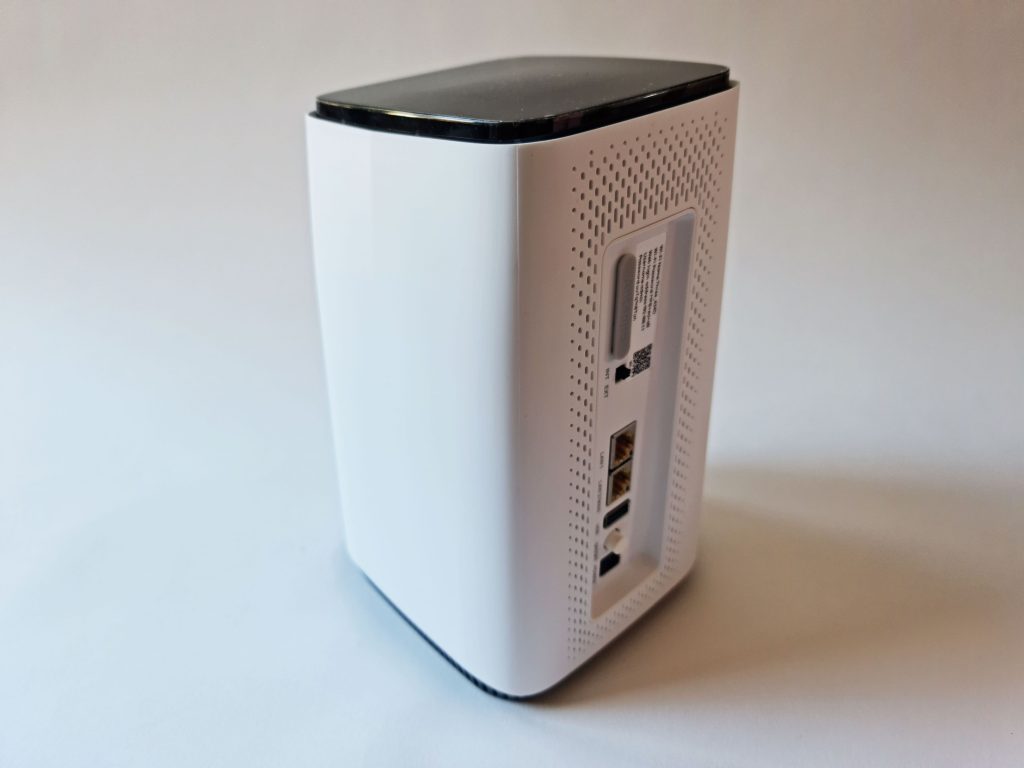 Setting up the Three 5G Hub router is a very simple process. Essentially, all you need to do is insert the SIM card, plug in the router, and turn it on.
Step 1: insert the SIM card
Open the SIM card packet that Three sends you, and remove the SIM push-out card.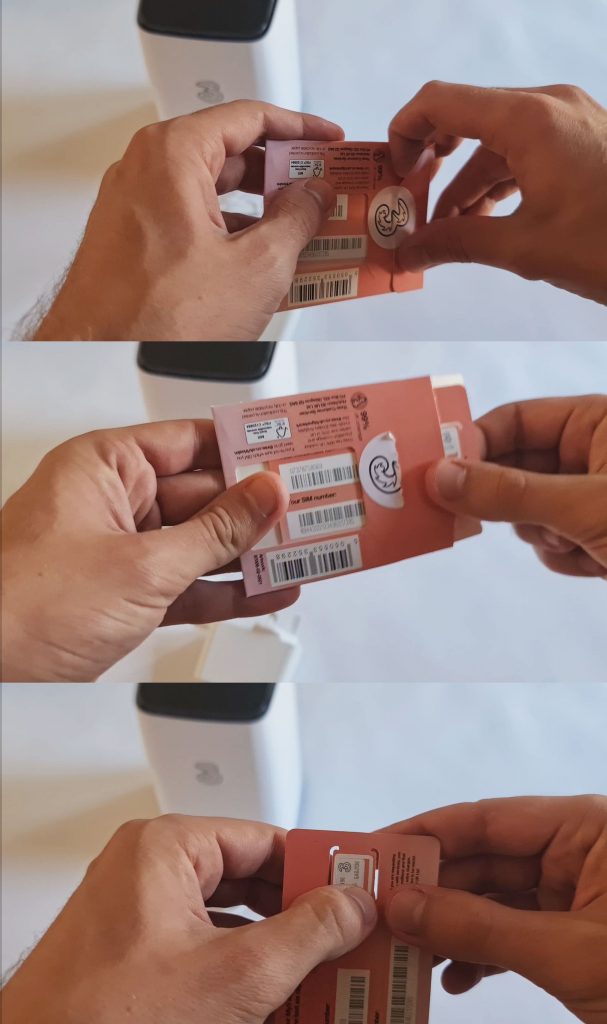 You want to remove the second-largest SIM card, also known as the micro SIM. Be careful not to accidentally punch out the smaller nano SIM instead.
Then, grab the 5G Hub, turn it upside down, and move the rubber door that covers the SIM card slot. Insert the micro SIM, with the Three logo face-down, until you hear a click, and the SIM card stays in place. Replace the rubber door.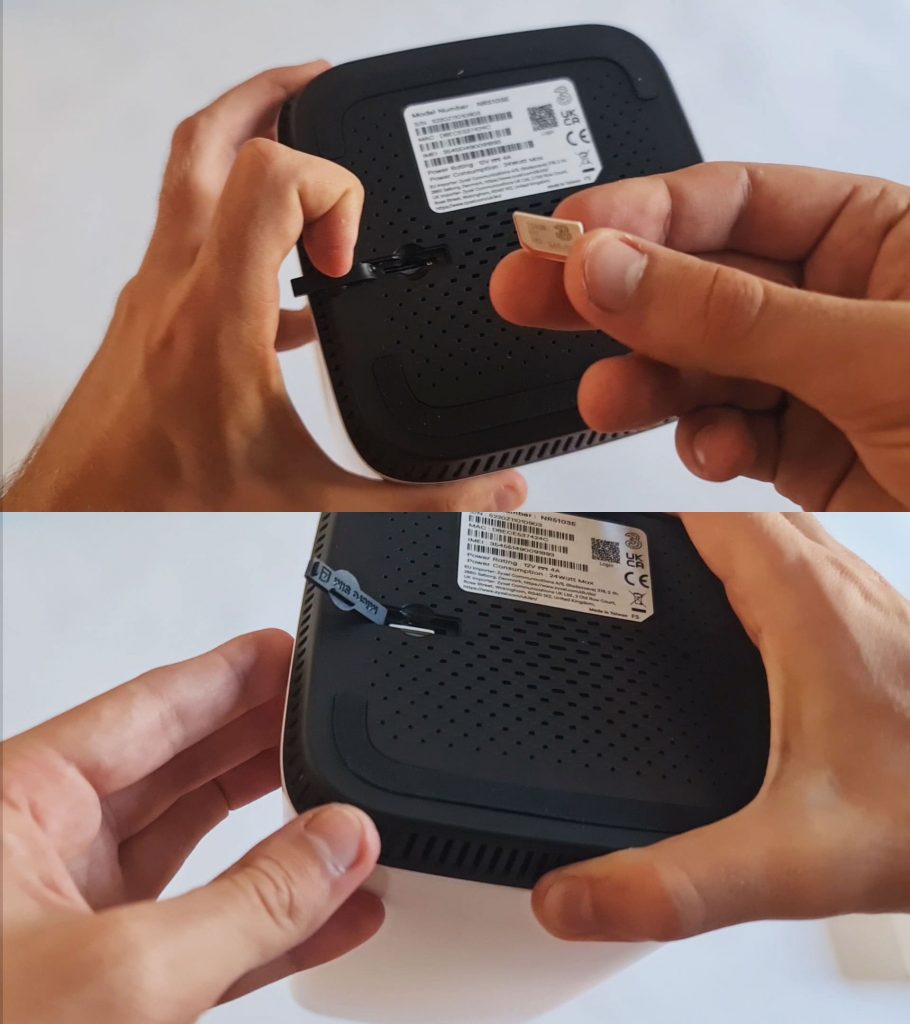 We must say that with Three's previous 5G Hub, the ZTE MC801A, this was much easier, as the SIM card was already in the router when it arrived in the mail.
Step 2: plug in the router
Connect the power cord to a mains power socket, and plug the other end into the power port on the back of the 5G Hub.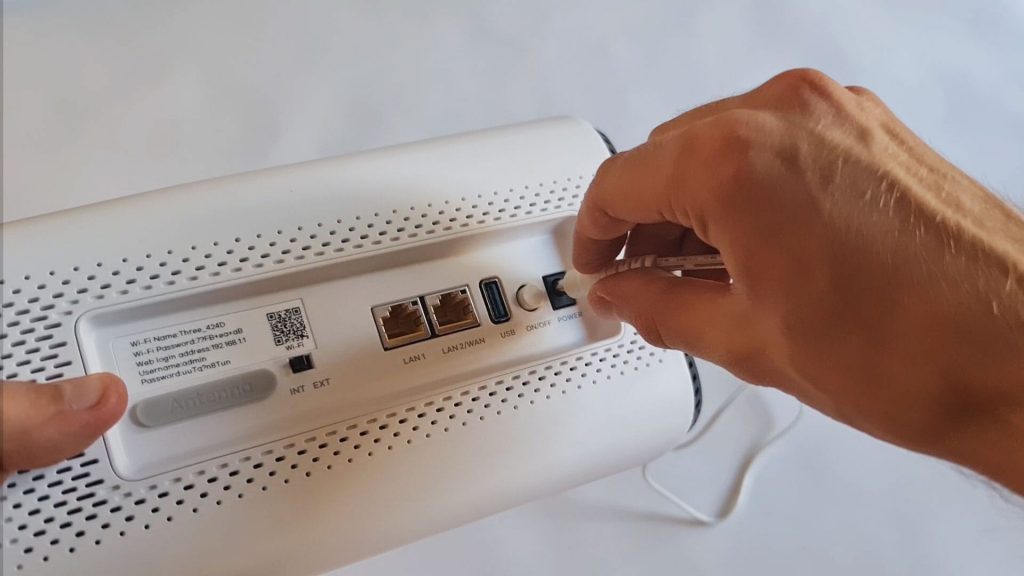 Then, push the power button, located just above the power port.
The router will now take about three minutes to power on. You'll find the status lights on the top of the router – when they all turn on and go green (as in the third picture), you're ready to get online.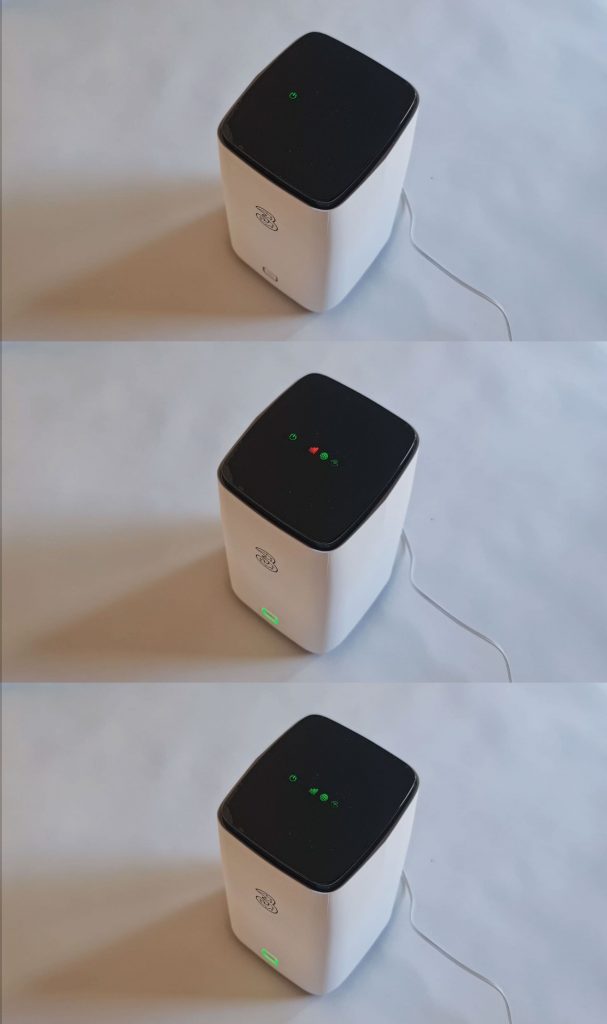 It's not a problem if the signal bar is blue, but if it's red, you might not get good broadband speeds. We'll explain more about this below.
Step 3: connect to Wi-Fi
Contrary to what the quick-start guide from Three says, the Wi-Fi password is not located on the base of the router.
The base only has a QR code, which will display your password with some other information when scanned. But we wouldn't recommend using this because the QR code is so small it's quite difficult to use.
Instead, look for the password on the side of the router, near the antenna ports. Our Wi-Fi network was called "Three_424D".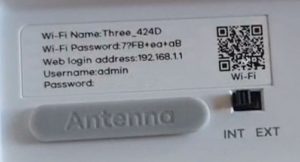 At this point, you can download the Three 5G Broadband mobile app if you'd like. It enables you to manage most of the settings you'll find in the router admin panel, such as doing things like creating a guest Wi-Fi network.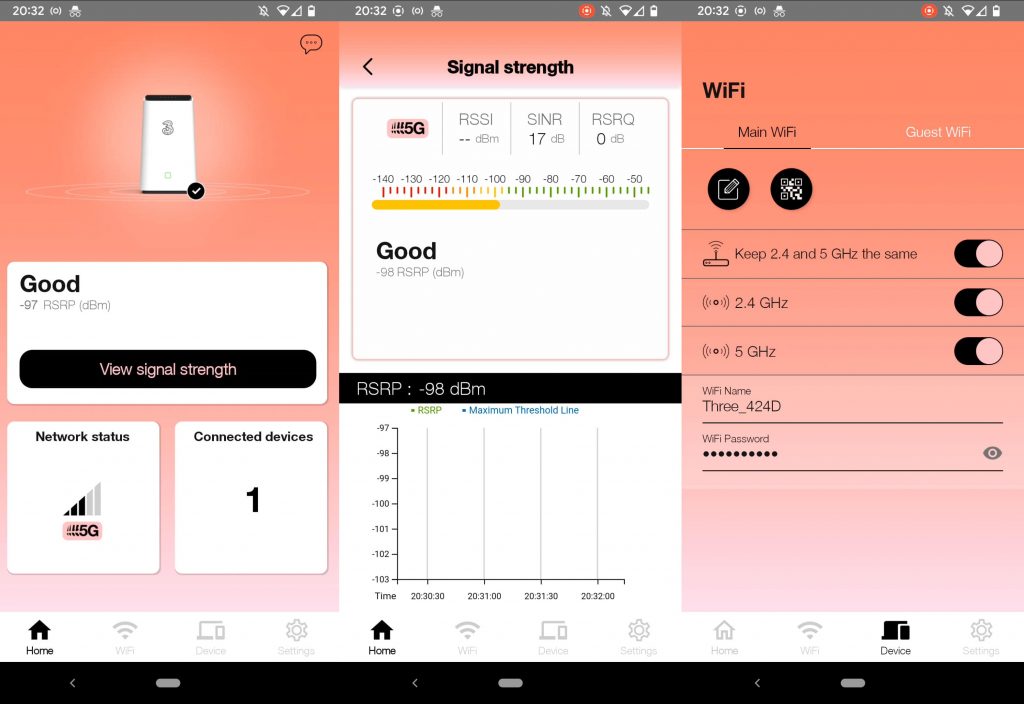 Step 4: test the router in different positions
With a mobile broadband router like the 5G  Hub, it's very important to test the device in different positions around the house, to find where it gets the best signal.
A good place to start is with the router on an upstairs windowsill. However, it could be that you'll get much better speeds on a windowsill on the other side of your house.
Your first clue is the signal bar on the top of the router. If it's green, the 5G Hub is likely in a good spot, however this doesn't necessarily mean that you're getting the fastest-possible download and upload speeds.
In our case, we achieved download speeds of about 400 Mbps in the first location. Then, when we moved the router to an upstairs windowsill, we achieved download speeds of 720 Mbps.
We found that our upload speed was sensitive to the router's position as well, including how it was rotated. Sometimes, it was possible to move the router and sacrifice a bit of download speed, in return for a higher upload speed.

Three 5G Hub speed test
We performed a number of speed tests over Wi-Fi using the Three 5G Hub.
1. Wi-Fi, same room, best router position
This test was taken in the best position for the router, in terms of maximising download speeds, which was an upstairs windowsill.
We found that by rotating the router, we were able to achieve faster upload speeds, as shown in speed test #3.
2. Wi-Fi, same room, suboptimal router position
This test was taken when we first set up the router, which was downstairs, near a window facing the garden. The was the opposite side of the house to the first test.
3. Wi-Fi, suboptimal router position
This test was taken with the router in a very similar location to in the first test, but rotated slightly, which seemed to increase its upload speed.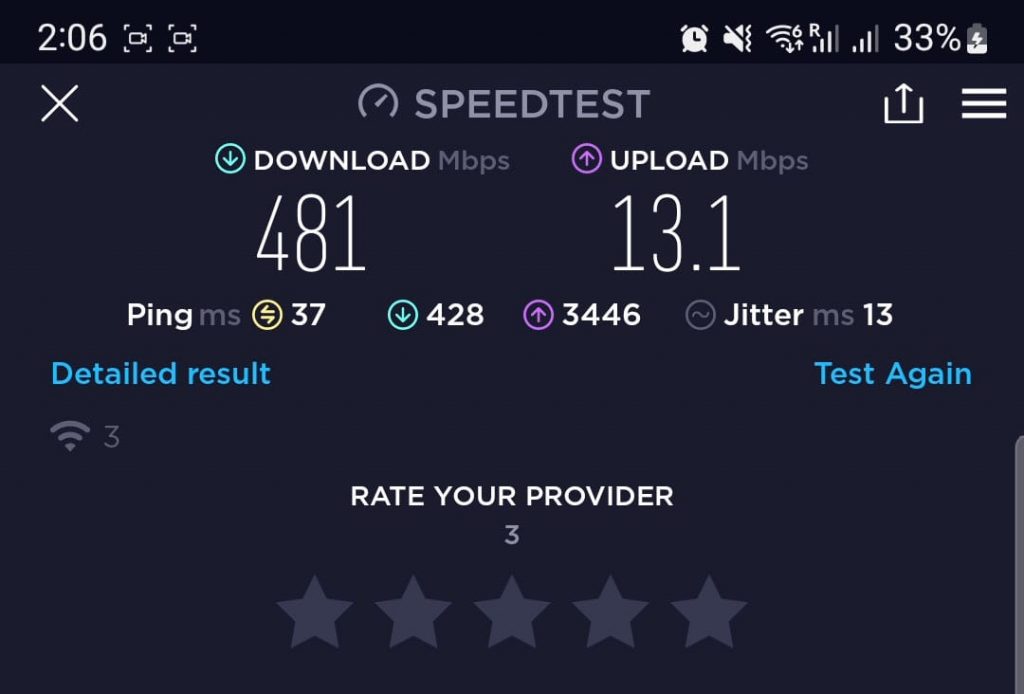 4. Ethernet, suboptimal router position
We found that the 5G Hub was quite a lot slower when we tested using an Ethernet connection, although it had a much higher upload speed and a slightly lower ping.
This was because we had to place the Hub close to our PC to perform these tests, rather than being able to leave it near a window.
What speeds will I get with the 5G Hub?
The speeds you'll get with the 5G Hub can vary quite a lot from house to house. It depends on exactly how strong the Three 5G network is at your address.
The best way to get an idea of what speeds you'll get is to use the Three network coverage map. Put in your postcode, and look for good indoor and outdoor 5G coverage where you live.
If the map shows that you have good indoor and outdoor 5G signal, you can expect to get speeds of at least 100-200 Mbps, and even up to 500-700 Mbps as we achieved with our speed test results.
If you don't get speeds that you're happy with, you can always return the 5G Hub to Three, provided the router hasn't been damaged.
If you don't get good enough 5G signal according to the map, you can try Three's 4G router, the 4G Hub, instead. It also offers good speeds with unlimited mobile broadband data for a very reasonable per month cost.
It's also worth noting, the new Zyxel 5G Hub that Three now sells is much faster than the old ZTE 5G Hub. With the old device, we were only able to get download speeds of around 300 Mbps at the same address.

Three 5G Hub gaming test
We tested the 5G Hub playing Rocket League – an online game where having a low latency is very important. During our tests, we connected our PC to the 5G Hub directly, using the supplied Ethernet cable.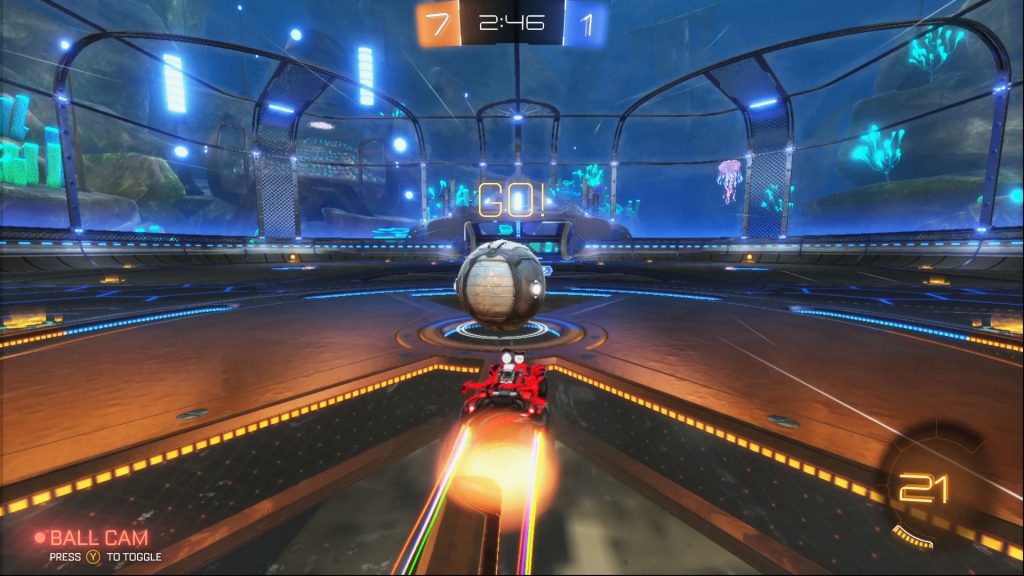 In-game, we typically have a ping of about 50 milliseconds, when connected to the closest game servers. Although this is a little high, our experience was very smooth. We did not notice any lag or rubberbanding when playing Rocket League.
Watch our YouTube review of this router to get a better idea of the 5G Hub gaming experience.

Three 5G Hub value for money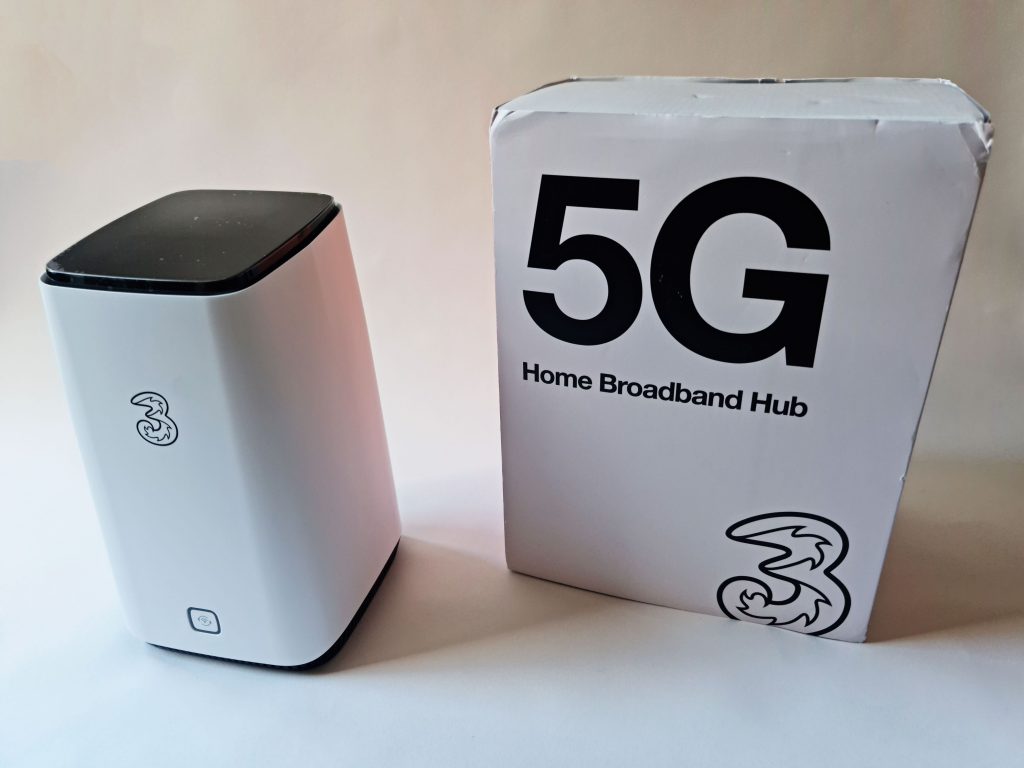 On the whole, we would say that Three 5G home broadband offers very good value for money. No other fibre broadband or mobile broadband providers on the market right now offer 500 Mbps+ download speeds for £20 per month, and no upfront costs.
Since your download speed is typically the most important aspect of your broadband connection, the 5G Hub performs extremely well given what it costs. Most full fibre broadband deals with these types of speeds will have more than twice as high a monthly cost, as well as normally a quite high upfront cost.
On its cheapest plan, which is the 24 month contract, the 5G Hub is great value for money, and it's also quite reasonably priced on the 1 month contract as well.
The option to get this router with unlimited 5G data on a pay as you go plan is quite nice to have. With this deal, if you want to cancel the connection you can do so at any time – all you need to do is return the router to Three.
Although this 5G broadband router's upload speeds aren't amazing, at least from our testing, they are plenty fast for most households. You'll get similar upload speeds to what you would with most superfast home broadband plans.
The only real issue with Three 5G home broadband is its latency, if you play fast-paced online games. Your ping will average around 45-55 milliseconds.
However, there is a 30-day return policy available to Three home broadband customers, so you'll always free to test the 5G Hub and see how it performs for you.

Is Three 5G broadband any good? Our verdict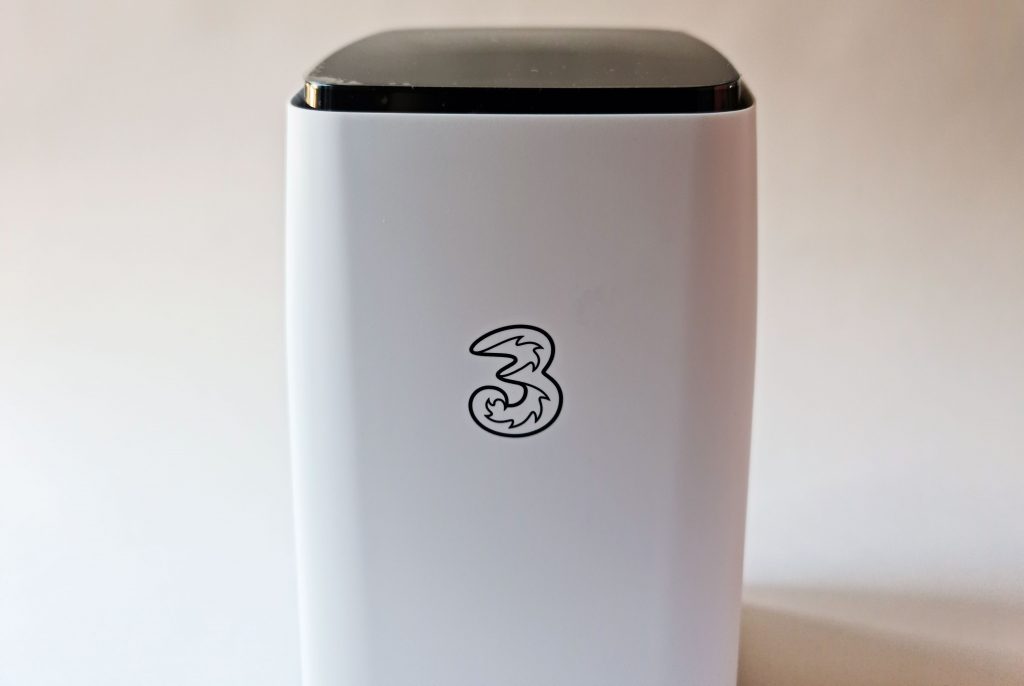 The Three 5G Hub is an excellent way to get fast broadband for a low monthly cost.
Using this router, you might be able to achieve download speeds of 500-700 Mbps or more, for a fraction of the cost of buying full fibre broadband, assuming you can get full fibre broadband where you live.
Plus, this 5G router is very easy to set up compared to a traditional home broadband router. All you need to do is insert the SIM card, plug it in, and turn it on. You don't need a landline to use this 5G router, meaning you don't need to pay for line rental.
However, there are downsides to the Three 5G Hub router.
Your latency will be a bit higher than with a fibre broadband connection, meaning you might lag a bit more when playing online games, although we had a very smooth experience overall, when using the supplied Ethernet cable.
The 5G Hub is a bit particular about where it's placed. You'll need to get it in the right location to get the best possible download speeds.
Overall, we rate the Three 5G Hub 4.7 out of 5 – we would definitely recommend at least trying Three 5G home broadband, especially given the generous return policy Three offers.

Three 5G Hub alternatives
If you don't like the look of the Three 5G Hub, there are a few other home broadband routers that you could consider instead.
All of these alternative routers use 4G or 5G signal to help you connect to the internet.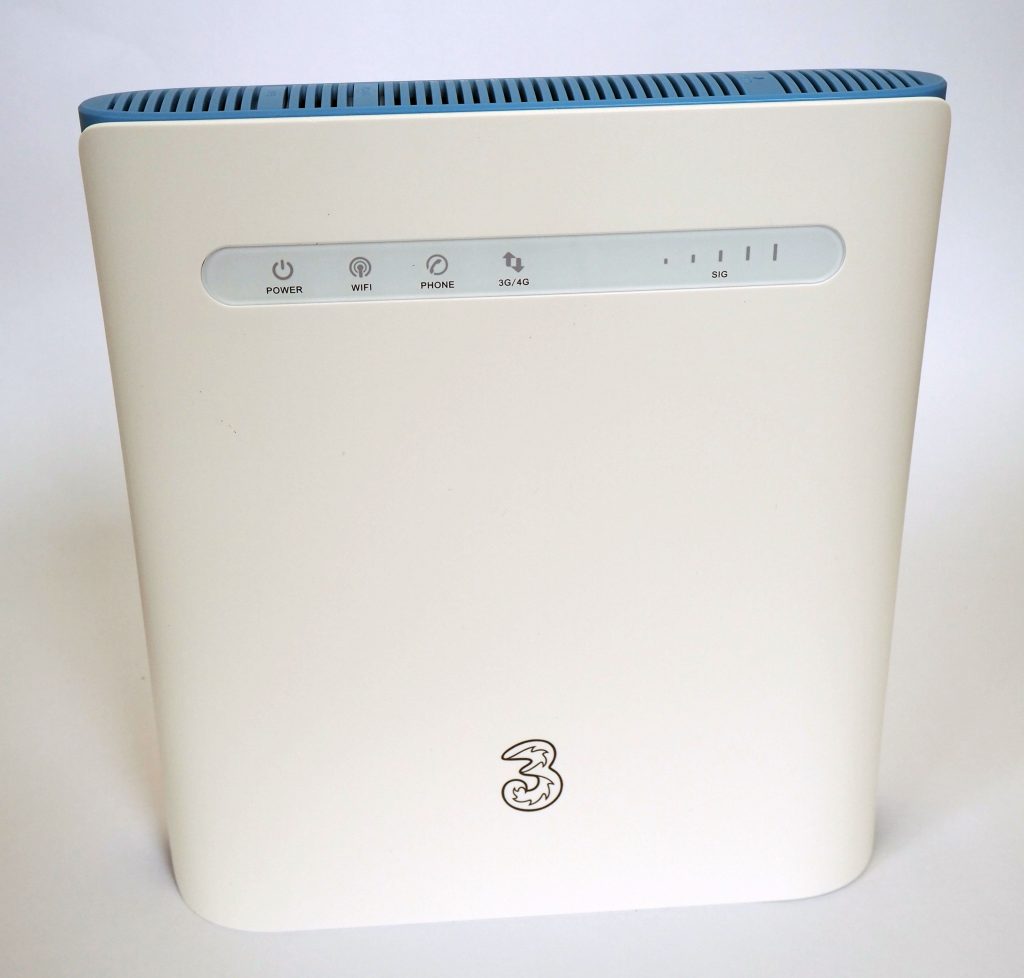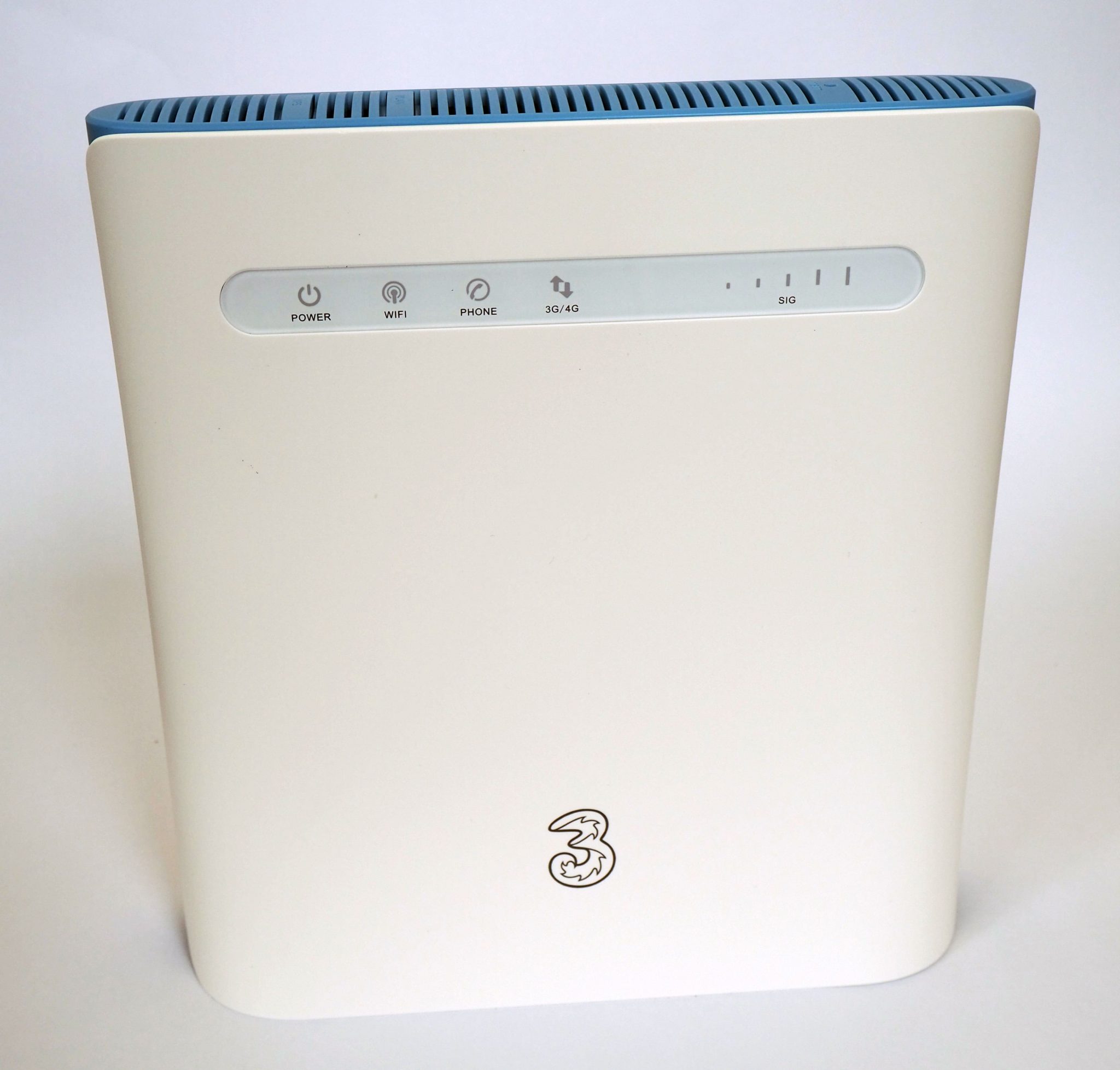 If you want to save a bit of money, or don't need 5G speeds, you might be better off with the Three 4G Hub instead.
The best thing about the 4G Hub is its pricing – it's quite a bit cheaper than Three's 5G router, especially on a 24 month contract. You can also get it on a pay as you go plan, which is nice.
There are other benefits as well – you get more Ethernet ports, for example, and you can connect up to 64 devices at once, like with Three's 5G router. However, the Wi-Fi standards used aren't quite as good.
Read our full review of the 4G Hub to learn more.
Also, you might like to consider the 4G Plus Hub – this is similar to the regular 4G Hub, but is a bit faster, thanks to some included external antennas.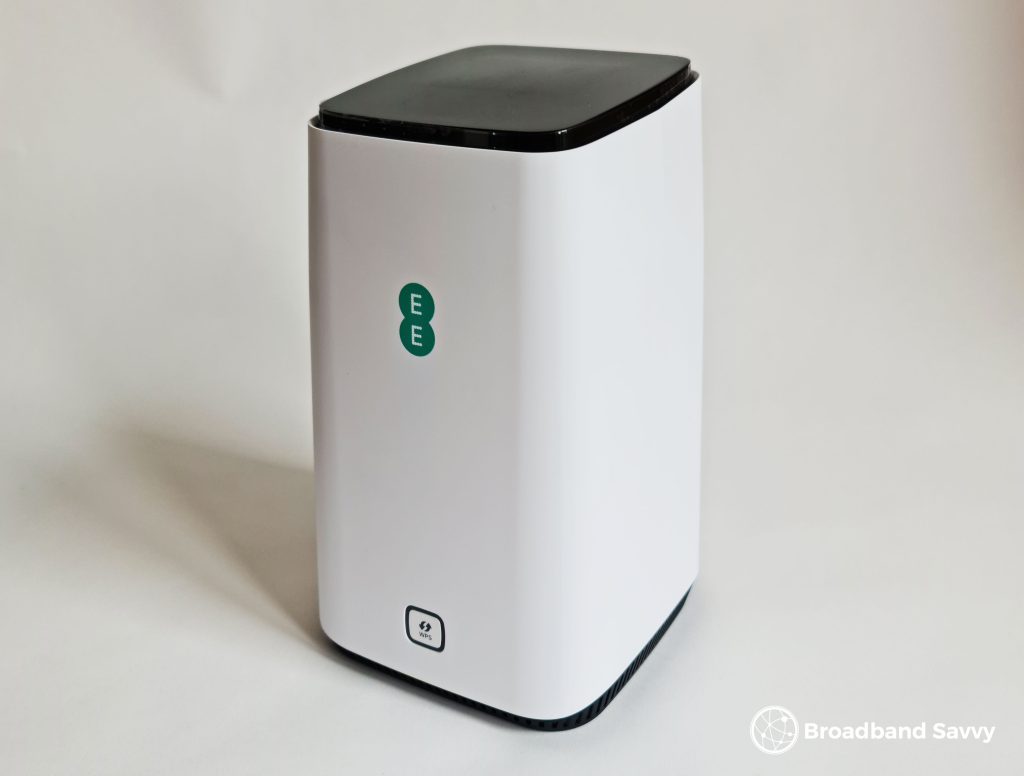 EE's 5G Router is much more expensive than Three's. They often charge a high upfront cost, and not all of their plans come with unlimited data. The one that does come with unlimited data has quite a high monthly cost.
This router is actually the same Zyxel device that Three is selling, just with different branding.
There is one reason you might consider EE's 5G home broadband router: EE has more 5G coverage in the UK than Three, meaning this device might offer faster download speeds – plus it might work in more places if you travel with it.
You can buy the Vodafone GigaCube on a 30 day month to month contract, if you'd like. Plus, its Wi-Fi supports higher download speeds, of up to 2475 Mbps on 5Ghz.
However, the GigaCube is very expensive. It has an extremely high initial cost when purchased on a pay as you go plan, and is also very expensive on the default 24 month contract, when compared with the 5G Hub.
Plus, if you don't choose the most expensive unlimited data plan from Vodafone, you'll be stuck with just 100GB or 200GB of data per month, which isn't enough for most families in this day and age.

Conclusion
This is the end of our review of Three 5G home broadband.
If you're still not sure whether the Three 5G Hub is right for you, or if you should consider other 5G routers to get online, feel free to leave a comment below. We'll respond as soon as we can.
About the author

Tyler built his first PC at the age of 12, and since then, he's become obsessed with all things networking and internet-related. He's a massive gamer, loves Rocket League, and also plays Sunday League football.