Considering using Three 5G home broadband to get online?
In this article, we've unboxed and reviewed the Three 5G Hub, which is a ZTE MC801A 5G router.
We've tested its download and upload speeds and latency, and looked at whether the 5G Hub is good value for money.
Contents
Three 5G Hub overview
| | |
| --- | --- |
| Brand | Three |
| Name | 5G Hub |
| Manufacturer brand | ZTE |
| Manufacturer name | MC801A |
| Dimensions | 225 x 154.5 x 87mm |
| Speed rating | Cat 22 |
| Ethernet ports | 2 |
| External antenna sockets | 2 |
| WiFi | Dual-band 802.11a/b/g/n/ac/ax (WiFi 6), (2.4GHz and 5GHz) |
| Maximum connected devices | 30 |
| Colour | White |
| Rating | 4.3 (out of 5) |
| Price | Check on Three |
The Three 5G Hub is a home broadband router that allows you to get online using the 5G network, rather than through your phone line.
This 5G router plugs into mains power, and accesses the internet wirelessly using 5G, just like your phone. It then creates a Wi-Fi network you can use, just like a regular home broadband router, to which you can connect your computer, phone, games console, and other devices.
Using the 5G Hub, you can get theoretical maximum download speeds of about 2 Gbps, which is faster than most ultrafast fibre broadband connections in the UK.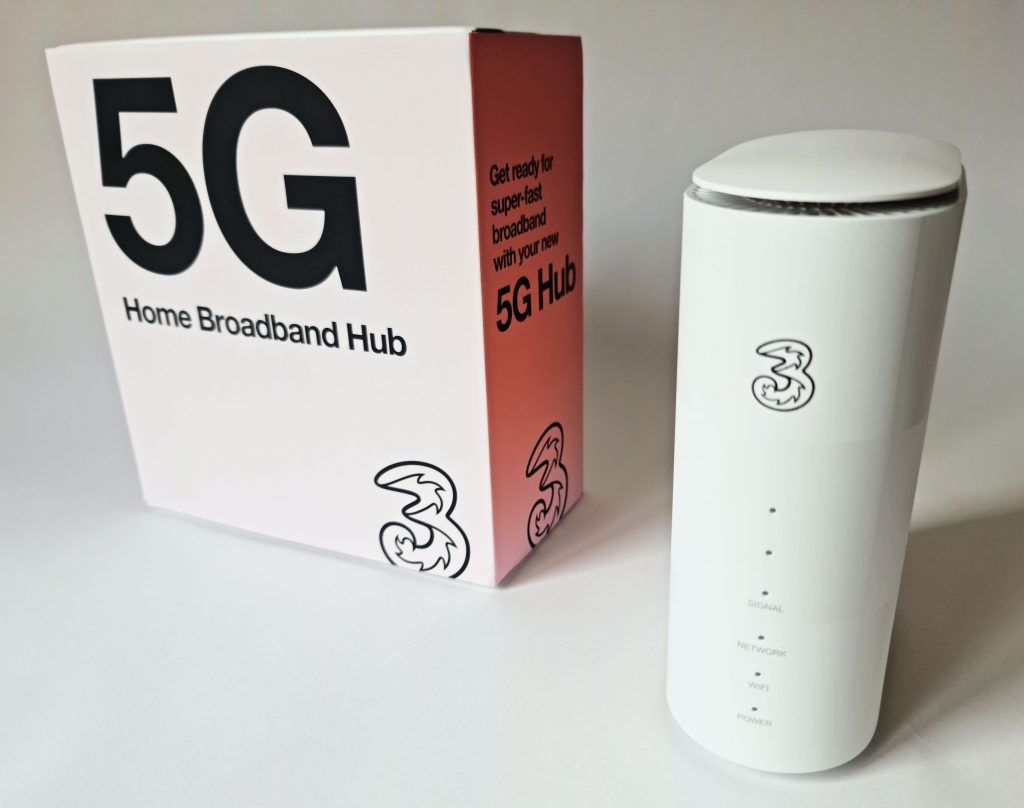 Unlike many other mobile broadband solutions, you also get unlimited data with the 5G Hub, meaning you don't have to worry about doing too many downloads or uploads each month. The Three 5G Hub is currently sold on a 12 month or 24 month contract from Three – there are currently no pay as you go plans available.
This device has Three branding, but is actually a ZTE MC801A 5G router. When you buy it, the router comes with everything you need to get online, including a SIM card.
To get started, you simply insert the SIM card (if it's not already inserted), plug in the router, turn it on, and connect your devices, either using Wi-Fi, or with the supplied LAN cable.

Three 5G Hub unboxing
The Three 5G Hub ships inside a small box, which is covered with a cardboard sleeve. Our package arrived within 48 hours.
When you open the box, the first thing you'll see is the information provided by Three and ZTE. They have each provided their own guide to the device – Three's booklet is a bit more succinct. There is also an ErP conformity notice.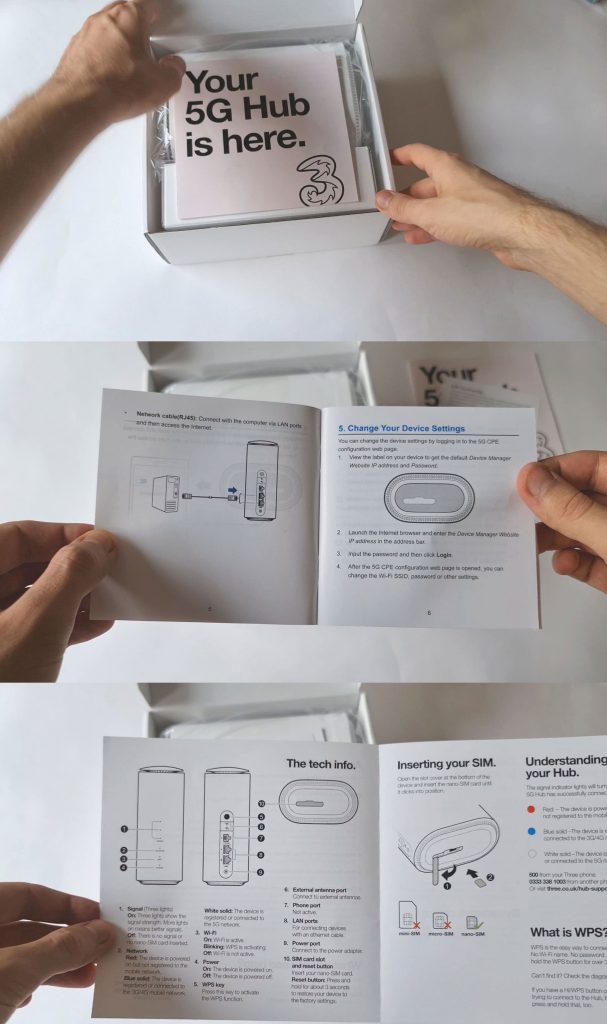 Underneath, you'll find your brand new 5G Hub router: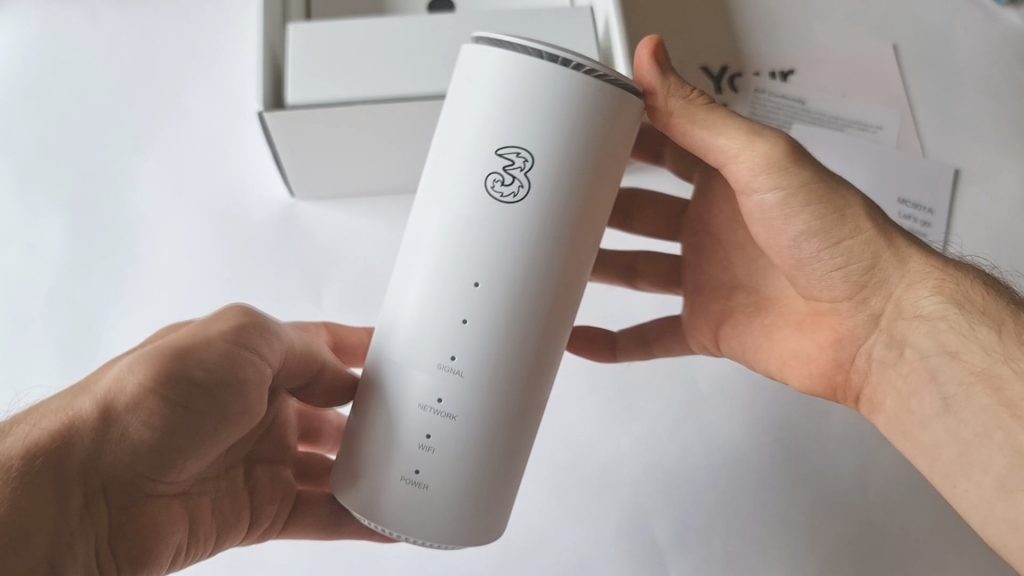 Then, there are two smaller boxes. One contains a power adapter, and the other includes a 1m long Ethernet cable, which you can use to connect your computer or games console to the 5G Hub.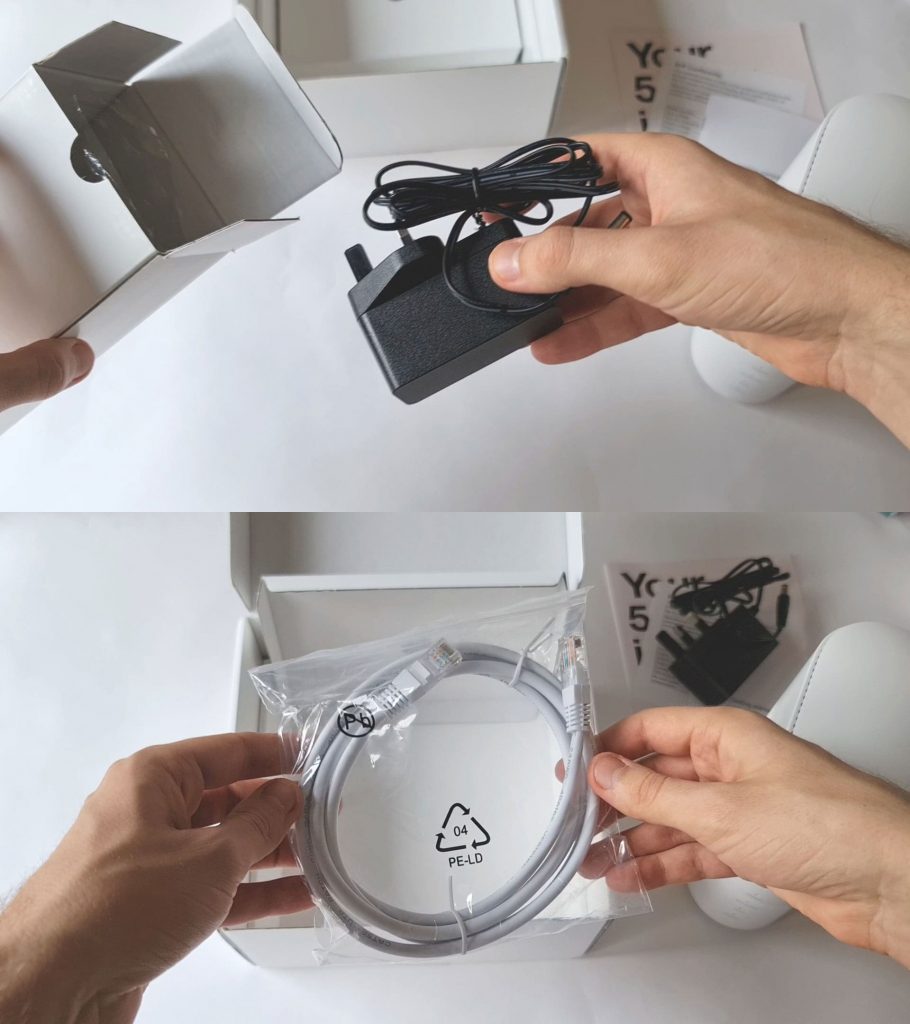 Three 5G Hub setup
The Three 5G Hub router ships with the SIM card already installed. Unlike most other 4G and 5G routers and MiFi devices, you don't need to insert the SIM card yourself, which is a nice touch from Three.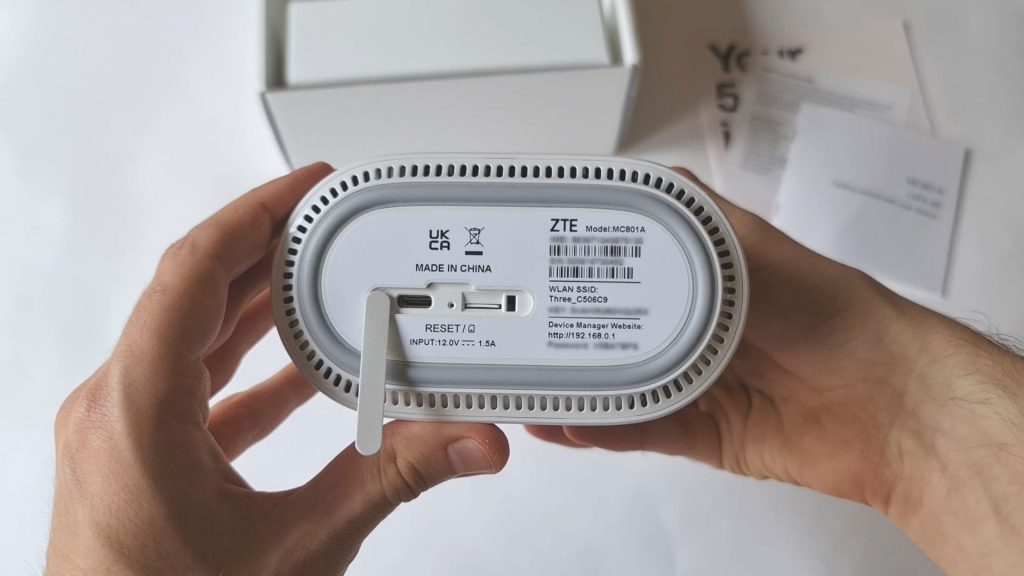 To begin using the 5G Hub, all you need to do is plug it in. There is a power port on the back of the device, which you can plug your power adapter into.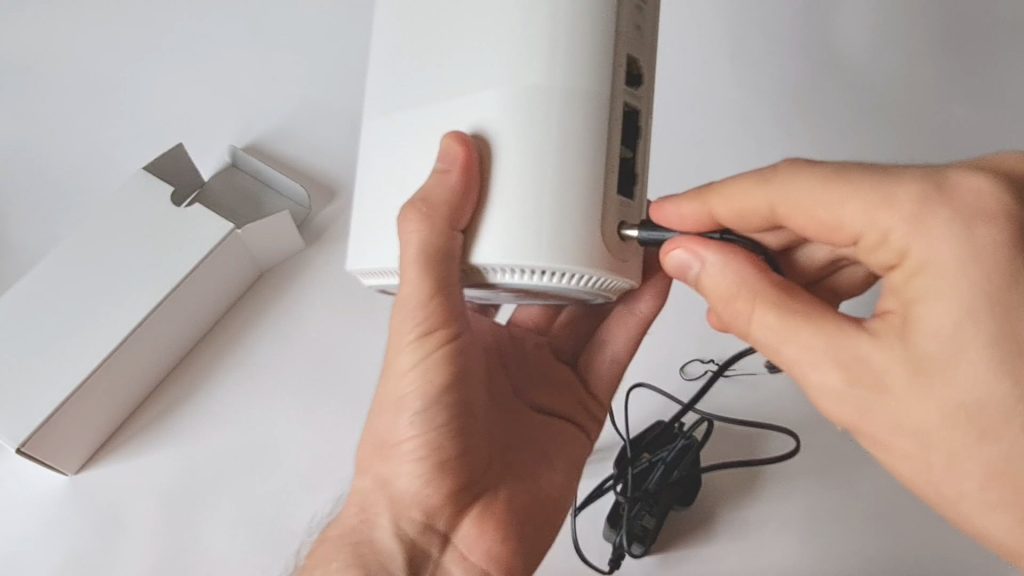 At this point, the device will turn itself on. When you first turn it on, it will take about 90 seconds for it to set itself up, and begin picking up a 5G signal.
When all of the lights have turned white, you're ready to connect to Wi-Fi.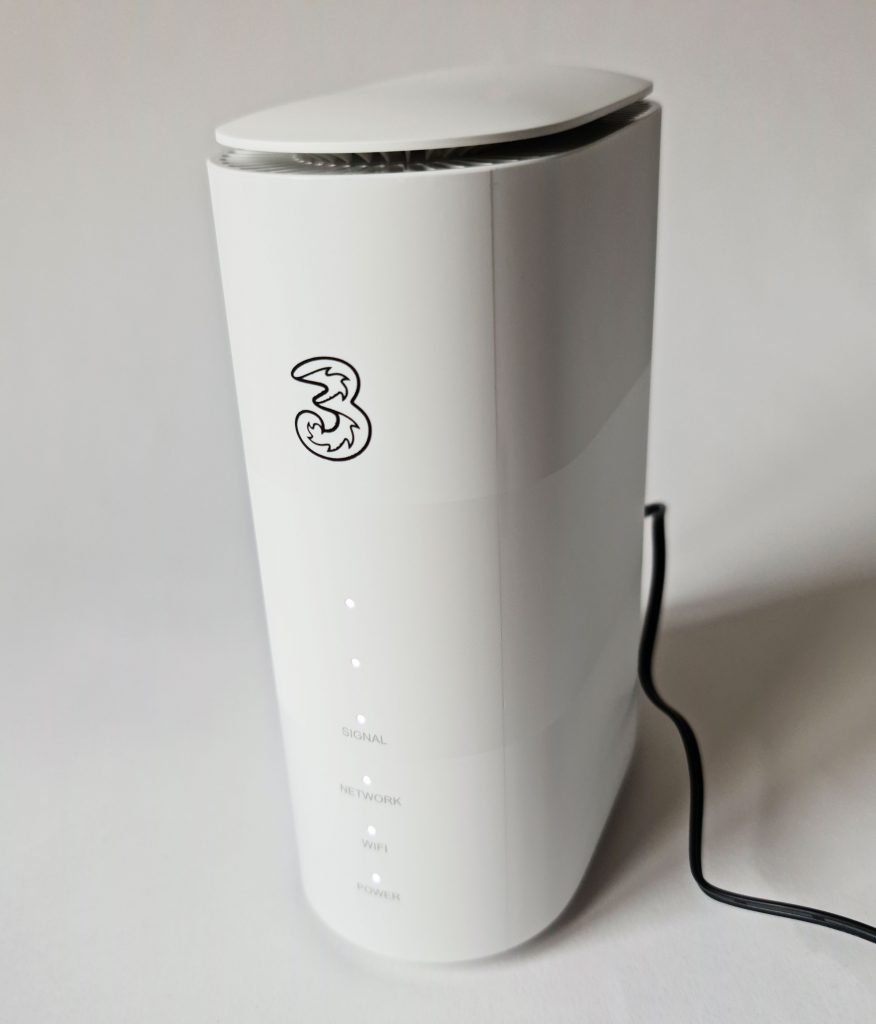 To do this, you can either:
Search for Wi-Fi networks, find the one beginning with "Three", connect to it, and type in the password on the base of the router.
Search for Wi-Fi networks, find the one beginning with "Three", connect to it, and then press the WPS button on the router. This only works on certain devices, such as Windows computers, and some modern printers.
You can also plug your computer into the 5G Hub directly, using one of the supplied LAN ports.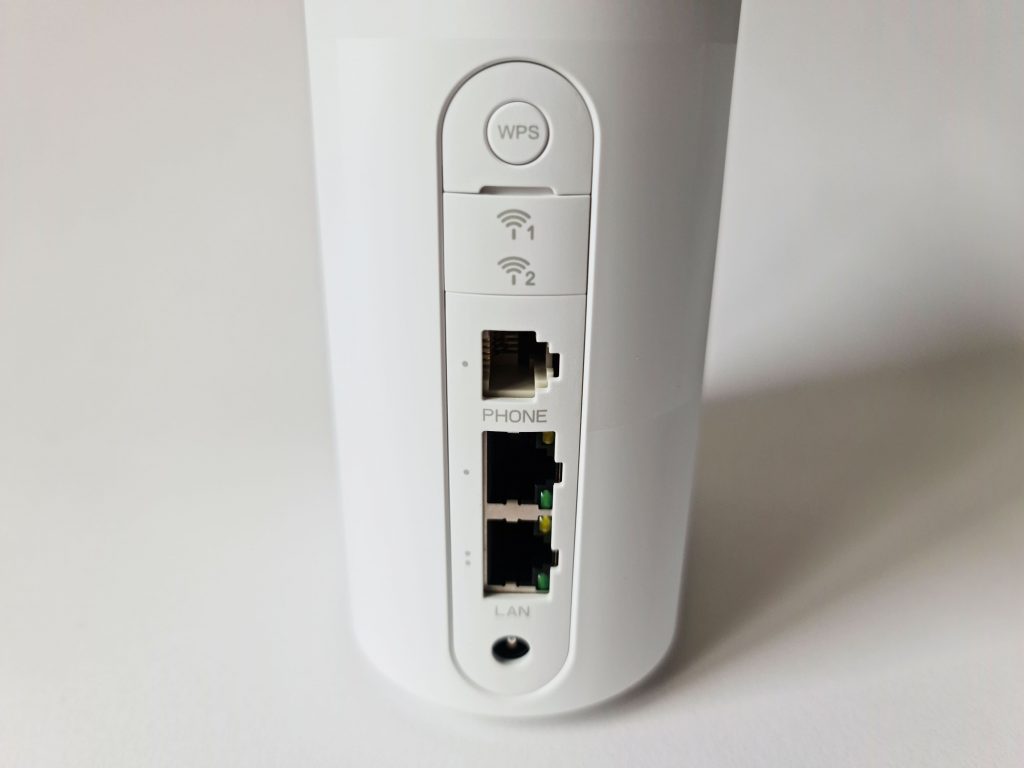 It's important to note, you can't use a landline phone with this ZTE router. Although it does have a phone port, it's disabled by Three, so you can't use it.
You do however have the ability to use an external antenna, rather than the inbuilt antenna, if you'd prefer, using the two antenna ports. This can help you to get faster average speeds and sometimes a lower latency, especially if you don't have the best 5G network coverage at your address.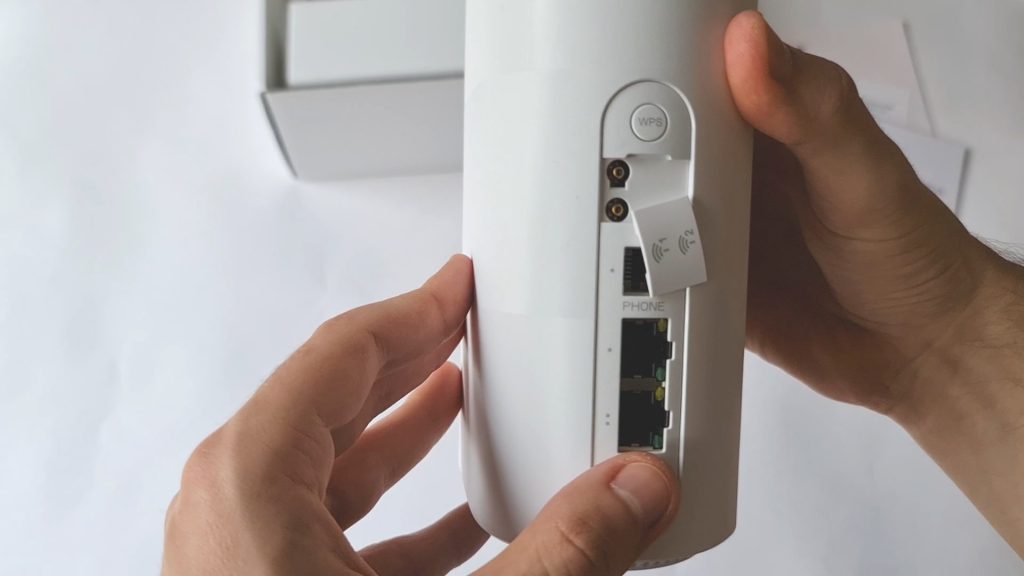 Positioning the 5G Hub
Where you place your 5G Hub can have quite a significant effect on its download and upload speeds.
The best place for the router is a windowsill, ideally an upstairs one. However, you should try different windowsills on different corners of your house, to see where you can get the best speeds.
Also, it's important to try and point the router in different directions, once you've found a good place to put it. We found that we could increase our upload speeds by about 5 Mbps by turning the 5G router to point in a different direction.
ZTE includes an app you can use to test your 5G signal in different locations, by moving your router around the house. You can find it when you log into the router's admin settings, which you access by typing your local IP address into your web browser.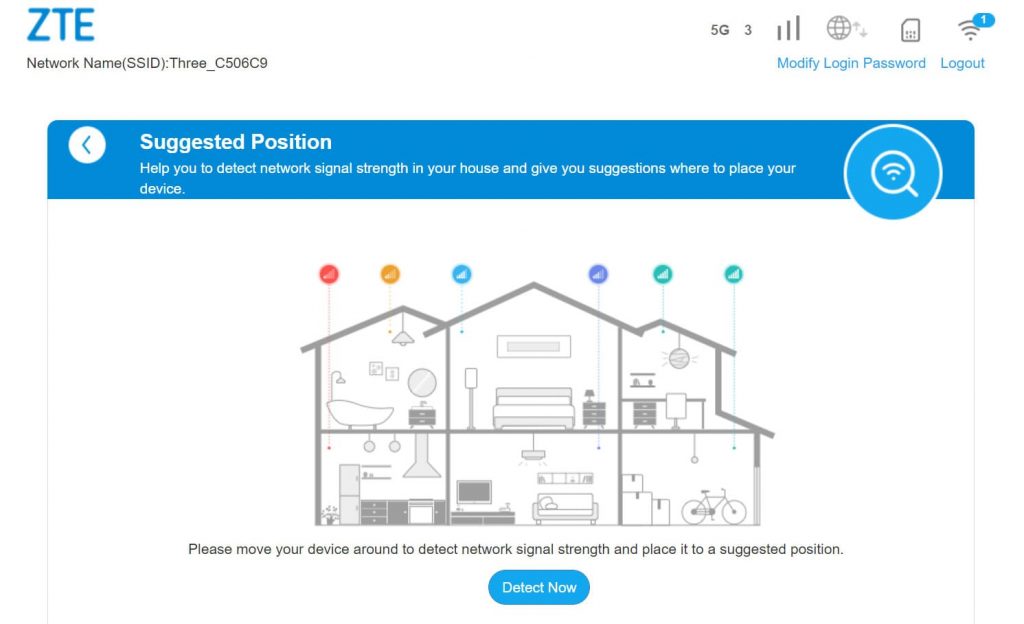 We found that this app was useful, but it wasn't especially sensitive. It found that there was a perfect signal in most places, other than one room that does not receive a 5G network signal.

Three 5G Hub speed test
We performed a number of speed tests with the Three 5G Hub, using both Wi-Fi and wired connections to the router.
These tests were performed in a four-bedroom, two-storey house.
Wi-Fi, from the same room
Ethernet
Using a wired connection, we achieved a slightly better ping and upload speed, but a lower download speed.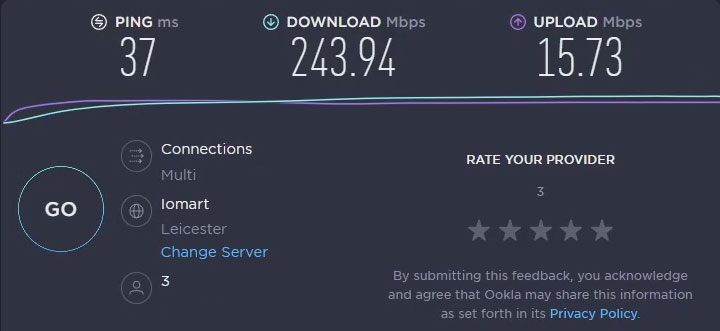 We did achieve a higher download speed on future speed tests, using the included LAN cable. On other speed tests, we were also able to achieve an upload speed of up to 20 Mbps.
Wi-Fi, from downstairs, opposite side of the house
This was the lowest speed test we were able to get using the 5G Hub. The test was taken quite a long way away from the router.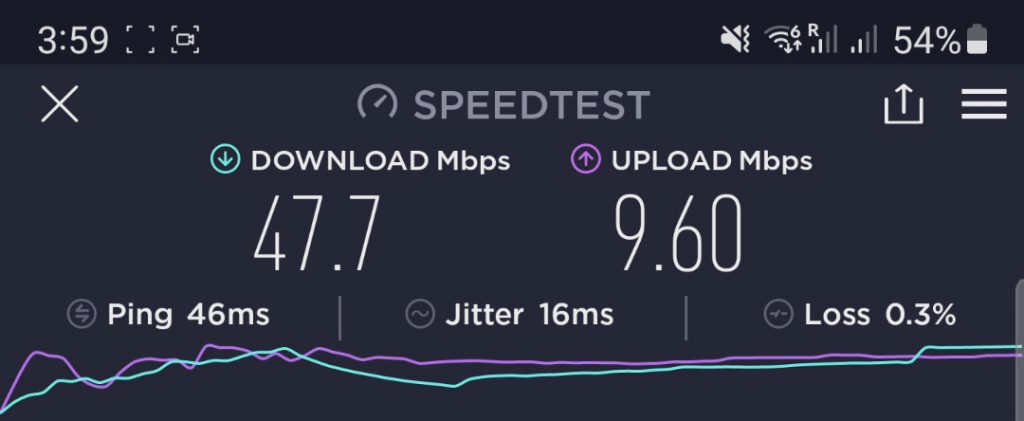 When there are multiple walls between the router and your device, speeds can suffer a bit, although latency remained about the same. Our upload speed also remained steady, even when moving away from the router.
When we tried to use Wi-Fi from other upstairs bedrooms, on the same level as the router, our download speeds remained over 200 Mbps. Only when we went downstairs and to the other side of the house did our speeds drop below 50 Mbps.
We also tried moving the 5G Hub router itself to the other side of the house, and achieved this speed test result over Wi-Fi: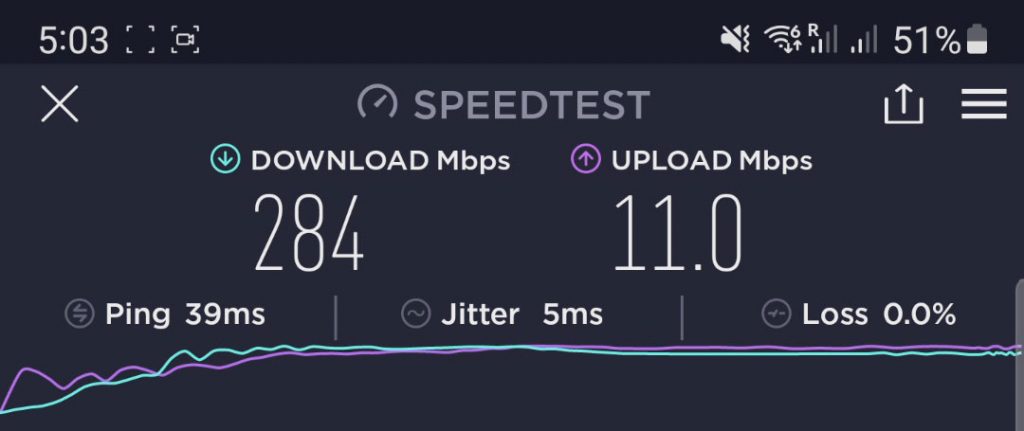 If we wanted a higher download speed and a slightly lower ping, we would have put the router in this room and used a powerline adapter to provide an Ethernet signal to other rooms. However, we decided to keep the Hub in the first room for the time being, because this is where most of our networking equipment and PC is located.
Can I use the 5G Hub in my area?
To see if you can use the 5G Hub at your address, you can use the Three network coverage map.
Simply put in your postcode, and the website will show you what speeds are available.
When you try to buy a 5G Hub, you'll have to put in your postcode again, and Three will verify that you live somewhere with a good 5G signal.
It's important to note, you can use your 5G Hub router anywhere that you'd like to get online, as long as you're in the UK. If you don't get 5G signal in a specific location, your router will use 4G signal instead, provided it's available.
The 5G Hub is not unlocked, meaning it cannot be used with other 5G mobile networks. You have to use the Three SIM card that they include with the device.

Three 5G Hub gaming test
One of the main downsides to using 4G or 5G home broadband is the latency it offers.
Your latency will be higher than when using fixed-line broadband, with the 5G Hub, because it takes longer for data packets to travel to/from the internet when using a wireless connection. Therefore, we decided to test this home broadband router when playing a few different online games.
We tested Three 5G home broadband on Rocket League and Team Fortress 2, on PC, using a wired Ethernet connection. The router was placed in the first location from the speed tests we performed above.
Overall, we would describe our gaming experience using this router as very good. We typically experienced a ping of about 45-50ms, which is very similar to the 35-40ms readings we achieved using speedtest.net.
We typically get a ping of about 25-35ms to the same game servers when using our fixed-line connection (which is Openreach superfast, with a download speed of approximately 32 Mbps, fibre to the cabinet).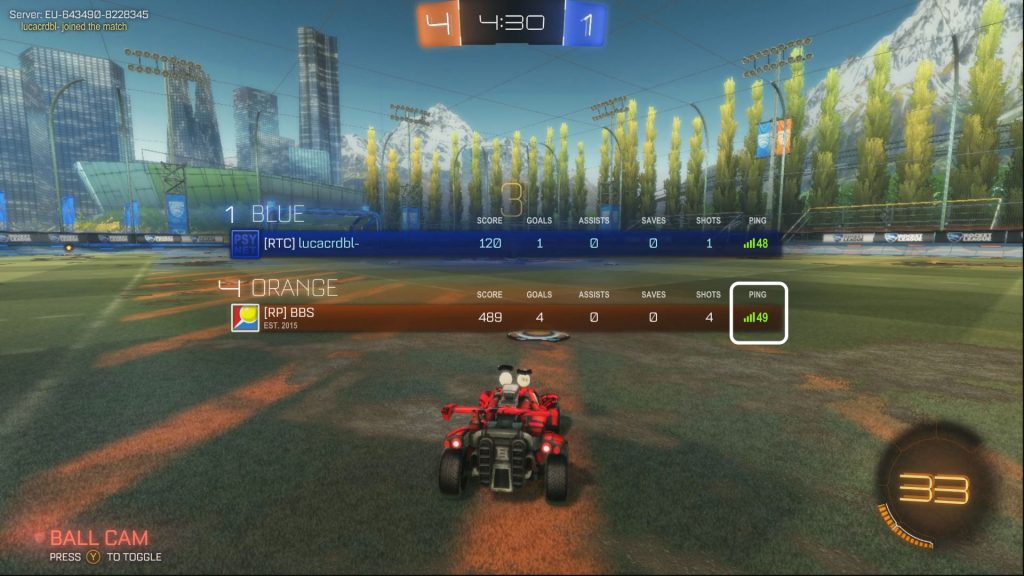 Our gaming experience was smooth. We did not experience any ping spikes or noticeable lag during the two hours of gaming. The difference between the 5G Hub and our regular broadband connection was almost unnoticeable.
If you are used to a ping of 5-10ms, you may notice a difference when using the Three 5G Hub. For ultra-competitive gamers, you would ideally want a latency of less than 25ms, although it's not essential to perform well in most games.
Essentially, if you're coming from 25-35ms already, the extra latency is barely noticeable, when using an Ethernet connection. The Three 5G Hub performs well for gaming, even on games that are quite sensitive to having a high ping.
Watch our YouTube review of this router to get a better idea of the 5G Hub gaming experience.

Three 5G Hub value for money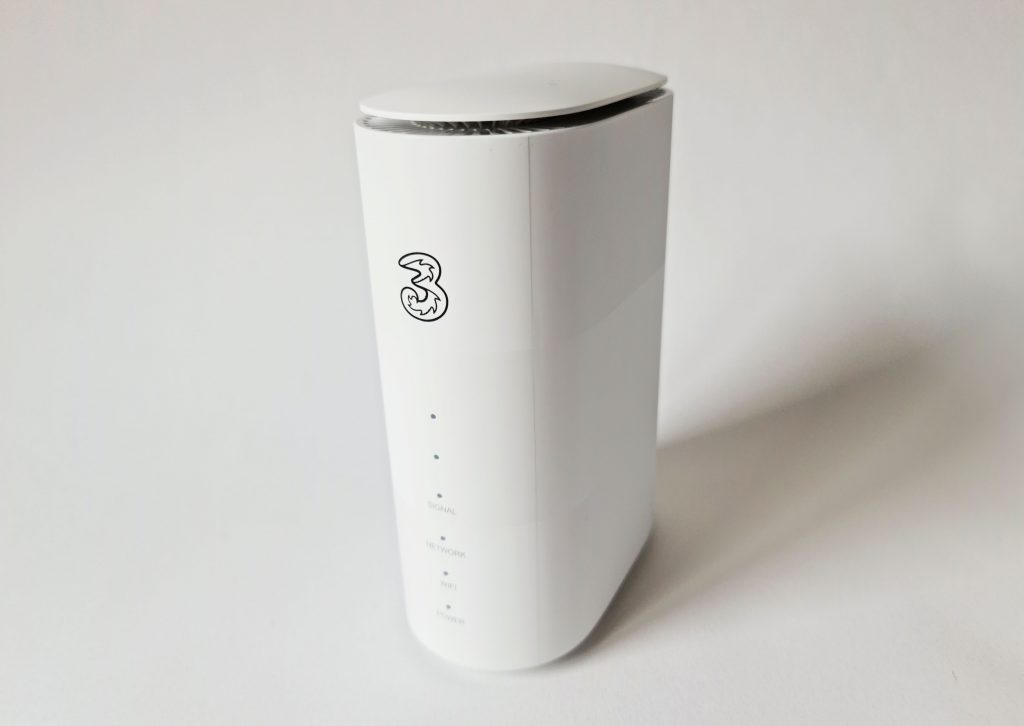 Three is currently pricing their 5G Hub plans very cheaply, when compared to other mobile broadband providers. If you're looking for a 5G home broadband solution on a long-term contract, Three is by far the cheapest when compared to alternatives like Vodafone and EE.
You can typically get the 5G Hub for about £20-£30 per month. Your monthly cost will be a bit lower on a 12 month contract, and a bit higher on a 24 month contract. There are no upfront costs, but you can't get this router on a month-to-month plan, like you can with their 4G router, the 4G Hub.
If you get 5G, the 5G Hub will give you an average download speed of about 100-300 Mbps (or possibly even higher). Here's what this type of speed would cost you with a typical broadband plan:
£35.99 per month with Virgin Media M200 (213 Mbps)
£34.99 per month with BT Full Fibre 100 (150 Mbps)
Therefore, the 5G Hub is quite good value for money, especially if you aren't too worried about your latency.
You also get a 14 day money back guarantee with the 5G Hub. If you're not happy with the speeds or latency you receive where you live, you can always send it back to them within two weeks, provided the router is returned undamaged.

Is the Three 5G Hub any good? Our verdict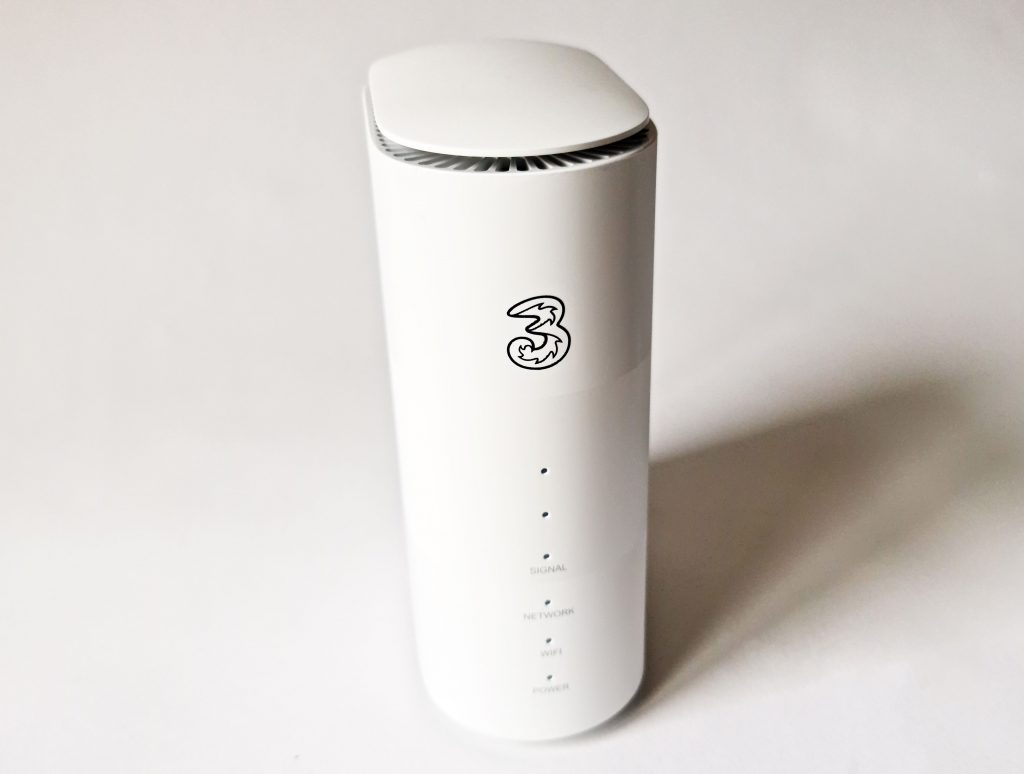 There are a lot of things to like about the Three 5G Hub:
It offers extremely fast download speeds – up to 2 Gbps in theory, and about 200-300 Mbps from the speed tests we performed. This is more than four times the average home broadband speed in the UK.
To get a home broadband deal with 200 Mbps+ download speeds in the UK, you'll probably pay about £35 per month, or higher if you get a plan with an average download speed of more than 300 Mbps. However, the 5G Hub costs a lot less than that.
This home broadband router is extremely easy to set up. All you need to do is plug it in, wait a few minutes, and connect to Wi-Fi. You don't even need to insert the 5G SIM card yourself. There is no need to wait around to be connected, like there is with some broadband providers.
However, there are some downsides to Three 5G broadband as well:
Your latency will be higher than if you used fibre broadband, in most cases.
The home phone port is disabled, so if you ditch your regular home broadband connection, you won't be able to keep your landline phone.
Your download and upload speeds can vary a bit with this router. You'll need to spend a bit of time experimenting with different positions and orientations, to find the best place to put it. Also, you have no way of knowing whether you'll get 100 Mbps or 1000 Mbps before you buy it, unless you have a Three mobile phone and know what speeds you get using 5G. Fortunately, Three has a 14 day return policy, in case the speeds aren't as good as you thought they would be.
Overall, we rate the Three 5G Hub 4.3 out of 5. If you have 5G signal at your address, it offers a cheap, reliable way to get online, and get very fast download speeds. Although you can't buy the 5G Hub on a pay as you go contract, it's quite reasonably priced, and Three has a good return policy, allowing you to test the router and see what sorts of speeds you get before you commit to the length of the contract.

Three 5G Hub alternatives
If you don't like the look of the Three 5G Hub, there are a few other home broadband routers that you could consider instead.
All of these alternative routers use 4G or 5G signal to help you connect to the internet.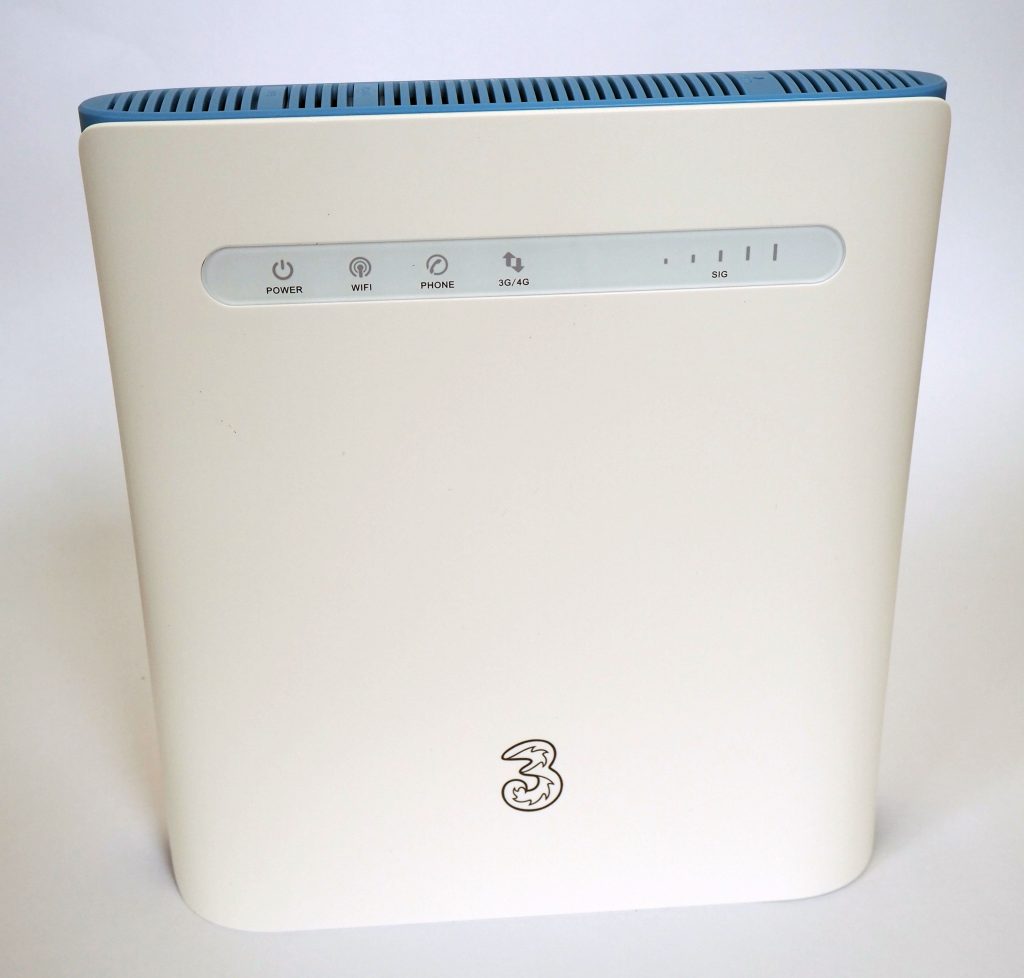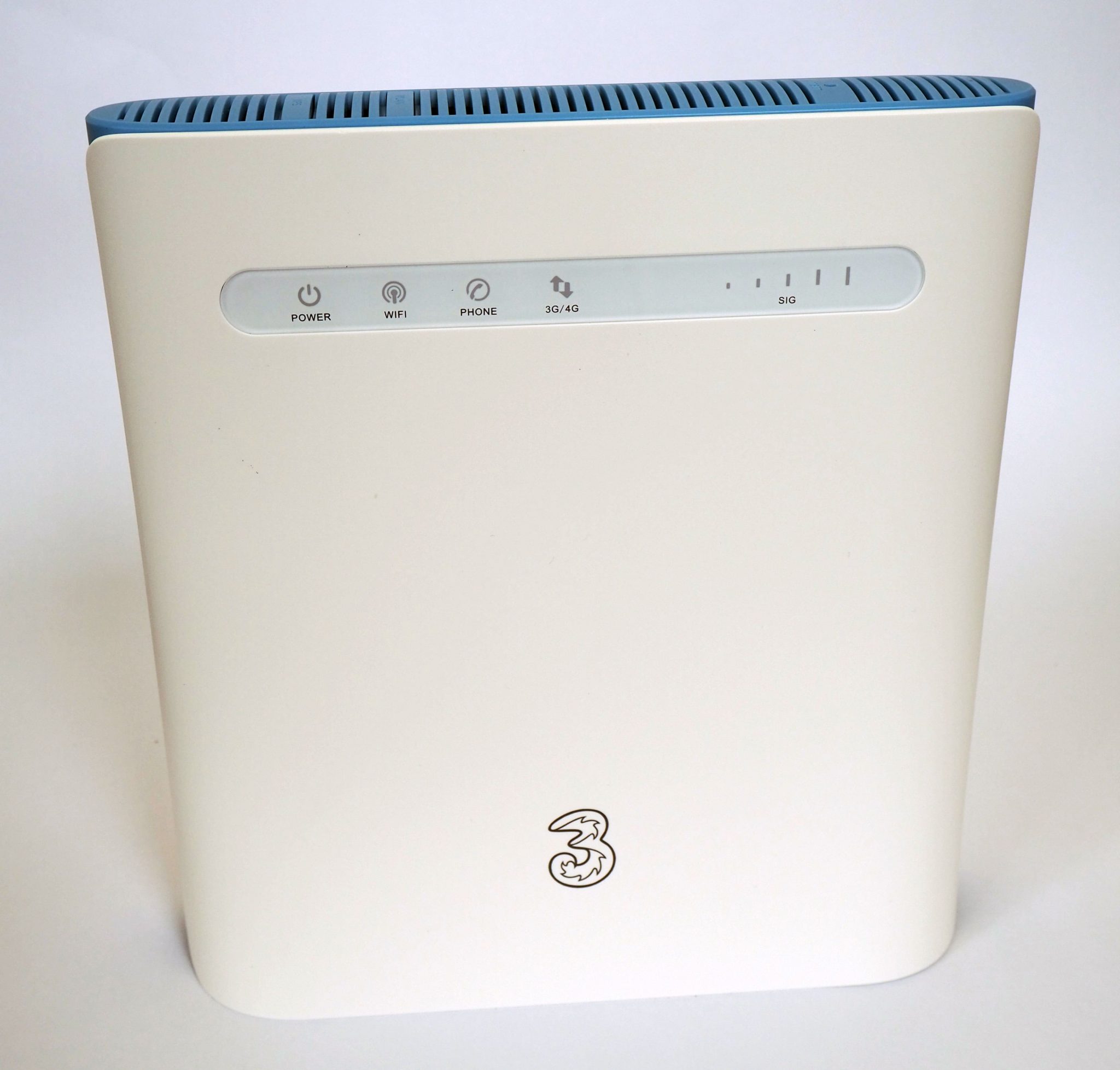 If you want to save a bit of money, or don't need 5G speeds, you might be better off with the Three 4G Hub instead.
The best thing about the 4G Hub is its pricing – it's quite a bit cheaper than Three's 5G router, especially on a 24 month contract. You can also get it on a pay as you go plan, which is nice.
There are other benefits as well – you get more Ethernet ports, for example, and you can connect up to 64 devices at once (rather than just 30). However, the Wi-Fi standards used aren't quite as good.
Read our full review of the 4G Hub to learn more.
EE's 5G Router is much more expensive than Three's. They often charge a high upfront cost, and not all of their plans come with unlimited data. The one that does come with unlimited data has quite a high monthly cost.
There are two reasons you might consider EE's 5G home broadband router:
EE has more 5G coverage in the UK than Three, meaning this device might offer faster download speeds – plus it might work in more places if you travel with it.
The 5GEE Router can handle up to 64 devices connected at once, rather than 30, and has a better Wi-Fi signal strength – making it better for larger houses.
Unlike Three or EE's 5G router, you can buy the Vodafone GigaCube on a 30 day month to month contract, if you'd like. Plus, its Wi-Fi supports higher download speeds, of up to 2475 Mbps on 5Ghz.
However, the GigaCube is very expensive. It has an extremely high initial cost when purchased on a pay as you go plan, and is also very expensive on the default 24 month contract, when compared with the 5G Hub.
Plus, if you don't choose the most expensive unlimited data plan from Vodafone, you'll be stuck with just 100GB or 200GB of data per month, which isn't enough for most families in this day and age.

Conclusion
This is the end of our Three 5G Hub review.
If you have any questions about our experience with this device, or if you're unsure whether or not to buy it, please feel free to leave a comment below, and we'll respond as soon as possible.
About the author

Tyler built his first PC at the age of 12, and since then, he's become obsessed with all things networking and internet-related. He's a massive gamer, loves Rocket League, and also plays Sunday League football.