Considering getting online with a Three MiFi device?
In this article, we've unboxed and reviewed the Huawei 4G Plus mobile WiFi device, which you can buy from Three. We've also looked at Three's mobile broadband network, and their data deals, to see if you should buy this MiFi device.
Let's get started.
Contents
Three MiFi overview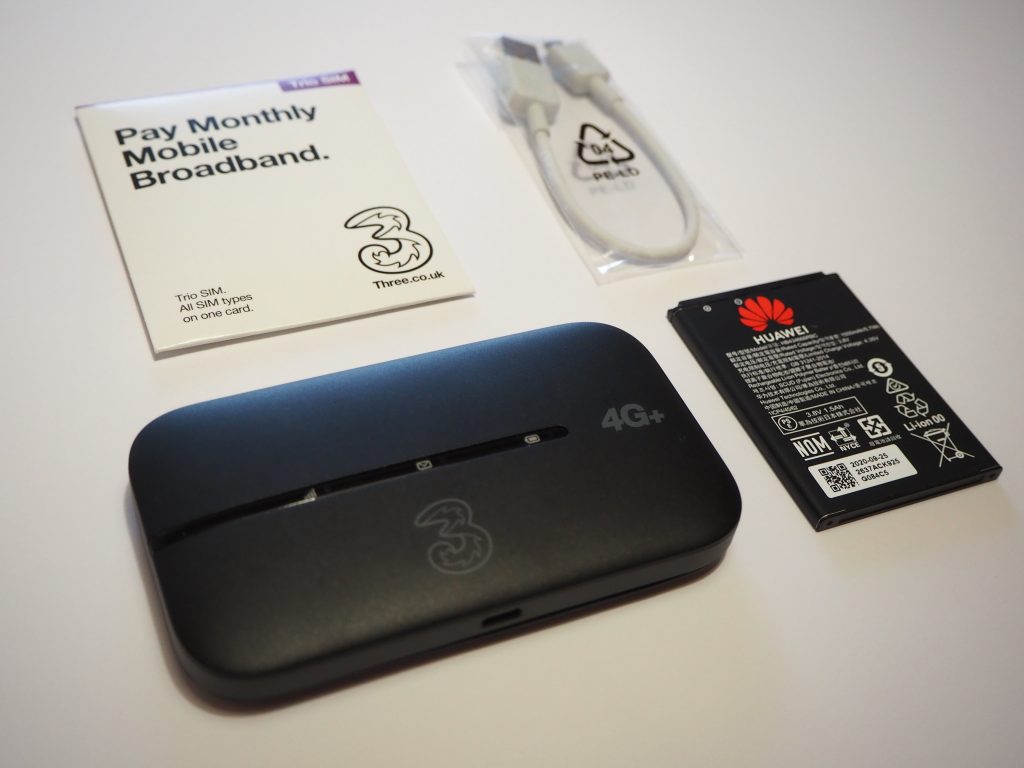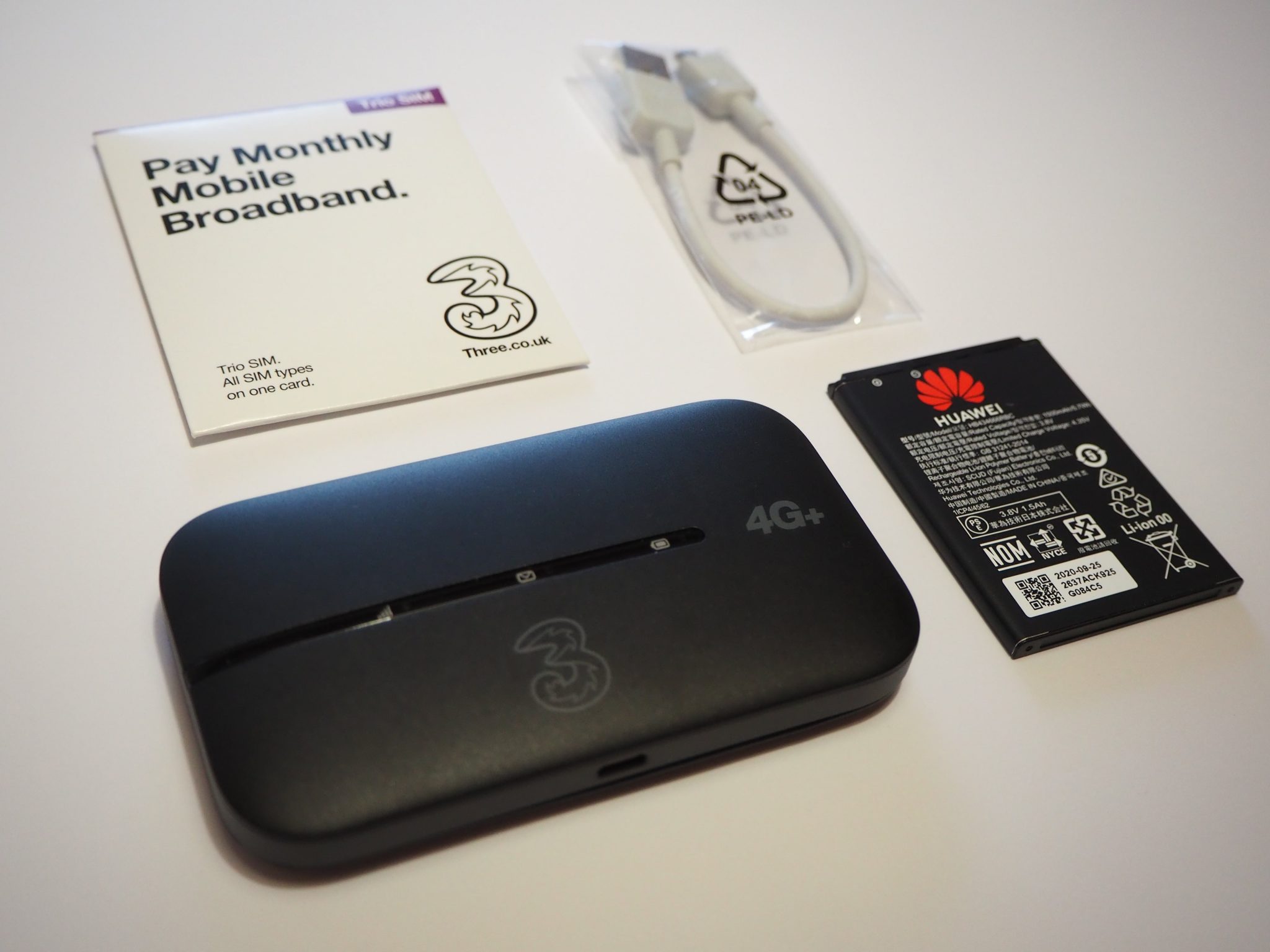 | | |
| --- | --- |
| Download speeds | 15-50Mbps, depending on 4G coverage in your area |
| Contract lengths | Monthly. 12 months, or 24 months |
| Data plans | 10GB, 40GB, or unlimited data |
| Rating | 4.3 (out of 5) |
| Price | Check on Three |
Currently, Three sells the Huawei E5783B 4G Plus Mobile WiFi device, paired with a number of different data SIM deals.
This device is like a miniature WiFi router, except it's battery-powered. It creates a WiFi hotspot that multiple phones, laptops, and iPads can connect to at once. However, this device uses the 4G network, just like your phone, rather than getting internet access using your landline.
Currently, Three does not sell a 5G MiFi device, nor do they sell any mobile broadband dongles that plug directly into your computer. The Huawei 4G Plus is the only MiFi router or dongle that Three currently offers.

Huawei E5783B 4G Plus MiFi specifications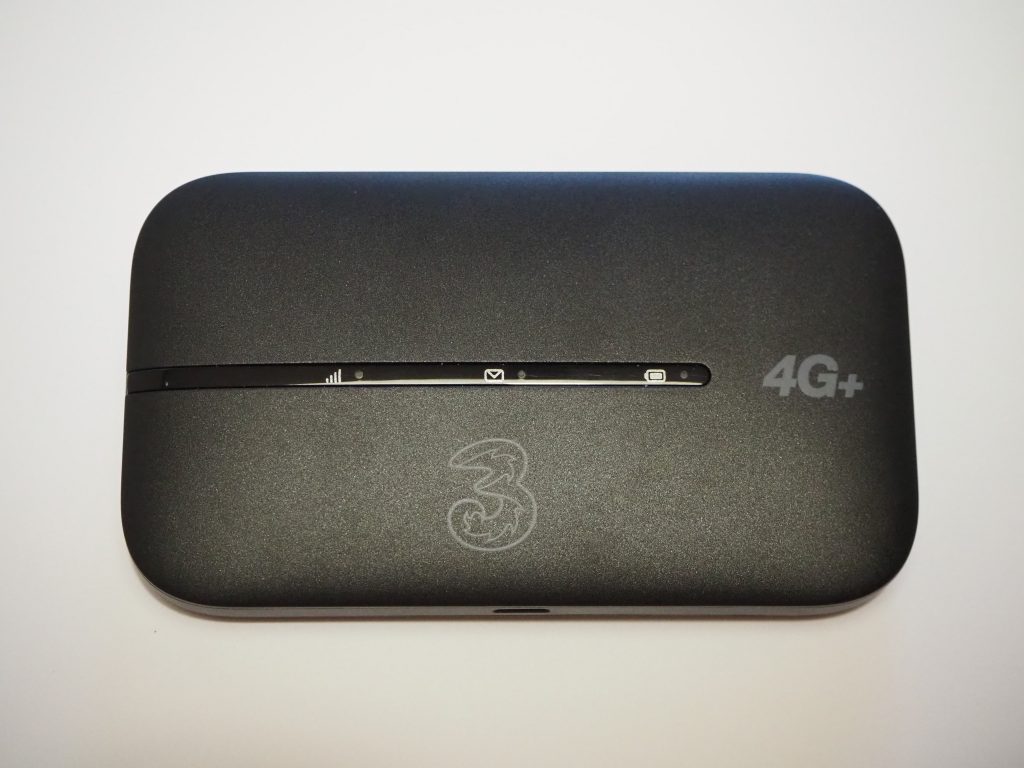 Height: 108mm
Width: 62mm
Depth: 16mm
Weight: 95g
Battery: 3.8V, 1500mAh, up to 6 hours
Maximum concurrent devices connected: up to 10
Maximum download speed: 300Mbps
Maximum upload speed: 100Mbps
WiFi range: approximately 10 metres
WiFi frequency bands: 2.4GHz and 5GHz
Charging port: micro USB
SIM: micro SIM slot
Three MiFi device unboxing and setup
Three's MiFi device typically arrives on the next business day after you order it, unless you order in the evening. It ships inside a small box.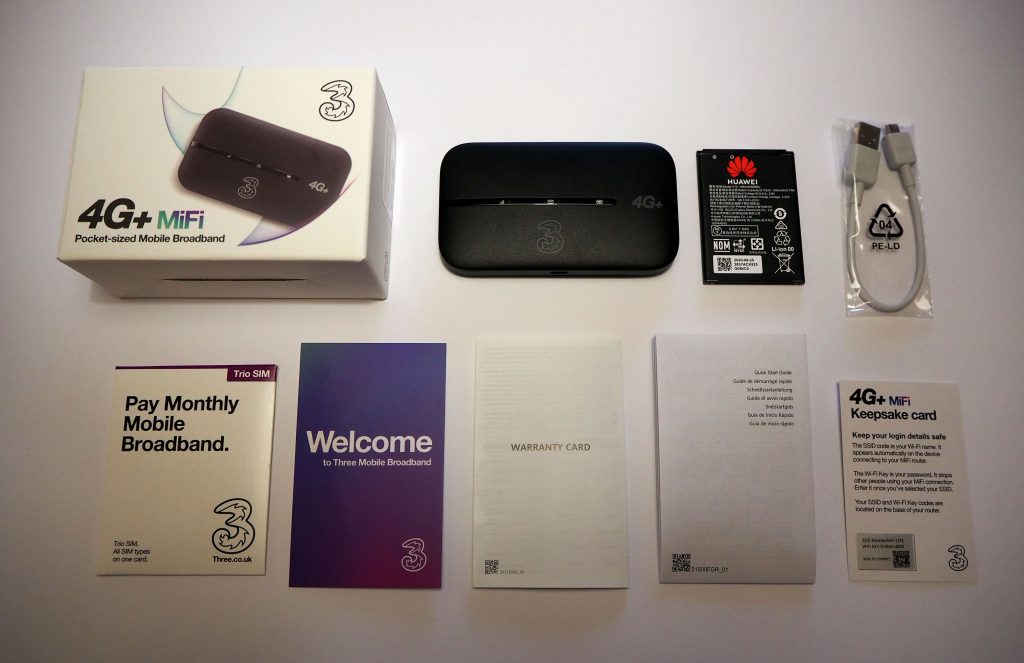 This box contains:
The MiFi device
A removable battery
A Three SIM card
A micro USB charging cable
A quick start guide
A warranty card
A welcome card
A keepsake card with your WiFi login details
Setting up this mobile broadband device is quite a simple process.
Before we begin, you can watch this unboxing on YouTube, if you'd prefer.
Step 1: Installing the SIM card
The first thing to do is remove the back cover from the MiFi device. It attaches using a number of plastic clips, located around the edge of the case. To remove the cover, there is a small gap in one of the corners, which you can pry up from.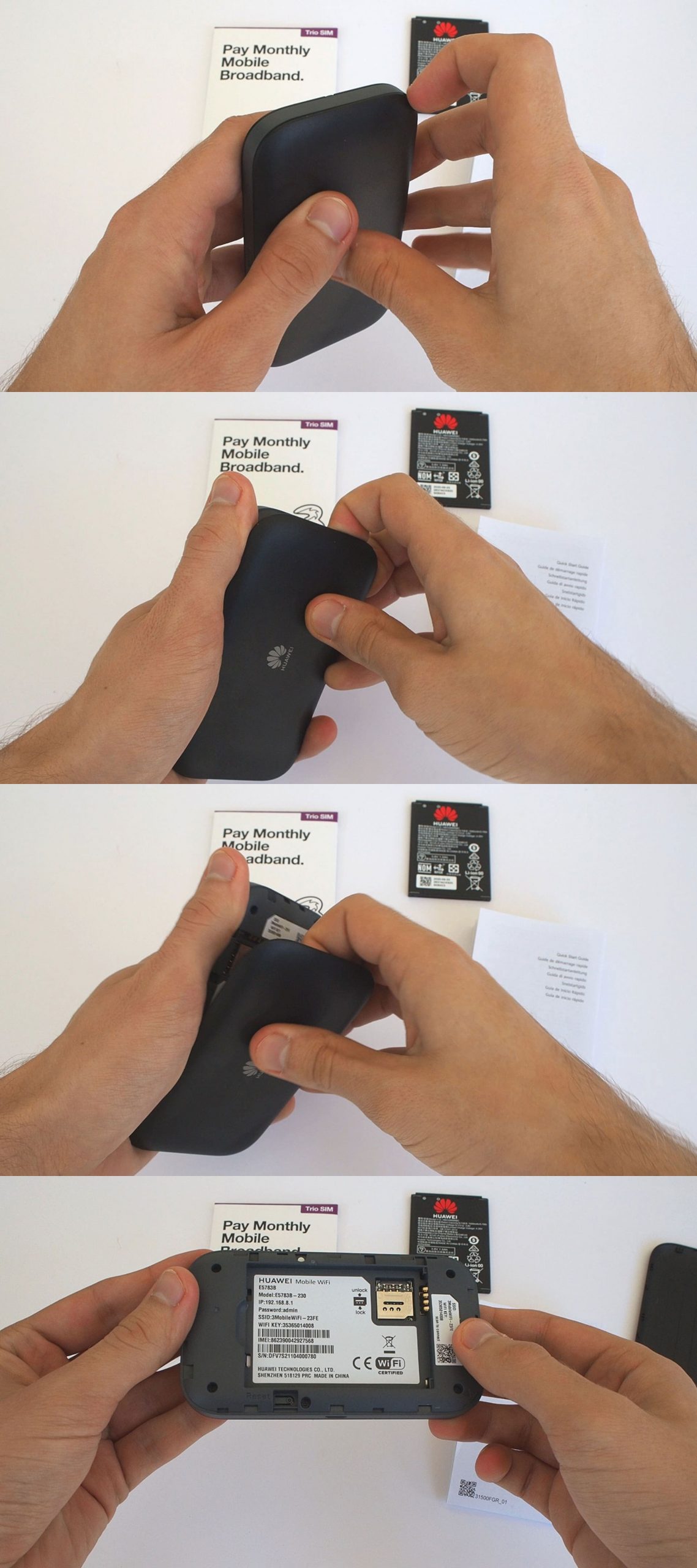 At this point, the next thing to do is place the SIM card in its slot.
First, remove the SIM card from its packaging, and push it out of its holder. You want the micro SIM, which is the green one (the second-biggest).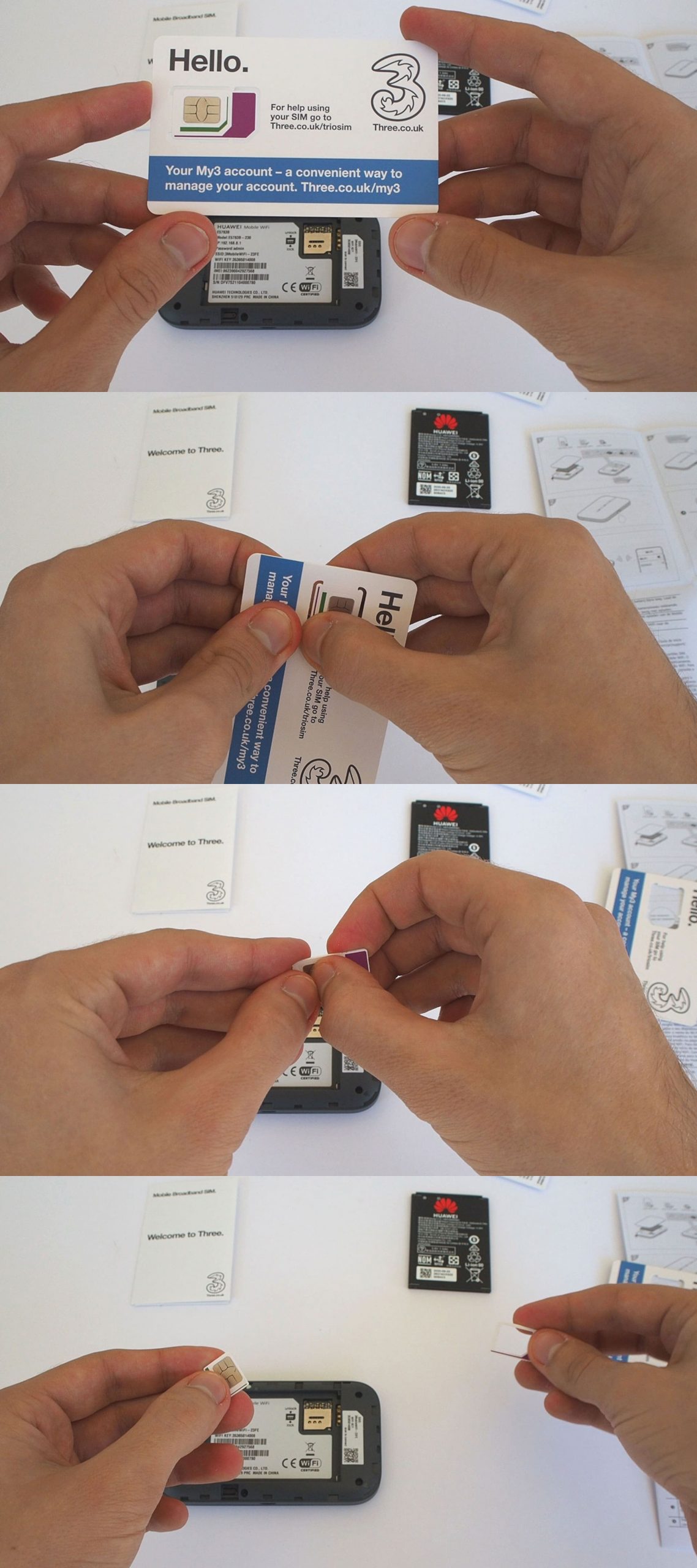 The SIM card slot has a small metal flap, which you need to lift up. Then, you can place the SIM card in its slot, as shown, with the cut-out corner facing the bottom-right. There is also a marking on the device to show you which way the SIM card goes in.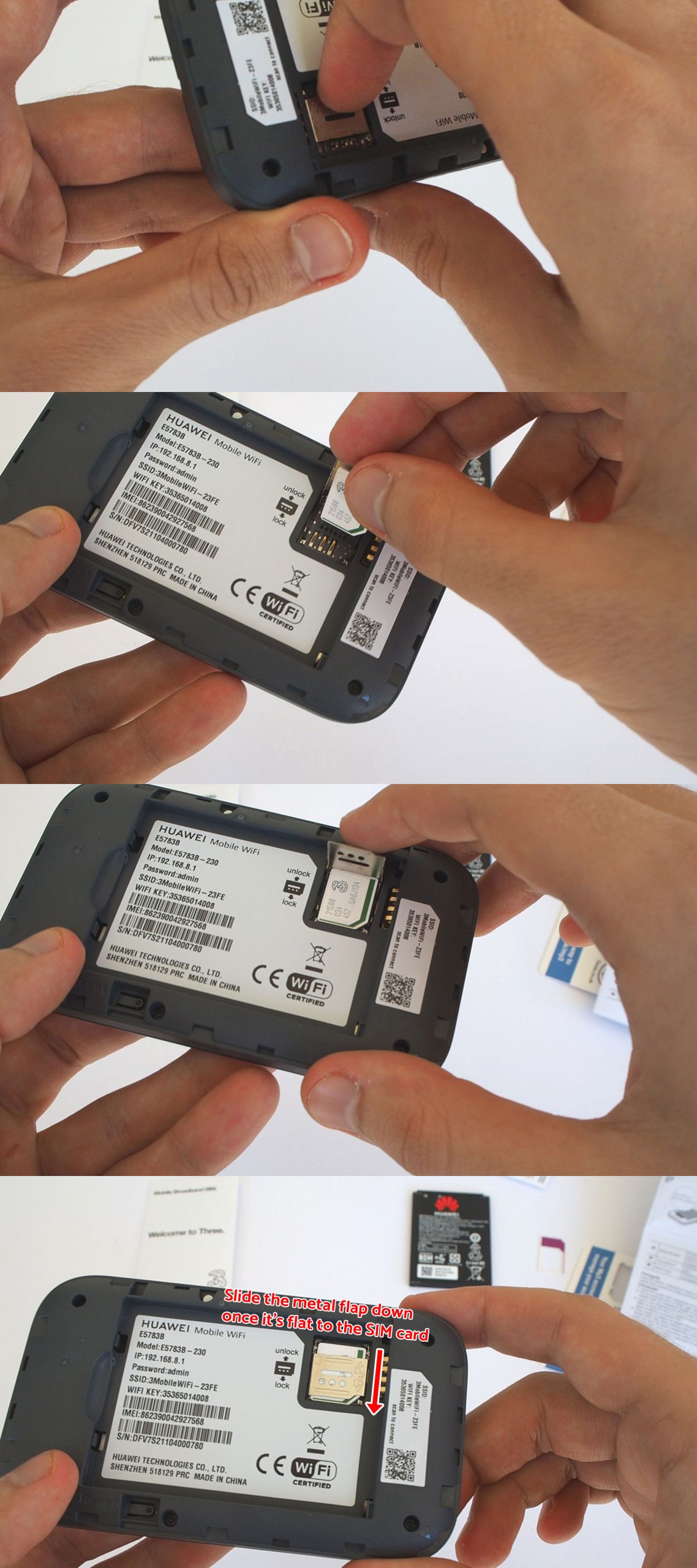 Note that the SIM card does not click into place. Rather, the metal flap slides down to secure it. Do not force the metal flap down if it's not moving easily – this means that the SIM needs to be repositioned slightly.

Step 2: Installing the battery
Now you have the fairly simple task of putting in the battery. Simply line it up with the four golden bits at the top right, and slot it into place.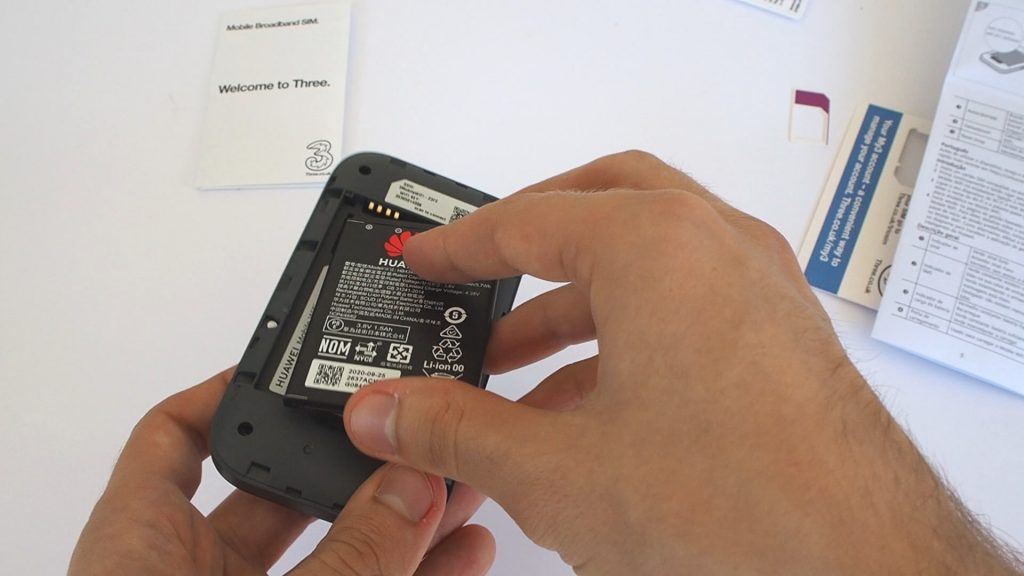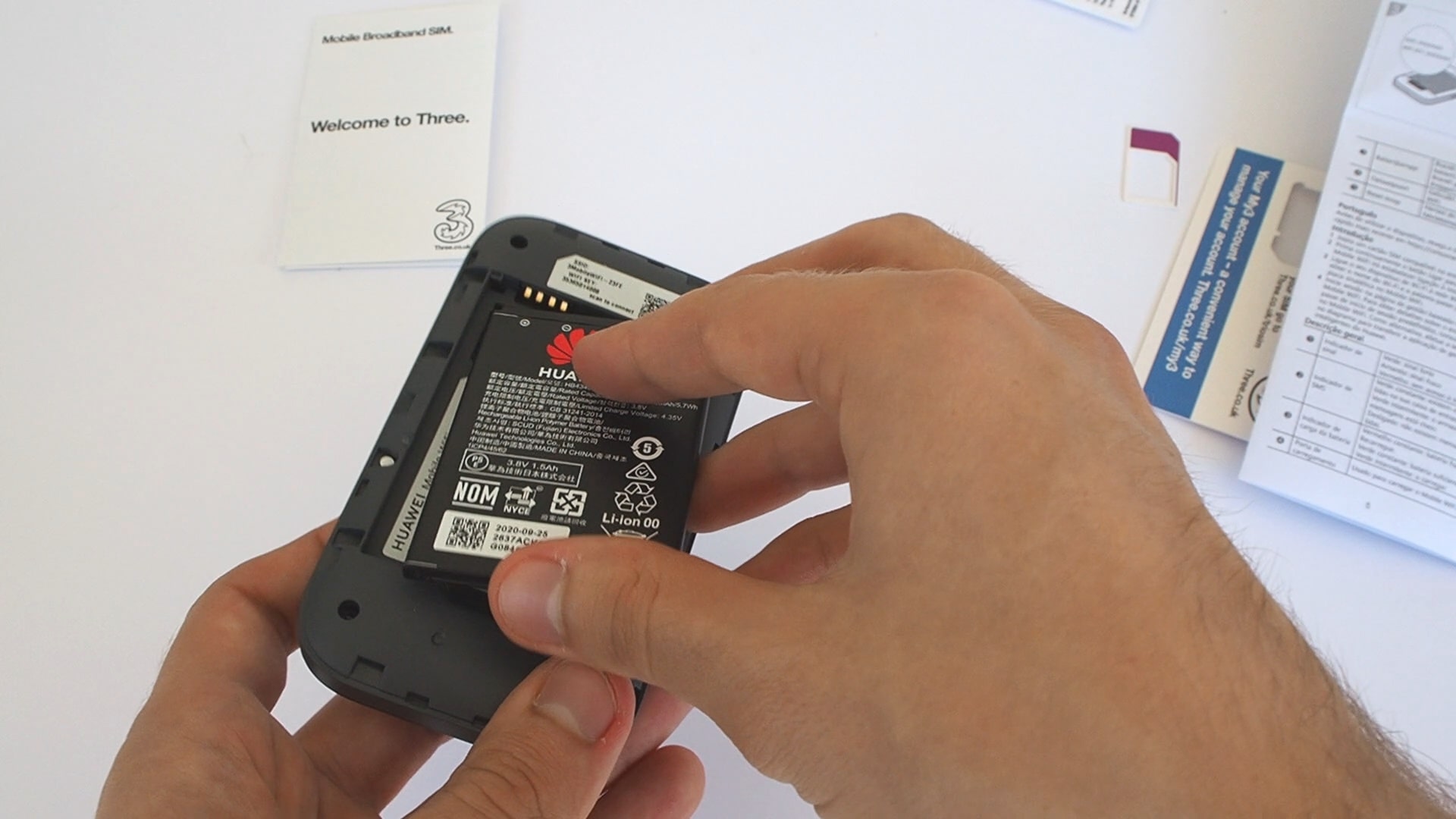 At this point, you can put the cover back on the 4G Plus MiFi router. It snaps into place quite easily – just ensure you've pushed it in along all the edges – you'll hear it click into place. Also ensure that you're putting it back on the right way around. If it doesn't click into place easily, try to turn the cover 180 degrees.

Step 3: Connect devices to the WiFi hotspot
Now that the SIM card and battery are in place, you can turn on the MiFi device. Three ships this bit of kit with some charge in the battery, so you don't need to worry about charging it before you begin using the device.
The first thing to do is hold down the big power button on the top, until the three lights turn green. If the 4G network light on the left doesn't come on at first, this may mean that you don't have good 4G signal right now.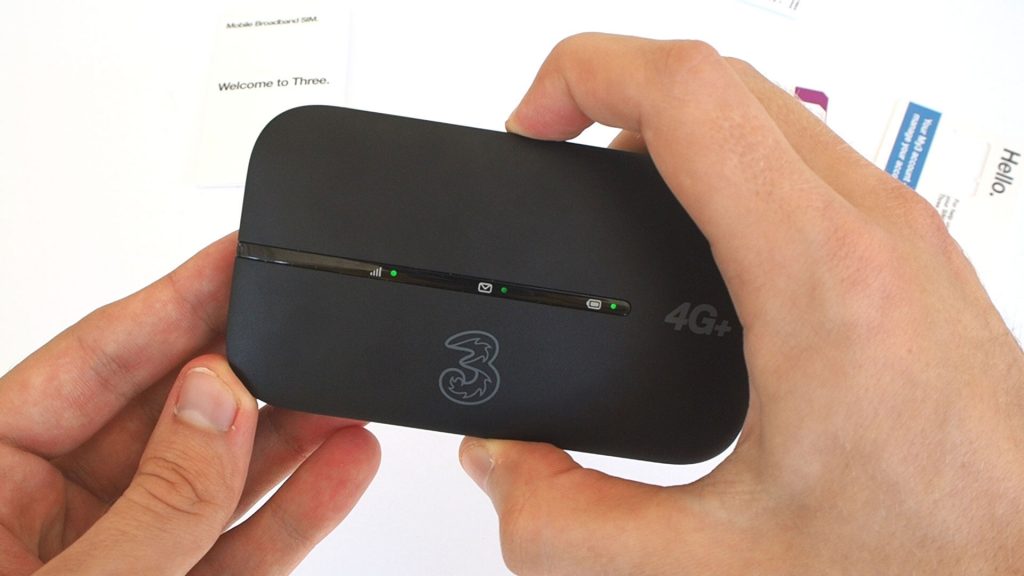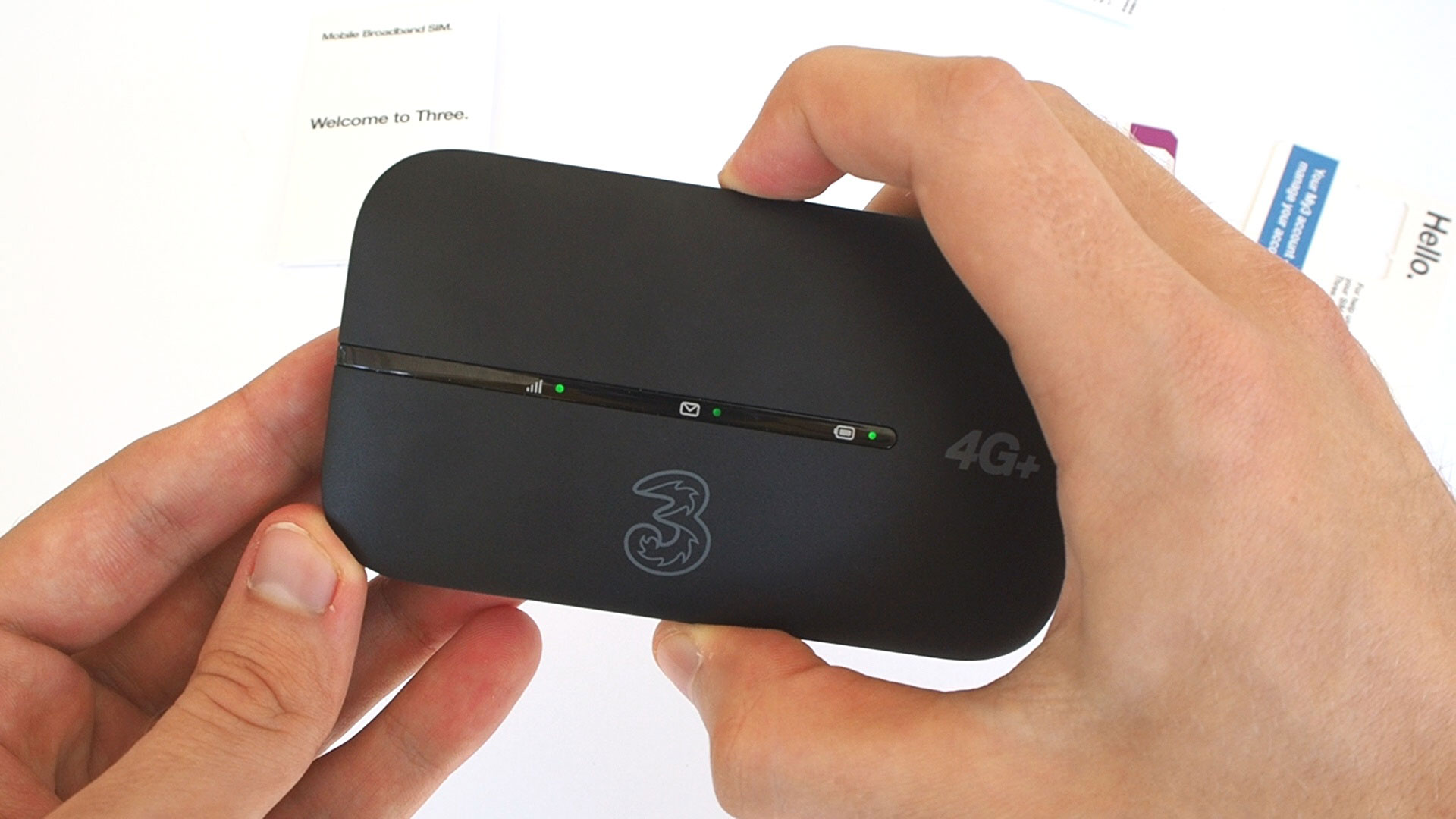 If you search for a new WiFi network on your laptop or phone, your Three MiFi device will show up as a network beginning with "3MobileWiFi". Then, you'll need to input the password shown on the inside of the device, or on your WiFi keepsake card.
Alternatively, you can also scan the QR code on the keepsake card using your phone, to instantly connect to the WiFi network.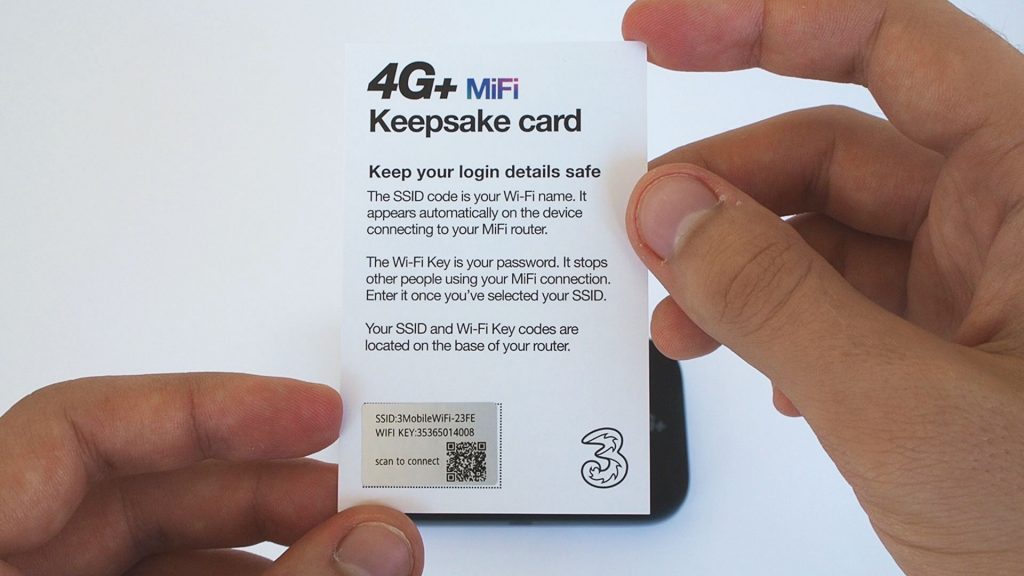 What's good about the Three MiFi device
There are a number of things to like about Three's MiFi router.
It's very easy to set up. As shown above, getting online is a simple three-step process that takes about 10 minutes. The hardest part is locking the SIM card in place, but it's not too difficult if you use the right technique (lay the SIM flat, the correct way around – then, push down the metal flap, and slide it downwards).
You can connect up to ten devices at a time, which is plenty for most households.
The WiFi signal range is great, especially for such a small device. It broadcasts on the 2.4Ghz frequency, which offers better connectivity at a distance, as well as the 5Ghz frequency, which offers better speeds at close range.
The device charges quickly, and has a pretty good battery life, typically lasting about 5-6 hours. This is plenty for most cases where you want portable WiFi, such as when travelling.
Like all Three mobile phones and mobile broadband devices, the Huawei 4G Plus comes unlocked. You can use it with another SIM card if you'd like.
What's not so good about the Three MiFi device
There are also some drawbacks to this mobile WiFi device.
You only get a charging cable included, rather than a cable and a wall adapter. The cable has a micro USB connection at one end (for the MiFi device) and a USB connection at the other end. Therefore, you will need a wall adapter plug with a USB port, or a computer with a USB port, to charge the device. An adapter can be had on eBay or Amazon for a few pounds.
While you can connect up to ten devices at a time, if you do a lot of data-intensive activities on numerous devices at the same time, your WiFi will slow down. This mobile WiFi device isn't designed to manage absolutely massive amounts of concurrent usage.
The WiFi signal isn't good enough for large houses. In this case, you really need a proper WiFi router, as there are no WiFi range extenders available from Three for use with this product. You could consider the Three 4G Hub to get a better WiFi signal.
The device doesn't support 5G. You can only get 3G or 4G speeds.
Three MiFi deals
Now that we've shown you a bit about the 4G Plus MiFi router, we'll explain how you buy this device from Three, and the MiFi deals they offer it with.

Data plans and contracts
Three currently offer their MiFi device with a number of different mobile broadband data deals, on a range of different contract lengths.
When it comes to the amount of data included, you can get Three MiFi with either 10GB, 40GB, or unlimited data per month.
When it comes to the contract length, you can get Three MiFi on a 1 month pay as you go contract, a 12 month contract, or a 24 month contract.
Each combination of the above contracts and data deals is available. For example, you can get unlimited data on a pay as you go 1 month contract, if you'd like. Or, you can get 40GB on a pay monthly 24 month contract.
We must say, it would be good if there was more choice when it came to the different data bundles available. If you think you need 100GB of data for example, you'll have to go for an unlimited data plan instead, since there is no 100GB deal available right now.

Pricing
Typically, the Three MiFi device costs anything from £13 to £26 per month, depending on how much data you get, and the length of the contract. Free shipping is included with each deal.
Three also charge an upfront cost on some of their pay as you go MiFi deals. While their pay monthly contracts typically have no upfront cost, you can expect to pay up to £39 upfront on a pay as you go deal.
It's important to note that each year, your monthly cost will increase by 4.5%, no matter which contract you choose. Therefore, if you enter into a 12 or 24 month contract, some of your future payments will be higher than your current ones.
Also, Three's pricing quotes assume that you will use direct debit, or another recurring payment method. If you don't, the price will be £5 per month higher.
Sometimes, Three runs a special deal with their MiFi device plans. Currently, you can 6 months half price with their 24 month and 12 month contracts.
To view Three's current range of MiFi deals and prices, visit their website.

How fast is Three MiFi?
Before buying Three's mobile WiFi router, you may be wondering what download speeds you will get with the device.
To find out how fast the device will be, it's a good idea to use Three's network coverage map.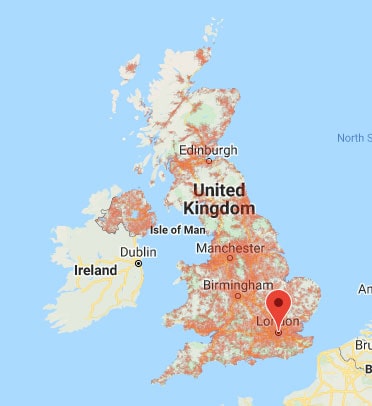 To use the network coverage map on Three's website, simply put in your postcode, and click the "4G" tab.
Ideally, you want to ensure that you have good indoor and outdoor 4G speeds at your address. If you do have good 4G coverage, you should be able to get speeds of 15-50Mbps, depending on where the nearest mast is.
If you can only get 3G signal where you live, you can still use Three mobile WiFi. However, you will likely only get download speeds of 3-5Mbps, which is quite slow.
To see how much mobile broadband speed you really need, use our internet speed needs calculator.

Can I use Three MiFi abroad?
If you're considering using mobile broadband to get online, this might be because you want to travel with the device.
Fortunately, you can use the Three Huawei MiFi device overseas, at least in most foreign countries. However, you will need to set up roaming. To do this:
Connect to your mobile WiFi device.
Type 192.168.1.1 into the address bar on your web browser.
Login using the password "admin", or your custom password if you have changed it.
Enable data roaming.
It's important to remember, your data allowance doesn't work the same as it does overseas compared to in the UK.
If you're travelling to a Three Go Roam destination (70 different countries), you can use up to 12GB of your monthly data allowance each month, under the Fair Use policy.
If you're not travelling to a Go Roam destination, you will be charged roaming rates, or you can buy a Data Passport to get unlimited data for £5 per day.
In some countries, the mobile network infrastructure is slightly different, meaning that your MiFi device won't work. However, this only applies to very few countries.
Also, it's important to note, if you're a pay as you go customer, you need to top up before you leave the country in order to get online overseas. This isn't necessary if you're on a pay monthly contract.
You can also buy a separate roaming SIM card to use with this device, if you'd prefer to save money when getting online overseas.

Is Three MiFi any good? Our verdict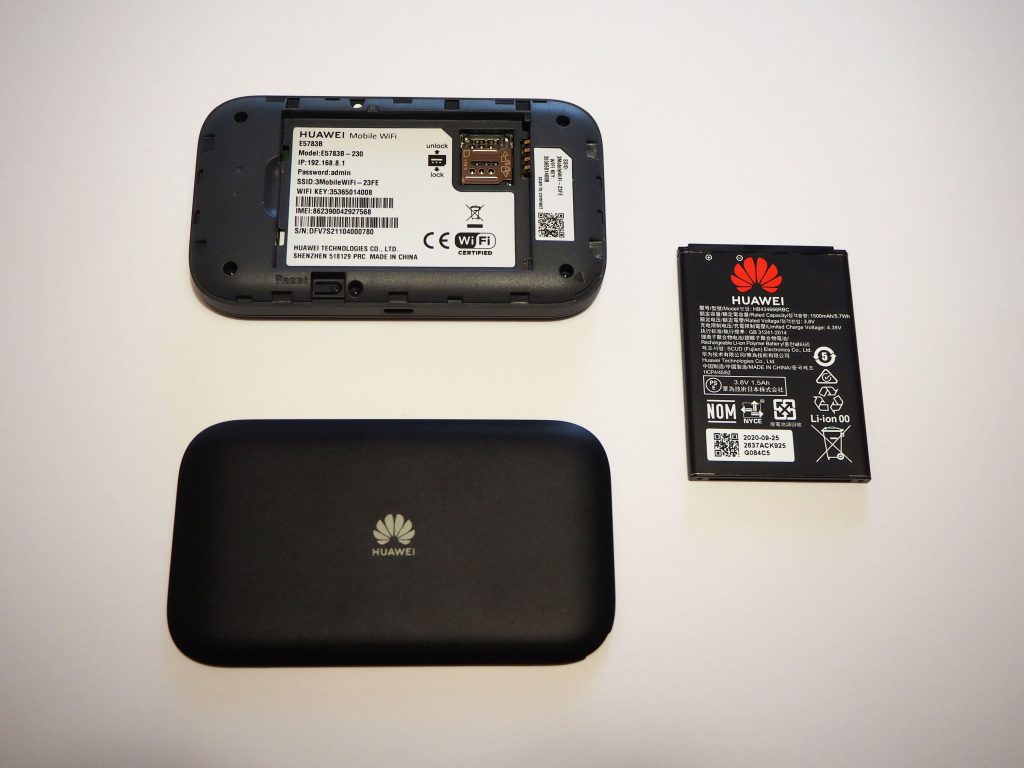 The Three 4G Plus MiFi device is a great choice if you need an easy, portable way to get online using 4G mobile broadband. It's a very useful device if you need to access the internet without relying on your typical fixed-line broadband connection, or if you want to get online when travelling.
We've spoken to people who have used this MiFi device to successfully:
Get much faster home broadband speeds. With this device, you might be able to get speeds of 30-40Mbps, which is great if your fixed-line broadband can only offer 5-10Mbps.
Get internet access for a cheaper price. With a pay monthly contract, the monthly cost of this MiFi device is actually quite low. You may be able to save money by getting online using MiFi when compared to traditional home broadband. Just remember, in the UK, all home broadband plans come with unlimited data. MiFi deals with unlimited downloads can be expensive in the UK.
Get online when their home broadband slows down or drops out, especially in rural areas.
Use the internet from a caravan or campervan.
Get online when travelling, without having to use tethering on your mobile phone.
This MiFi router does have some limitations. It's not designed to have massive numbers of devices connected at the same time. Also, the WiFi range is quite short, at just 10 metres.
If you decide to buy this product, ensure that you have good Three mobile broadband coverage at your address, including indoors. If you don't have good 4G signal where you live, you might only be able to get speeds of around 5Mbps, which is very slow.
Overall, we rate this MiFi device 4.3 out of 5 based on its speed, WiFi connectivity, and value for money.
Three MiFi alternatives
There are a few other devices you could consider to get online using mobile broadband, other than the Three Huawei 4G Plus.

If you want to use 4G internet as your main way of getting online at home, it might be worth considering the Three 4G Hub or 5G Hub router.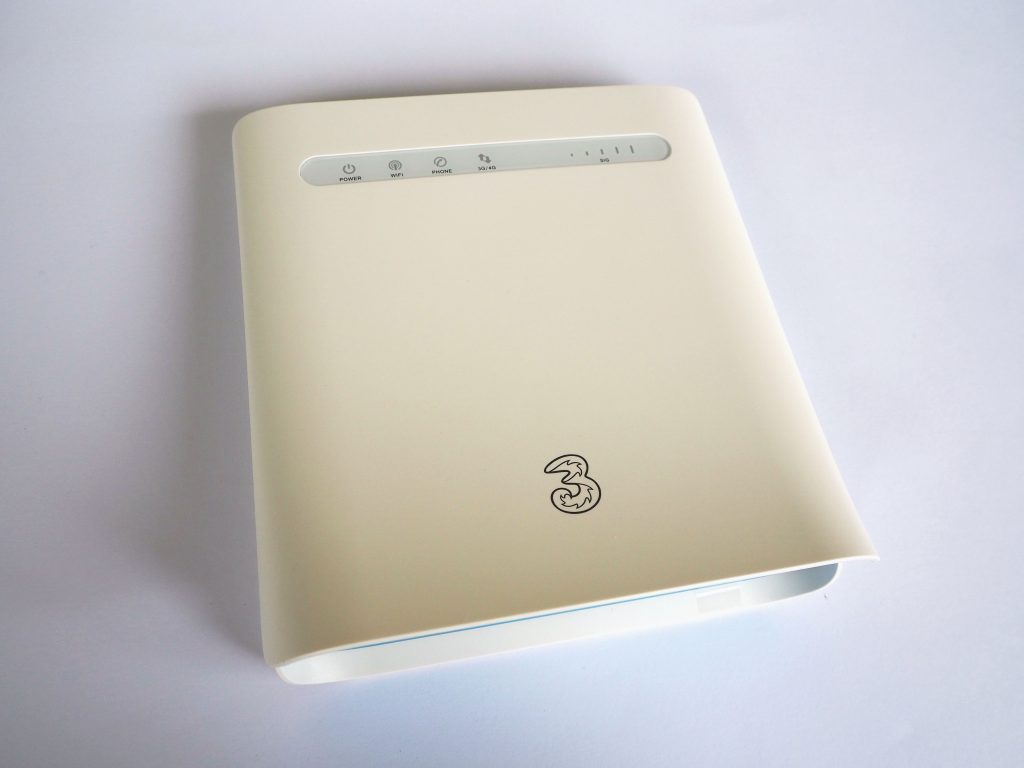 These bits of kit work in a similar way to a MiFi device, in that they create a WiFi hotspot. However, they plug into the wall, rather than having a battery, meaning they're less portable. But since they're bigger, more like a typical WiFi router, they can handle more devices connecting at once (up to 64, in this case).
The 5G Hub costs a bit more than the Three 4G Hub, but offers much faster speeds. Put your postcode into the Three website to see if it's available at your address.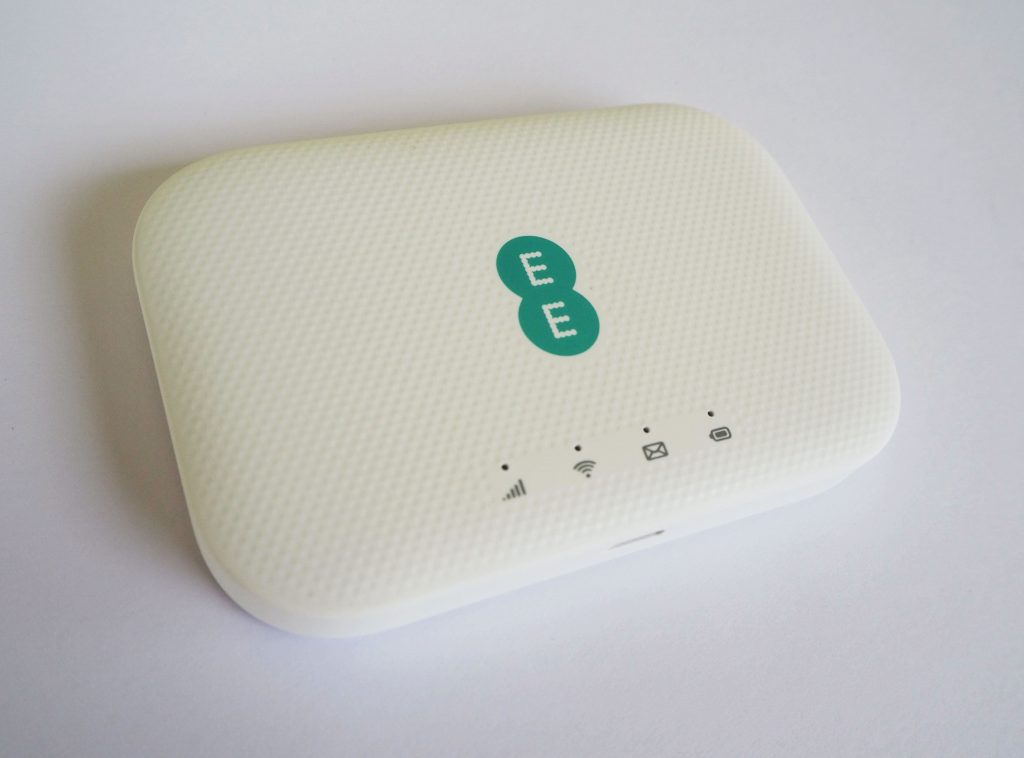 EE have the best mobile network coverage of any UK provider, meaning their mobile WiFi device is a good choice if you live in a rural area.
The 4GEE MiFi device is a serious bit of kit. It has a 30m WiFi range, and connect up to 64 devices – much better than what Three's device is capable of.
However, it is very expensive. There are a good range of deals and contracts available, but they cost significantly more than most other MiFi devices.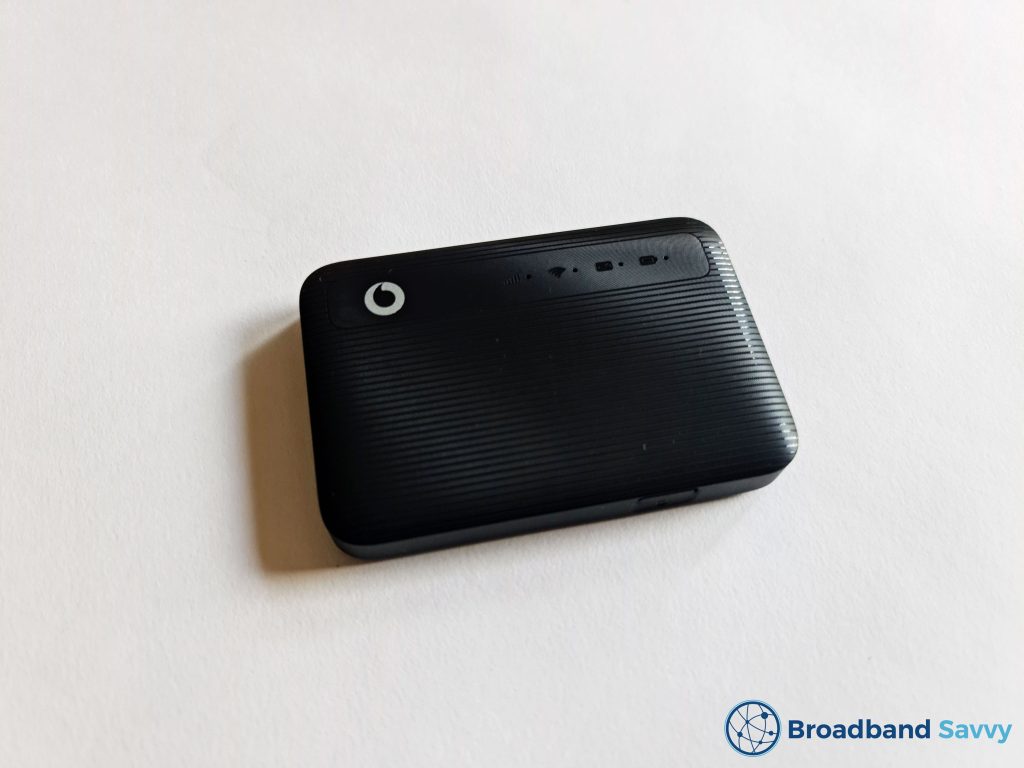 This device is very similar to Three's MiFi device. It's about the same size and weight, supports similar speeds, but it has a better battery life, and can support up to 32 connected devices.
Prices are slightly higher with most of Vodafone's MiFi deals, however you may prefer this device as an existing Vodafone customer, especially if you know they offer good 4G speeds at your address.
Read our Vodafone MiFi review to learn more about this device.

Conclusion
You've reached the end of our Three Huawei 4G Plus MiFi device review.
Hopefully this guide helped you decide whether or not this MiFi device is the right choice for you. If you're still unsure, feel free to leave a comment below, and we'll help you find the best way to get online.
About the author

Tyler built his first PC at the age of 12, and since then, he's become obsessed with all things networking and internet-related. He's a massive gamer, loves Rocket League, and also plays Sunday League football.