Looking to get an internet connection in your caravan?
In this guide, we've looked at 5 of the best caravan WiFi devices, providing internet in your caravan.
We've also explained some different ways to get online from a caravan or motorhome, helping you get a consistent, affordable caravan internet connection.
Quick comparison table
BEST 4G ROUTER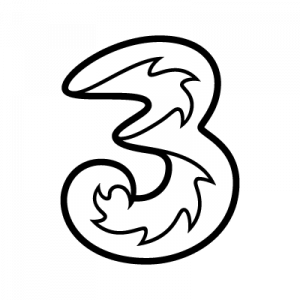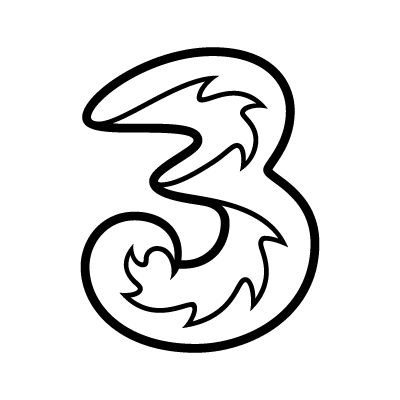 BEST MIFI DEVICE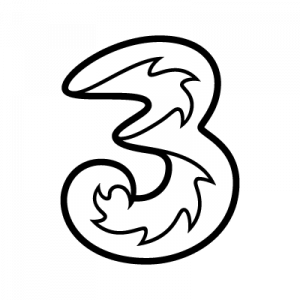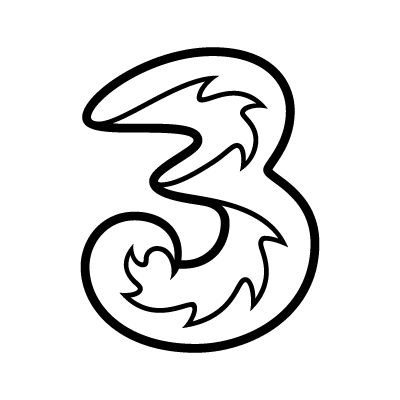 BEST WIFI BOOSTER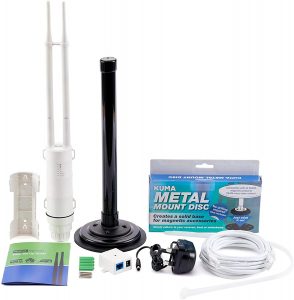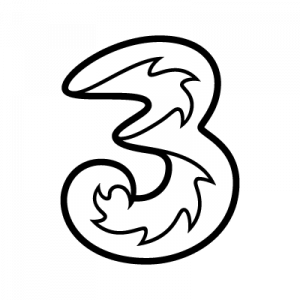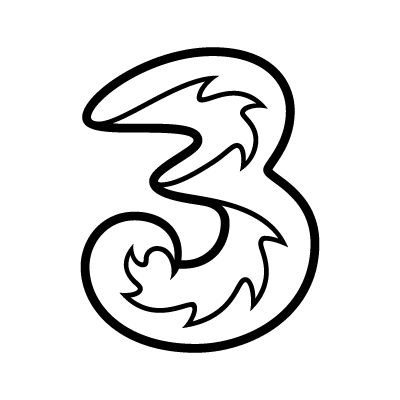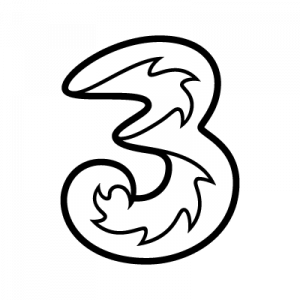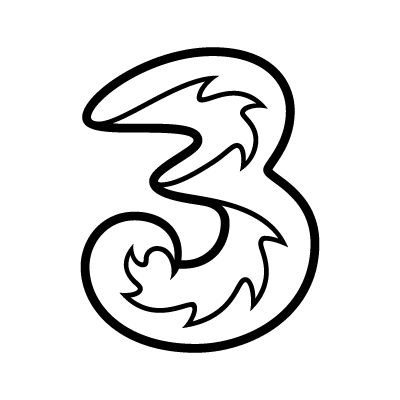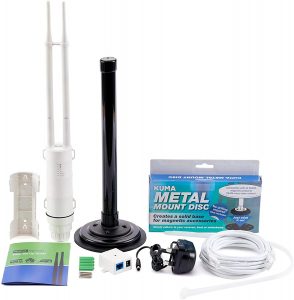 Top 5 caravan WiFi solutions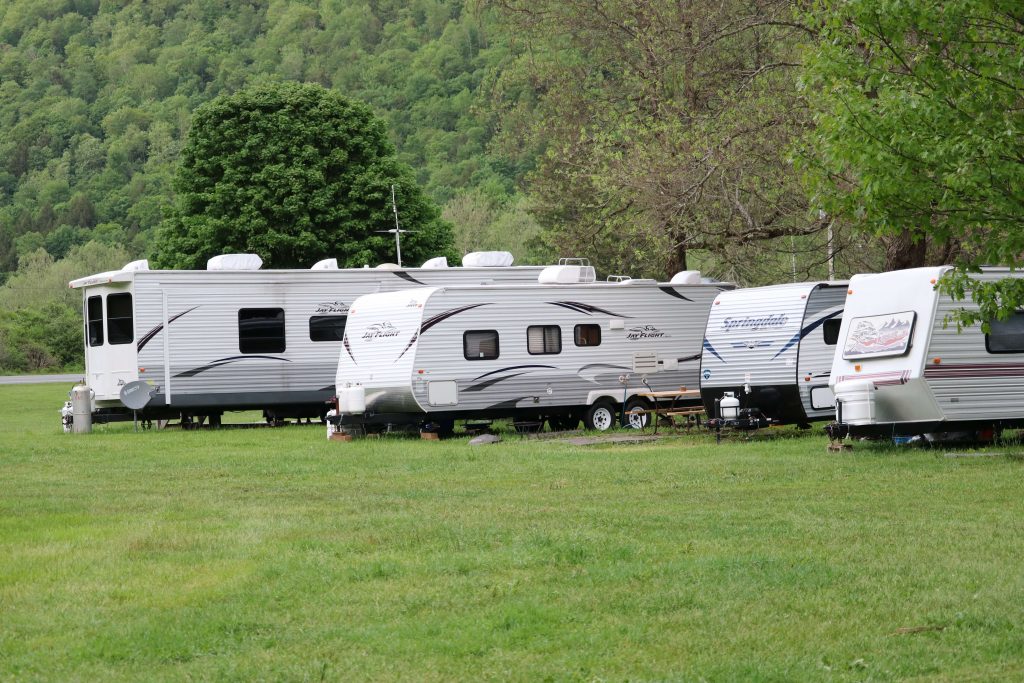 First, we'll look at some products you can use to get an internet connection from your caravan.
Most of these devices use 4G signal to create a WiFi hotspot, however we have also looked at WiFi antennas and satellite-based solutions as well.
Fed up of relying on slow, inconsistent caravan site WiFi?
With the Three 4G Hub, you can get online almost anywhere, for just £16 per month – and no upfront cost.
You have to sign a 12 or 24 month contract to buy the Three 4G Hub, but you get unlimited data included, meaning you'll never have to worry about hitting a usage cap from doing too much video streaming.
When the 4G Hub arrives, you simply insert the included SIM card, and plug it in. Then, power on the wireless router, and connect your devices to the WiFi network it creates, just like with your router at home.
Remember, this device has no battery, so you'll need to be able to keep it plugged in at all times. Also, it's a good idea to check Three's mobile coverage map to ensure you'll be able to get good mobile network connectivity where you park your caravan or motorhome.
To learn more about this device, read our review of Three 4G broadband.
Pros
Provides fast, consistent internet in your caravan.
Reasonable monthly price.
Unlimited downloads.
Easy to set up.
Cons
Must sign a minimum 12 month contract.
Overall value rating
⭐⭐⭐⭐⭐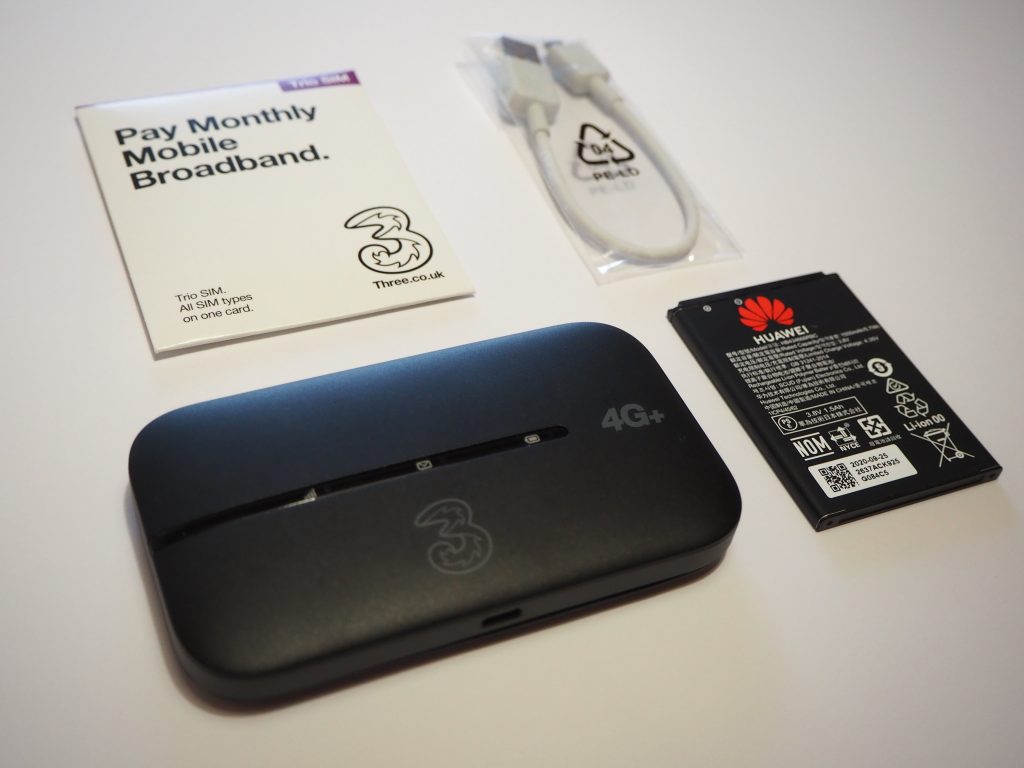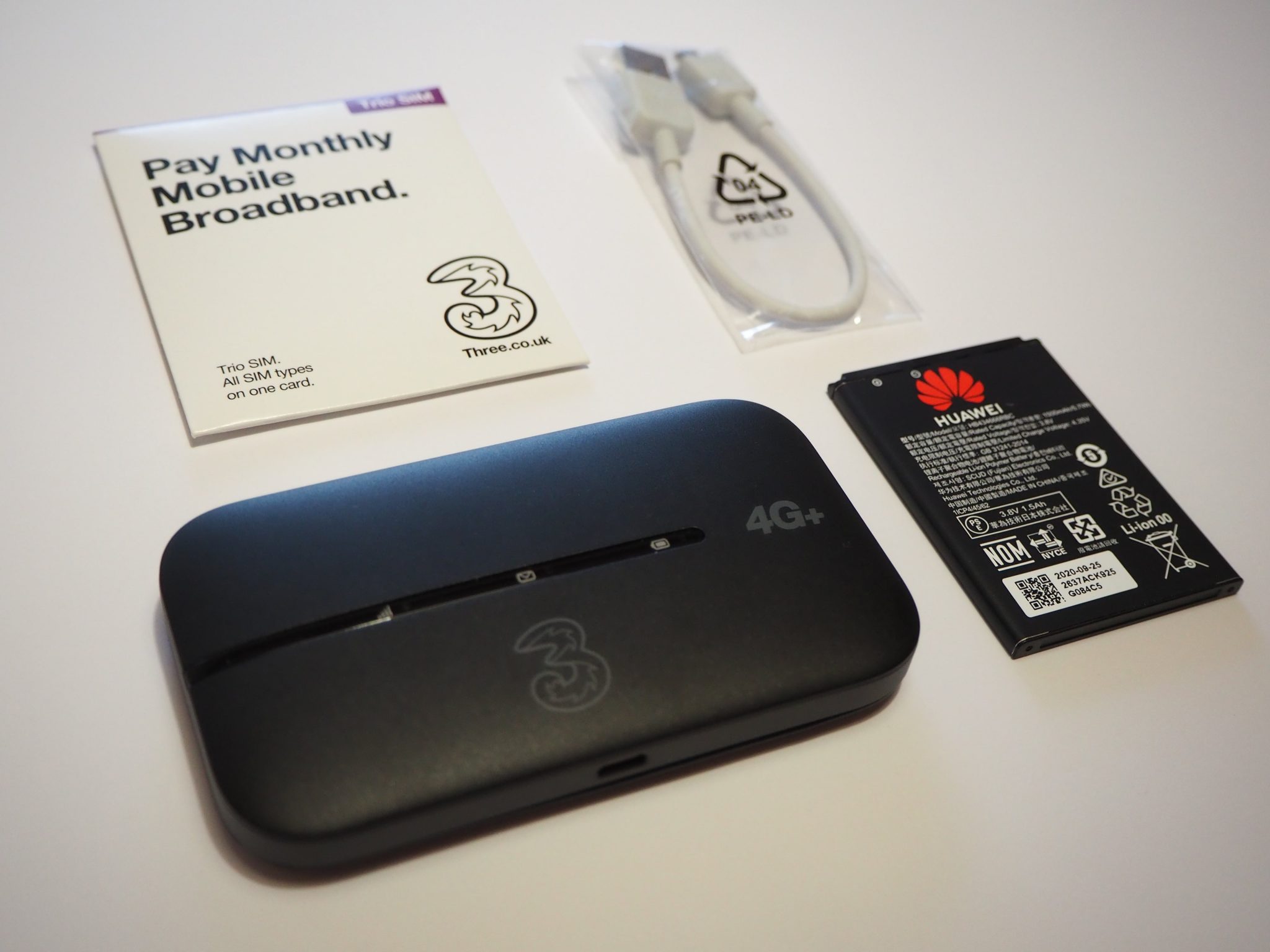 Looking for a more flexible way to get WiFi, without having to sign a long term contract?
Similar to Three's 4G router, their Huawei MiFi product creates a WiFi hotspot, allowing you to connect multiple mobile phones/laptops/smart TVs to the internet at once.
However, this device has a battery, meaning it doesn't always need to be plugged in. This is very helpful if you like to travel beyond your caravan, but means that it will need charging – Three's 4G Hub provides a more fixed WiFi solution.
Three offers a range of flexible data allowance plans with this device. You can pay as you go for a higher upfront cost, or commit to a 12/24 month contract to reduce the monthly fee. Plans are available with anything from 10GB up to unlimited data per month.
Overall, if you're looking for a simple, affordable way to get connected, that's also highly portable, Three's mobile hotspot device is worth looking at.
Pros
Simple & easy to use.
Plenty of data plans available.
Can pay as you go.
Can connect multiple devices.
Cons
Will need recharging every so often.
Overall value rating
⭐⭐⭐⭐⭐
If you don't mind using your campsite WiFi network, but struggle to get a good internet connection, you might like to consider looking at WiFi boosters instead.
This kit from Kuma has two basic components.
It includes an antenna, which you attach to the outside of your leisure vehicle and point towards where WiFi signals are coming from. It also includes a wireless router, which the antenna connects to. The antenna passes the signal to the router, which then creates a local WiFi hotspot you can use.
Since this kit effectively creates a personal hotspot, you can connect up to five devices while only paying one WiFi access fee. It's easy to set up, and also uses dual-band WiFi, helping improve your connectivity when you're further away from the hotspot.
However, this kit will not fix problems with WiFi congestion. Even if you can get a good connection through the antenna, you're still sharing an internet connection with others at the caravan site, so your download speed might slow down at times. Also, both devices must be powered, meaning you will need to run a cable from the external antenna to a 12V socket or 240V power outlet.
As an Amazon Associate, we may earn commissions from purchases made after clicking our links to Amazon.
Pros
Creates a personal hotspot for up to five wireless devices.
Provides strong WiFi signals.
Easy set up.
If you want to use 4G internet, but don't want to shell out for a new mobile broadband device, you could consider setting up tethering on your phone, or use your phone's hotspot.
However, if you do this, you'll need to have enough data, otherwise you could face excess usage charges.
Three currently offer the best prices on data-only SIM cards in the UK. You can get unlimited downloads included for a very reasonable price, and can choose whether you want to pay as you go, or sign a 12/24 month contract and lower your monthly cost.
Plus, Three SIM cards are 5G-enabled, at no extra cost. If your phone supports 5G, and you can get 5G signal from your caravan site, you can get average speeds of 100 Mbps or more.
If you don't want to use the internet in your caravan all that much, except for emails and occasional web browsing, you can also save money with Three by going for a SIM card with less data. If you don't do any video streaming for example, you might like to get a SIM with just 20-30GB of data or so per month.
Pros
Great value.
Can choose how much data you need.
Can choose your contract length.
5G enabled.
Cons
Tethering requires constant use of your phone.
Overall value rating
⭐⭐⭐⭐⭐
For those with a static caravan or motorhome in an area that doesn't have great 3G, 4G, or 5G coverage, satellite internet can help you get connected.
Freedomsat is one of the bigger satellite internet providers in the UK and Europe.
They offer a number of different data packages, at a range of different speeds, and can provide a quality, consistent internet service, no matter where you're located.
However, satellite internet is very expensive, especially if you want extra data. Freedomsat can cost up to three times as much as a SIM card or MiFi internet connection.
Also, the speeds on offer aren't great – you have to pay more for superfast downloads. Ultimately, we would only recommend looking at satellite solutions if you have exhausted all other avenues of getting motorhome WiFi.
Pros
Available basically anywhere.
Good choice of plans.
Provides a reliable internet connection.
Cons
Expensive.
Limited data allowance.
How to get internet in your caravan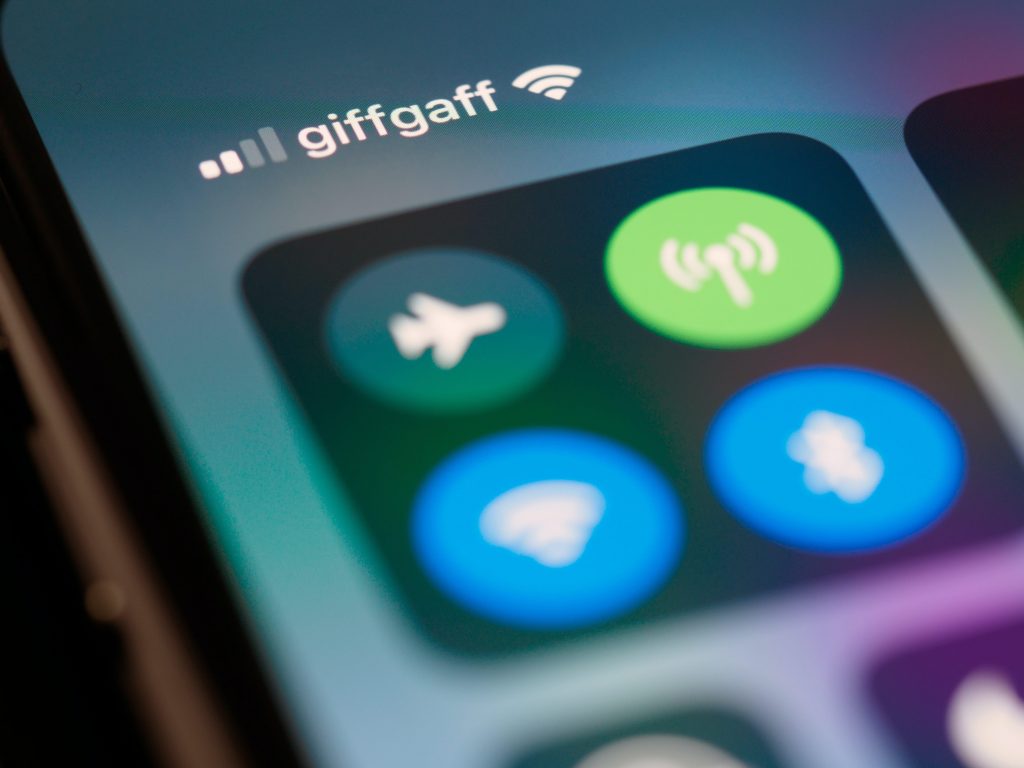 In this part, we'll explain each of the different methods of getting a caravan WiFi connection, helping you find the best way to connect to the internet from your caravan or motorhome.
What are my caravan WiFi options?
There are a number of different ways to connect to the internet from a caravan.
1. Caravan site WiFi
Many caravan sites across the UK are increasingly installing on-site WiFi hotspots, allowing you to connect to their network and get online. However, WiFi speeds vary from campsite to campsite, and you may find that your WiFi signal is sometimes inconsistent. You might like to consider using a WiFi antenna to improve your signal strength and increase your connectivity.
WiFi booster kits typically include a WiFI router and an antenna. The antenna attaches to the outside of your motorhome, and picks up wireless internet signal from the nearest WiFi broadcast location. Then, it feeds this signal to a wireless router inside the caravan, which creates a local hotspot that multiple devices can connect to.
2. 4G or 5G routers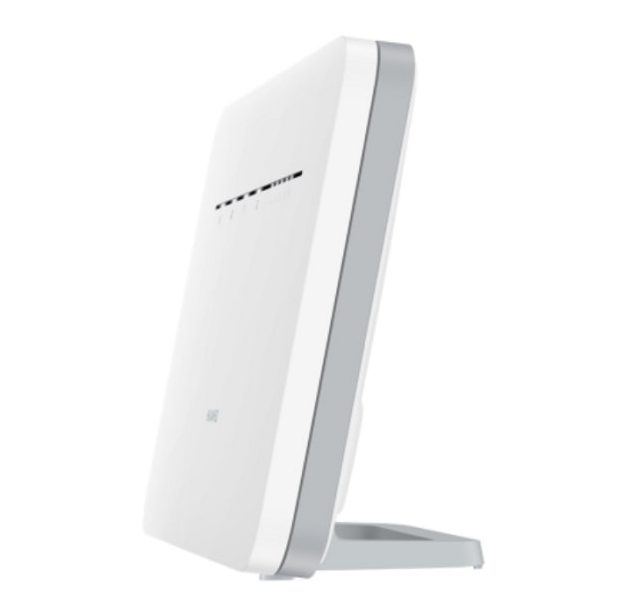 A 4G or 5G router works just like a regular broadband router. It creates a wireless network, providing a secure internet connection that you can connect multiple devices to. They also normally have an Ethernet port, allowing you to create a direct internet connection with other devices, rather than using WiFi.
The difference is, 4G routers don't use a phone line – instead, they connect to a 4G or 5G network, just like your mobile phone plan, in order to get internet access using mobile broadband.
If you can get good 4G or 5G reception, these types of routers are a great way to get consistent caravan or motorhome WiFi. Just know that these bits of kit must be plugged into a 240V power outlet at all times.
3. MiFi devices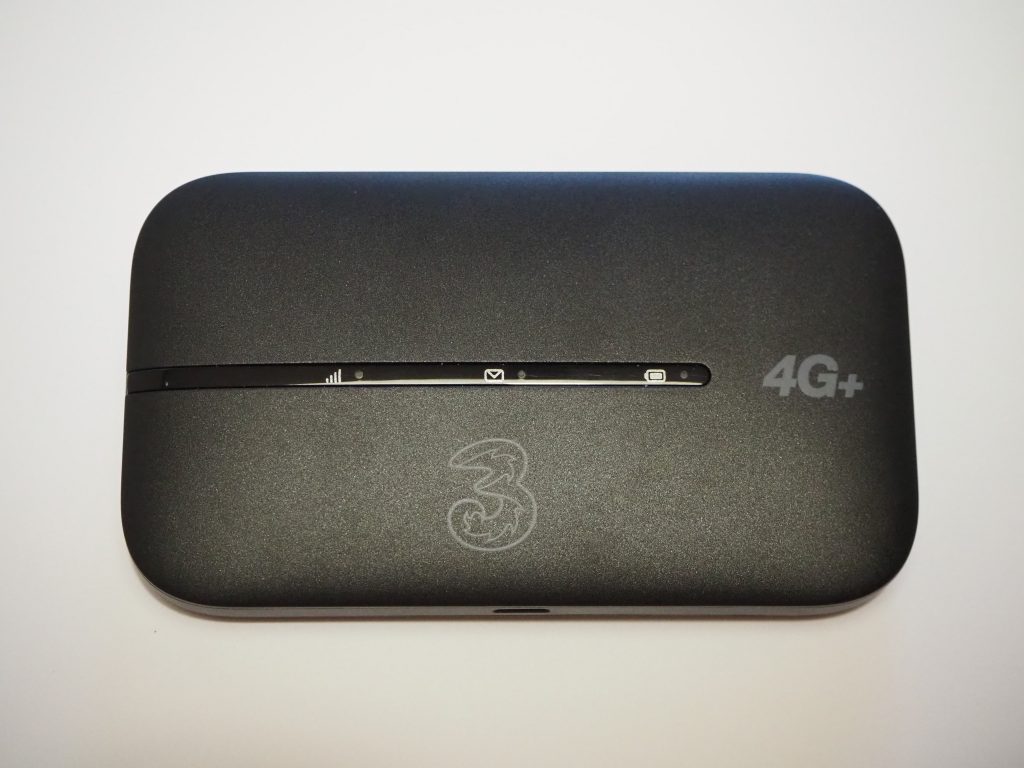 Mobile WiFi or "MiFi" devices are very similar to 4G/5G routers. They connect to the internet using the 4G network, allowing you to connect to the internet without a phone line.
However, rather than being plugged in all the time, like a 4G router, MiFi devices are more portable. They have a battery that needs charging every so often, and are much smaller in size. Their size means that they're less capable of handling heavy data demands (such as data streaming, when watching videos) from multiple devices at once.
A mobile WiFi device is a good choice if you sometimes travel beyond the caravan, and want to continue getting online. They're also useful if you don't always have mains power where your caravan is parked. You can charge a mobile WiFi device using a car cigarette lighter with a USB charger adapter – meaning you could also use MiFi to get WiFi in your car, if you wanted to.
However, if you're looking for a more permanent solution for your caravan, and have constant access to mains power, then a 4G router is probably a better choice.
4. Mobile broadband dongles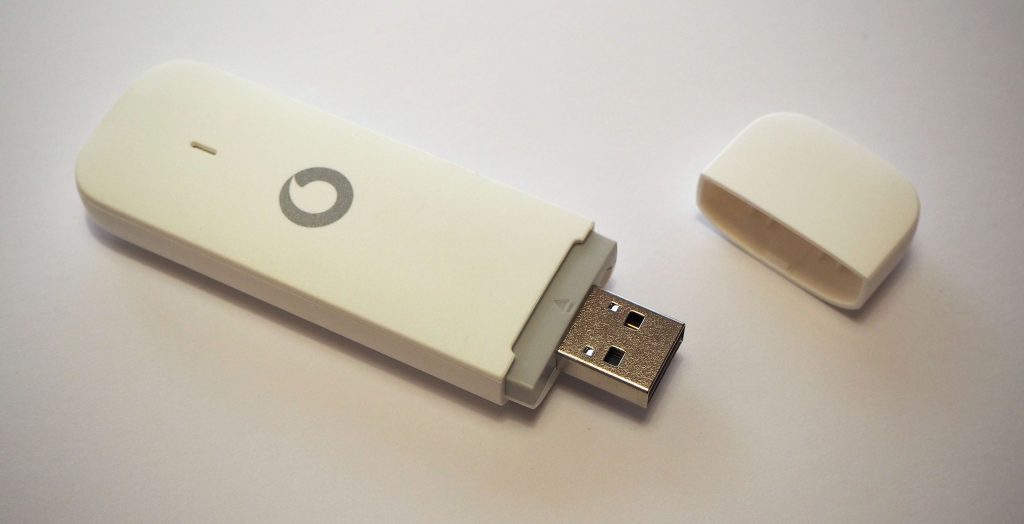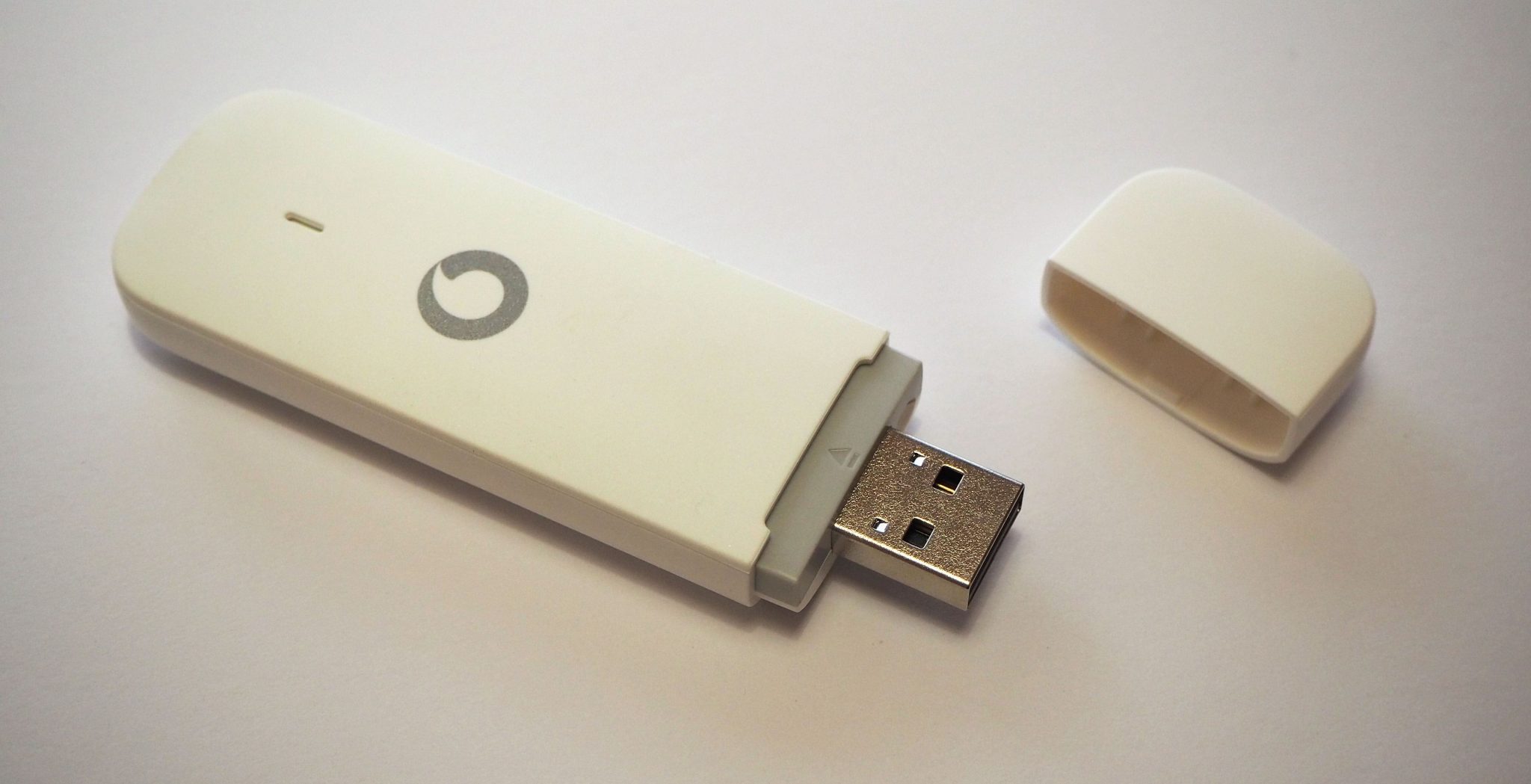 Internet dongles are another type of device, very similar to a mobile WiFi device. They both connect to the internet the same way – using 4G mobile service providers.
The difference is, most mobile broadband dongles are designed to help you get online on a single device at once. Rather than creating a WiFi hotspot, they plug directly into your computer, through the USB port. Once plugged in, you will be prompted to get internet access on that device over the 4G mobile network.
Therefore, if you want a solution that will create a WiFi hotspot, dongles aren't a great choice. However, if you only want an internet connection for a single device with a USB port, then dongles are worth looking at.
It's also worth noting, dongles do not require charging or plugging into an external power source – they are powered through the USB connection.
5. Mobile tethering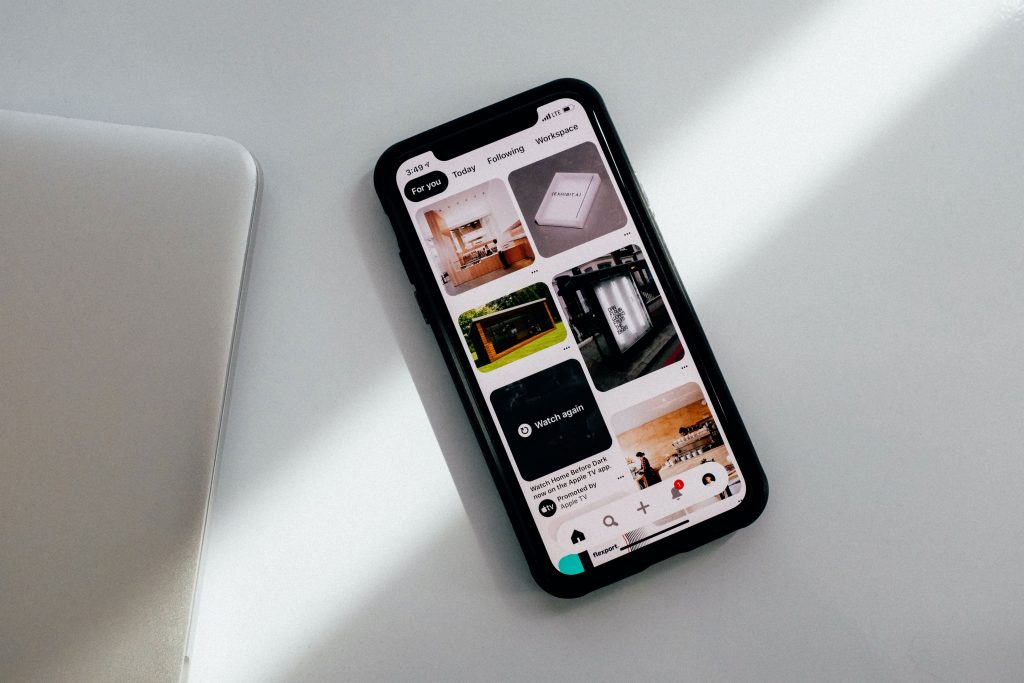 You can also tether your mobile phone to any devices you'd like to get online. Most modern smartphones can create a mobile hotspot using their 4G signal, or you can tether to a device directly using a USB cable.
Before using mobile tethering, you might want to upgrade your SIM card plan or get a specific data SIM, so you don't have to worry about using too much data on your phone's SIM card.
6. Satellite broadband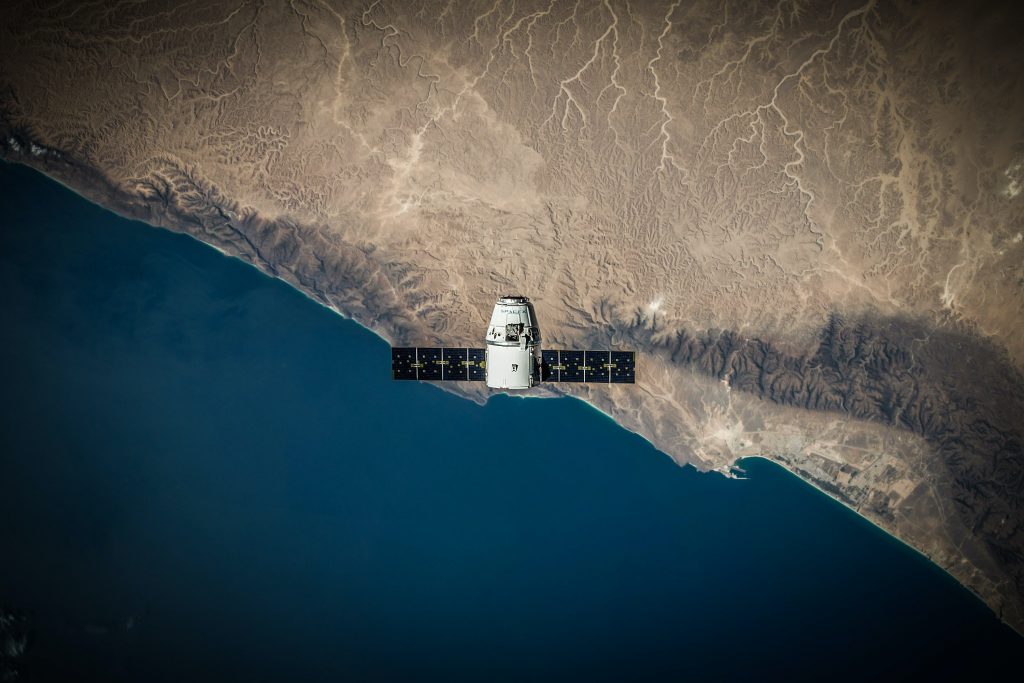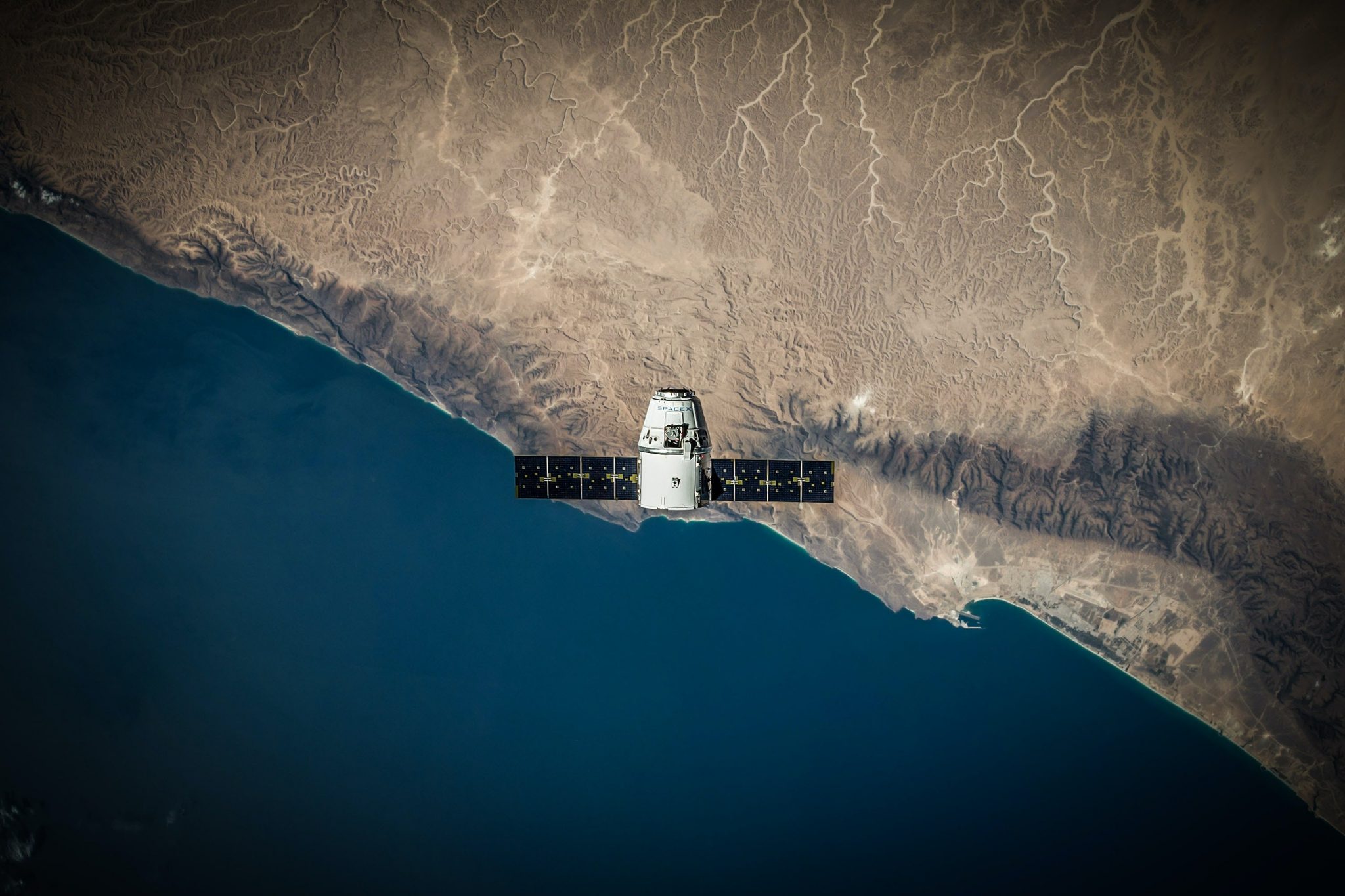 Satellite broadband works by sending internet signals to and from a satellite orbiting the Earth.
This is a great option if your caravan is located in a remote area that cannot get a good 4G signal. Satellite broadband can often reach places that have limited 4G reception.
However, satellite internet has its limitations. The speed you receive may be inconsistent, depending on the location of the satellite you are connecting to. This type of internet service is reliable, but often has a high amount of latency, which is a problem if you ever play online games.
What does caravan internet cost?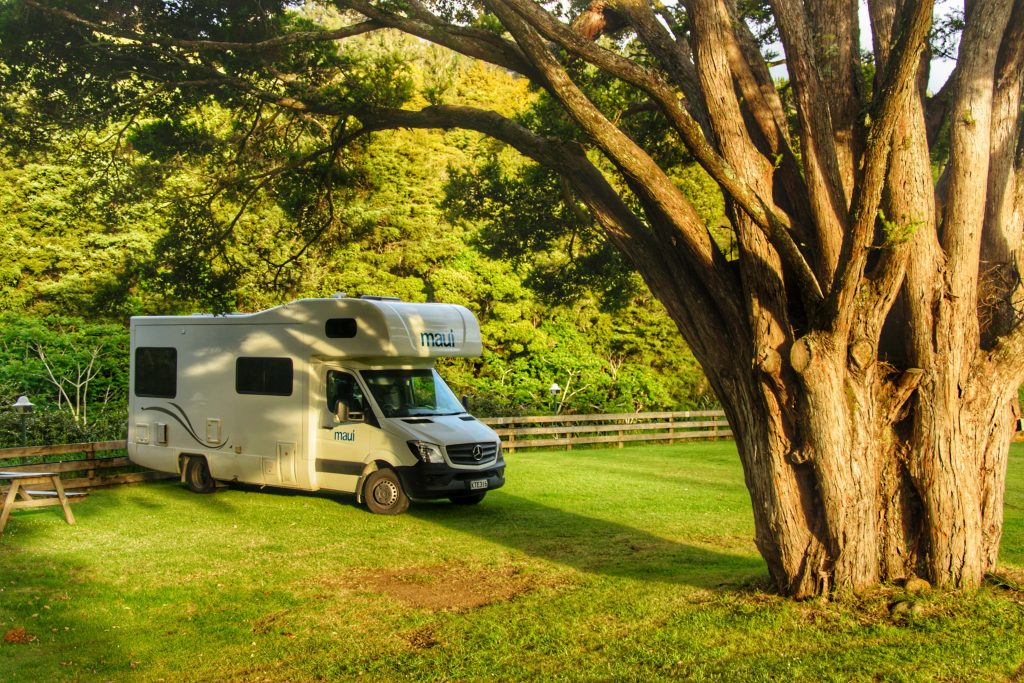 Depending on the method you choose to get motorhome WiFI, costs can vary quite substantially.
A WiFi booster will cost about £250 – £400, depending on the signal strength the kit offers. After this initial cost, you will only pay for WiFi access from your caravan site.
A 4G router will typically cost about £20 – £35 per month, depending on the contract length and the amount of data you pay for.
A MiFi device or dongle will typically cost about £15 – £25 per month, depending on the length of the agreement and the amount of data you pay for.
If you buy an unlimited data SIM to facilitate mobile tethering, you will have to pay about £25 per month on a 12 month SIM only contract.
Satellite internet typically costs about £25 – £100 per month, depending on the contract length, the speed, and the amount of data you pay for.
Investing in a WiFi booster can be a good idea if you can typically get good WiFi at caravan sites for a reasonable price. However, sometimes it's better to skip their WiFi networks entirely and use 4G internet instead, because caravan site WiFi can often slow down when other people get internet access.
Do I need to enter into a long term contract?
Unless you purchase a caravan WiFi kit, you may have to enter into a contract to access the internet from your caravan via the 4G network.
MiFi and dongle devices are typically available on pay as you go month-to-month plans. If you choose one of these deals, you may have to pay a higher monthly and/or upfront cost.
4G routers are sometimes available on pay as you go plans, but these deals will have a higher upfront cost than if you commit for a year or longer, due to the cost of the device.
SIM cards with unlimited downloads/uploads can be purchased on a month to month basis, but doing so will be more expensive.
Satellite broadband typically requires you to enter a 12 month or 18 month contract to use the service.
If you enter into a contract and decide to cancel it, you will have to pay a cancellation fee. The more time remaining on the agreement, the higher the fee will be.
Which mobile network should I choose?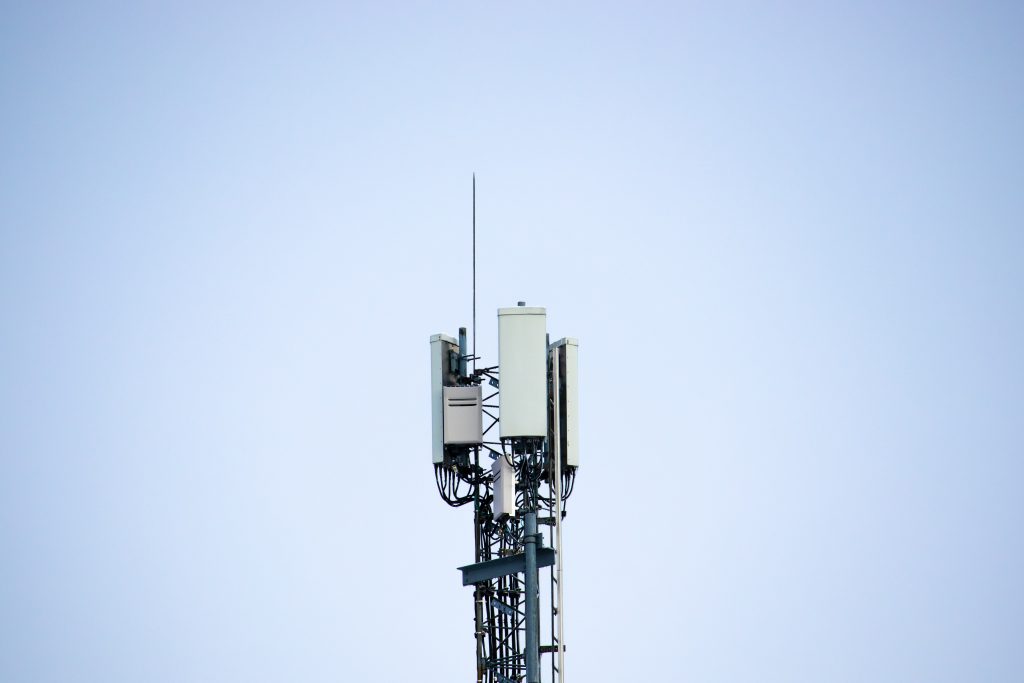 At most caravan sites, the main mobile networks will likely have similar reception. If there's one carrier that has a slight edge, it's EE – they have the best coverage of any UK mobile network, and typically have a very strong signal, ensuring hassle-free internet browsing.
However, it's a good idea to check each network's signal at your location, especially if you have a static caravan. To do this, you can look at each provider's network coverage map. Here's Three's coverage map, as an example. Look for good 4G signal at your caravan park to ensure you will get good download speeds.
Can I use my caravan WiFi overseas?
If you sometimes take your caravan or motorhome overseas, you might be wondering whether or not you can stay connected, just like at home.
The answer is, it depends on the service you use, and the provider's international roaming rules.
If you use a mobile broadband solution, such as a 4G WiFi router, a data SIM card, or a mobile WiFi device, then you can get internet access abroad. With satellite broadband, most providers only allow you to use the internet connection in the UK.
However, you need to pay careful attention to your provider's roaming rules. Some will require you to purchase a roaming add-on, or have fair usage policies, limiting the amount of mobile data you can use overseas.
Conclusion
You've reached the end of our caravan and motorhome WiFi buyer's guide.
Still unsure whether a dongle, 4G router, or WiFi booster, is best for you? Leave a comment below, and we'll help out.
About the author

Tyler built his first PC at the age of 12, and since then, he's become obsessed with all things networking and internet-related. He's a massive gamer, loves Rocket League, and also plays Sunday League football.