Looking at getting online with Three home broadband, using 4G signal?
In this guide, we've reviewed the Three 4G Hub router, also known as the ZTE MF286D. We've assessed the speeds, reliability, and value for money of Three home broadband.
Let's get started.
Contents
Three 4G Hub overview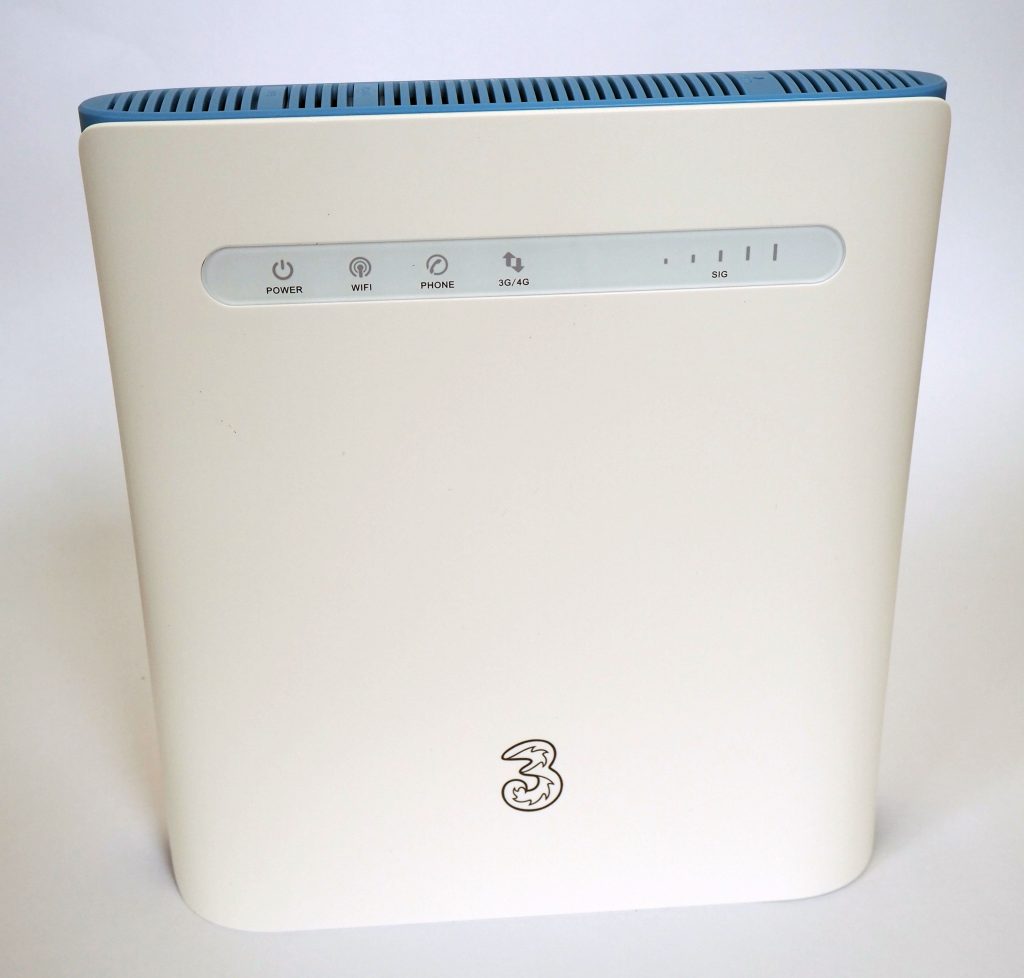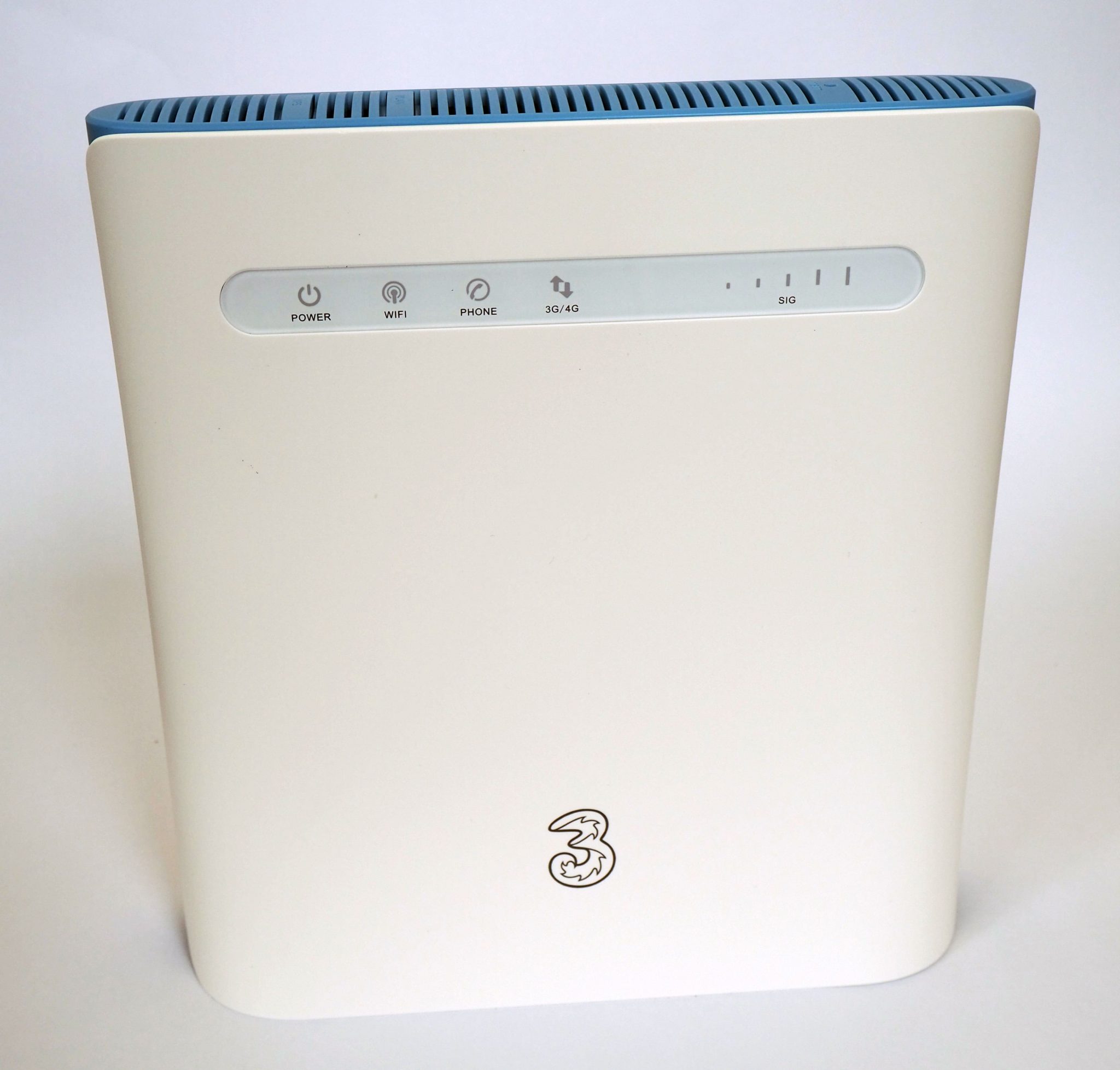 | | |
| --- | --- |
| Brand | Three |
| Name | 4G Hub |
| Manufacturer brand | ZTE |
| Manufacturer name | MF286D |
| Dimensions | 180 x 170 x 30mm |
| Speed rating | Cat 12/13 |
| Ethernet ports | 4 |
| External antenna sockets | 2 |
| WiFi | Dual-band 802.11a/b/g/n/ac (2.4GHz and 5GHz) |
| Maximum connected devices | 64 |
| Colour | White |
| Rating | 4.5 (out of 5) |
| Price | Check on Three |
Three currently sells home broadband deals that use the 4G mobile network to help you get online.
Rather than using your phone line to connect to the internet, like with traditional fixed-line broadband, the Three 4G Hub uses the Three mobile network to help you get online.
Three's broadband routers work in a similar way to a traditional broadband router. You plug it into a power outlet, turn it on, and it creates a WiFi signal that you can connect to and get online. The only difference is how Three broadband uses the 4G network, rather than the phone line.
You also get unlimited data with Three home broadband, ensuring you don't have to worry about hitting any usage limits, or facing any additional charges for downloading lots of data.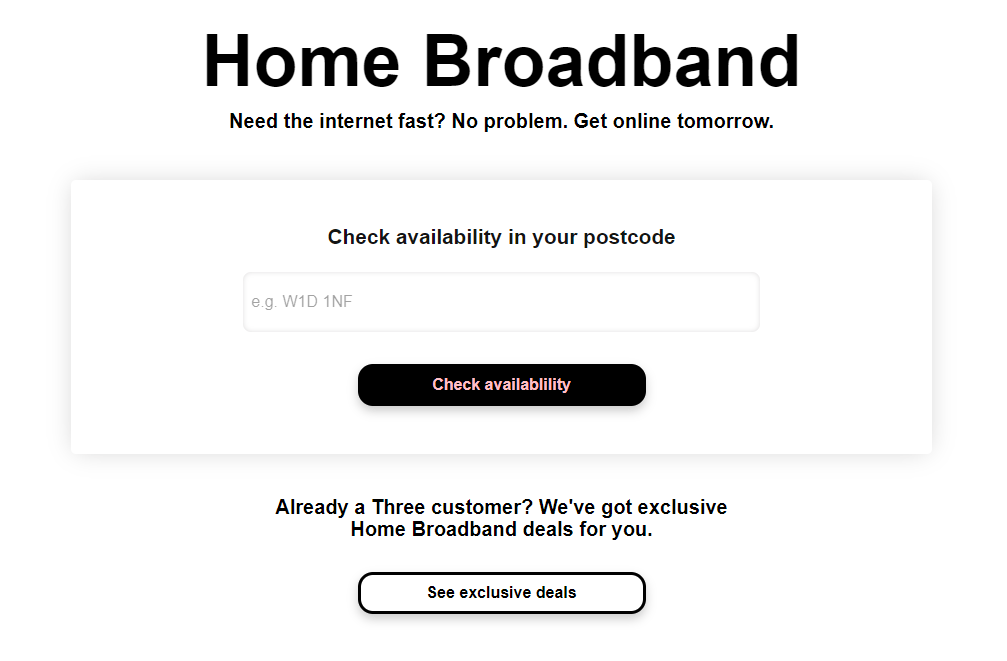 When you sign up to Three broadband, you'll have to put your postcode in on the Three website, just like when buying a regular broadband deal. Using this information, Three can check to make sure that you have good mobile network coverage in your area, ensuring that you'll get good speeds with your new home broadband device.
After the order is placed, you'll receive your new 4G Hub router in the mail within 1-2 business days, along with a SIM card that you'll need to insert into the router. Three won't need to send an engineer to your address – you can set up your connection whenever you'd like.
You have the option to return the router to Three after 14 days if you're not satisfied with the quality of service provided, as long as the 4G Hub is in "as new" condition.
Three also sells a 5G Hub router, for a higher price. This device uses the 5G network to deliver even faster speeds than the Three 4G Hub.

Three 4G Hub unboxing
Our 4G Hub arrived in a small box, which came with Three Home Broadband branding.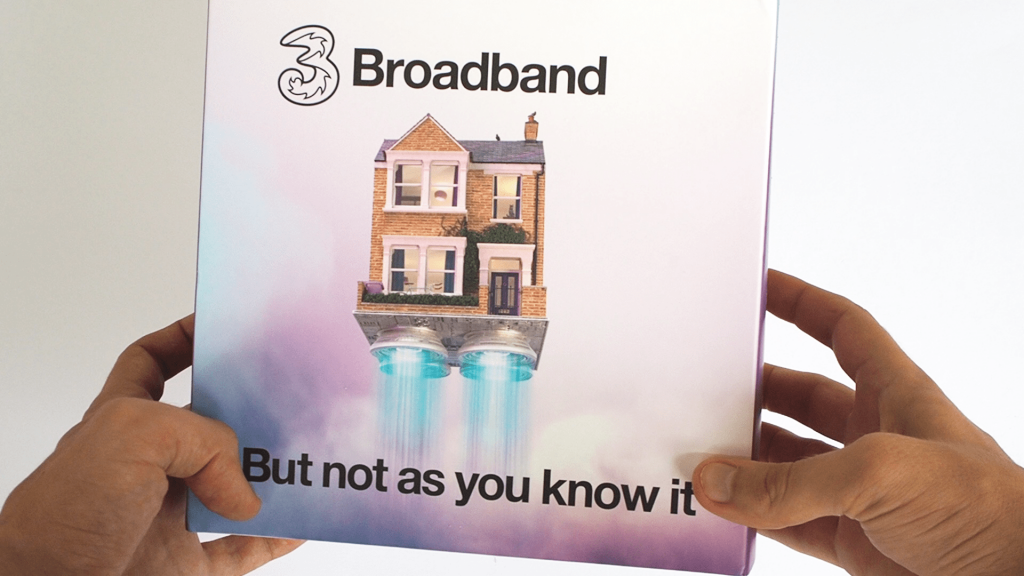 Upon opening the box, the first thing you'll see is your new 4G Hub router.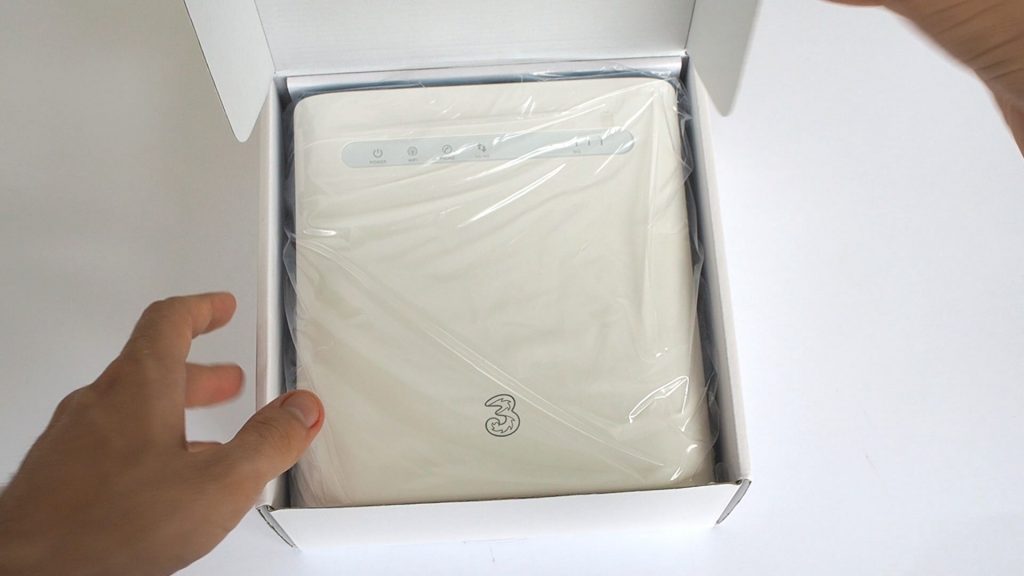 The device is not big but is not small either, and it has a decent weight to it. It feels very similar to your typical WiFi router. It stands on a small base, rather than lying flat like some other types of WiFi routers.
Here's what you'll see when looking at the 4G Hub for the first time:
On the base of the router, you will find a label from ZTE, including your WiFi login details.
On the right side of the router, you will find a SIM card slot.
On the back of the router, you will find your power port, four LAN ports, an on/off switch, USB port, and two phone line ports, just like on a normal WiFi router.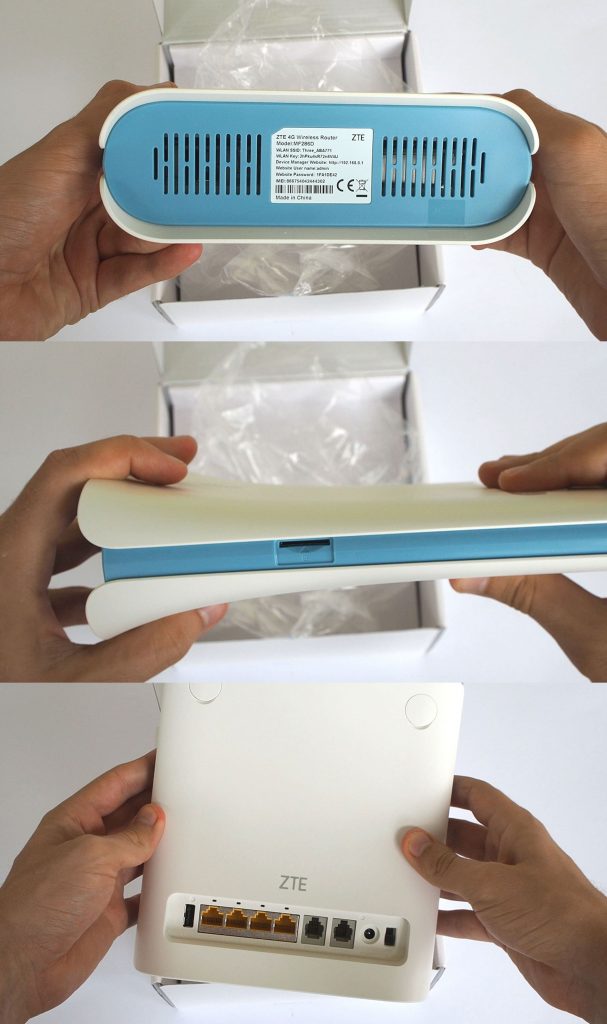 Inside the rest of the box, you will find:
Your Three SIM card, which you'll need to insert into the device to get online.
A quick start guide from Three (watch our YouTube unboxing to see its contents).
A quick start guide from ZTE with very similar information to the booklet from Three.
An Ethernet cable.
A power cable.
An ErP conformity card.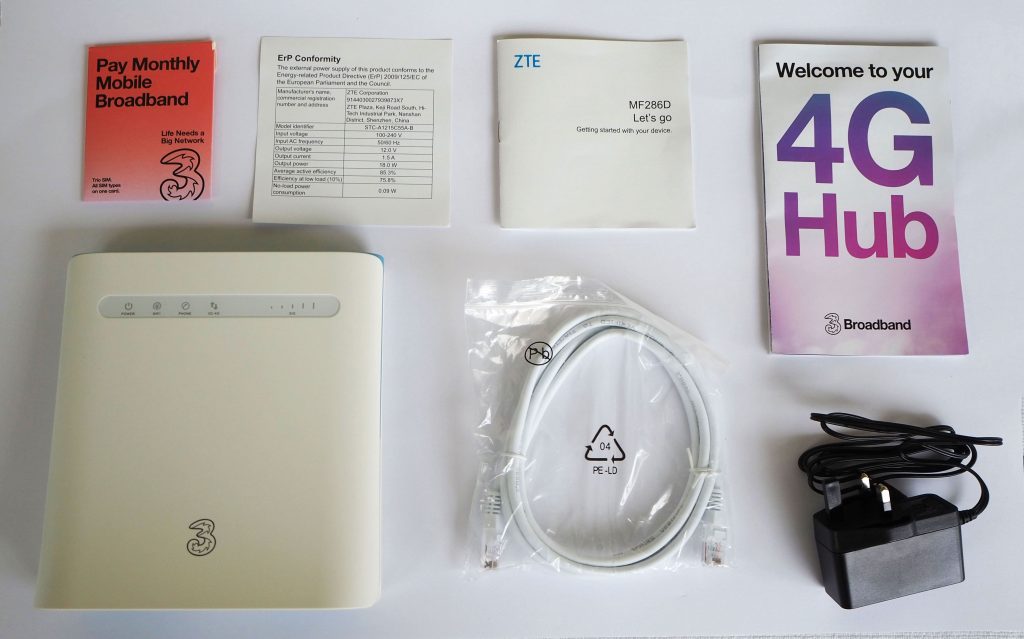 Three 4G Hub setup
We found setting up the 4G Hub to be an extremely easy process.
To begin using the Three 4G Hub, the first thing you need to do is insert the SIM card into the device. You want the biggest SIM card that they send you, rather than the smaller Micro or Nano SIM that you can also punch out.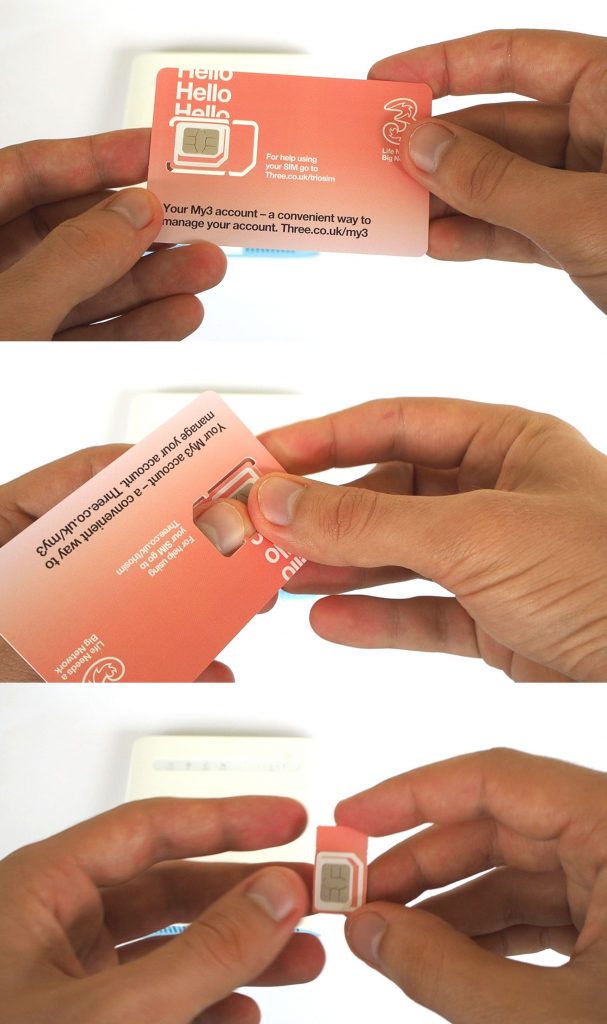 Once you have the SIM, push it into its slot, as shown, until you hear it click into place.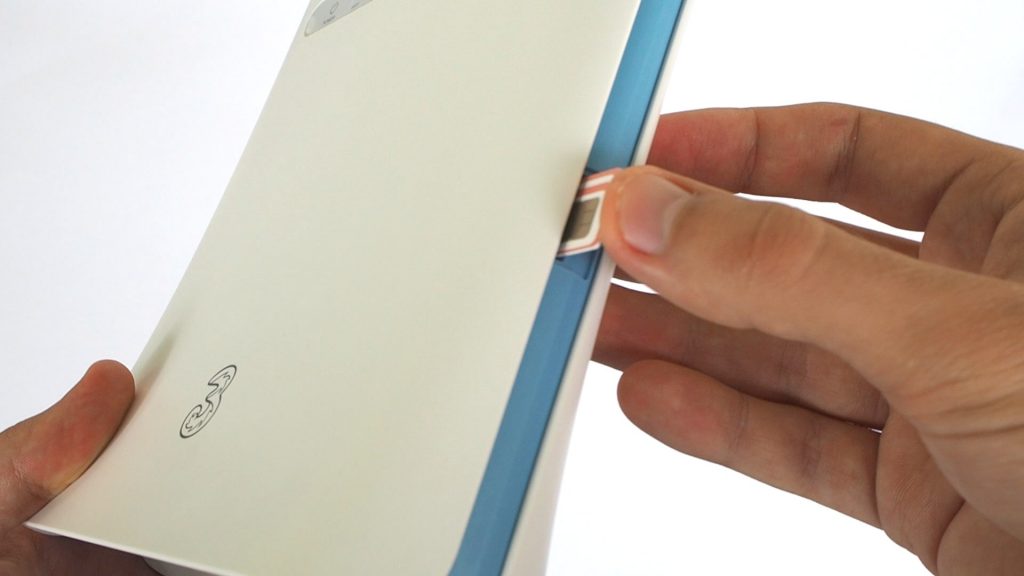 Next, plug in your 4G router, and turn it on, using the switch on the back to the right of the power port.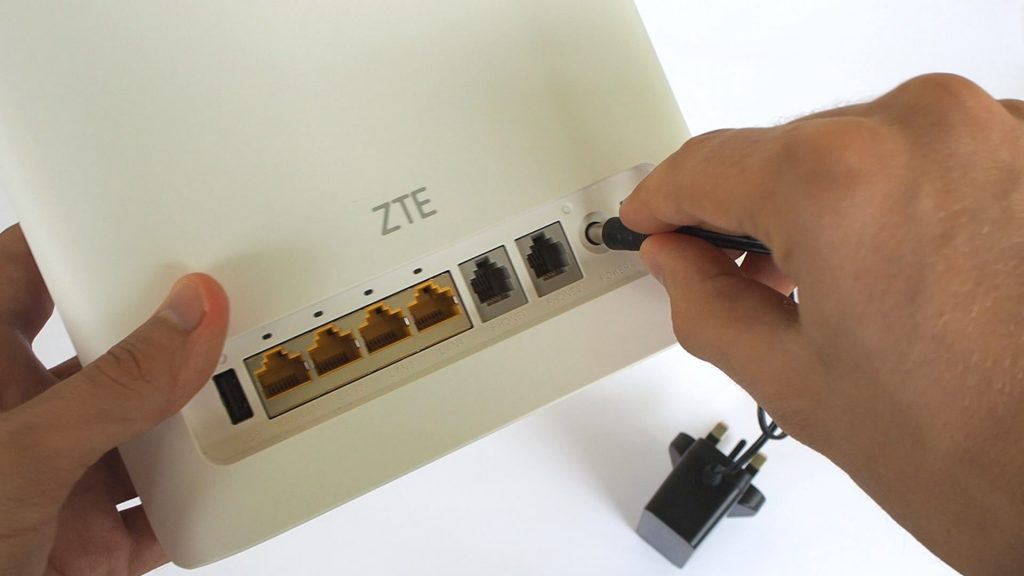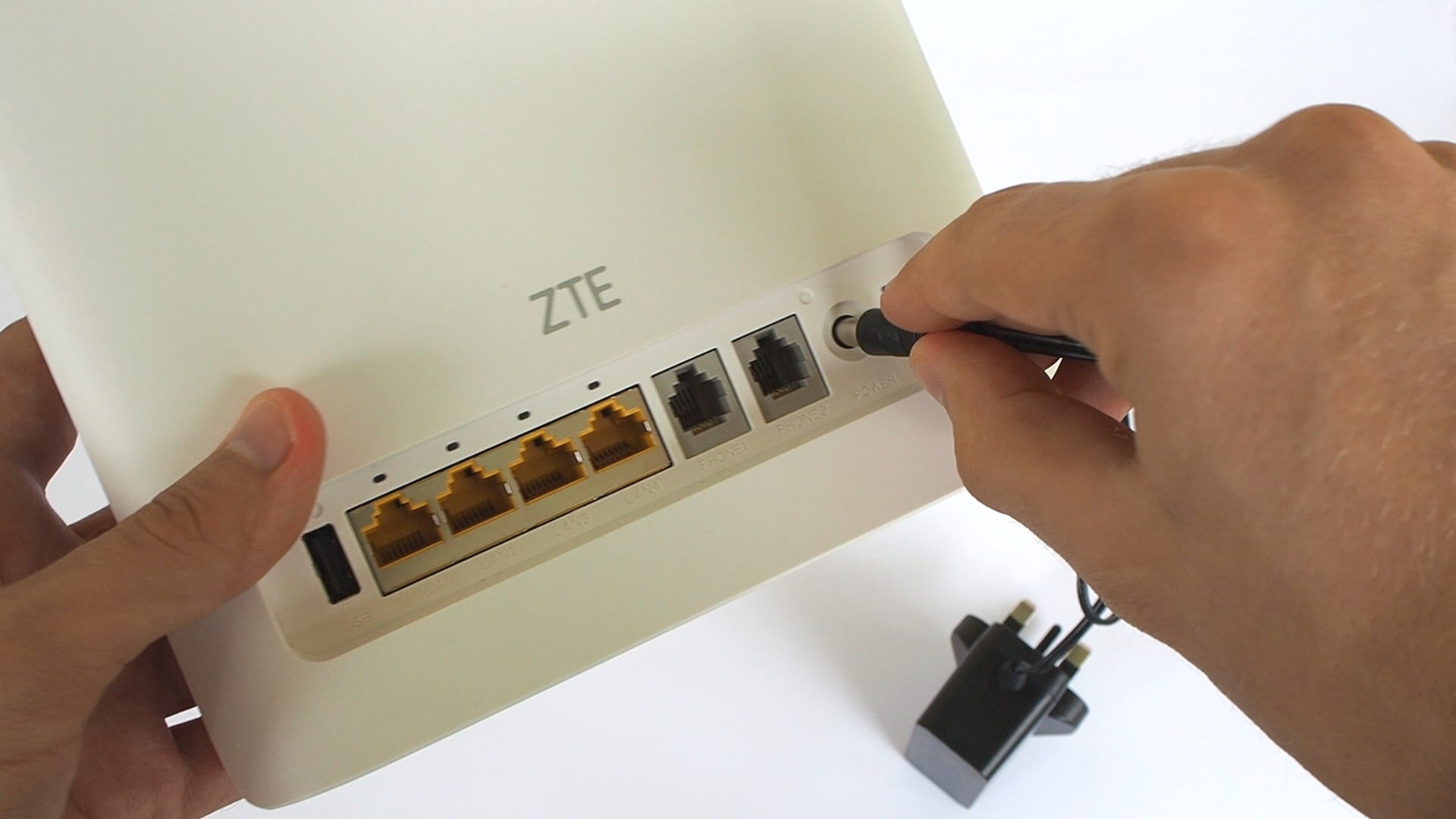 The Hub will take about three minutes or so to set itself up. When it's ready, the signal lights on the right will turn on and become blue. If they turn green instead, this means that you are only getting a 3G signal, rather than a 4G signal.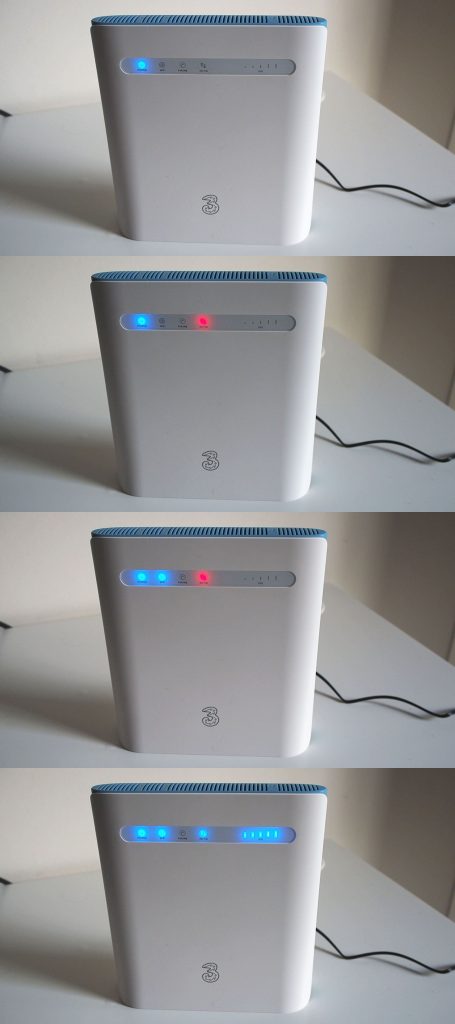 At this stage, you can connect to WiFi using the details on the base of the router, or plug in an Ethernet cable to get a wired internet connection. You can also plug in an external antenna if you want, but found that this was not necessary – the included internal antenna works well to give you a good signal.
Positioning the 4G Hub router
Three states in the quick start guide that their device is best placed on a windowsill, and even the slightest move could make a difference in the speeds you receive.
From our testing, we found this to be very accurate – it's important to get the router in the right place.
To get the best speeds, we would recommend following this process:
Try setting up the 4G Hub on two to three different windowsills in your house, ideally on an upper level, and in different rooms, and run a speed test. Of course, if you need to place the router in a specific room, such as near a device you want to connect with an Ethernet port, you can skip this step.
Once you've found the best place in your house, do two or three more speed tests with the router in different positions. For example, try to place the router on different ends of your windowsill.
At this point, you should try to rotate the router, and see which direction gives you the best speeds. For us, the router was the fastest when it was pointed towards the window.
Three also advises you to avoid placing any obstacles in between the router and the window, such as curtains, but we found that this did not make a big difference to our speeds or latency.

Three 4G Hub speed test
We performed two different types of speed tests with this 4G router.
WiFi speed test
Standing about ten metres away from the router, and using a Samsung Note 20 Ultra, we achieved a download speed of 23 Mbps, and an upload speed of 17 Mbps.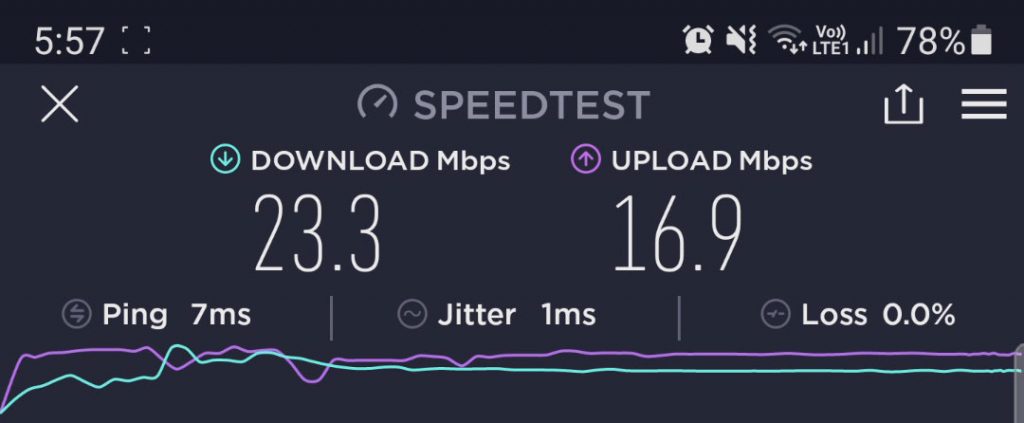 Ethernet speed test
Using a wired connection between the 4G Hub and our PC, we achieved a 199 Mbps download speed, and a 43 Mbps upload speed.

This was the best test we were able to achieve across the course of a day, running about five tests in total. Sometimes, the speed would drop into the range of 50-75 Mbps, but it did not go lower than this.
How fast will the 4G Hub be at my address?
It's important to note, we have very good 4G coverage at our address – there is a mast about 50 metres away from us, at a very elevated location. We also live in an area with no 4G network congestion at the moment.
Before buying the Three 4G Hub, ensure to use their network coverage map to check for good indoor and outdoor 4G signal at your address. Your speeds may be slower than what we were able to achieve.

Three 4G Hub gaming test
We tested the 4G Hub on two different online games – Rocket League and Battlefield 2042.
In each game, we experienced very few signs of lag, and no noticeable latency variations, when connecting the 4G Hub to our PC via the included Ethernet cable.
Our gameplay experience was very smooth, with our ping to nearby servers staying in the range of 20-30ms. This is about 5-10ms higher than what we achieve with our regular broadband connection, but this slight increase in latency did not noticeably affect our performance in-game.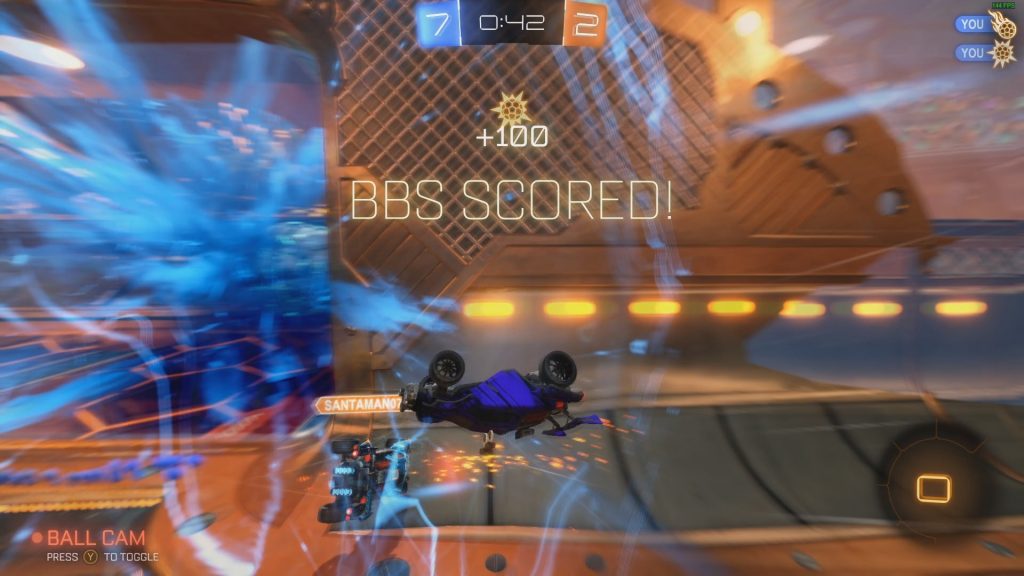 To watch some of our gameplay footage with the 4G Hub, watch our YouTube review of this home broadband router.

Three 4G Hub value for money
In this section, we've looked at what this device costs, how the contracts work, and if it's worth buying.
How 4G Hub plans work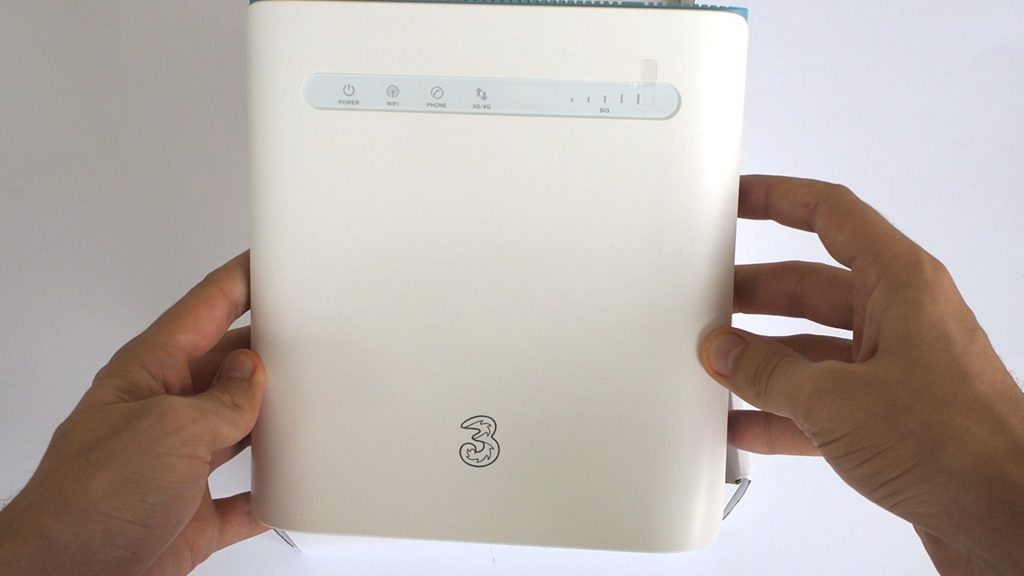 Three's broadband deals are actually quite flexible. The 4G Hub is available on a 24 month or 12 month plan, each of which comes with unlimited data, so you don't have to worry about usage limits.
No matter whether you sign a 24 month or 12 month broadband contract with Three, you won't have to pay an upfront cost, and shipping is free.
Pricing
When it comes to pricing and value for money, using the 4G Hub is cheaper than most similar-speed fixed-line broadband plans. If you sign up for a 12 or 24 month contract, your monthly cost will be very reasonable.
However, be sure to read the pricing terms and conditions carefully. Often, Three offers this device at a discounted price for the first six months – at the end of this period, your monthly cost will rise, which is something to be aware of.
Also, Three will increase the monthly cost of your broadband each April, at a rate of 4.5%. This is important to note, especially if you purchase a long-term contract.
Money-back guarantee
Each Three home broadband plan comes with a 14-day money-back guarantee.
If you're not satisfied with the service for any reason, you can send your Hub back to Three within 14 days, as long as the device is in "as new" condition.
Essentially, this allows you to test Three broadband, and see if it offers good speeds and reliability at your address. During this period, it's a good idea to put the Hub through its paces, including testing gaming (if there are any gamers in the house) and streaming video on multiple devices at once.
Also, ensure to test the router in the evening, to see if there is any network congestion in your area. In some parts of the UK, Three broadband can be oversubscribed, although this is not a major issue in most areas.
Are Three's home broadband routers unlocked?
The Three 4G Hub is sold unlocked, but the 5G Hub currently isn't.
This means you can use this device with another SIM card if you like, even before the end of the contract.

Is Three home broadband any good? Our verdict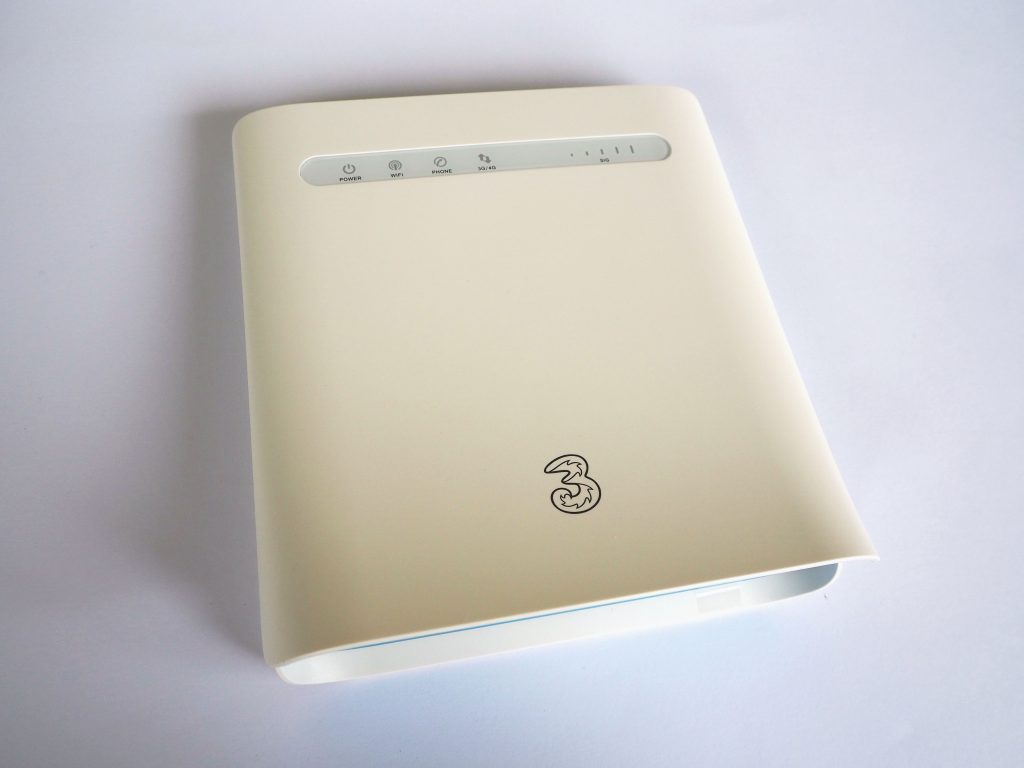 There are a lot of things to like about Three home broadband:
You can often get faster speeds than with traditional broadband, even when using the 4G Hub. We were able to achieve download speeds of up to 200 Mbps, which is plenty for most families.
The data plans are reasonably priced, partly since you don't have to pay for line rental, and all include unlimited data. Using a 4G Hub can often be cheaper than a traditional fixed-line broadband plan.
The 4G Hub is easy to set up, and doesn't require you to wait for a visit from an engineer.
There are some downsides to the 4G Hub. Although our gaming experience was very smooth, latency is not perfect, and you don't get a minimum speed guarantee, like some broadband providers offer. You also have to be careful to ensure you put the router in the right location in your house to get fast speeds.
However, you do have the ability to test the router for two weeks, to ensure you get good download and upload speeds, and return it if performance isn't up to scratch.
Also, you can take your 4G Hub and use it in your caravan, or when on holiday in the UK. Unlike some competing products, such as Vodafone, you're not restricted as to where you can use your Hub router.
Overall, we rate Three home broadband 4.5 out of 5. For a large number of British households, Three offers a fast, cost-effective method of getting online at home.

Three broadband alternatives
If you're looking for alternative 4G home broadband solutions that are more flexible, or offer faster speeds, here are some competing products, and their pros and cons.
To learn more about these alternative types of broadband solutions, similar to the 4G Hub, read our 4G router reviews.
As well as their 4G router, which is a ZTE MF286D, Three also sells a 5G router, which is a ZTE MC MC801A.
This device costs a bit more than the 4G Hub, and isn't available on a pay as you go contract. However, it offers extremely fast speeds, using the Three 5G network.
Apart from its speeds, this 5G router performs about the same as the Three 4G Hub. It uses the same modern WiFi standards, can connect up to 64 devices at once, and comes with unlimited data.
Ultimately, if you can get 5G at your address, we would recommend going for the 5G Hub. Given it doesn't cost much more, the speed upgrade is worth paying for in our opinion.
Read our review of the 5G Hub to learn more about this router.
As a MiFi device, the Three Huawei 4G+ is very similar to their 4G Hub, except it's more portable.
You get similar speeds with both bits of hardware on the Three 4G network, but this MiFi device has a battery, rather than needing to be plugged in. Meaning, it's much easier to move around and travel with.
There are a much wider range of plans available with this bit of kit, including some pay as you go options. The downside is, the WiFi signal isn't as good with the Huawei 4G Plus – it can only connect ten devices to the internet at once.
Read our review of this MiFi device.
Conclusion
This is the end of our reviews of Three's home broadband solution.
If you're unsure about whether you'll get good download speeds and connection consistency with the Three 4G Hub, you can always test them within the 14-day return period.
Don't be afraid to put the device through its paces, including testing it during the evenings, when lots of other people are likely to get online using 4G. This will help you to determine if the Three 4G network is congested in your area.
If you have any questions about Three home broadband, and our experiences with this device, feel free to ask us in the comments below.
About the author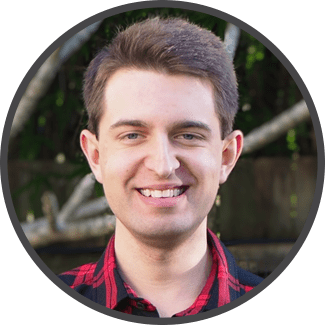 Tom is the founder of Broadband Savvy. When he's not writing about broadband, you'll find him walking his dog (Rex) or playing agar.io.