Considering getting online using EE's 5G router?
In this article, we've reviewed 5GEE home broadband.
We've tested EE's 5G WiFi router to see what speeds it offers, and whether or not it's good value for money. We've also shown how to set it up.
Before we begin, check out the EE website to see whether you can get EE 5G broadband at your address. Also, make sure to check the Three network coverage map – they offer much cheaper 5G broadband deals than EE.
Contents
EE 5G broadband overview
| | |
| --- | --- |
| Brand | EE |
| Name | Smart 5G Hub |
| Manufacturer brand | Zyxel |
| Manufacturer name | NR5103E |
| Dimensions | 132.5 x 134 x 230mm |
| Speed rating | Cat 22 |
| Ethernet ports | 2 |
| External antenna sockets | 4 |
| WiFi | 802.11a/b/g/n/ac/ax (WiFi 6), dual-band, 4x4 MIMO |
| Maximum connected devices | 64 |
| Colour | White |
| Rating | 3.5 (out of 5) |
| Price | Check on EE |
EE sells a Zyxel NR5103E 5G broadband router with their branding, called the Smart 5G Hub or 5GEE Router 2021.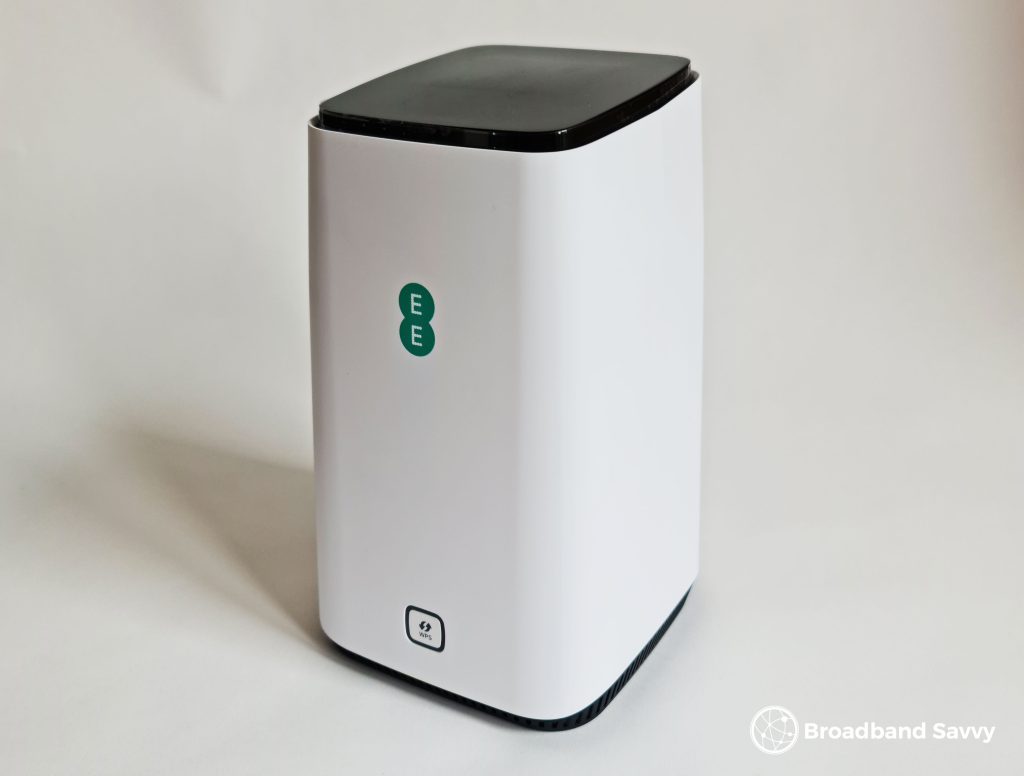 When you purchase this WiFi router from EE, it comes with a SIM card, and everything you need to get online.
Once you insert the SIM card and power on the router, it connects to the EE 5G network, and creates a local Wi-Fi hotspot you can use to get online with up to 64 devices at once.
Using EE 5G, you can get download speeds of 100-300 megabits per second (Mbps), or potentially even higher, depending on where you live.
It's also very easy to set up this Wi-Fi router, as we'll explain in more detail in the setup section. You don't need to have a technician come and visit, unlike when joining a new fibre broadband provider.
How the 5GEE router is sold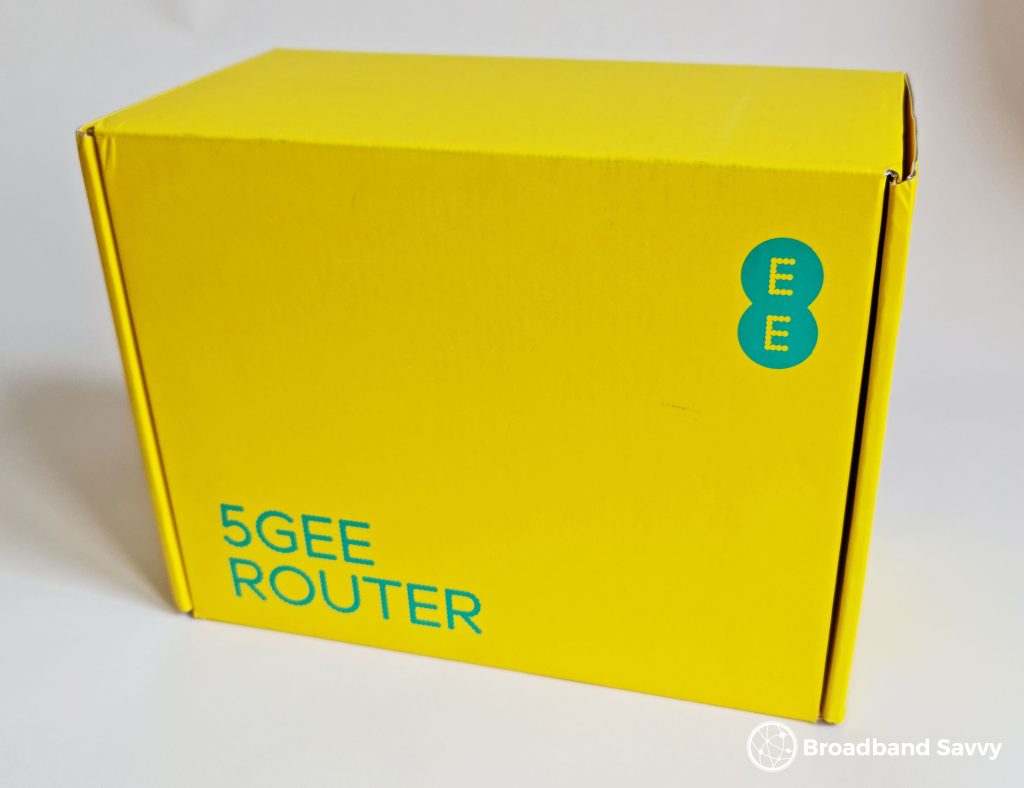 When you buy a 5GEE router from EE, you'll be committing to a pay monthly contract, attached to the device.
This means that you'll need to pass a credit check before buying, and you'll need to commit to using this router for at least 18 months. You can't choose to return the device within the first 30 days, like you can with the Three 5G Hub.
When signing up for a contract, you'll need to choose a data plan. At the moment, there is an option with a 300GB monthly data limit, as well as an unlimited data tariff, which is more expensive.
You can't buy the EE Smart 5G Hub on a pay as you go (PAYG) contract. And if you do decide to cancel the contract before 18 months have elapsed, you'll need to pay a break fee, and return the router to EE.

EE 5G router unboxing
When your EE 5G router arrives in the mail, you'll find the following items in the box:
The Zyxel NR5103E router
An EE SIM card
A power cable for the router
A quick start guide
A safety information booklet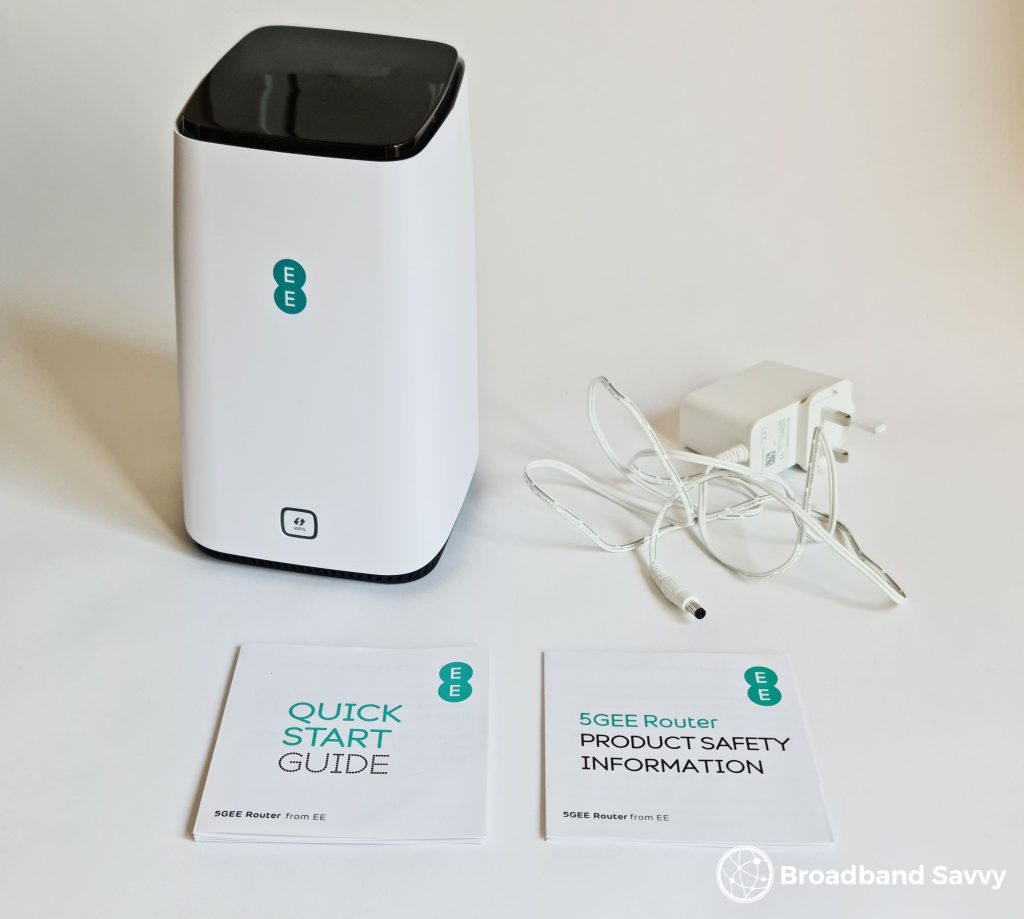 The first thing you'll see when you open the box is the Wi-Fi router.
The SIM card and information booklets are located underneath the router, while the power cable is in a separate compartment.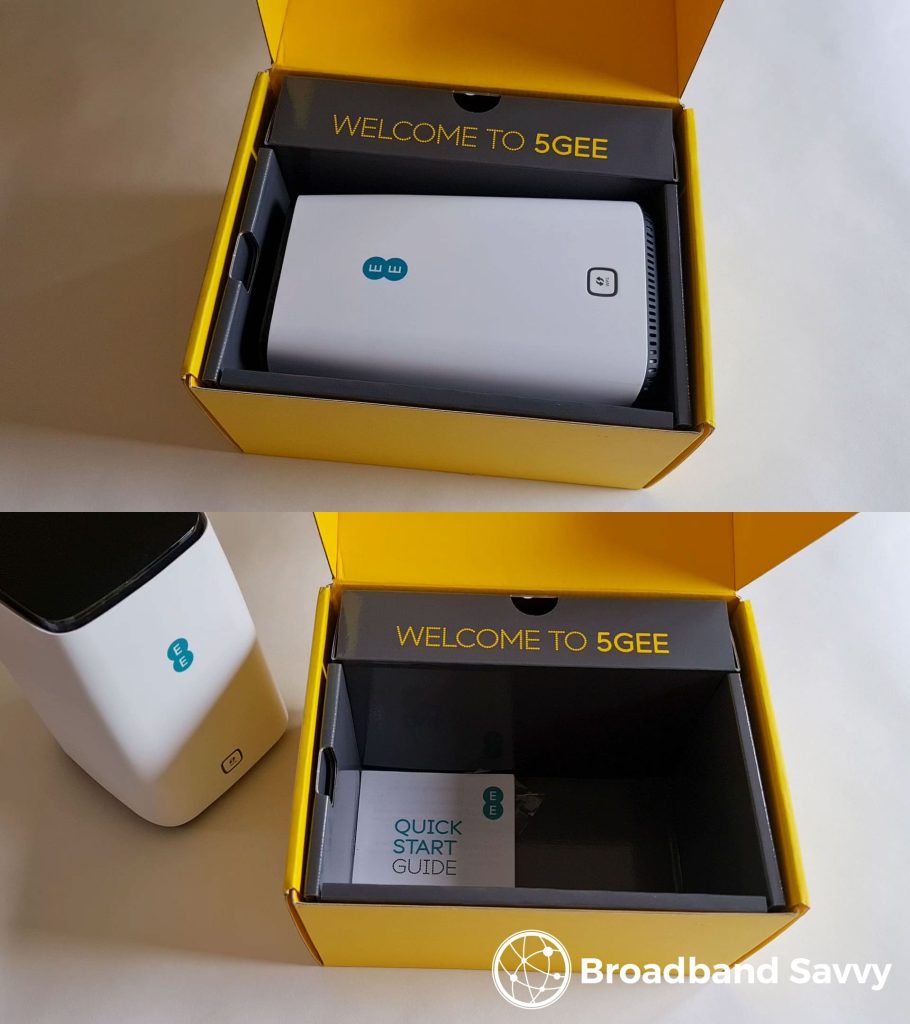 The Smart Hub 5G router has a relatively simple design. You'll find its Ethernet ports, antenna ports, and power button on the back, and the SIM card slot and Wi-Fi login details are on the base of the router.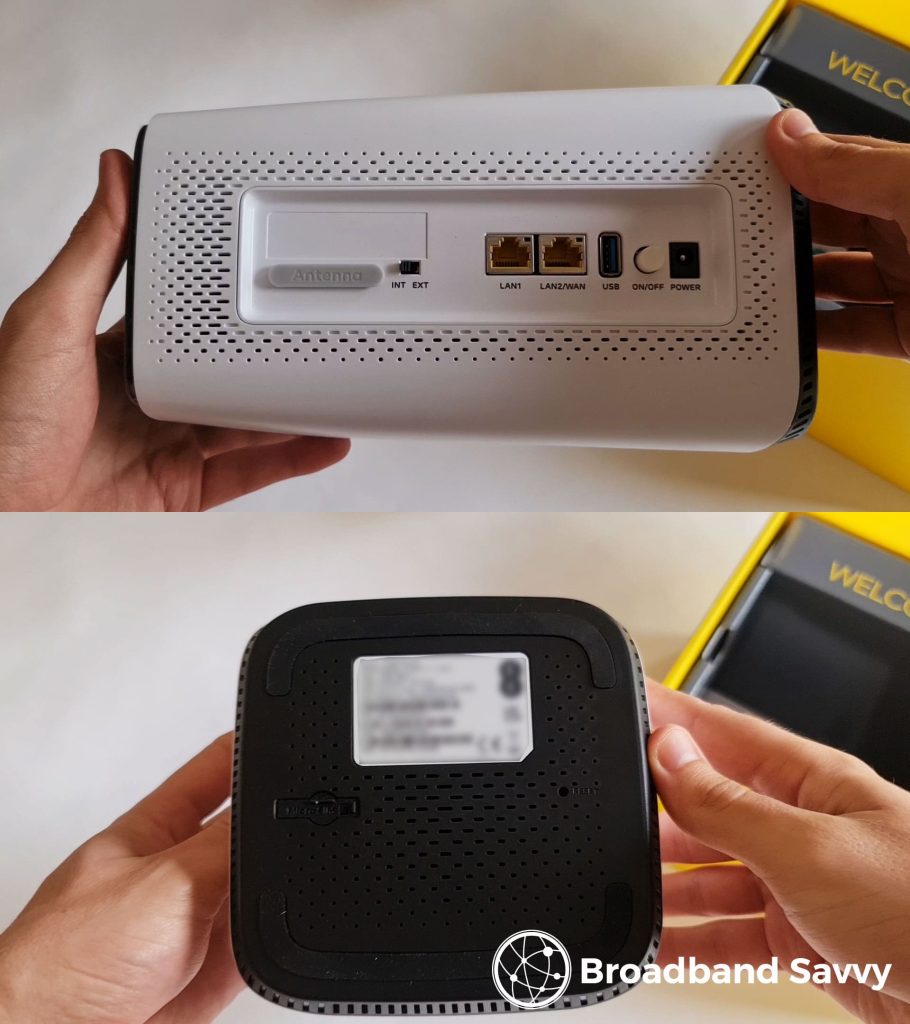 The top of the router has inbuilt status icons that illuminate when the router is plugged in. These icons cannot be seen when the router is not connected to a power outlet.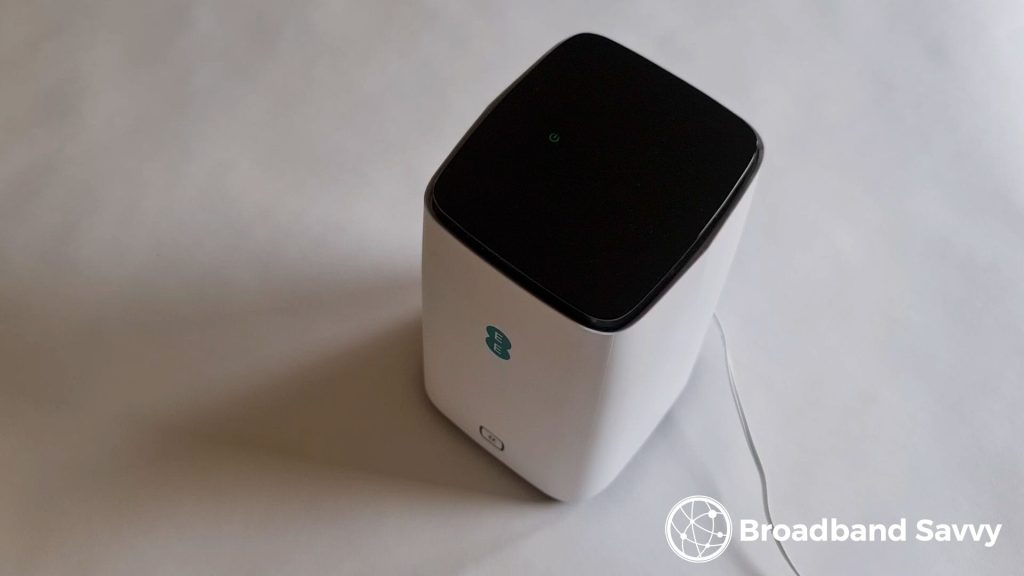 EE 5G router setup
Here's how you set up your EE 5G router once you've unboxed it, and you're ready to get online.
1. Insert the SIM card
The first step to setting up your 5G router is to insert the SIM card.
The SIM card will come in a plastic punch-out card, which you'll need to remove the appropriately-sized SIM card from.
You need to get the micro SIM, which is the second-biggest one.
Then, open the SIM card slot, found on the base of the router. It opens from the right side, but can be a bit tricky to open – the best technique is to dig your finger into the rubber cover and then pull upwards.
Then, push in the SIM card, with the gold side facing upwards, and the cut-off corner facing into the router.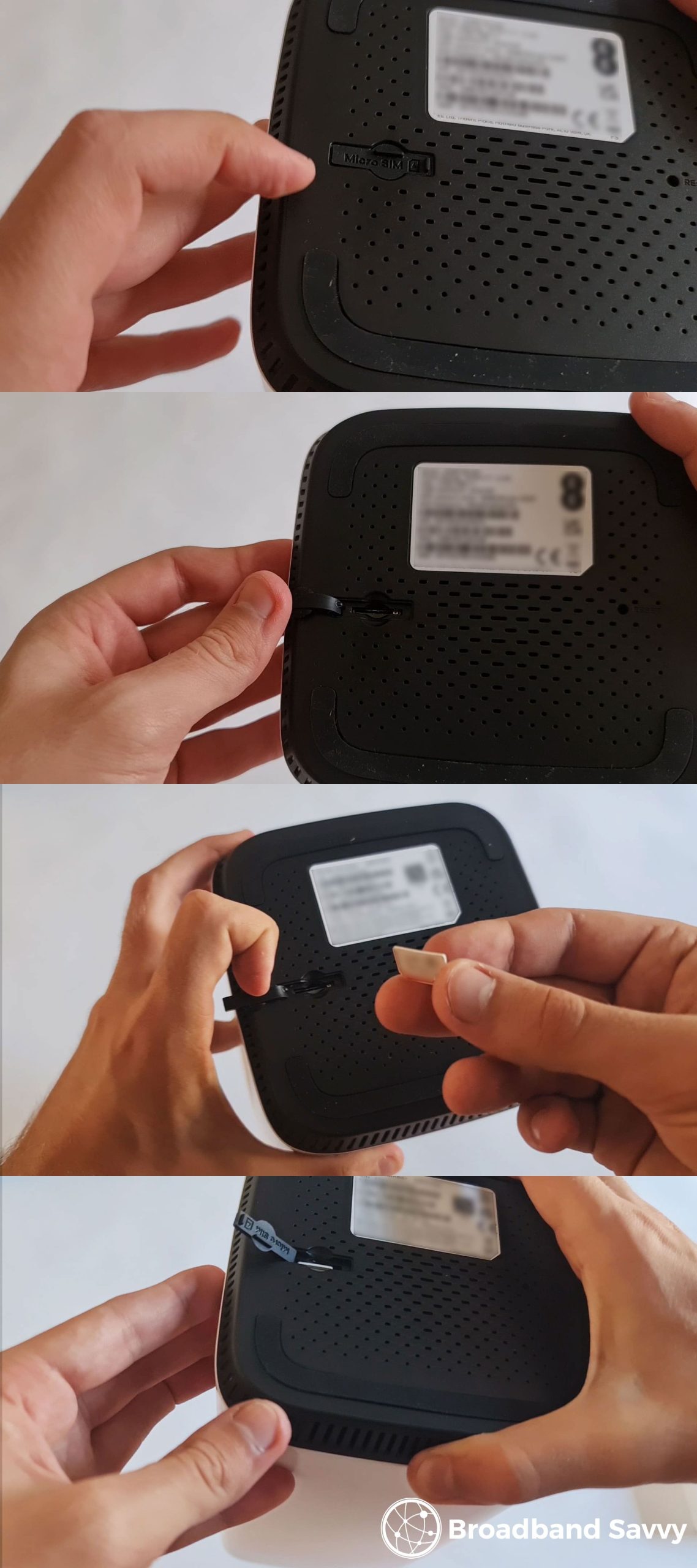 If the SIM has been inserted correctly, you will hear it click into place, and it will stay in this position. You may need to use your fingernail to push it in far enough for it to click into position.
2. Plug in and turn on the router
Now that the SIM card has been inserted, you can plug in the router using the supplied power cable.
Simply plug the round end of the cable into the router, and the other end into a power outlet. Then, press the power button on the back of the EE 5G router.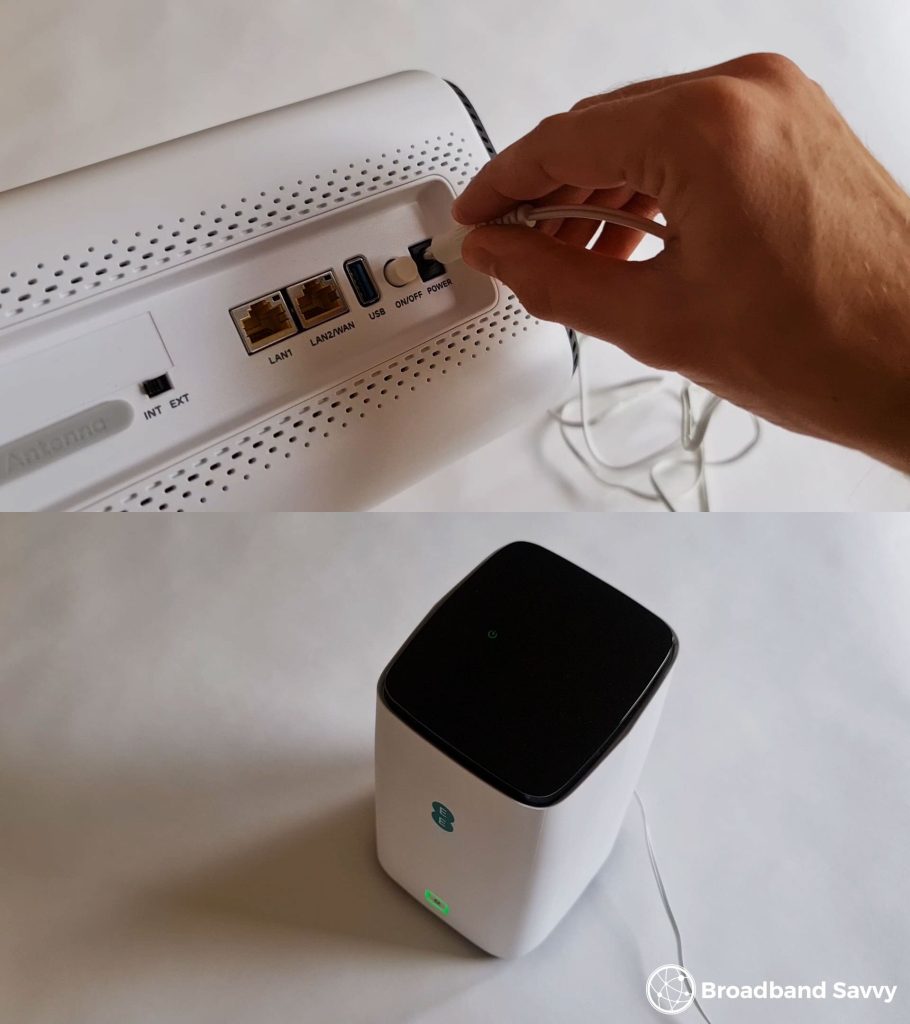 At this point, the router will begin turning itself on, which may take a few minutes. When it's done, the power icon will turn green, and will stop flashing. The WPS button at the front of the router will also turn green, as shown.
3. Position the router
To get the best possible mobile broadband signal, it's crucial to put your router in the right place.
Finding the best location for your router is a process of trial and error – you need to find the corner of your house closest to the nearest 5G mast.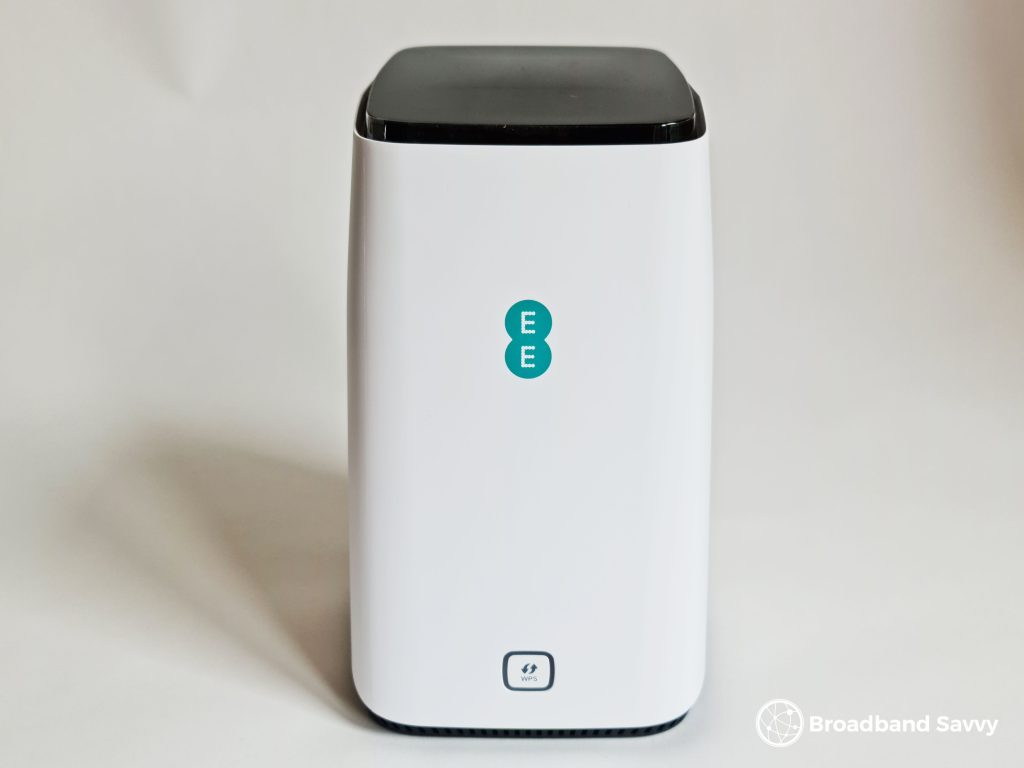 When testing different router locations, the best thing to do is try different upstairs windowsills. Ideally, the router should have a clear view of the sky, meaning its signal won't be blocked by other buildings.
Just remember, you also need to keep the router relatively close to the other devices you want to get online with, to ensure you still get good Wi-Fi signal.
If your house is more rectangular than square, you might be better off placing your EE router along one of the long sides of the property, rather than in a corner.
4. Connect to Wi-Fi
At this point, you're ready to connect to Wi-Fi.
Look on the base of the router for your Wi-Fi login details. Alternatively, on certain devices, you can push the WPS button to connect to Wi-Fi without having to enter a password.

EE 5G router speed tests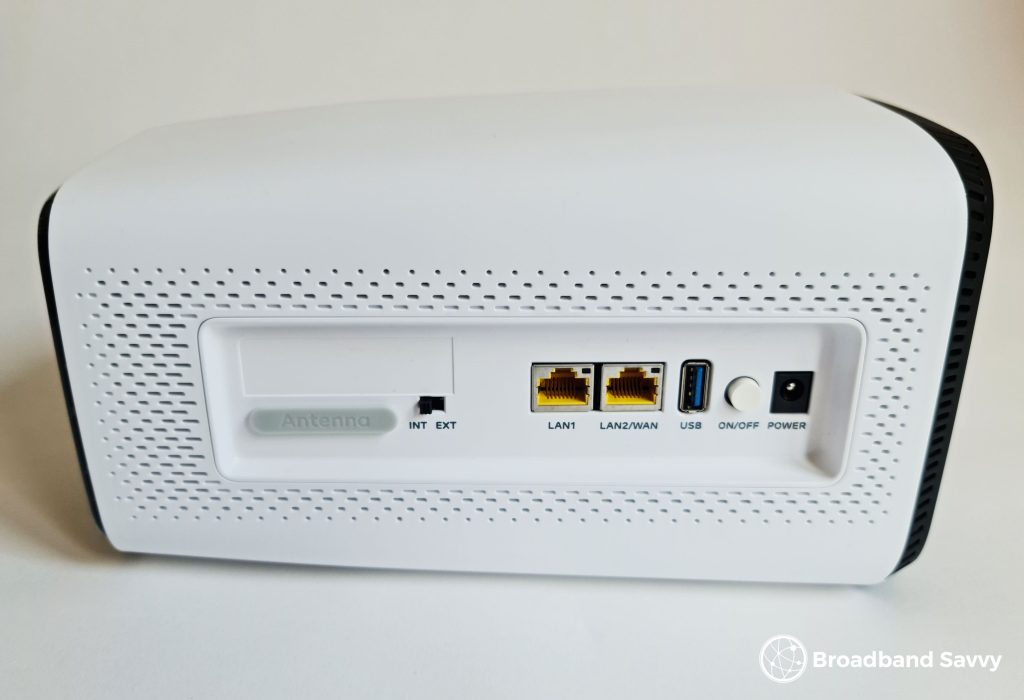 Here are the speeds we typically get with the 5GEE router, over both a wireless and wired Ethernet connection.
Wi-Fi speed test
Over Wi-Fi, a typical speed test result is:
Download speed: 150-250 Mbps
Upload speed: 20-30 Mbps
Latency/ping: 35-45 ms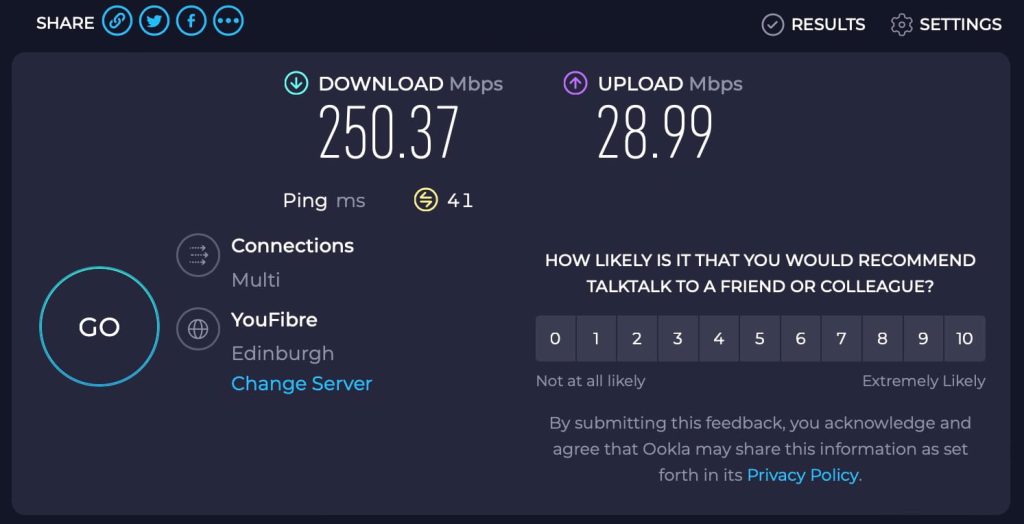 The Zyxel NR5103E router that EE has supplied offers very good Wi-Fi signal.
We tested this router in a four-bedroom detached house, and did not experience any Wi-Fi signal dropouts, even walking into the back garden.
The worse thing that happened was our speeds dropped to 100 Mbps or so in the far corners of the house from where the router was positioned.
Ethernet speed test
Over Ethernet, a typical speed test result is:
Download speed: 300-400 Mbps
Upload speed: 20-30 Mbps
Latency/ping: 30-35 ms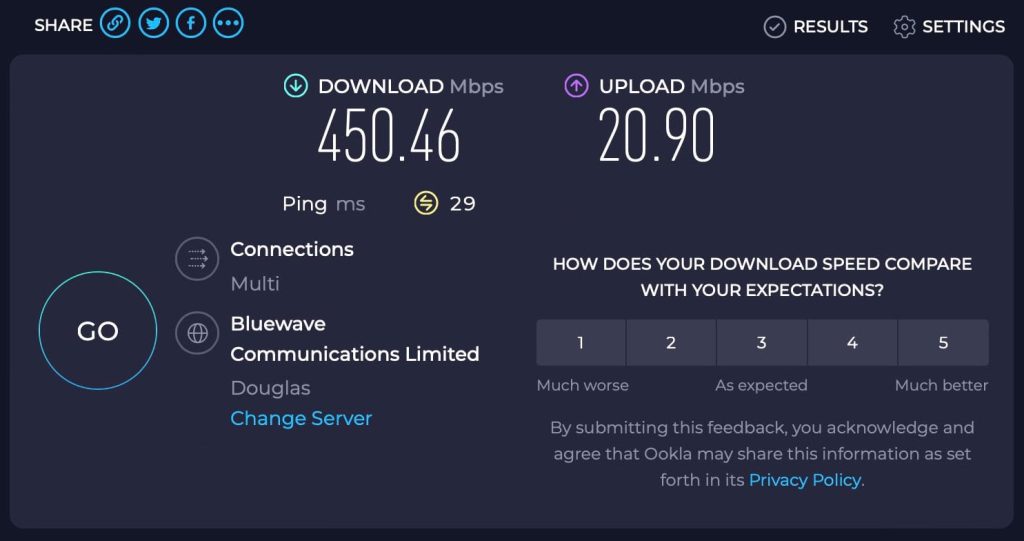 We are happy with the speeds we get from EE 5G home broadband. These download and upload speeds are considerably faster than what we can get with fibre broadband in our area.
While our latency is higher with EE 5G compared to if we were using fibre broadband, it is very consistent, meaning there are no lag spikes. When playing online games, we do not experience considerable amounts of lag when connected to nearby servers.
However, when we tested the Three 5G Hub, we received considerably faster download speeds. The Three 5G network is typically much faster than the EE 5G network.
It's also worth mentioning, it took us quite a lot of testing different router positions before we found the best location that allowed us to get such fast download speeds. Before doing this, our download speeds were typically around 100 Mbps over Wi-Fi.
What speeds will I get with the 5GEE router?
On average, you can expect to get download speeds of at least 100 Mbps, and probably around 300 Mbps, with the EE 5G router, assuming you have good 5G signal at your address.
The exact speeds you'll receive depend on a range of different factors, such as where you have placed the router, and the amount of congestion on the 5G mobile broadband network in your area.
It's important to note, EE advertises that their 5G broadband tariffs come with an average download speed of just 110 Mbps. This means that if you only receive a maximum download speed of 150 Mbps, you won't have any recourse to complain to EE.
The best way to test what speeds you'll get with EE 5G broadband before buying is to do a speed test on a 5G-compatible phone on the EE network at the same address you'll be using the router.
EE's 5G network is generally not as fast as Three's, which is another advantage Three 5G broadband has over EE, other than its lower monthly costs.
However, at many addresses, you can get 5G signal with EE but not Three, meaning EE will offer faster speeds.

EE 5G broadband value for money
EE 5G broadband offers good value for money, but there are much cheaper alternatives on the market.
Compared to a fibre broadband deal that offers similar download speeds, EE's 5G home broadband router is a bit costly, but not extremely expensive.
In some cases, EE 5G will offer the fastest-available broadband speeds you can get at home, especially if you live somewhere with no full fibre broadband access.
However, EE 5G home broadband is very expensive compared to Three's mobile broadband offers, which come with the same Zyxel Wi-Fi router.
Three doesn't charge an upfront cost on their pay monthly plans, unlike EE, and EE also has monthly costs that are twice as high as Three's.
Basically, with Three, you can get an unlimited data plan for about half the cost of an EE package that comes with 300GB of monthly data.
EE only offers good value for money if you take Three's 5G broadband deals out of the equation. We'd only consider buying from EE if you can't get Three 5G at your address (click here to see if you can get Three 5G signal).
Do I need to pay for an unlimited data plan?
If there are three or more people at home who use the internet on a daily basis, and you plan on using 5G broadband as your main way of getting online, we would recommend getting an unlimited data plan.
Many internet activities we do these days use up huge amounts of data. For example, watching HD or 4K video streams, installing video game or app updates, and downloading large files when working from home all use up large amounts of data.
Even social media usage can use significant amounts of data, depending on how often you use Facebook, Instagram, or Reddit.
You will only be able to get away with a 200-300GB monthly data limit if there are only a few people living at your address, you don't work from home, and you don't watch videos for more than an hour or two per day on average.

Is EE 5G broadband any good? Our verdict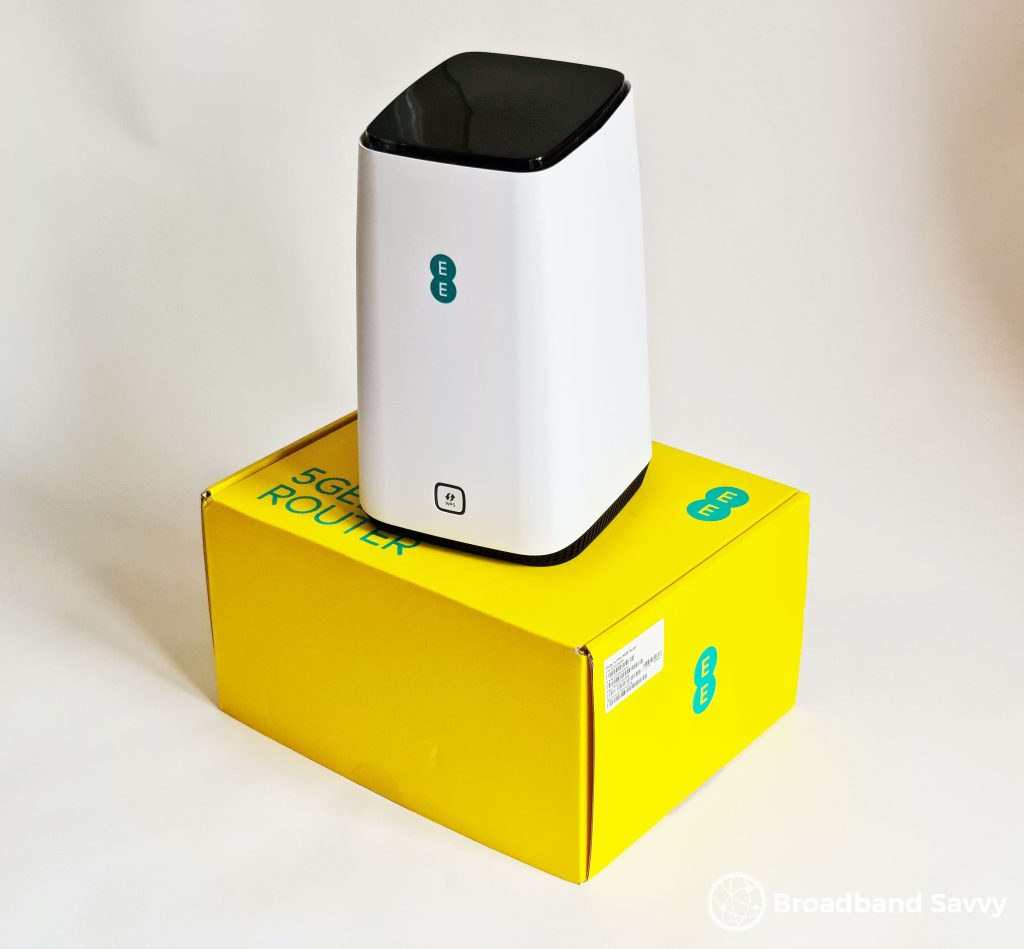 There are a lot of things we like about EE 5G broadband:
It comes with a good-quality router, which provides strong Wi-Fi signal.
EE has great 5G coverage in the UK, meaning their 5G broadband is available at a large number of addresses.
You can get download speeds of more than 300 Mbps with this router.
Getting set up with your router once it arrives in the mail is very easy.
However, there are some downsides to EE 5G broadband.
The monthly costs and upfront costs are relatively high, at least compared to Three's 5G broadband plans.
You don't always get unlimited data included, unless you pay more for it.
EE's 5G download speeds aren't as good as with Three, at least at our address.
Overall, we rate EE 5G home broadband 3.5/5.
While the Wi-Fi signal and speeds offered by this router are good, EE 5G home broadband is very expensive compared to Three's deals that come with the exact same 5G router.
Also, EE 5G is not as fast as Three 5G in most of the UK.

EE 5G broadband alternatives
If you're looking for a cheaper alternative to the EE 5GEE router, or if you want unlimited data, here are some alternative ways to get online with 4G or 5G mobile broadband.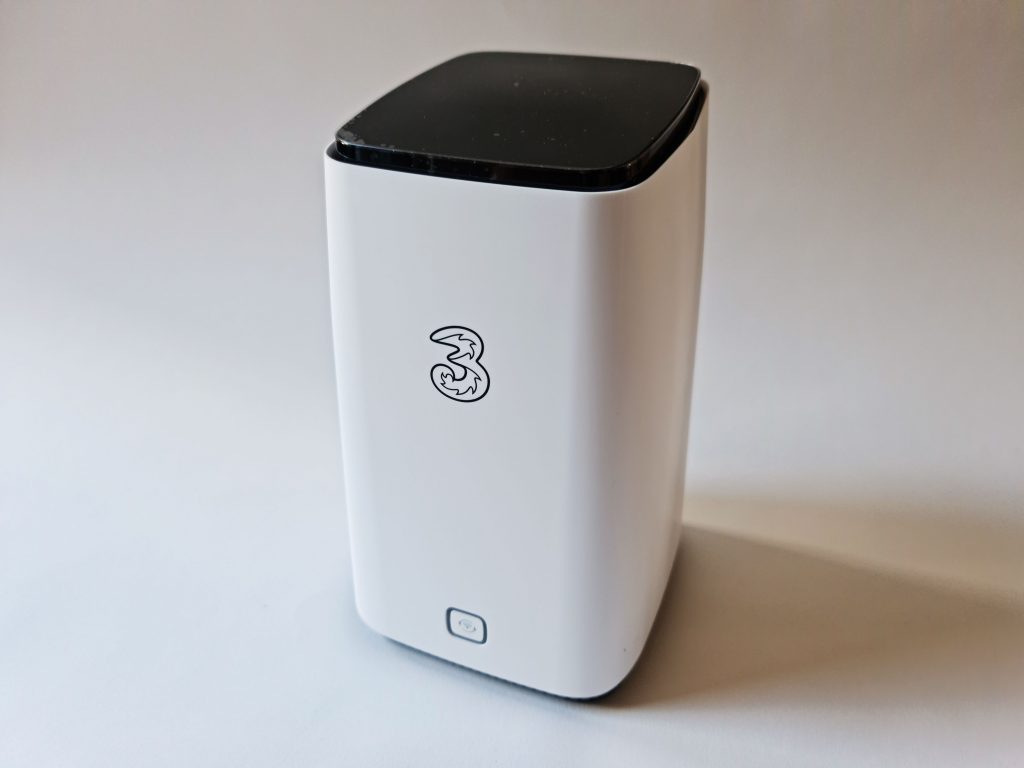 Three sells the exact same Zyxel NR5103E mobile broadband router that EE does, except their 5G broadband deals are much cheaper, have faster speeds, and come with unlimited data.
If you can get Three 5G signal where you live, we would almost always recommend Three over EE 5G broadband.
In testing, we were able to get download speeds of over 700 Mbps with this router. Plus, you can buy Three 5G broadband on a pay as you go basis.
There's even a 30-day return policy if you choose the default 24 month contract, giving you the ability to test this device and see what speeds you get at your address before committing to it for two years.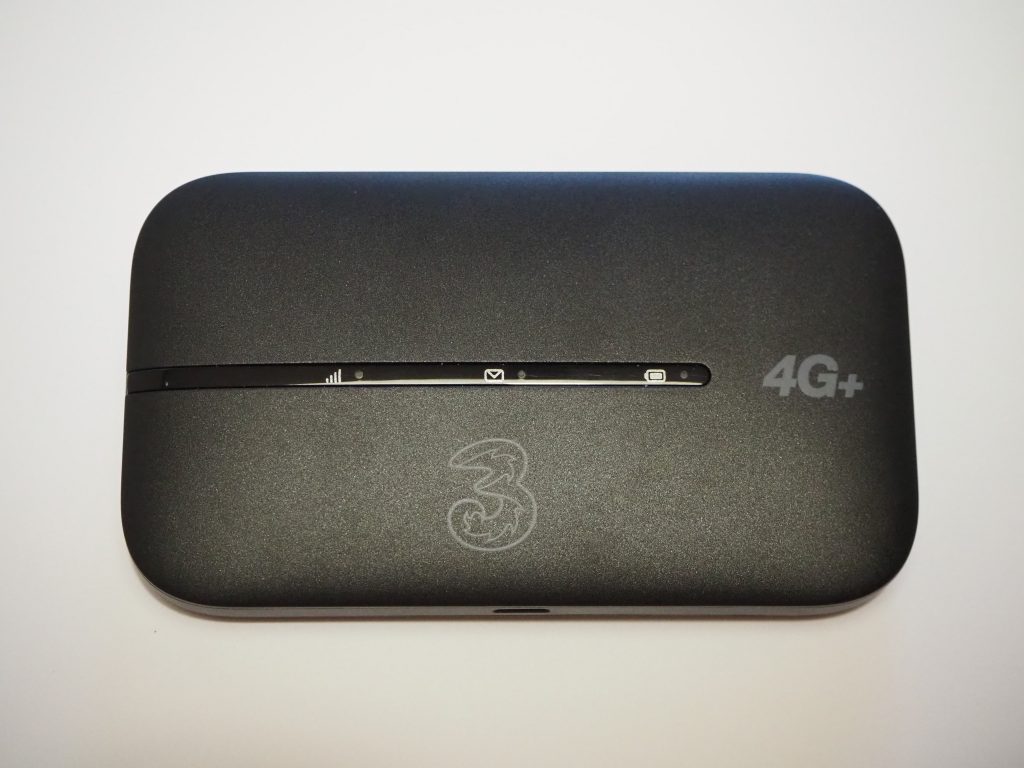 If you're looking for a more portable mobile broadband solution, and don't mind just getting 4G download and upload speeds, Three's mobile Wi-Fi (MiFi) device is a good choice.
Rather than plugging into a power socket, this mobile router comes with a battery, meaning it can be used to get online on the go.
The downside is, when compared to a proper 4G or 5G router, the Wi-Fi signal isn't quite as good. Also, this device doesn't always come with unlimited data, unlike the 5G Hub, depending on which data plan you choose.
4G ROUTER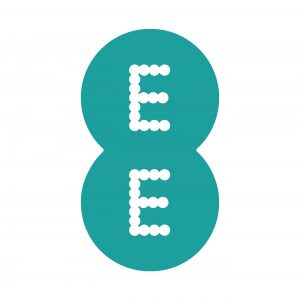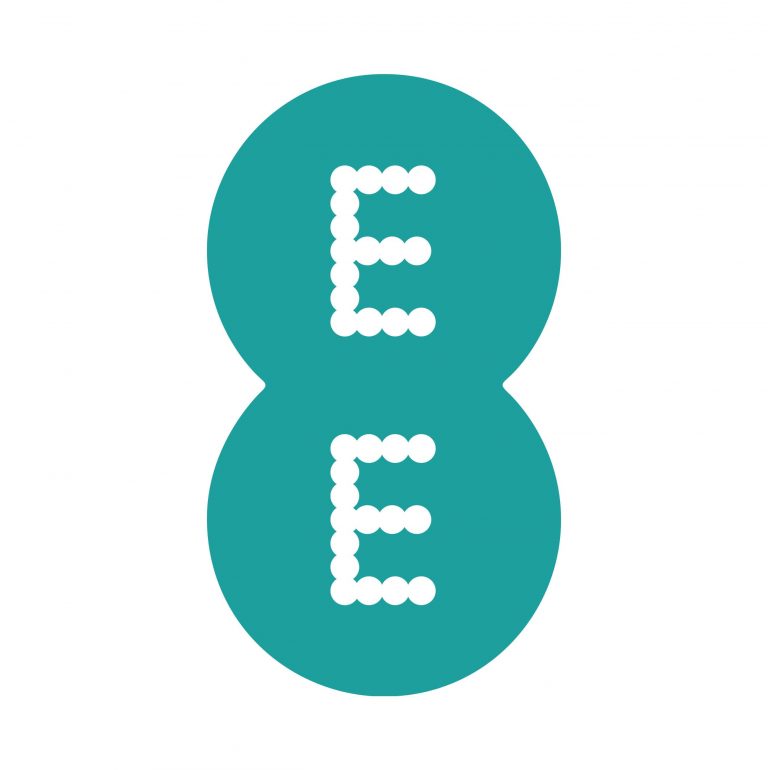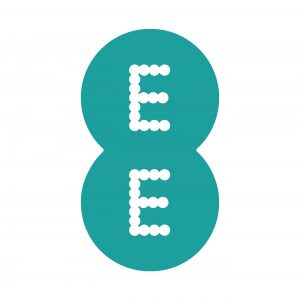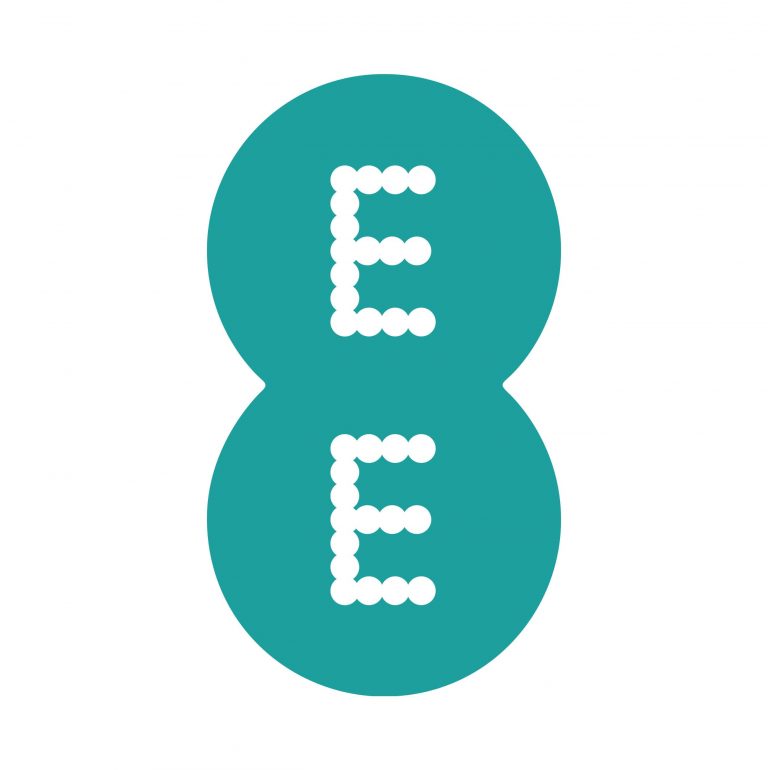 If you can only get EE mobile broadband signal where you live, you might also like to consider their 4G home broadband deal.
This Wi-Fi router doesn't offer as good download speeds as EE's 5G router. However, it is considerably cheaper, especially if you want unlimited data.
The downside is, this mobile broadband offer is still very expensive compared to the Three 4G Hub router, which offers similar download and upload speeds.
We'd only recommend using EE's 4G router if you can't get Three mobile broadband signal at your address.

Conclusion
This is the end of our review of EE 5G home broadband.
Still not sure whether this 5G router is a good choice to buy, or if you'd be better off with the Three 5G Hub instead? Leave us a comment below, and we'll respond as soon as we can.
About the author

Tyler built his first PC at the age of 12, and since then, he's become obsessed with all things networking and internet-related. He's a massive gamer, loves Rocket League, and also plays Sunday League football.