Looking to get online with an EE MiFi device?
In this guide, we've reviewed the 4GEE WiFi Mini MiFi device, which you can buy from EE. We've looked at how good the device is, the speeds it offers, and whether the 4GEE WiFi Mini is good value for money.
Let's get started.
EE MiFi overview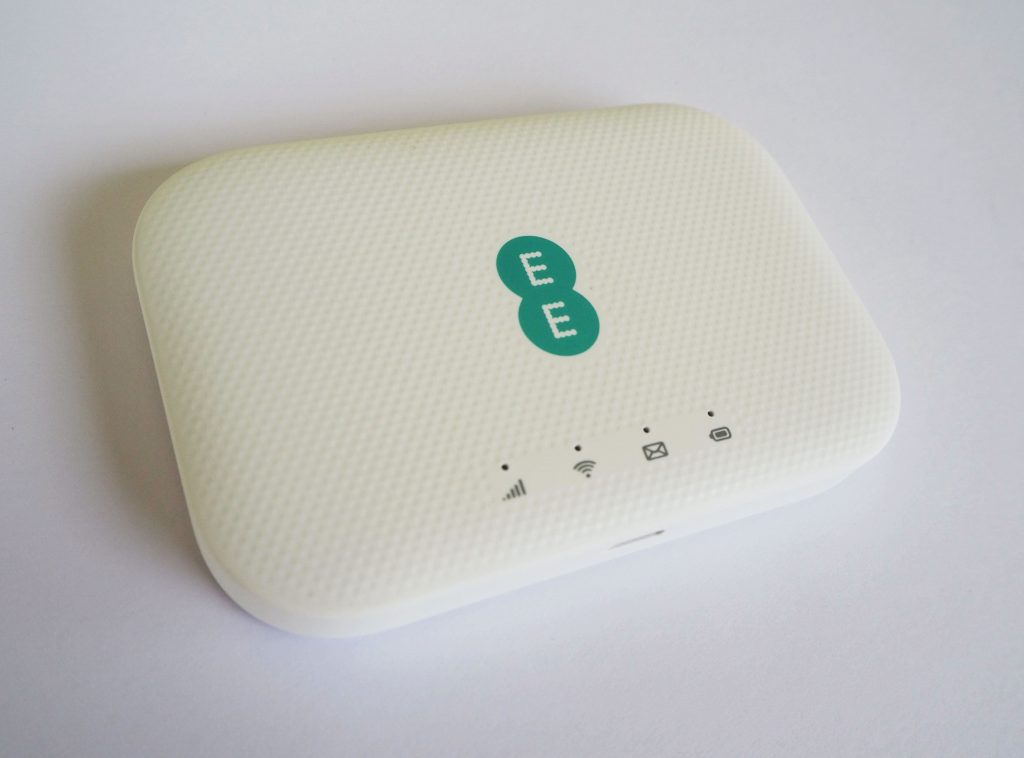 EE offers the 4GEE WiFi Mini mobile WiFi device, paired with a number of data SIM plans.
Using this device, you can get online using the EE mobile broadband network. It connects to 4G, and uses this signal to create a small WiFi hotspot, that your devices can connect to.
There is also a slightly larger, more expensive 5GEE WiFi device you can buy from EE, which offers 5G internet speeds.
| | |
| --- | --- |
| Download speeds | 15-50Mbps, depending on 4G coverage in your area |
| Contract lengths | 24 months |
| Data plans | 5GB, 25GB, 125GB, or unlimited data |
| Rating | 4 (out of 5) |
| Price | Check on EE |
EE 4GEE WiFi Mini specifications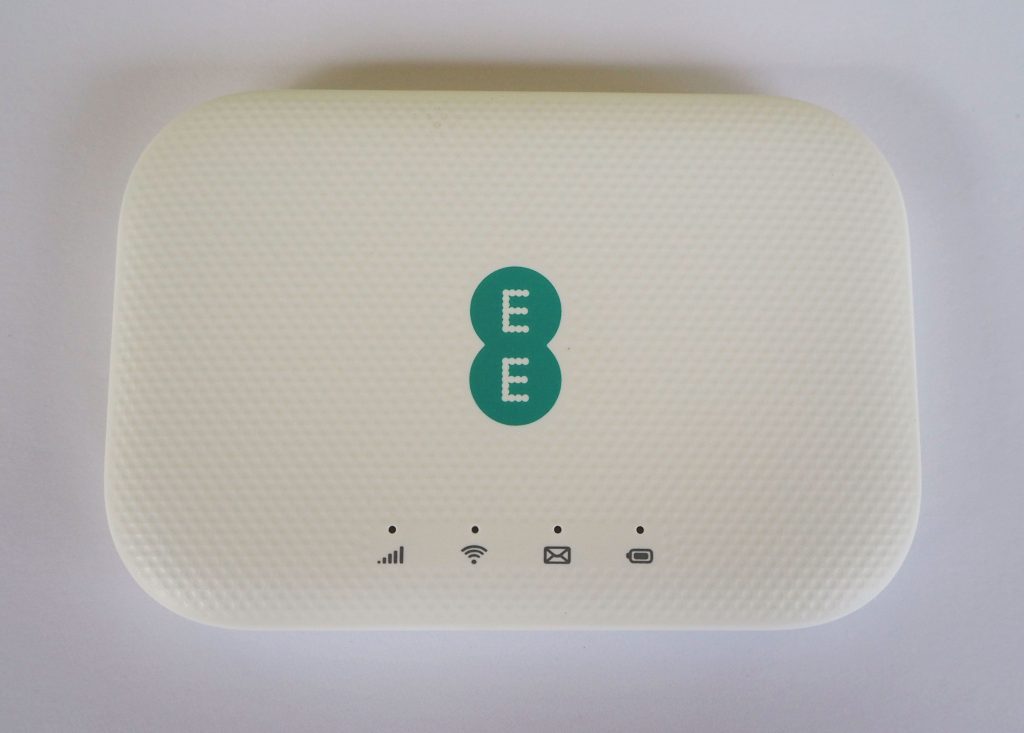 Height: 92mm
Width: 62.5mm
Depth: 13.3mm
Weight: 85g
Battery: 2150mAh, up to 6 hours
Maximum concurrent devices connected: up to 64
Maximum download speed: 300Mbps
Maximum upload speed: 100Mbps
WiFi range: approximately 30 metres
WiFi frequency bands: 2.4GHz and 5GHz
Charging port: micro USB
SIM: nano SIM slot
4GEE WiFi Mini unboxing and setup
After ordering the 4GEE WiFi Mini, it will arrive within 1-2 business days.
The device and its accessories arrive inside a yellow box.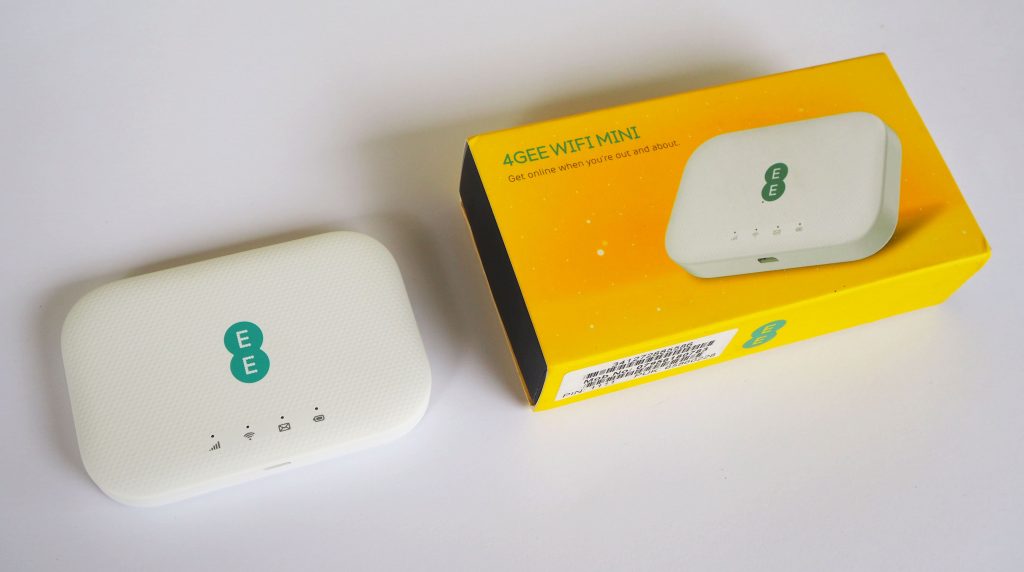 Inside the box, you will find the following: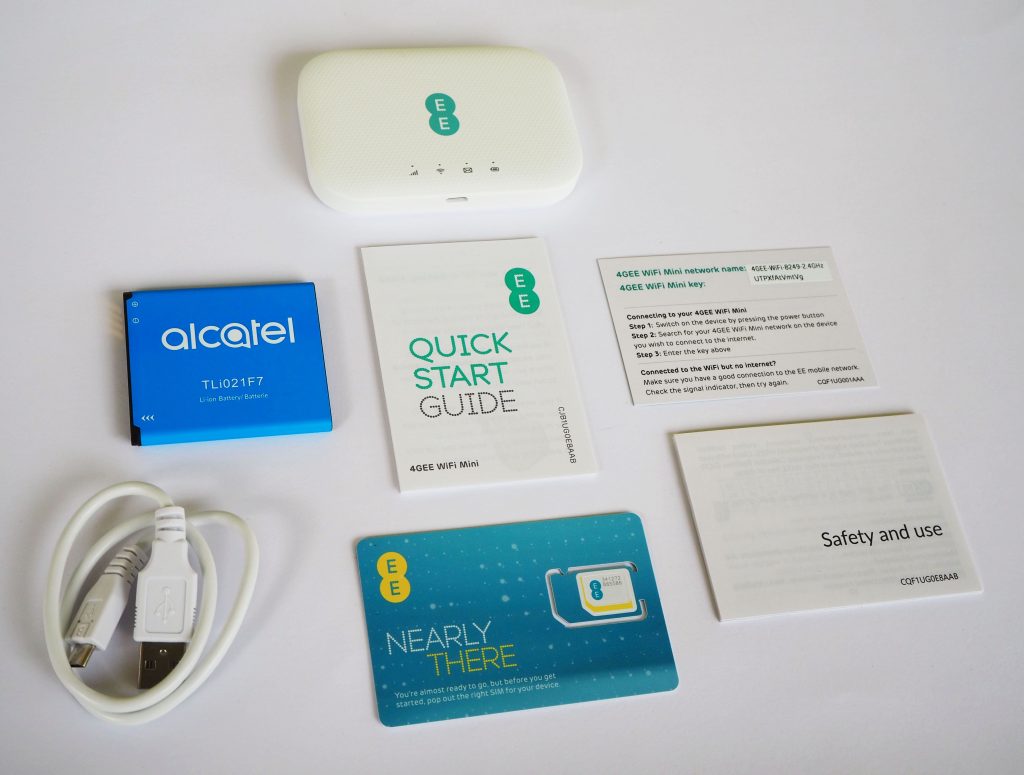 The 4GEE mobile WiFi device
A removable battery
An EE SIM card
A micro USB charging cable
A quick start guide
A safety guide
A keepsake card with your WiFi login details
Setting up the device and getting online is a simple four-step process.
You can watch this setup tutorial as a video if you would prefer.
Step 1: Remove the back cover
The first thing you need to do is remove the back cover from the mobile WiFi device, so you can install the SIM card and battery.
There is a slight notch on the corner of the device, where you can pull the cover open from. Slide your fingernail under this notch, and you will be able to unclip the back cover from the MiFi device.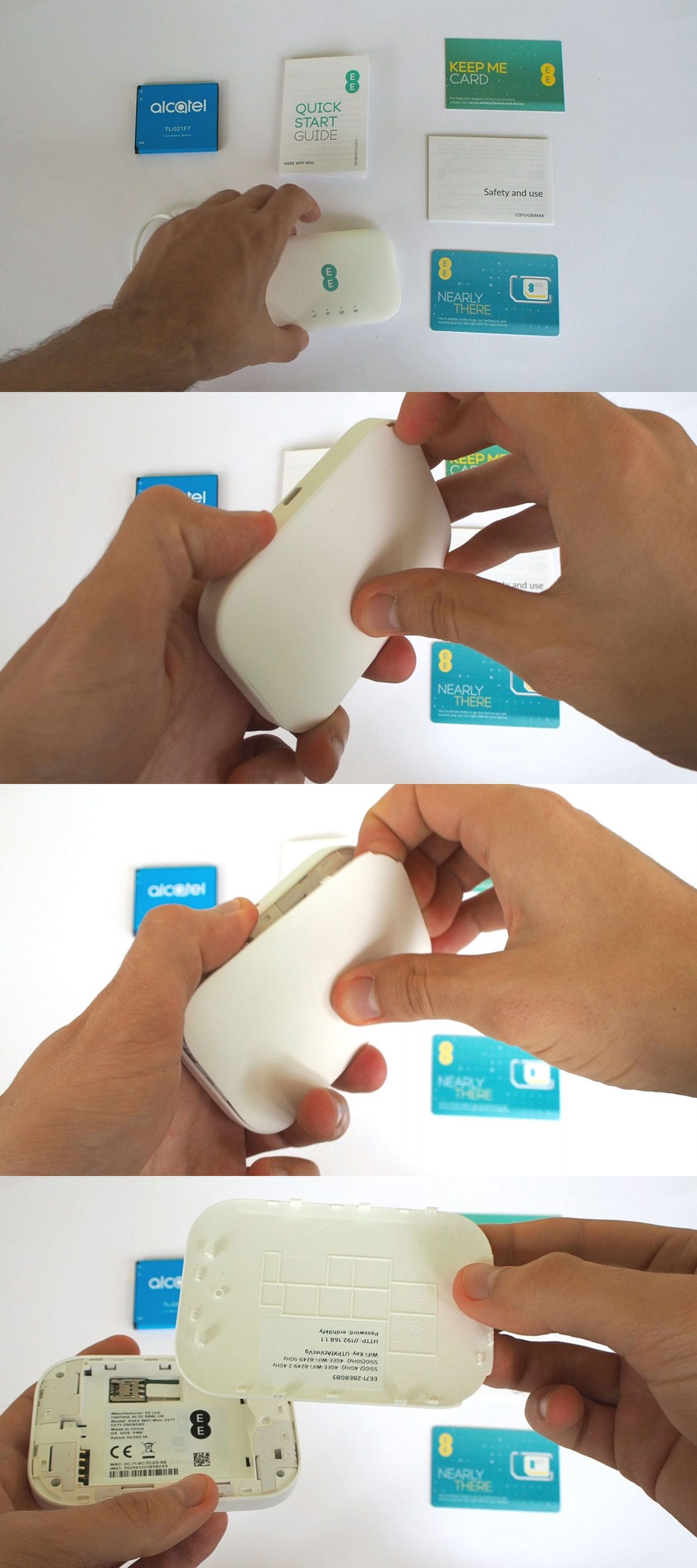 Step 2: Insert the SIM card
Since the battery goes on top of the SIM card, you'll need to insert the SIM card first.
To do this, grab the punch-out card supplied by EE, and remove the SIM. You want the nano SIM card, which is the smallest one. The SIM card can be a bit tricky to get out, but don't worry about bending the larger SIM, since you won't need to use it.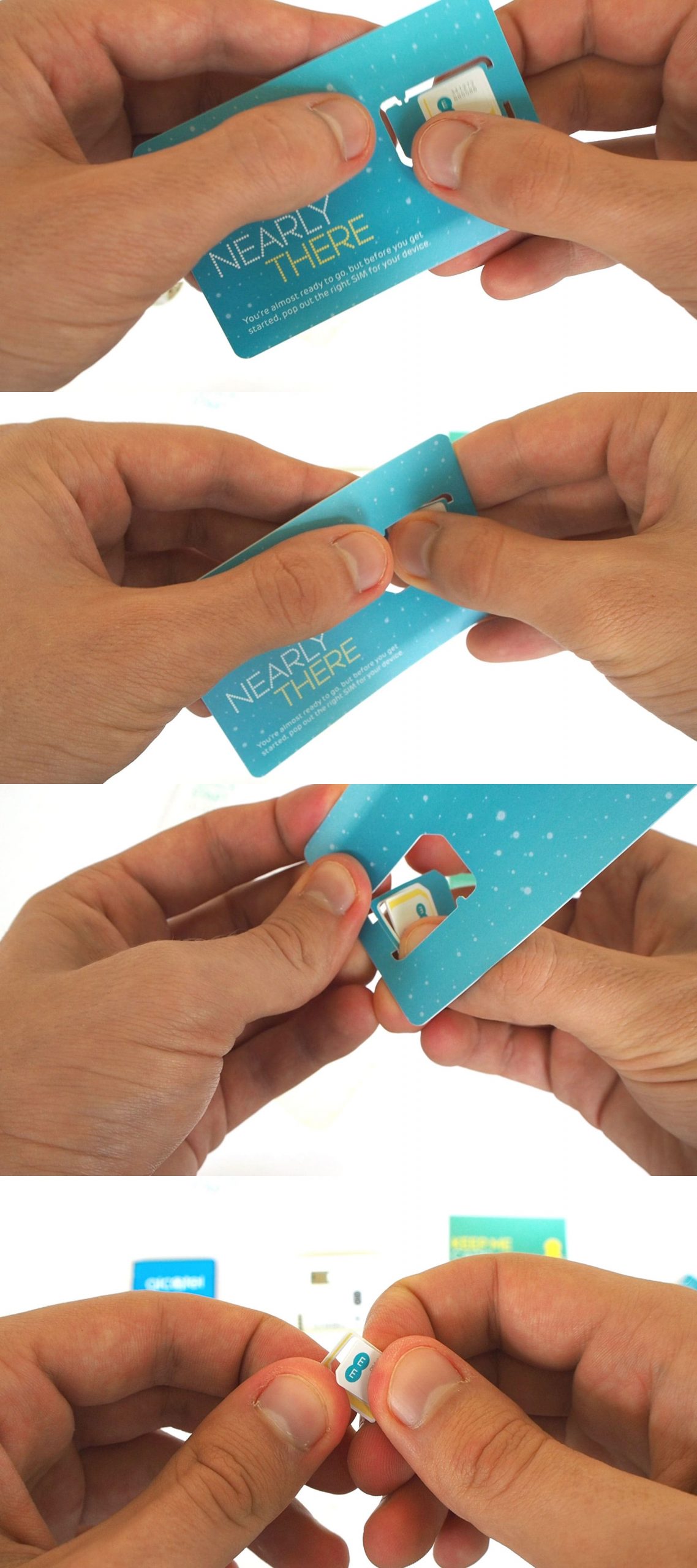 Hold onto the SIM, facing with the EE logo upwards, and with the cut-out corner at the bottom-left. Then, push it down, and slide it left, under the metal enclosure.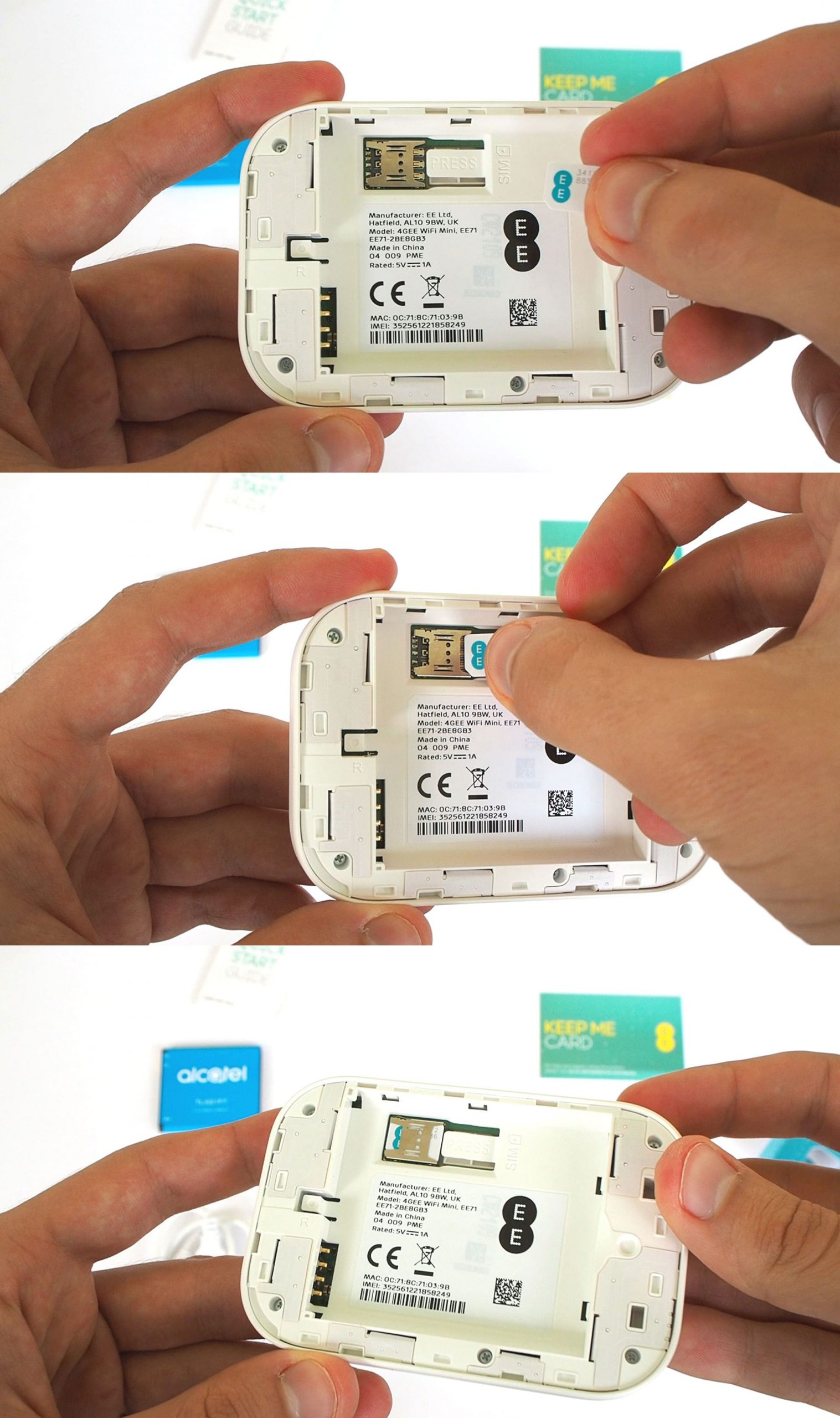 Step 3: Insert the battery
Now that the SIM card is in place, you can insert the battery into the device.
To see which way it goes, look for the four gold-coloured connectors on the side of the battery. Then, match them up with the four gold-coloured connectors inside the device.
At this point, you can slide the battery into place. Reattach the back cover, clipping it into place along all four edges.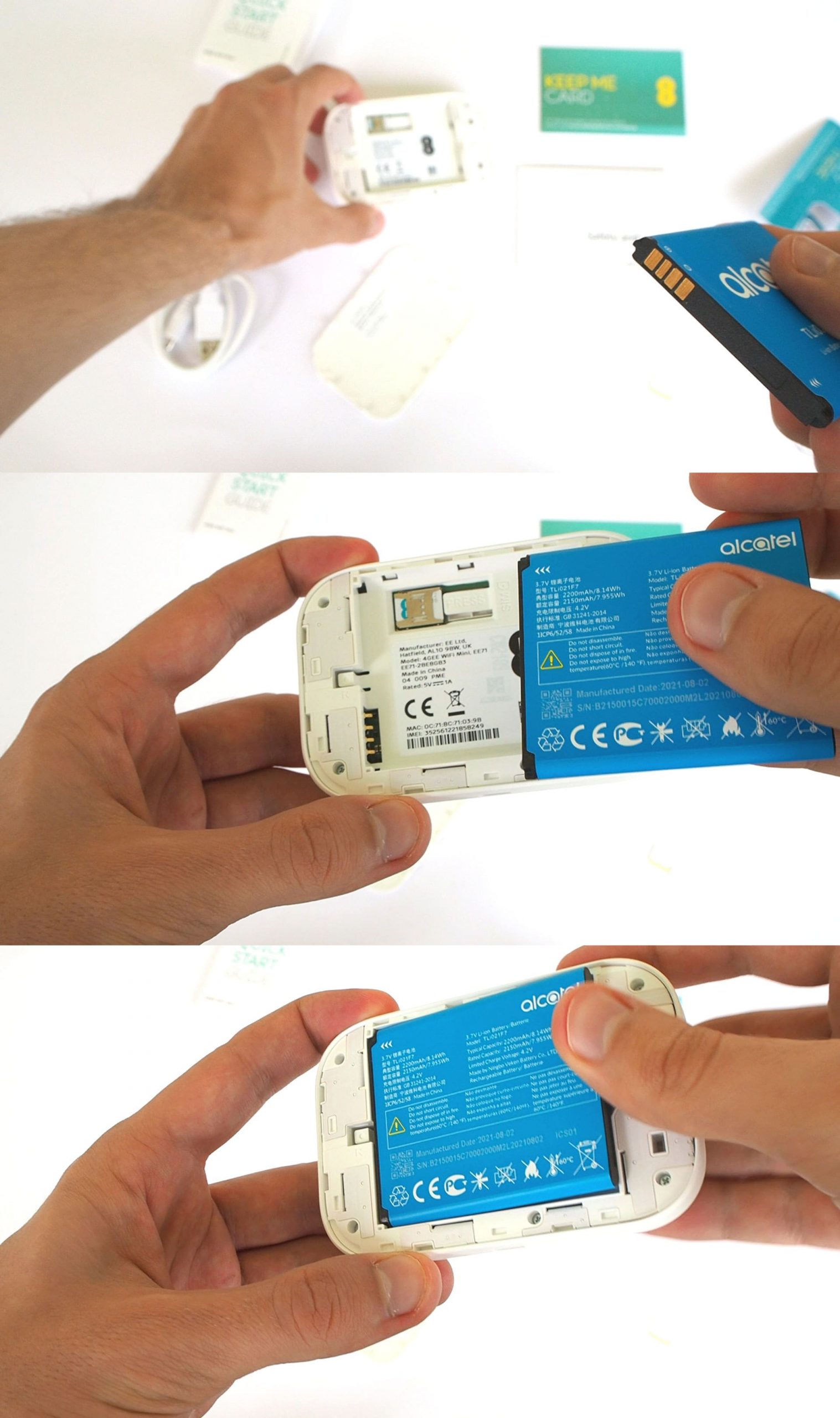 Step 4: Connect to the WiFi hotspot
To turn on the 4GEE WiFi Mini, hold down the power button, which is at the top of the device, for about five seconds. You don't need to charge the device beforehand – the battery ships with some charge.
Wait until the WiFi and network lights on the front of the device turn blue, then search for WiFi networks. The hotspot should start with "4GEE-WIFI".
You will need to enter your password, which can be found on your keepsake card, to connect to the WiFi hotspot.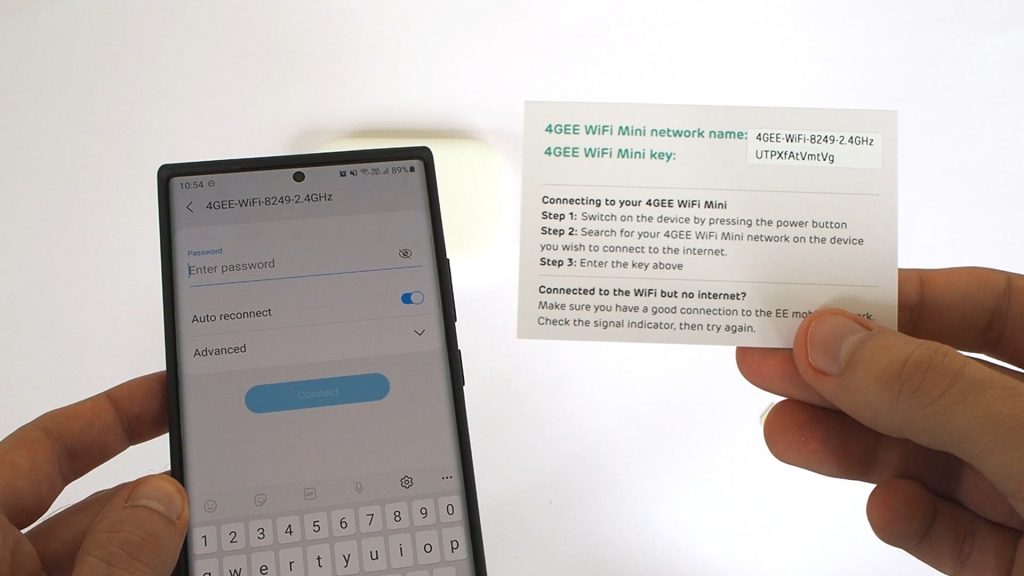 What's good about the 4GEE WiFi Mini
There are a number of things to like about the 4GEE WiFi Mini.
It's very easy to begin using the device, and get online quickly. For example, when compared to other MiFi devices, it's very simple to install the SIM card – it can be a lot more fiddly with Three's MiFi device, for example.
You can connect many devices to the WiFi network at once – most other MiFi devices only support up to 10 concurrent connections.
EE's mobile network has extremely good coverage, even when compared to other UK 4G networks.
The battery life is excellent – you should get at least 6 hours of use out of a single charge.
The data packages are very flexible. There is a good range of choice, in terms of how much data you get per month, whether you decide to pay as you go or pay monthly.
What's not so good about the 4GEE WiFi Mini
The main downside to the 4GEE WiFi Mini mobile broadband device is its price, as we have looked at below.
Compared to its main competitor, the Huawei 4G Plus MiFi device sold by Three, EE mobile broadband is very expensive, and the contract lengths are a bit less flexible.
Also, there are some aspects of this device that are a bit less intuitive than competing products. For example, with Three MiFi, you get a QR code you can scan to connect to its WiFi network. However, with EE, you have to type in the default password by hand, which is a bit cumbersome.

EE MiFi deals
There are quite a few different data plans that you can choose to pair with EE's MiFi device.
You can choose exactly how much data you want – either 5GB, 25GB, 125GB, or unlimited data per month.
However, there are two issues with EE's MiFi deals:
The price – unless you buy a small amount of data on a long-term contract, EE MiFi is quite expensive.
Lack of contract length choice – you only get the option of a 24 month contract. There are no 30 day, 12 month or 18 month contracts available.
Overall, the choice of data amounts is quite good, but EE's MiFi deals are quite expensive – and you only get two options when it comes to the contract length.
If you're looking for a cheaper MiFi solution, then Three's competing product is a good choice.

How fast is EE MiFi?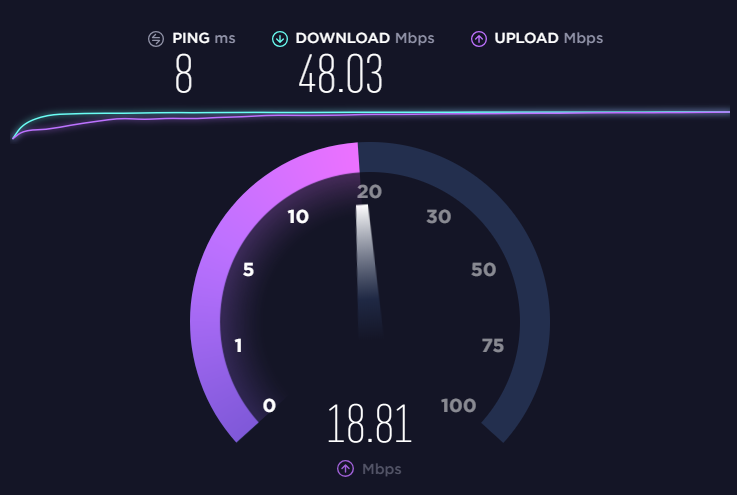 The 4GEE WiFi Mini will typically offer download speeds of between 15-50 Mbps, depending on the 4G coverage in your area.
You can use the EE coverage map to check whether or not you'll get good indoor/outdoor 4G coverage at the location(s) where you plan to use the device.
Fortunately, EE has the best coverage of any British mobile network, so the speeds you'll get with this mobile WiFi device are generally very good.
If you live in an area with 5G signal, and are looking for faster speeds, you could also consider using the 5GEE WiFi device.

Can I use EE MiFi abroad?
You can use the 4GEE WiFi Mini when travelling overseas. However, it may cost more, depending on the destination you're travelling to.
Inside the EU, you can use your regular data allowances, just like in the UK. Outside of the EU, you will have to buy a roaming add-on.
The cost of the roaming add-on will depend on the countries you're visiting. EE offers a few different daily roaming passes, offering different prices and different data limits depending on where you're travelling.
Whether you're leaving the EU or not, you will need to enable EE roaming. To do this, connect to your device, type 192.168.1.1 into your browser, log in, go to settings, and choose "Data Roaming".
It's important to remember, some countries have different 4G infrastructure and use different frequencies, meaning this device may not offer perfect performance in certain locations. However, it works well in nearly all first-world countries.

Is EE MiFi any good? Our verdict
The EE MiFi device is a great bit of kit. It offers a strong WiFi signal, can support many devices being connected at once, and has a good battery life.
Plus, EE has excellent 4G coverage in the UK, meaning you'll be able to get good speeds almost anywhere.
The only real issue with this MiFi device is what it costs. The price per month is quite high, especially when compared to some other MiFi devices.
However, this doesn't mean that you shouldn't buy the 4GEE WiFi Mini. If you want to ensure you get a good signal, and want to connect multiple devices to MiFi at once, it's worth the extra cost.
Overall, we rate the 4GEE WiFi Mini 4 out 5. This device is very good, but the data plans attached to it are not cheap.

4GEE WiFi Mini alternatives
If this MiFi device is looking a bit expensive, or you want a more permanent mobile broadband solution, there are some alternative devices that you could consider using.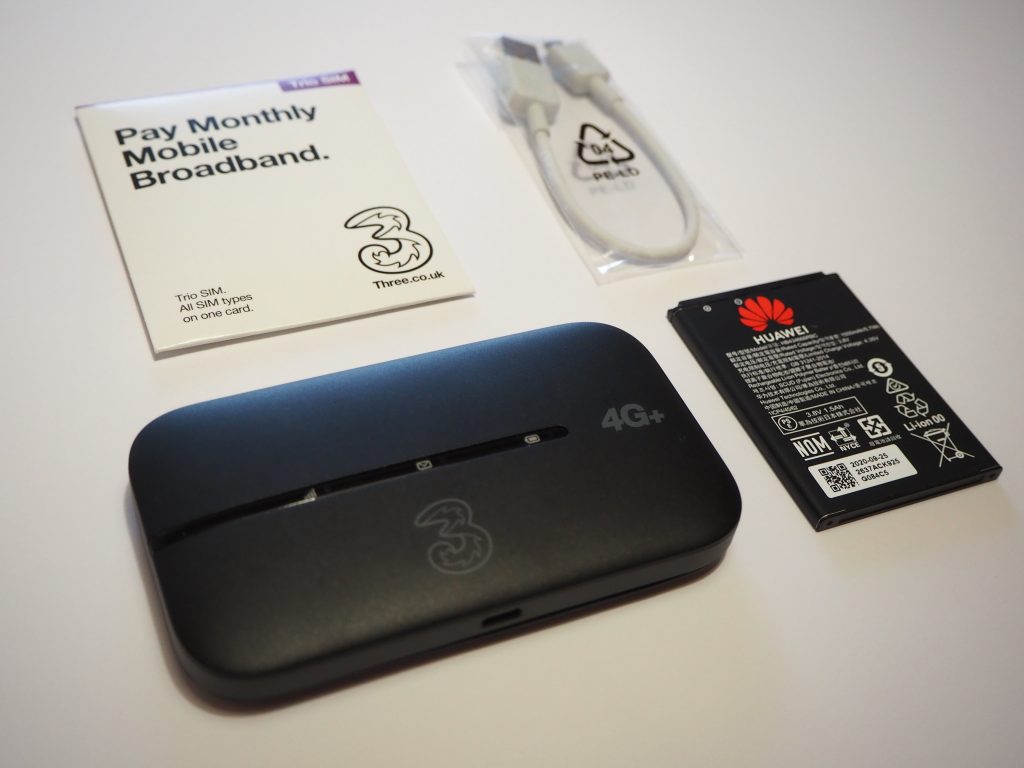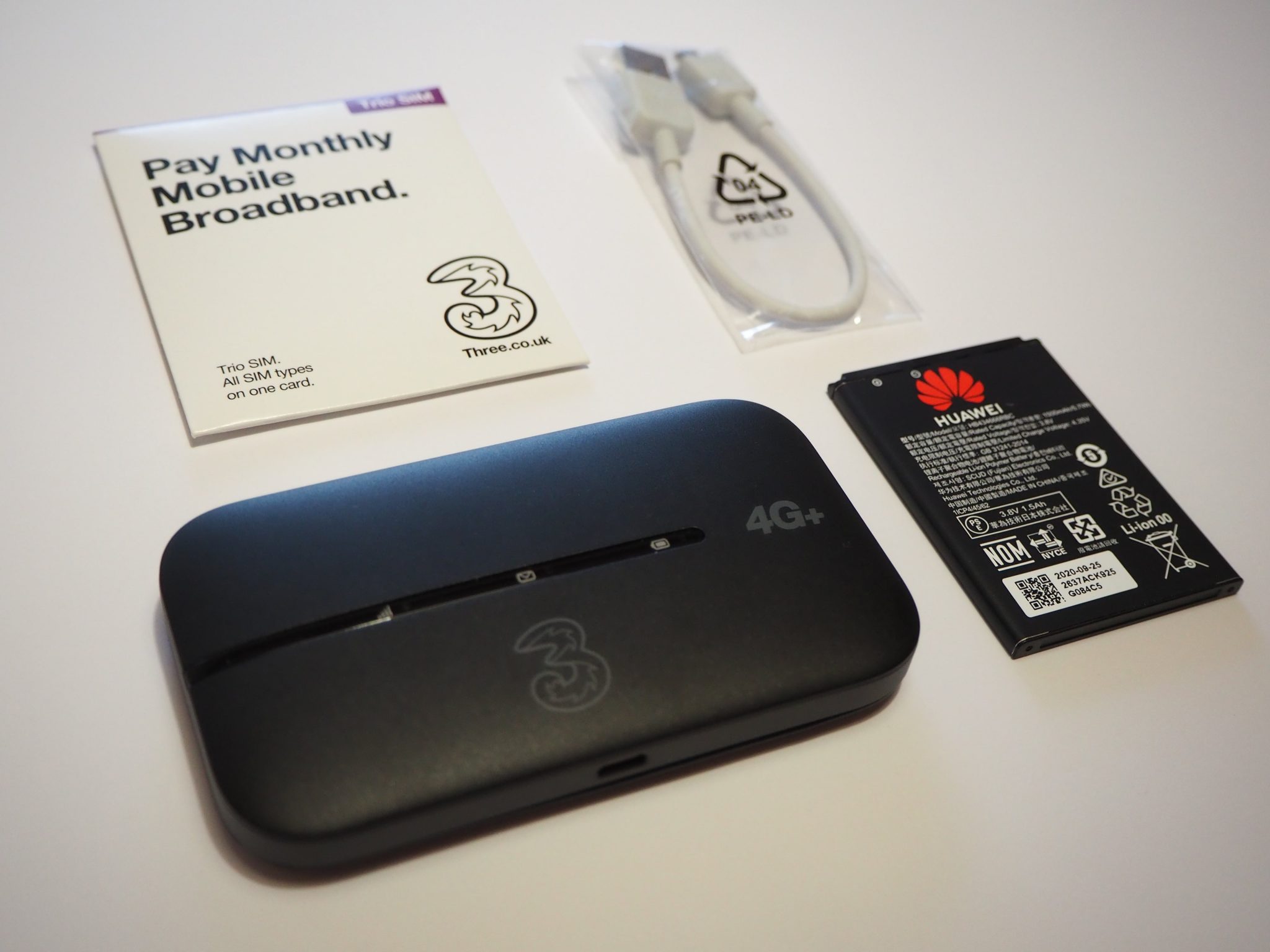 Three's MiFi device, which we've also reviewed, offers a similar but cheaper mobile broadband solution.
The device itself isn't as good as Three's, in that the WiFi range is shorter, and it can handle fewer concurrent connections.
However, Three offers much better prices on their data plans than EE, especially if you want 100GB or more of data per month. Even though Three's 4G coverage isn't quite as good as EE's, their 4G MiFi device is often better value for money.
This bit of kit is very similar to the 4GEE WiFi Mini, except:
It offers 5G download speeds, if you can get good 5G mobile coverage at your address.
It's considerably more expensive – especially the upfront cost.
The device is a bit bigger, and about twice as heavy. It's still portable, however.
If you have a need for speed, this device is worth considering. However, it's definitely not cheap.
If you're looking to get online at home, rather than a MiFi device, you might like to use a proper 4G router.
Rather than having a battery, the 4GEE Home Router 3 plugs into the wall, just like a normal WiFi router. However, it connects to the EE 4G network, rather than using your landline.
This device is a bit more expensive, but this is partly because it comes with at least 100GB of data (you can get unlimited data as well, if you like).

Conclusion
This is the end of our review of the EE 4GEE WiFi Mini.
If you're still unsure whether this mobile WiFi device is right for you, or if you have any questions, feel free to ask us in the comments below.
About the author

Tyler built his first PC at the age of 12, and since then, he's become obsessed with all things networking and internet-related. He's a massive gamer, loves Rocket League, and also plays Sunday League football.