Considering getting online with the Vodafone R228t mobile Wi-Fi device?
In this article, we've reviewed Vodafone MiFi, to see if it's any good.
We've tested their R228t MiFi device to assess its 4G speeds, Wi-Fi connectivity, and battery life, and how easy it is to set up.
After, we've looked at whether this mobile Wi-Fi device is good value for money, compared to some of its alternatives.
Contents
Vodafone MiFi overview
| | |
| --- | --- |
| Brand | Vodafone |
| Name | R228t |
| Dimensions | 92 x 62.5 x 13.3mm |
| Weight | 85g |
| Wi-Fi | 802.11 a/b/g/n/ac, 2.4GHz/5GHz, 2x2 MIMO |
| Maximum connected devices | 32 |
| Battery life (advertised) | 11.8 hours (usage), 300 hours (standby) |
| Download speeds | 15-50Mbps, depending on 4G coverage in your area |
| Contract lengths | Monthly. 12 months, or 24 months |
| Data plans | 4GB, 10GB, 30GB, or unlimited data |
| Rating | 3.7 (out of 5) |
| Price | Check on Vodafone |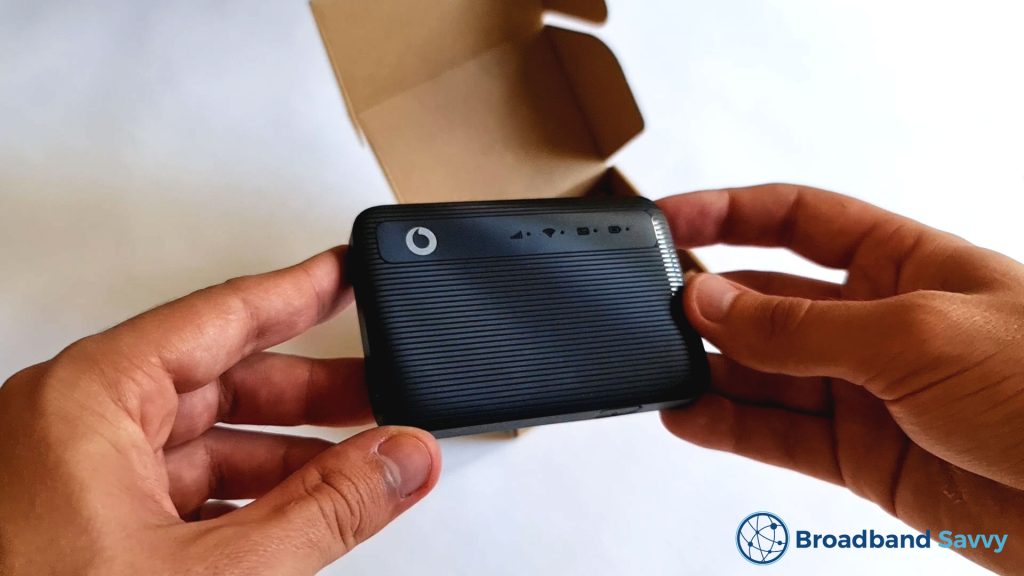 Vodafone sells a mobile WiFi device called the R228t, which is made by Alcatel (they also sell a 5G MiFi device, which offers much faster download speeds, if you live in an area with Vodafone 5G coverage).
You can choose to buy this 4G MiFi device on a 30-day pay as you go plan, or on a 12 or 24 month pay monthly contract, paired with a range of different data packs.
This mobile hotspot device is shipped by Vodafone with a SIM card. When it arrives in the mail, you need to insert the SIM card and battery, before powering it on.
Once the device has set itself up, it will connect to the Vodafone 4G network, just like your phone, in order to establish an internet connection.
It will then create a Wi-Fi hotspot that you can use to get online with up to 32 devices at once, using dual-band 2.4Ghz or 5.0Ghz Wi-Fi.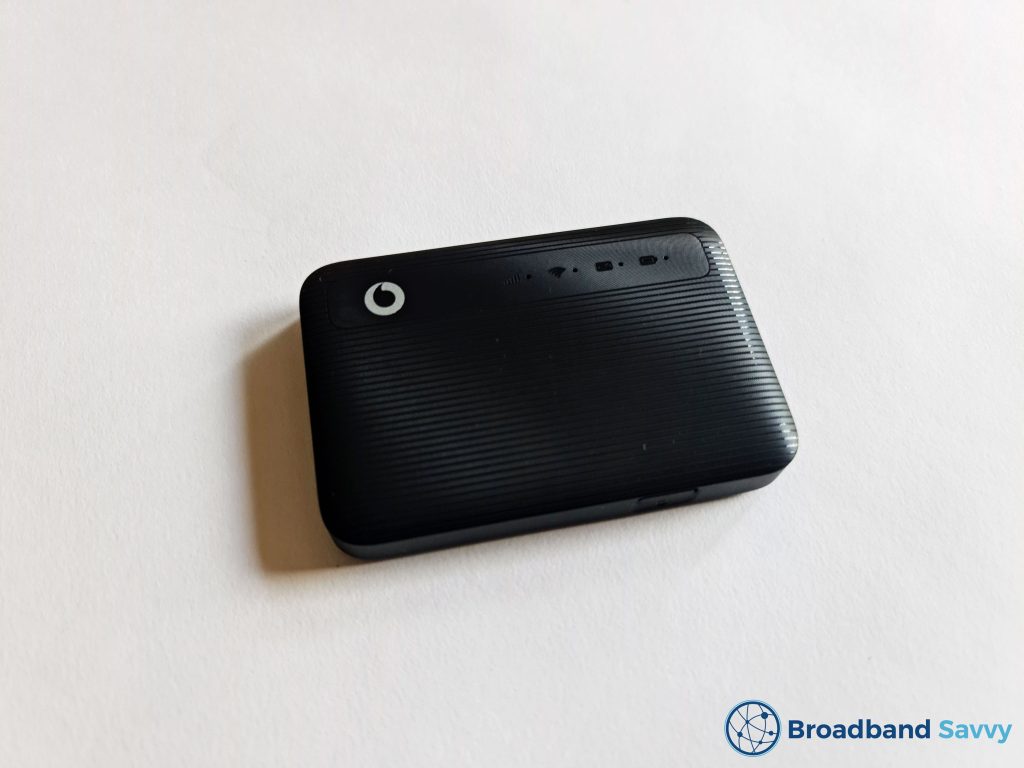 The R228t comes with a battery, meaning it can be used anywhere in the UK you get Vodafone 4G signal.
Vodafone used to sell a similar 4G MiFi device, called the R219. The R228t is a decent upgrade in comparison – it has a longer battery life, supports more concurrent connected devices, and has a higher theoretical maximum download speed.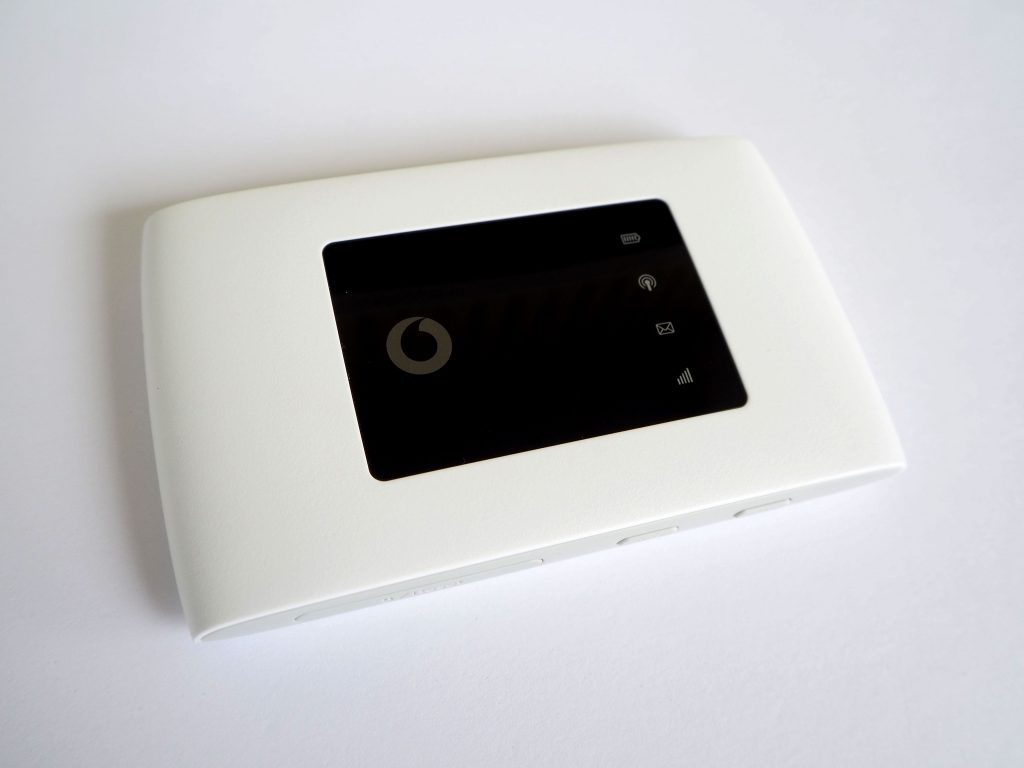 Vodafone MiFi device setup
Inside the Vodafone MiFi box, you'll find:
The Vodafone R228t MiFi device
The MiFi device battery
A USB cable, for charging
A Vodafone SIM card
A quick start guide
A product safety booklet
A promotional booklet from Vodafone
A card with your Wi-Fi login details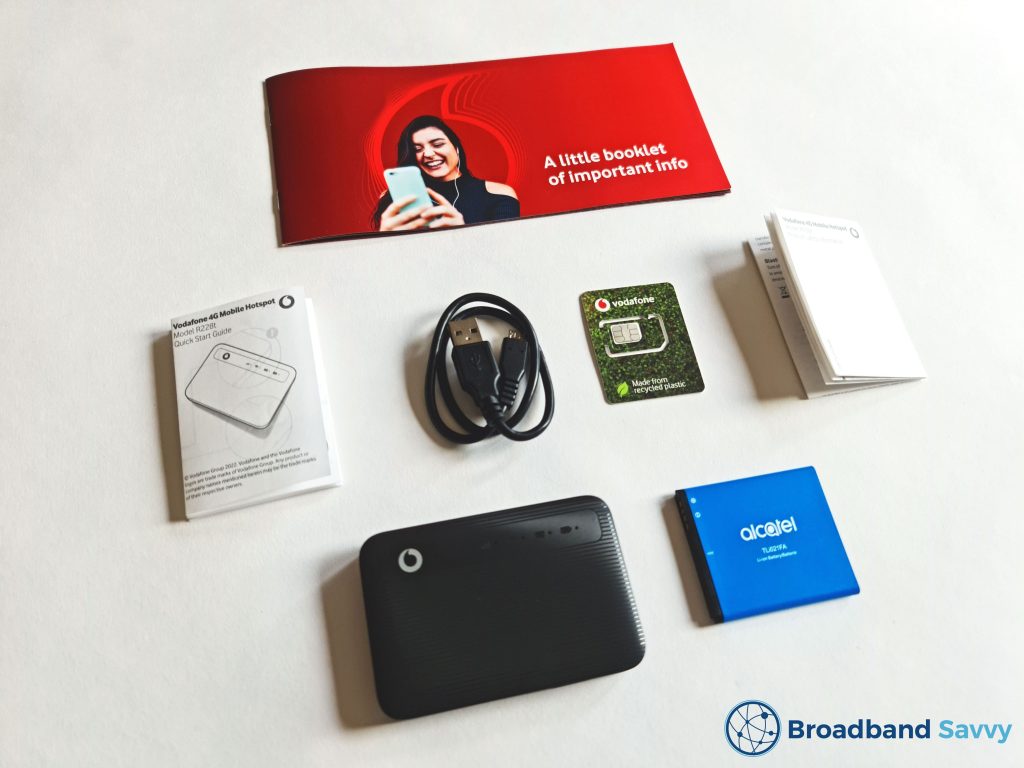 When you first get your hands on the MiFi device, you'll notice it's quite small. It's about the size of a credit card, but is quite a lot thicker.
You won't have any trouble finding space for this device on your desk, but it's important not to lose it – you could easily have it go missing if you're not careful, since it's quite small.
Step #1: insert the SIM card
To begin using the R228t MiFi device, the first thing you'll need to do is insert the SIM card.
First, remove the case from the back of the device. It has a slot you can put a fingernail into, at which point you need to pull up on the case to unclip it around the edges.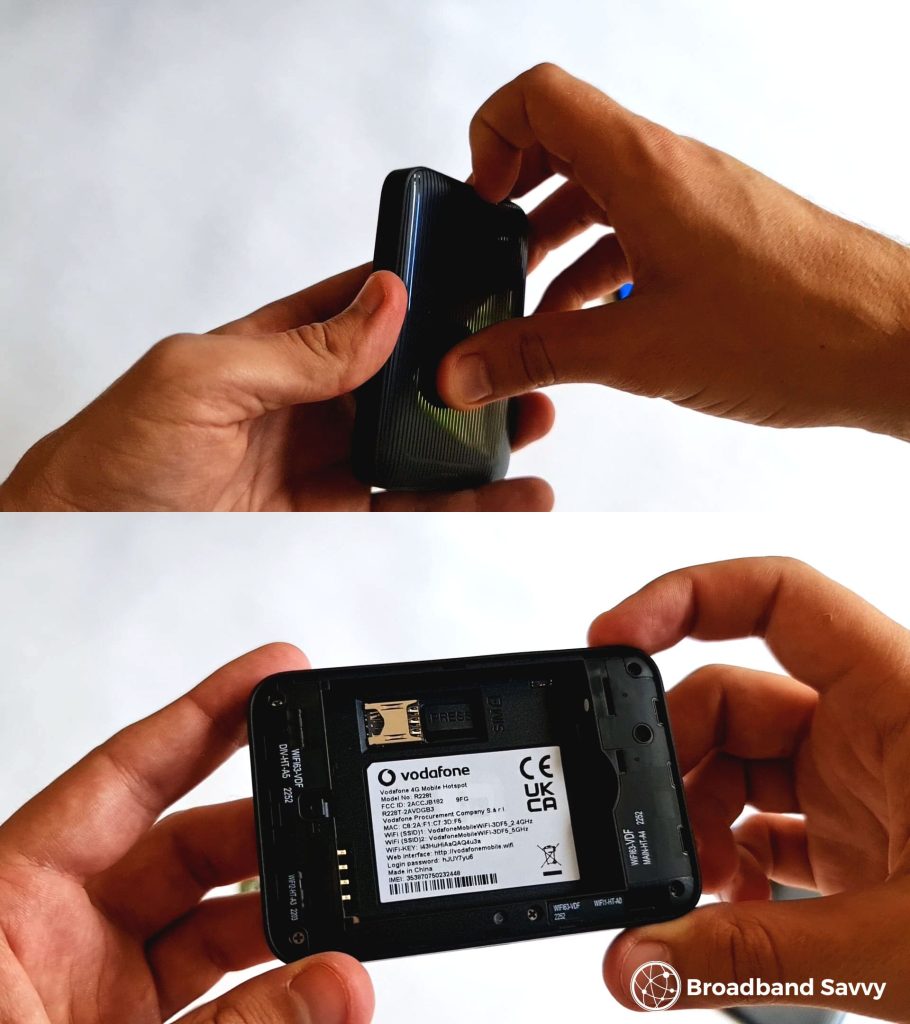 Then, take out the SIM card from its plastic punch-out card. You need the smallest SIM card, also known as a nano SIM.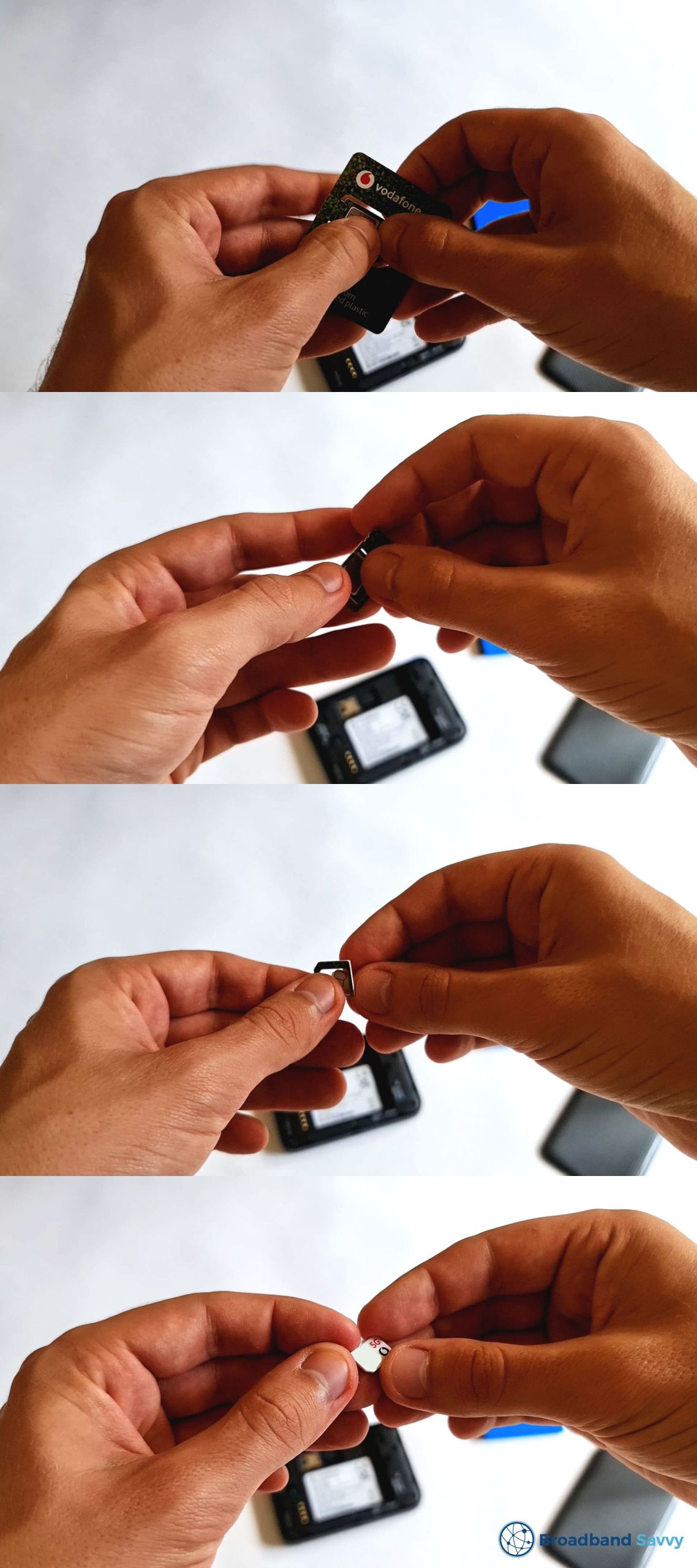 Next, push the SIM card down on top of the tab inside the MiFi device that says "Push", and slide it to the left, into the SIM card tray.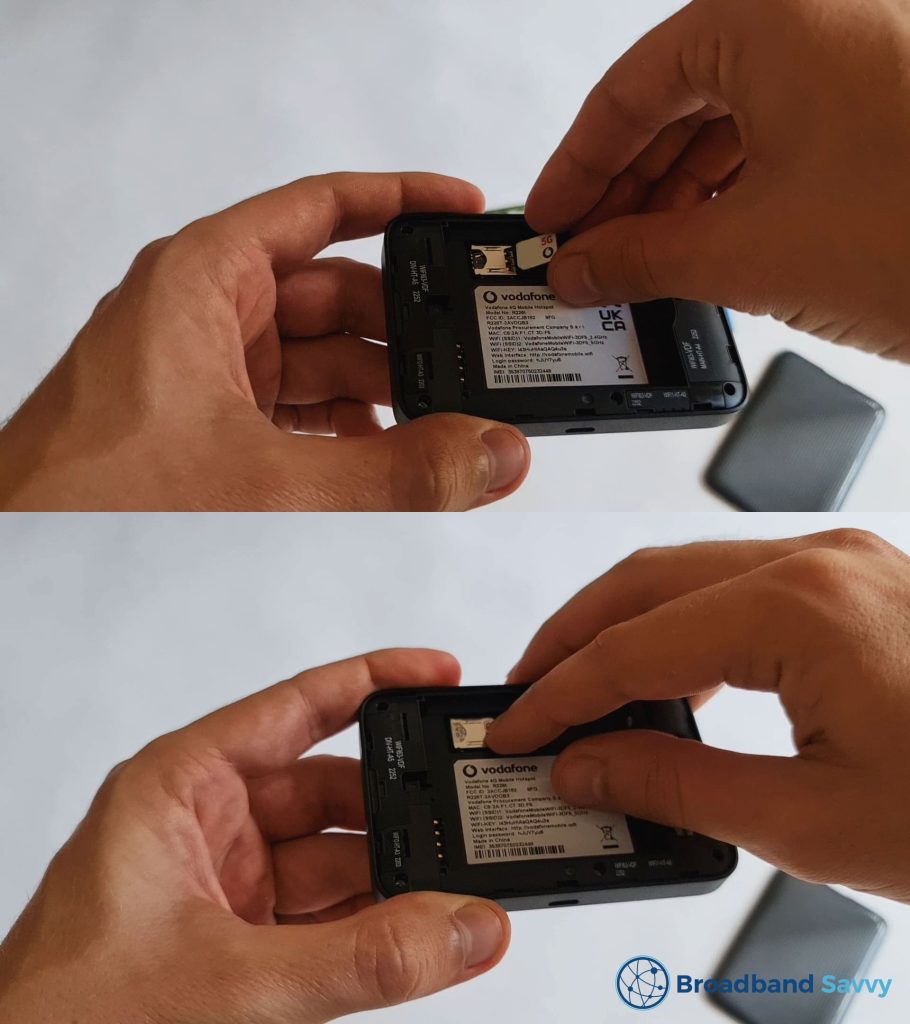 Step #2: insert the battery
Now that the SIM card is in position, the next thing you'll need to do is insert the battery.
To do this, line up the gold tabs on the MiFi device with the gold spots on the battery, and push it into place.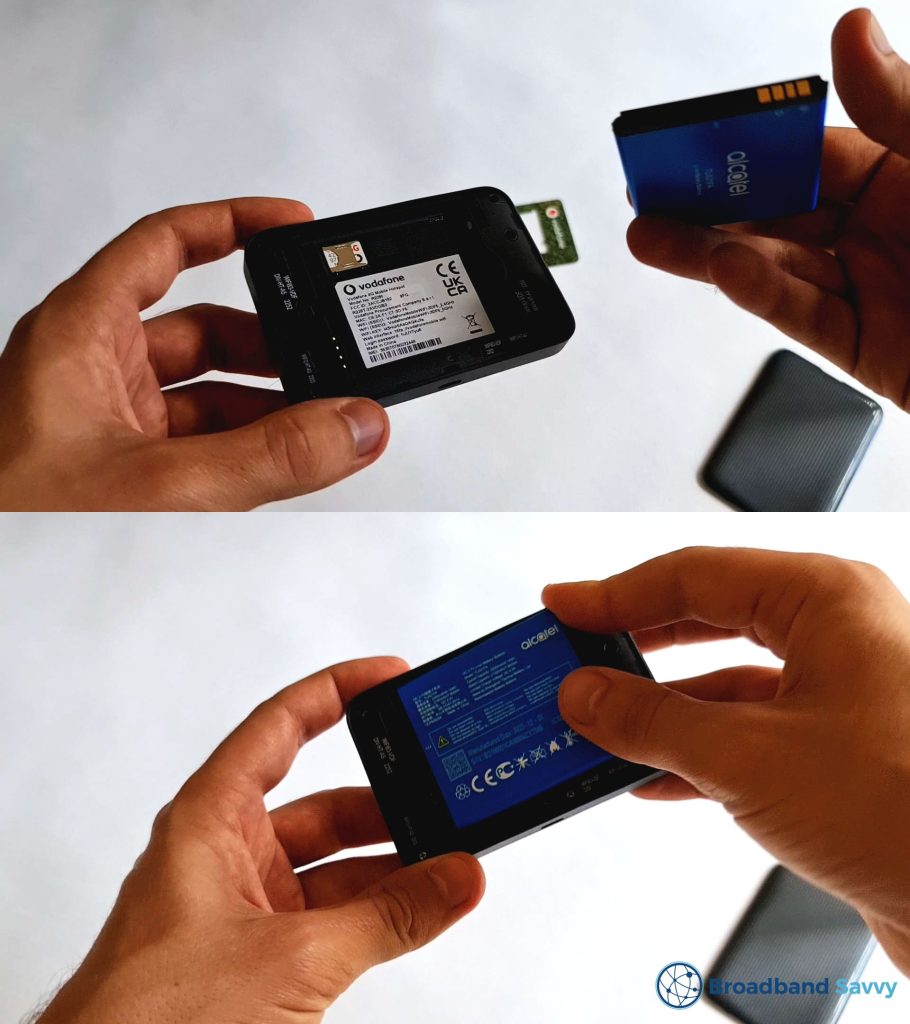 Once this is done, clip the cover back into place by pushing down firmly around the edges.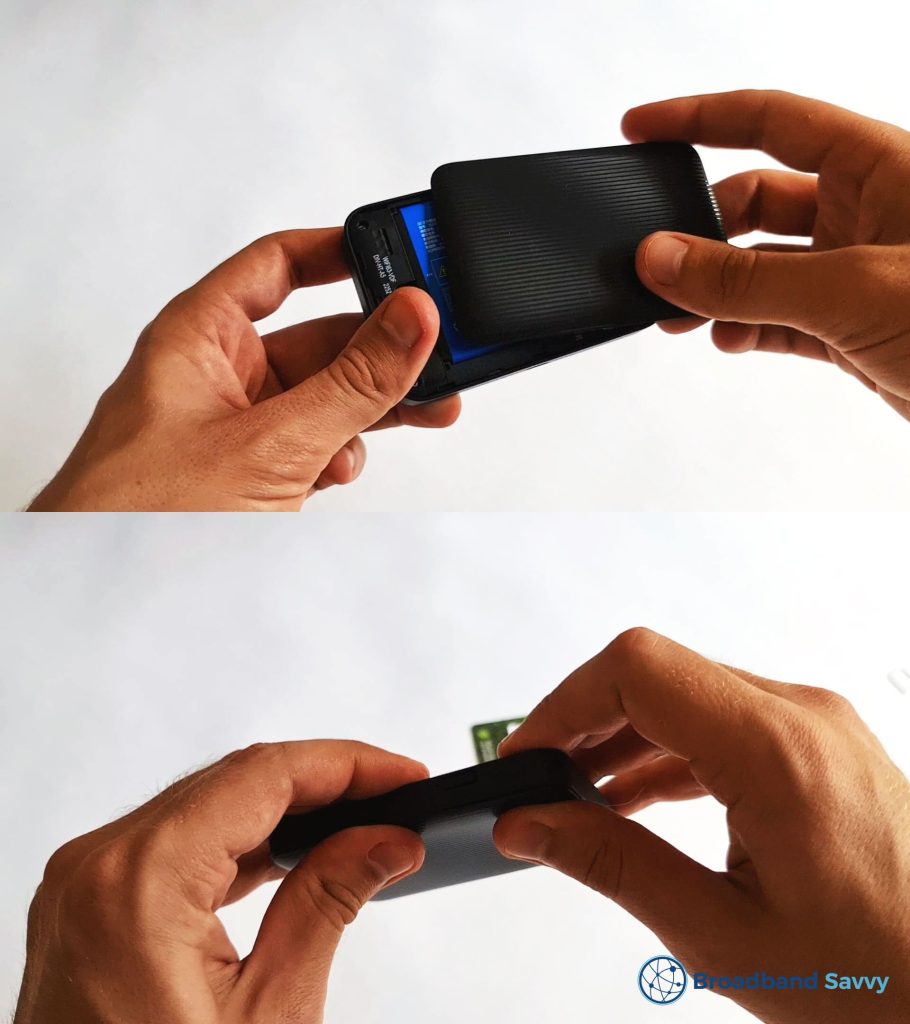 Step #3: power on the MiFi device
Hold down the power button on the side of the device for about five seconds, until the lights turn on.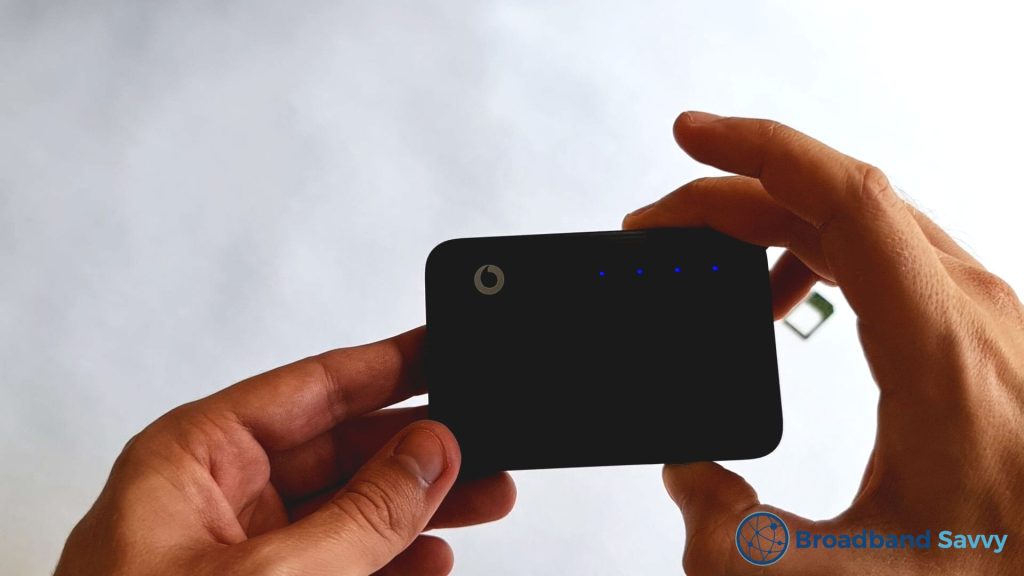 The R228t will then set itself up, which may take a few moments.
During this time, all the lights on the device will turn blue. When it's ready, and the hotspot is active, the signal light will turn red or blue and the SMS light will turn off.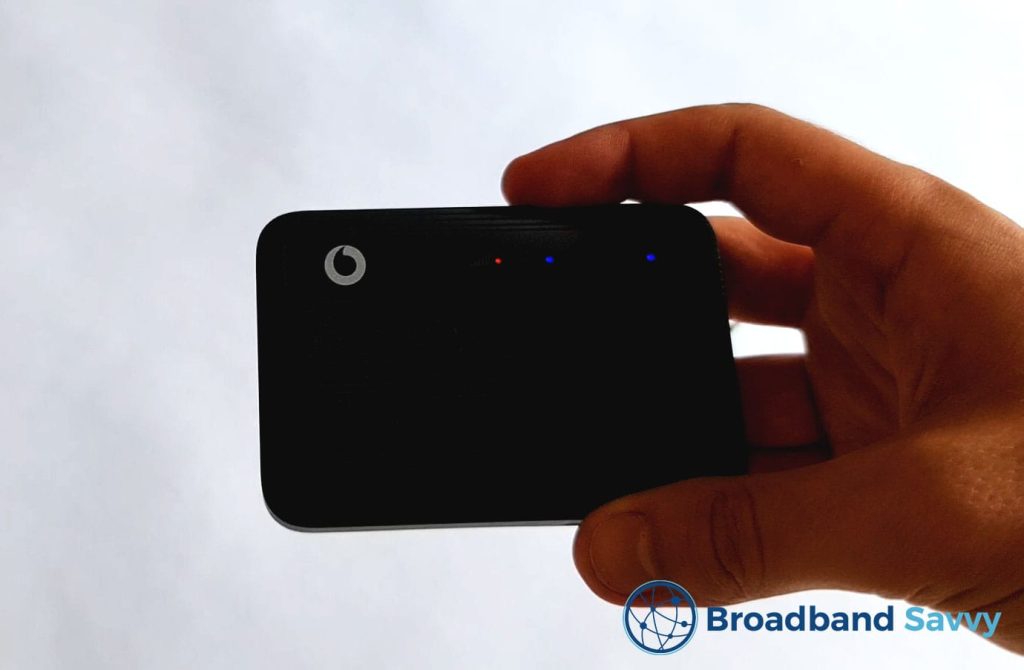 We found that once the device was set up, its signal light was red, rather than blue, which seemed to imply that our Vodafone 4G signal was bad – the supplied information booklets did not specify the meaning of a red or blue light.
Despite this, our download speeds were still as expected. Therefore, even if the signal light only turns red, it's still worth trying to get online at this stage.
Once we restarted the MiFi device, the signal light turned blue, and stayed this colour for the rest of the time we used it.
Step #4: connect to Wi-Fi
At this point, you're ready to connect to the MiFi device's Wi-Fi network.
You can log into Wi-Fi using the details provided on the reminder card. These Wi-Fi login details are also printed inside the MiFi device on a label under the battery, in case you lose the reminder card.

Vodafone MiFi speed tests
We tested the Vodafone R228t's signal in a range of situations, to see how good its speeds are, and how good its Wi-Fi signal is.
These tests were performed in a four-bedroom detached house, with some internal brick walls. The house is not massive, but is a decent size, so we were able to test the mobile hotspot's Wi-Fi signal at a distance.
When doing each test, we paused all other internet activity, such as listening to music. However, certain background data usage may have occurred while the tests were running.
It's also worth mentioning, we have good indoor and outdoor 4G signal at this address, according to the Vodafone network coverage checker.
Speed test #1: MiFi device on desk
This test was performed with the computer and MiFi device on the same desk, in an upstairs bedroom.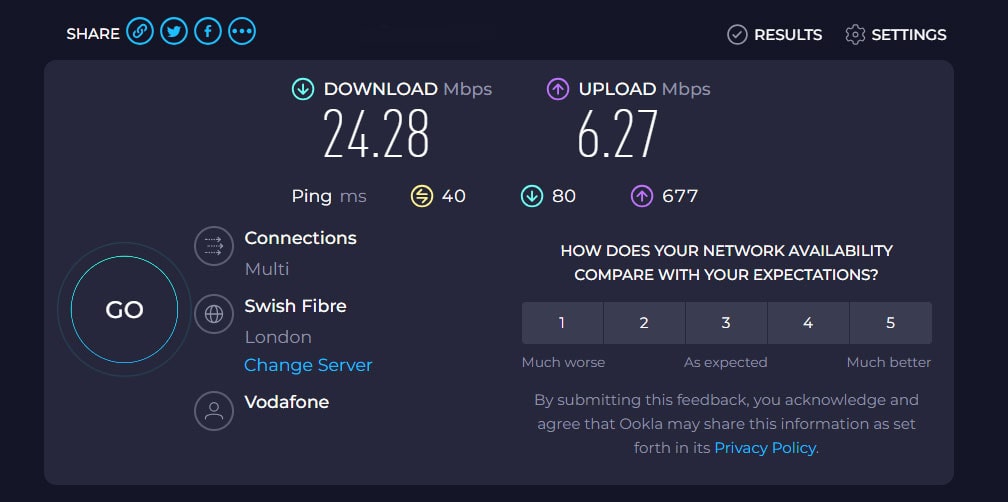 Download speed: 24.28 Mbps
Upload speed: 6.27 Mbps
Latency: 40ms
Speed test #2: MiFi device on windowsill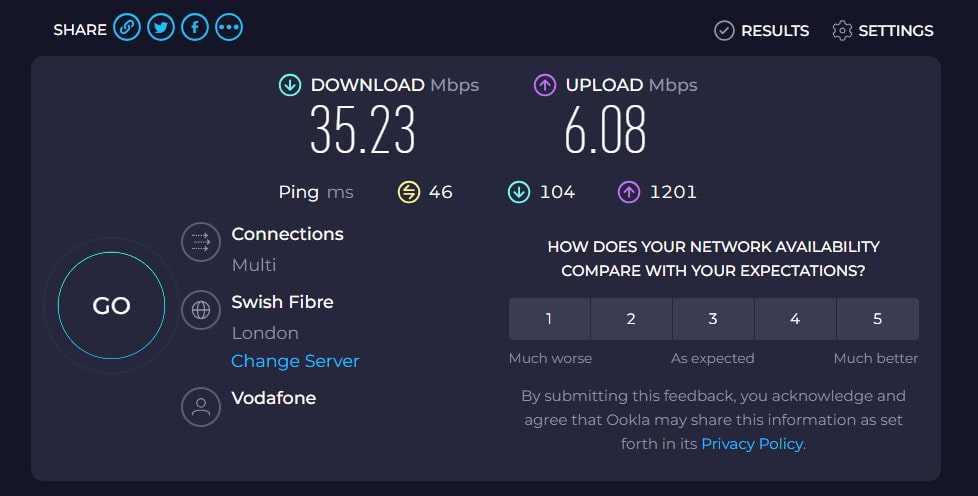 This test was performed on a computer about three metres away from the MiFi device. The device was moved to a windowsill in the same upstairs bedroom.
Download speed: 35.23 Mbps
Upload speed: 6.08 Mbps
Latency: 46 Mbps
Speed test #3: MiFi device on windowsill, from a distance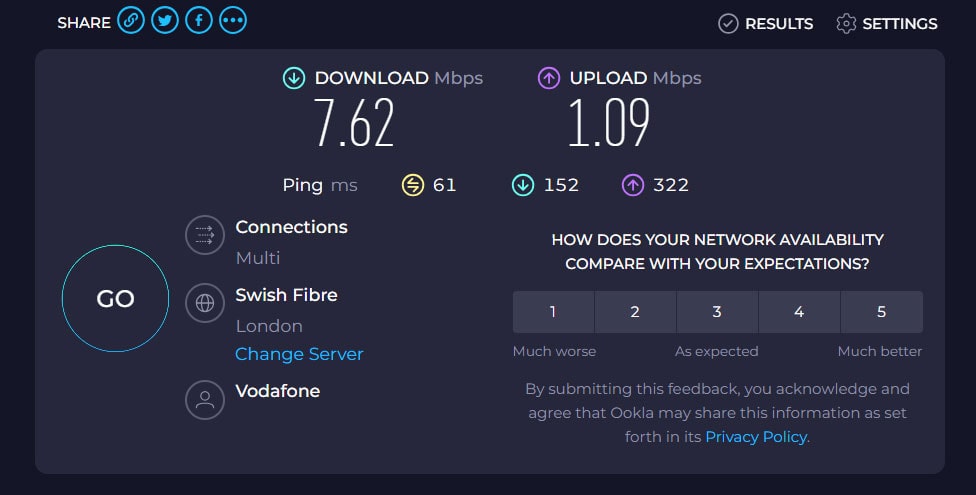 This test was performed with the MiFi device in the same position on the upstairs windowsill, but with the computer downstairs, on the other side of the house.
Download speed: 7.62 Mbps
Upload speed: 1.09 Mbps
Latency: 61ms
In ideal conditions, we're quite happy with the speeds offered by the Vodafone MiFi device using 4G.
With the MiFi device on an upstairs windowsill, and our test device close by, we typically received a speed of 30-35 Mbps, which is quite good for 4G mobile broadband. In addition, our speeds did not drop off considerably when moving into other rooms, and our connection was consistent – when watching YouTube videos for example, our experience was seamless.
It's worth noting, to get the most from this MiFi device, you will need to test it in different locations around the house, to see where your Vodafone 4G signal is strongest. Typically, somewhere high up on the edge of the house is a good place to start.
The R228t's Wi-Fi signal does tend to fall off over long distances. Although our internet connection never dropped out, our speeds slowed down considerably when getting online from the other side of the house to the device.
We wouldn't recommend this mobile Wi-Fi device if you have a large house and want to get online from multiple different rooms, without moving the hotspot device. In this case, something like the Three 4G Hub would be a better choice, as it provides better Wi-Fi signal over long distances, and is better suited for getting online with multiple devices at the same time.
What speeds will you get at your address?
It's important to note, these speed test results we received may not be the same as what you experience at your address.
The exact download and upload speeds you'll receive with Vodafone mobile broadband depend on the Vodafone mobile signal where you live, and could range from 15-50 Mbps on average.
Before buying, it's important to put your postcode into the Vodafone network coverage map, to check your signal.
Ensure that you have good indoor and outdoor 4G signal at your address before buying Vodafone MiFi, to ensure that you'll get reasonable download speeds of at least 20-30 Mbps or so.

Vodafone MiFi battery life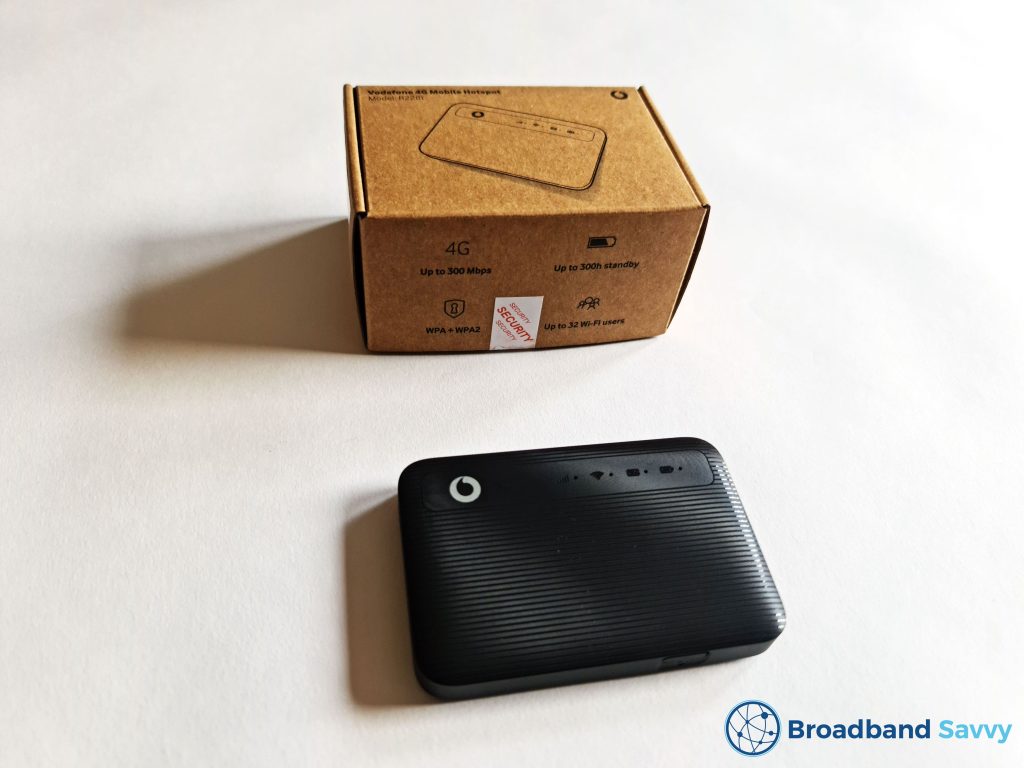 The R228t battery is advertised to last for up to 11.8 hours of constant usage, or up to 300 hours on standby, with no devices connected to the Wi-Fi hotspot.
We found Vodafone's battery life figures to be quite accurate. The device would run almost indefinitely when not in use. And when we were connected to Wi-Fi, we found it lasted for a full day of working from home and then using the internet in the evening, which was about 16 hours in total.
Accounting for breaks during the day, the R228t lasted for at least 12 hours of internet usage on a single charge, doing activities such as watching videos, writing in Google Docs, downloading small files, and having Zoom meetings.

Vodafone MiFi value for money
The Vodafone R228t offers good mobile broadband speeds, and a long battery life, but is it good value for money?
Data plans and contracts
You can buy this MiFi device from Vodafone with either 4GB, 30GB, or unlimited monthly data.
You also have the choice of a pay as you go contract or a pay monthly agreement. The PAYM option requires passing a credit check, and entering into a 12 or 24 month commitment.
The benefit of committing to a pay monthly contract is your upfront costs and monthly costs will be much lower, while a pay as you go contract is much more flexible – it can be cancelled with a month's notice.
This range of data packages Vodafone offers is quite limited, in our opinion. For most people, you're going to need unlimited data – 30GB is not much usage, unless you only browse the web and read emails occasionally.
It would be good to see a 100GB data limit plan, for people who don't quite need unlimited data.
Vodafone MiFi vs other mobile broadband providers
The Vodafone R228t is much cheaper than EE's MiFi offers, but is a good bit more expensive than Three MiFi.
EE doesn't offer pay as you go contracts on their MiFi deals, unlike Vodafone. You have to commit for 24 months, but their monthly costs are very expensive.
By comparison, Three offers 30-day, 12 month, and 24 month MiFi contracts, and their monthly and upfront costs are lower than Vodafone's. You can get unlimited data for a much cheaper price.
Compared to Three mobile Wi-Fi, Vodafone MiFi is not great value for money. It's also more expensive than Three's 5G home broadband package, the 5G Hub.
However, if you can't get Three 4G or 5G signal where you live, Vodafone will likely be the cheapest way to get online using mobile broadband.
Before buying though, just ensure to see if you can get Three mobile broadband instead, using the Three coverage checker. If you can get Three 4G, it's a good idea to compare their MiFi prices to Vodafone's, to see how much cheaper they would be.

Can I use Vodafone MiFi overseas?
You can use the Vodafone MiFi device to get online abroad, but extra charges and usage limits apply.
To get online overseas, the first thing to do is check the Vodafone roaming allowance you have, based on whether you're on a pay as you go or pay monthly contract.
For example, if you're planning on getting online in an EU country and you're on a pay as you go contract, roaming is inclusive in Ireland and the Isle of Man, but you have to pay £5 to roam for eight days in 49 EU countries, and you can only use up to 3GB of data. Read more about Vodafone's roaming policies here.
If you have a roaming allowance, or are willing to pay for one, and the data limit meets your needs, the next step is to enable roaming in the MiFi device's settings.
To do this, you need to login to the router's settings by entering 192.168.0.1 in your browser's address bar, and logging in with the details provided on the reminder card.
Then, navigate to Settings > Setup > Network connection, and enable "Data roaming".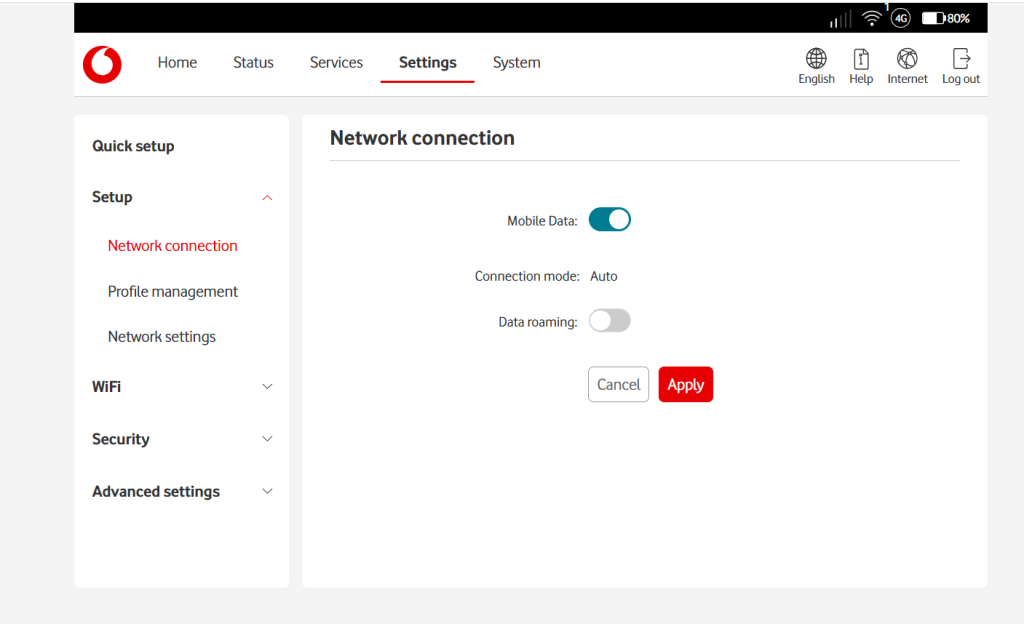 Verdict: is Vodafone MiFi any good?
There are lots of things to like about Vodafone MiFi:
Their device is easy to set up.
The R228t has great battery life for a 4G MiFi device.
The R228t offers good download and upload speeds.
Vodafone has a range of different PAYG and PAYM deals you can choose to pair this device with.
However, this mobile Wi-Fi device doesn't have the best Wi-Fi signal if you have a large house. Although it offers good speeds, at a long distance, your download and upload speeds will be significantly slower.
Also, Vodafone MiFi is not great value for money compared to Three mobile broadband.
Although Three's Huawei MiFi device isn't quite as good, it offers much better value for money, especially if you want unlimited data, no matter whether you're looking for a pay as you go or a pay monthly contract.
Therefore, we only recommend Vodafone mobile Wi-Fi if you can't get Three 4G signal at your address (click here to check).
Overall, we rate Vodafone MiFi 3.7 out of 5. Although it offers good speeds and great battery life, and is easy to set up, there are better alternatives on the market.

Vodafone MiFi alternatives
If you're not sure about the Vodafone MiFi device, here are some alternative ways to get online with mobile broadband that you might consider using.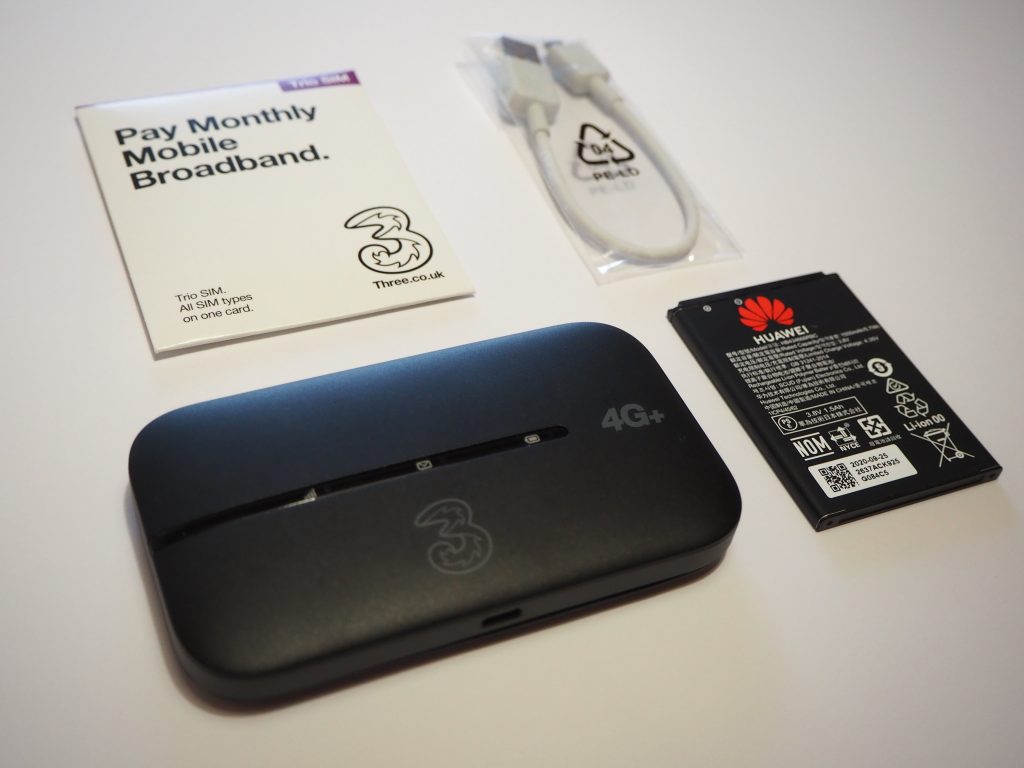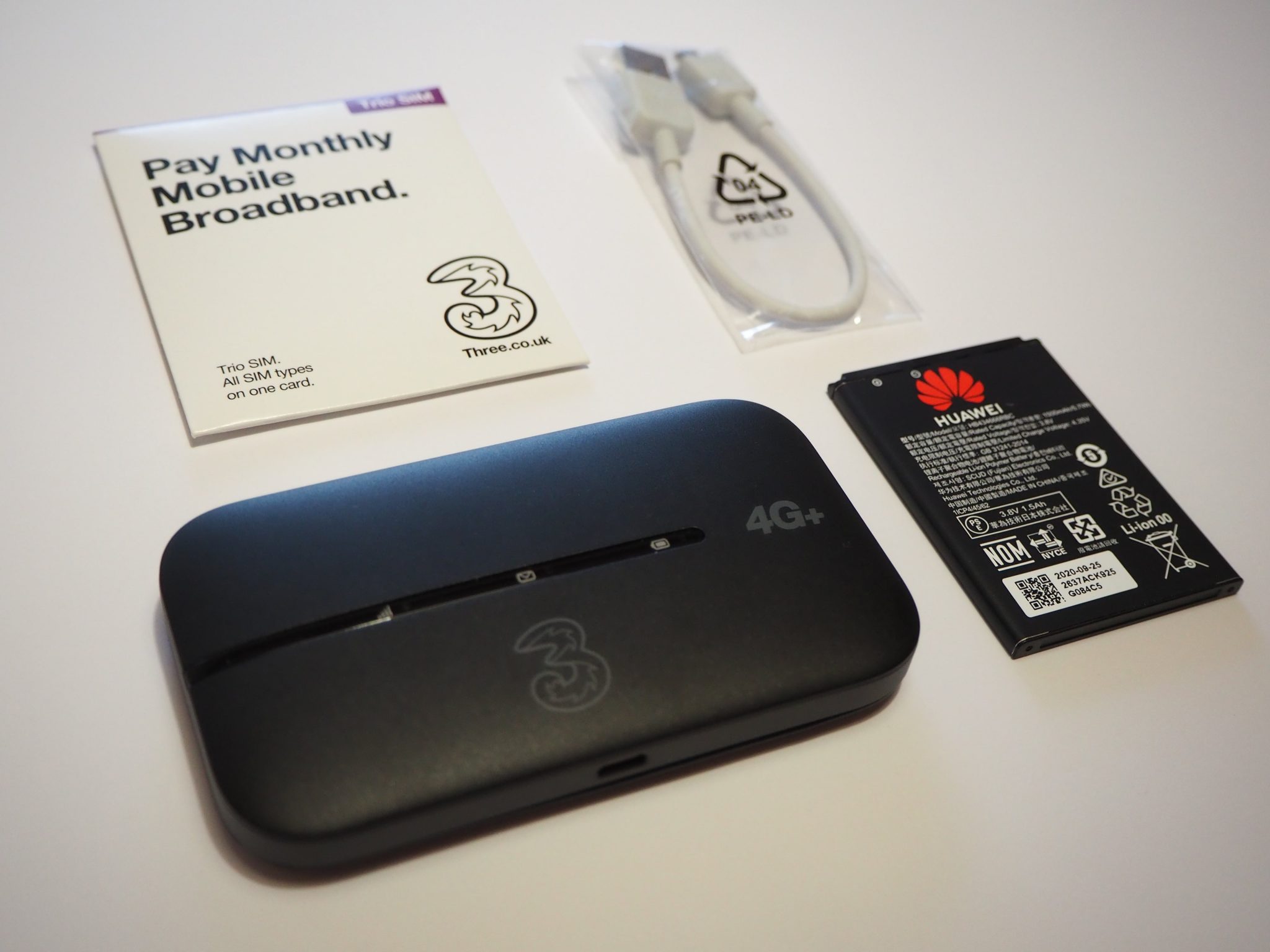 Compared to Vodafone, Three MiFi is much cheaper – you can get more data for a lower price.
This device is very similar to Vodafone's MiFi hotspot, but the data plans are much better value – the upfront fees and monthly costs are significantly lower.
If you get good Three 4G signal where you live, their Huawei 4G+ MiFi device is a better choice than the Vodafone R228t, in most cases.
If you want faster download speeds, and live somewhere with Vodafone 5G signal, you can also get their 5G MiFi device instead.
Compared to the R228t 4G MiFi device, this mobile hotspot is a much more advanced bit of kit. It can support download speeds of more than 500 Mbps using 5G, and it even comes with a touchscreen.
The downside is, 5G mobile Wi-Fi from Vodafone is much more expensive. The upfront costs are very high, unless you commit for 24 months.
Also, this device doesn't have as good battery life as the R228t, simply because 5G is more energy-intensive.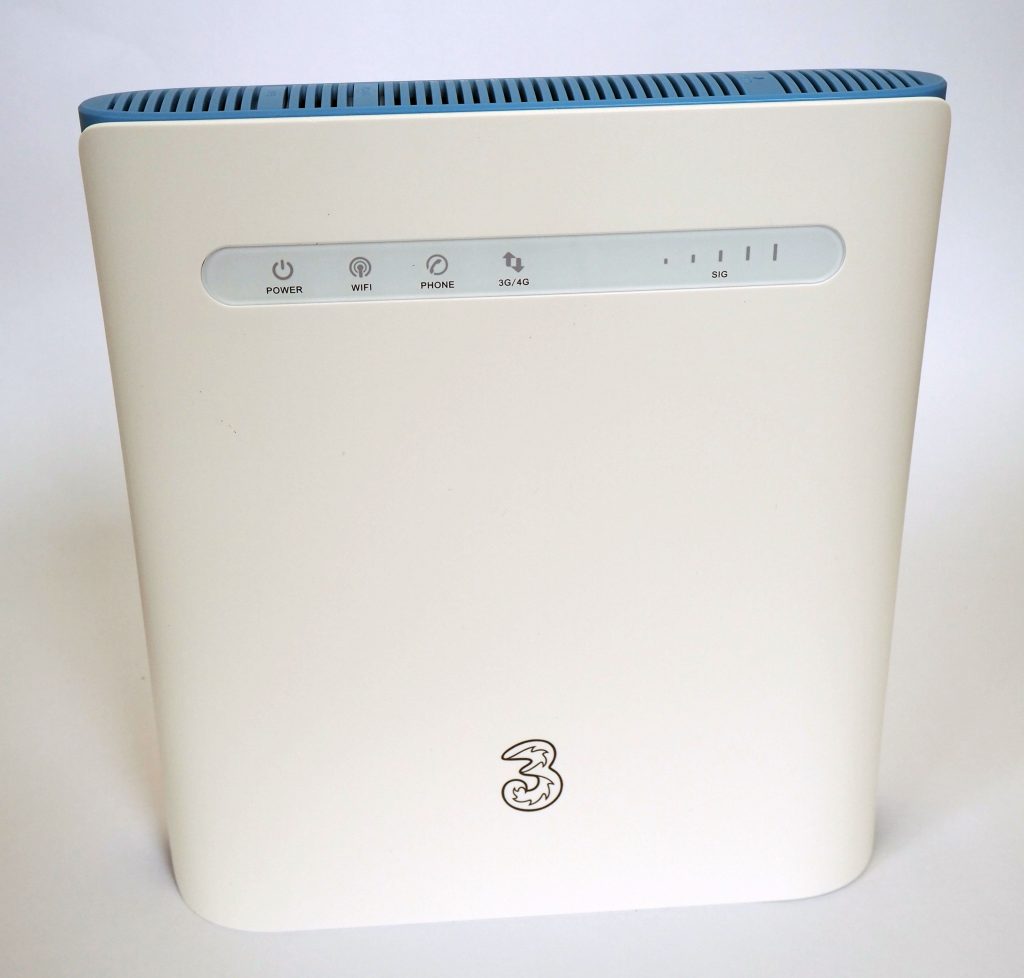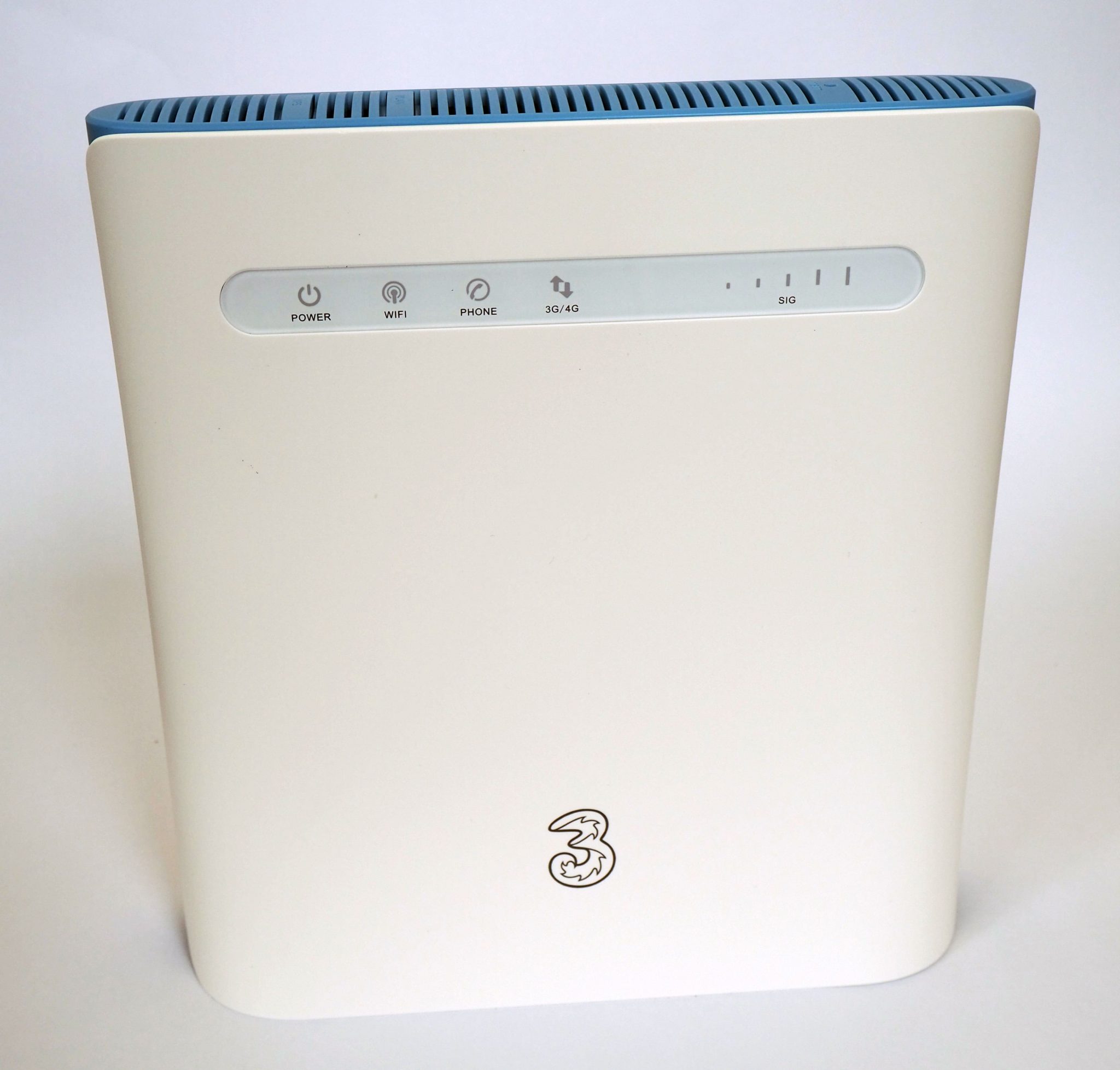 If you're planning on using 4G mobile broadband as your main way of getting online at home, you might be better off with a 4G router, instead of a MiFi device.
Compared to a mobile hotspot device, the Three 4G Hub offers better Wi-Fi signal, and allows you to get online with more devices at the same time.
Although the 4G Hub is very reasonably priced, given it always comes with unlimited data, you do have to commit to a 24 month contract with Three.
Also, the 4G Hub isn't as portable as using MiFi – since it doesn't come with a battery, it needs to be plugged in all the time.

Conclusion
This is the end of our review of the Vodafone R228t MiFi device.
Still not sure whether to buy this mobile Wi-Fi device, or one of the alternatives discussed above? Leave a comment below, and we'll get back to you.
About the author

Tyler built his first PC at the age of 12, and since then, he's become obsessed with all things networking and internet-related. He's a massive gamer, loves Rocket League, and also plays Sunday League football.