Are you considering buying a Vodafone MiFi device?
In this article, we've reviewed the Vodafone R219, which is their 4G MiFi device. We've also looked at the mobile broadband plans and deals Vodafone sells with the R219, to see if it's worth buying.
Let's begin.
Vodafone MiFi overview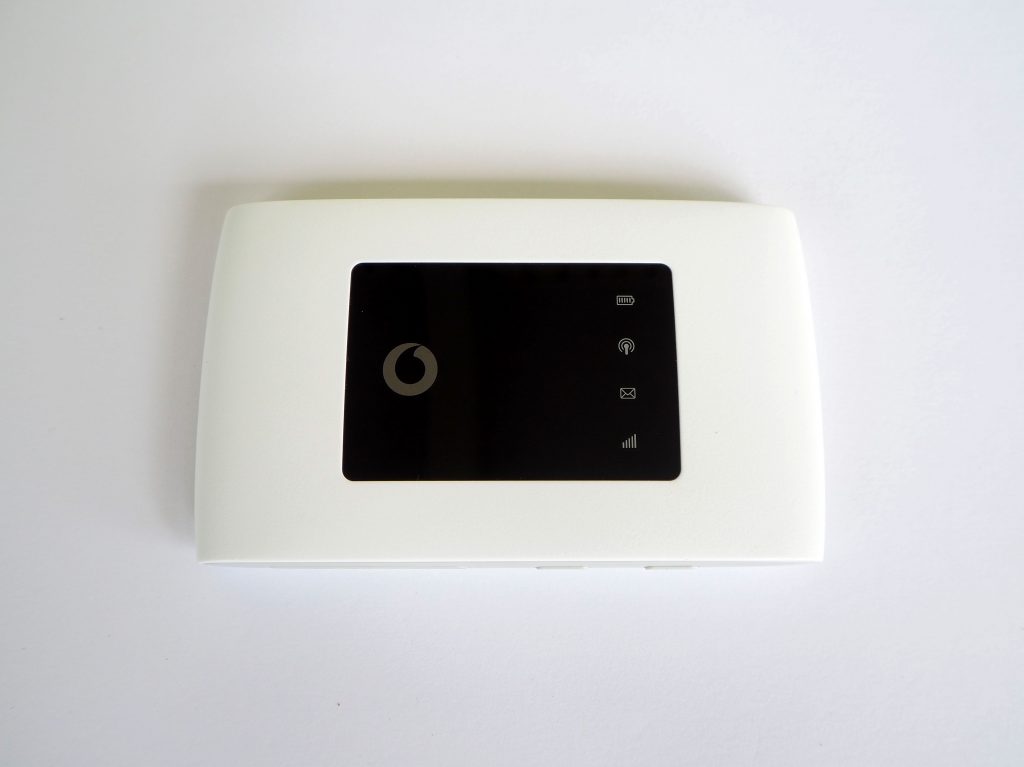 | | |
| --- | --- |
| Download speeds | 15-50Mbps, depending on 4G coverage in your area |
| Contract lengths | Monthly. 12 months, or 24 months |
| Data plans | 4GB, 10GB, 30GB, or unlimited data |
| Rating | 3.8 (out of 5) |
| Price | Check on Vodafone |
Vodafone currently sells two different MiFi devices:
A 4G MiFi device, which we've reviewed in this guide.
A 5G MiFi device, which works in a very similar way to their 4G MiFi device, except it has faster speeds, and can connect more devices at once.
Of the two, their 4G MiFi device definitely offers better value, which is why we have reviewed it. The 5G mobile broadband device has extremely high upfront costs.
Using the Vodafone R219, you can create a basic WiFi hotspot, which up to ten devices can connect to at once. It uses the Vodafone 4G network, just like your phone, to establish an internet connection.
When you buy this device from Vodafone, you'll have the ability to pair it with a data plan – the device comes with a SIM card. You can either pay as you go on a month to month basis, or pay monthly on a longer-term contract.
Vodafone R219 MiFi specifications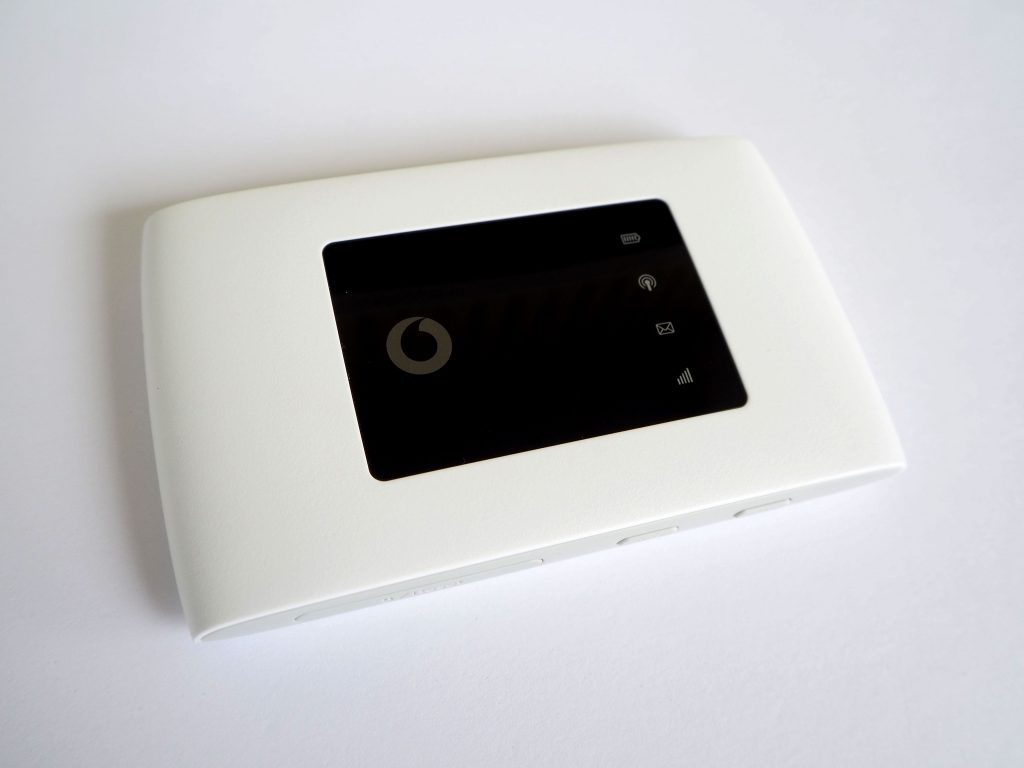 Height: 63.8mm
Width: 105.6mm
Depth: 14.4mm
Weight: 102g
Battery: 2000mAh, up to 8 hours
Maximum concurrent devices connected: up to 10
Maximum download speed: 150Mbps
Maximum upload speed: 50Mbps
WiFi range: approximately 10 metres
WiFi frequency bands: 2.4GHz and 5GHz
Charging port: micro USB
SIM: micro SIM slot
Vodafone MiFi device setup
Once you order this mobile WiFi device from Vodafone, it typically arrives in 3-5 working days.
The device will arrive in a small box, which contains everything you need to get started.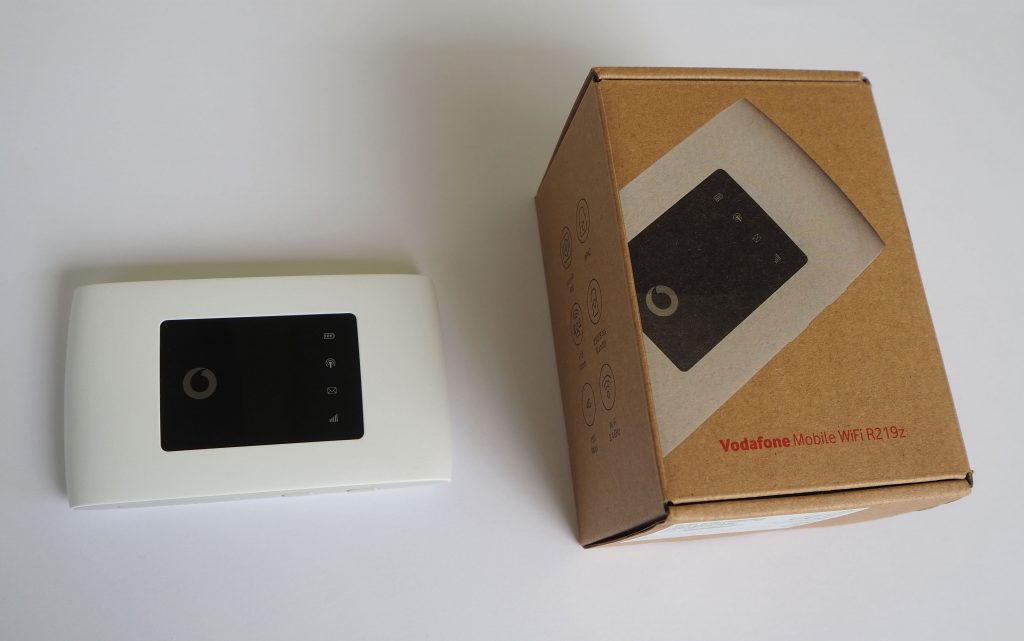 In the box, you'll find:
The MiFi device.
A quick start guide.
A charging cable.
A charging plug.
A Vodafone SIM card.
A WiFi login details card.
A product safety booklet.
An ErP conformity disclaimer.
Getting started with the R219 is quite a simple process.
Note: you can watch our setup of this device on YouTube, if you'd prefer:
Step 1: Installing the SIM card
The first thing you need to do is install the micro SIM card into the device.
To do this, there is a SIM card slot on the back of the R219. First, lift up the protective cover.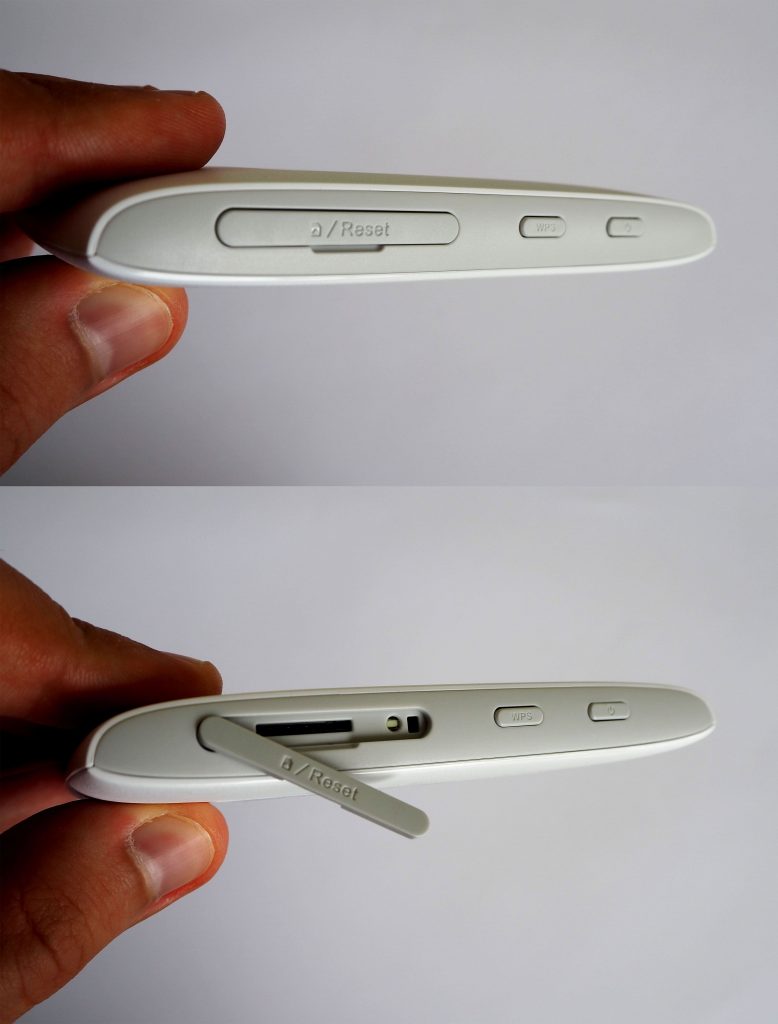 Then, slide in the SIM card to insert it, with the SIM facing upwards. You will feel it click into place once it's in. Then, you can push the cover back into place. Remember, you want the micro SIM card, which is the second-smallest one.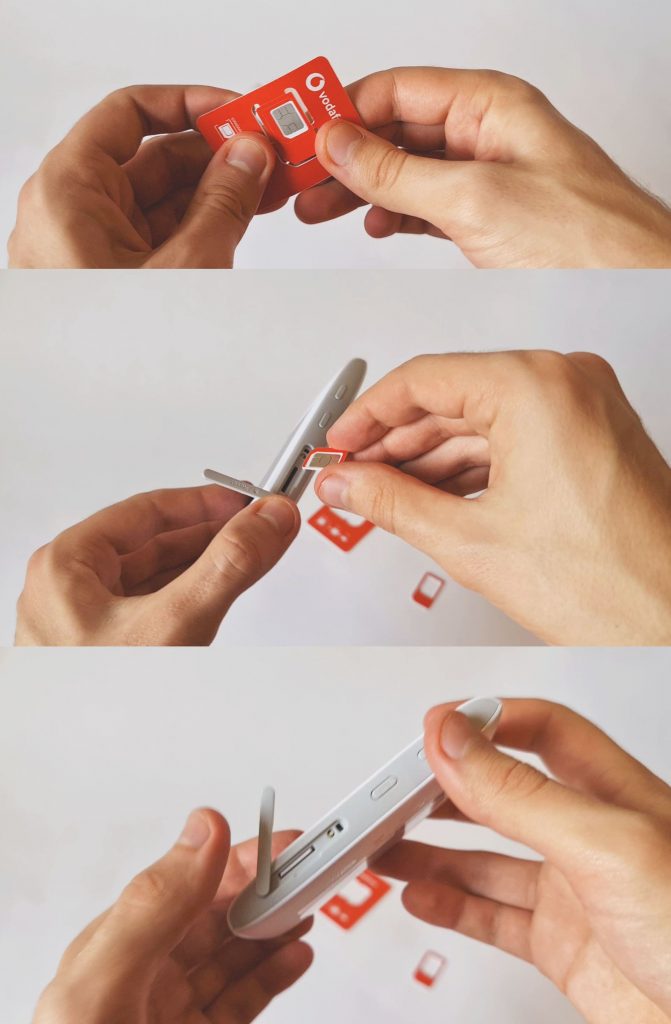 With the Vodafone R219, the battery is already installed inside the device. You don't need to install it yourself, like you do with most other MiFi devices.
Step 2: Charge the device
At this stage, it's a good idea to charge your MiFi device. Our device did not come with any charge when it arrived, unlike the EE or Three MiFi hotspots we have reviewed previously.
To do this, simply take the charging cable out of its packaging, and plug the USB end into the charging plug. Then, connect the micro USB end to your MiFi device, and leave it to charge for a few hours.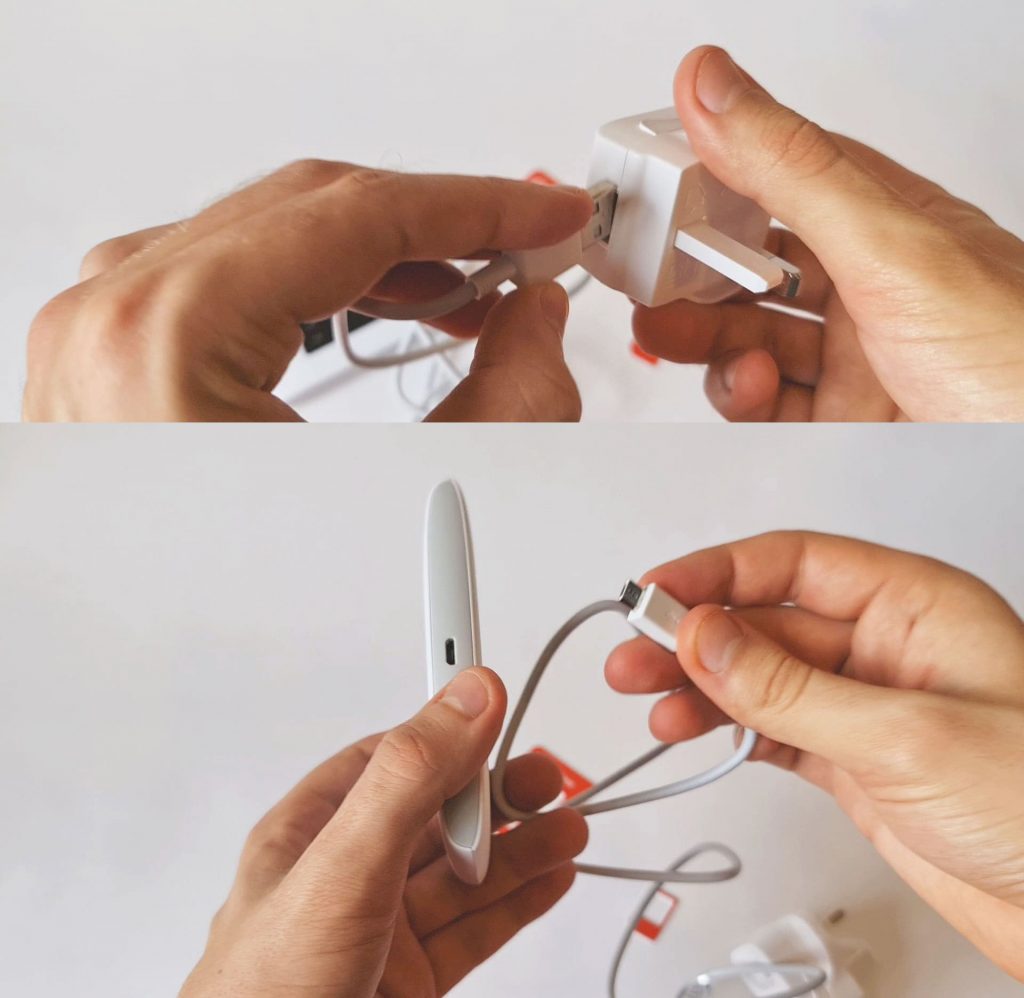 Step 3: Turn on the device
Now you can push the power button on the bottom of the device, to power it on.
Hold it down for about four seconds, or until the lights on the front of the device turn on.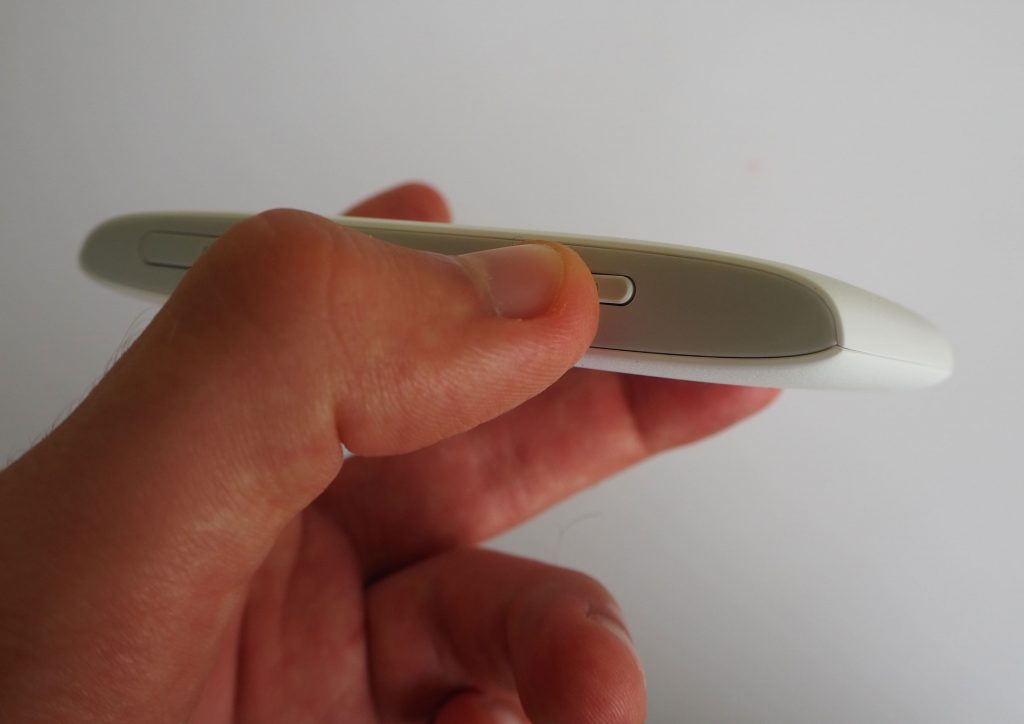 Each light will illuminate in order, and this cycle will repeat for about 10 seconds. Once the MiFi device has fully powered on, the battery light will turn green or blue, and stay on, and the signal bar light will turn blue.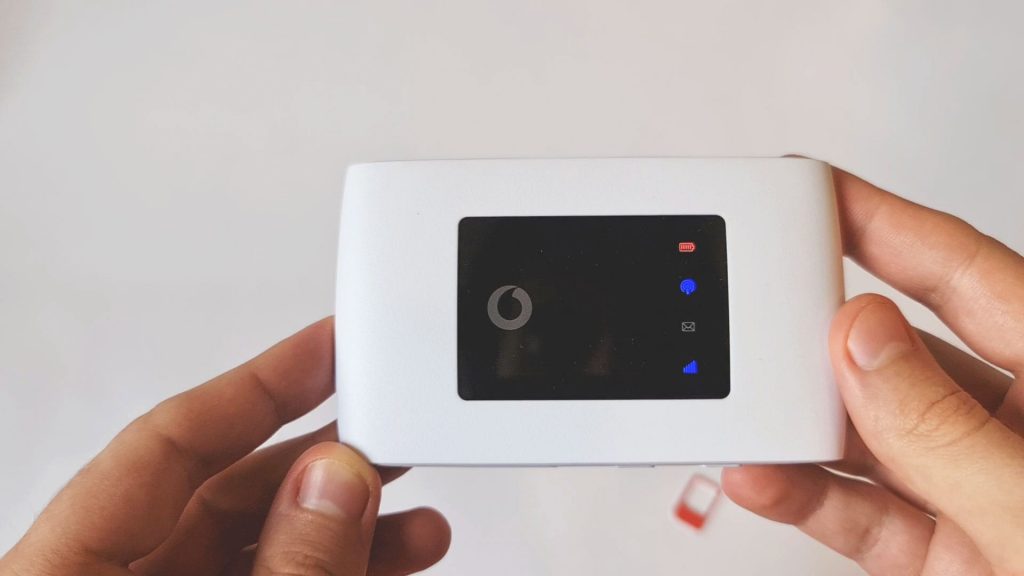 Step 4: Connect to WiFi
After turning the device on, you can connect to its WiFi network.
To do this, you can use the WiFi details included on a special card inside the box. You can also use the sticker on the back of the device to find the WiFi password.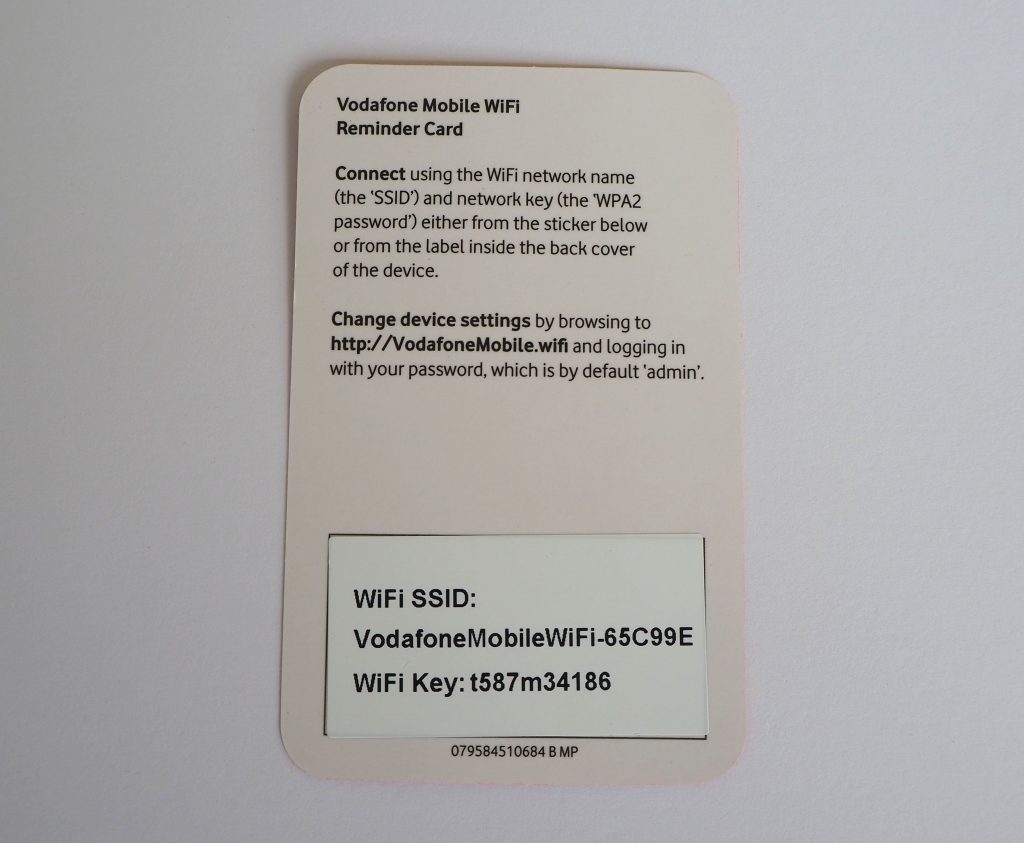 What's good about the Vodafone MiFi device
There are a lot of things to like about the Vodafone MiFi device, when compared with similar mobile WiFi devices:
It has a really long battery life. This device will give you about 8 hours of use, and will last for about 250 hours on standby, before needing to be recharged. Most other similar devices will only last for about 6 hours.
The device is especially easy to set up and use. Most MiFi devices are easy to get started with, but this one is even easier, because the battery comes pre-installed. Most other devices require you to put it in yourself. It's also very easy to insert the SIM card with this device, relative to most other similar products.
There are some great-value deals available with this device from Vodafone, especially if you can commit to a pay monthly contract.
The device itself performs really well. It provides a strong WiFi connection, and works nicely with multiple devices connected.
What's not so good about the Vodafone MiFi device
However, there are also some downsides to this Vodafone mobile WiFi device.
Some of Vodafone's MiFi data plans have a download speed limit of 10 Mbps. To get full 4G LTE speeds, you'll need to make sure to get a "Max" plan, which costs a bit more.
Although Vodafone MiFi is reasonably priced, their data bundles are not the cheapest on the market. Currently, Three offers cheaper MiFi plans.
This device doesn't support 5G, even though Vodafone labels their data plans as "5G Ready". You'll need to buy their more expensive 5G MiFi device to get ultrafast speeds.
Although you can connect 10 devices at once, this mobile WiFi hotspot isn't capable of handling ten people doing data-intensive activities at once. If you have more than five devices simultaneously requesting large amounts of data, then your internet will slow down.
To address some of these downsides, you could consider getting a 4G router, like Three's 4G Hub, to get online. These 4G routers are less portable than MiFi, but provide a stronger WiFi signal, unlimited data, and faster download speeds.

Vodafone MiFi deals
Vodafone offers quite a lot of choice if you want to pair this device with one of their MiFi deals.
Data and contracts
You can either buy this mobile broadband device on a pay as you go plan, which renews every 30 days, or you can buy a pay monthly contract. If you choose a pay monthly deal, you'll have to commit for either 12 months or 24 months.
If you choose a pay as you go 30 day contract, you'll have to pay a decent upfront cost. On the other hand, the 12 and 24 month plans have no upfront cost. If you commit for 24 months, rather than 12 months, your monthly cost will be lower.
When it comes to your data allowance, you also have a lot of choice. There are deals with 4GB, 10GB, 30GB, or unlimited data per month.
This means that if you won't use MiFi much, you don't have to pay for more data than you need. However, it would be good to see some more plans available with higher data limits.
If you want to use the R219 MiFi device a lot, but don't quite need unlimited data, then there isn't really a good plan to choose. With their MiFi device, EE offers a 125GB plan, for example, which is good for those with high data demands.
Pricing
Vodafone MiFi deals cost anything from £10 to £37 per month, mostly depending on the contract length you choose, as well as your data allowance.
On the whole, Vodafone's MiFi deals are quite reasonably priced, especially if you can commit to at least a 12 month contract, and avoid paying an upfront cost. Vodafone MiFi is cheaper than EE MiFi, but is more expensive than Three MiFi. If you want to save as much money as possible, or want a cheap pay as you go plan, Three is a better choice.
It's also worth noting that Vodafone offers this mobile WiFi device half price for 6 months, on certain 24 month contracts. This is definitely worth looking at, especially if you plan to use this device for an extended period.

How fast is Vodafone MiFi?
Typically, you can expect to receive average download speeds of 15-50 Mbps using the Vodafone R219 MiFi device. Your upload speeds will average between 5-8 Mbps, assuming you can get a good 4G signal, and are not on a limited speed plan.
Some Vodafone MiFi plans come with a 10 Mbps maximum download speed, which is quite slow. It's important to ensure that you spend a bit more for a  "Max" plan, to avoid having your speeds limited.
If you're on Max plan, the main thing that influences the speeds you'll get with this device is the 4G mobile network coverage in your area, and the signal you can get with this device.
Although the maximum theoretical download speed of this device is 150 Mbps, you won't get speeds this fast most of the time, unless you're right next to a 4G mast.
Before buying, it's a good idea to use the Vodafone coverage checker to see what sort of coverage you get at your address. Once you enter your postcode, look for good indoor and outdoor 4G coverage.

To maximise your speeds once you get the device, you can:
Position it as high up as possible, such as on a bookshelf.
Position it as close to a window as possible, such as on a window ledge.
Try to point the device in multiple different directions, to see which direction allows the device's 4G antennae to pick up the best signal.
Can I use Vodafone MiFi abroad?
The R219 MiFi device does work abroad, however the amount of data you can use depends on your SIM plan, and Vodafone's current roaming rules.
If you have an unlimited data plan, there will be a 25GB fair usage cap in the EU, and other destinations may incur extra roaming charges. On a pay as you go plan, there are no roaming charges in most EU countries, but it's important to check the fine print, as this can vary by country.
Before getting online overseas, you'll need to enable data roaming on your mobile broadband plan. To do this, log into the device, by entering your local IP address into your web browser (normally 192.168.0.1). Then, click "Mobile Network" at the top, then "Internet Connection" on the left. On this page, will then be a data roaming option that you can click.

Is Vodafone MiFi any good? Our verdict
There are a lot of things to like about the Vodafone MiFi device.
It's a quality piece of hardware, with a long battery life, and it's easy to set up. The Vodafone R219 offers great speeds for a reasonable price.
Using this mobile WiFi device, you can get online easily, including when travelling overseas. It provides a simple way to browse the internet, view social media, and watch videos, and you can get this device on a pay as you go contract if you'd prefer.
However, it's a bit of a shame that Vodafone limits your download speeds with some of their plans. They also have high monthly costs if you choose a 30-day deal, and if you want a lot of data, you'll need to buy an unlimited data plan. There are no 50-100GB plans available.
Overall, we give Vodafone MiFi 3.8 out of 5. This device is a great choice, especially if you know Vodafone offers good 4G coverage in your area. We just wish that Vodafone's data plans were a bit cheaper.

Vodafone MiFi alternatives
If you're not sure whether Vodafone MiFi is the right choice for you, there are a few other devices you could consider using to get online using 4G mobile broadband.
This device is very similar to the Vodafone R219. It can connect up to 10 devices at once, and is similar in size, although it has a slightly shorter battery life.
The difference is, Three's data plans and contracts are typically much cheaper than with Vodafone. While Three's upfront costs are a bit higher, especially on a 12 month deal, their monthly costs are lower, making them cheaper over the life of the contract.
Unless you particularly want to avoid Three, or have bad experiences with their network in your area, the Huawei 4G Plus is definitely worth looking at.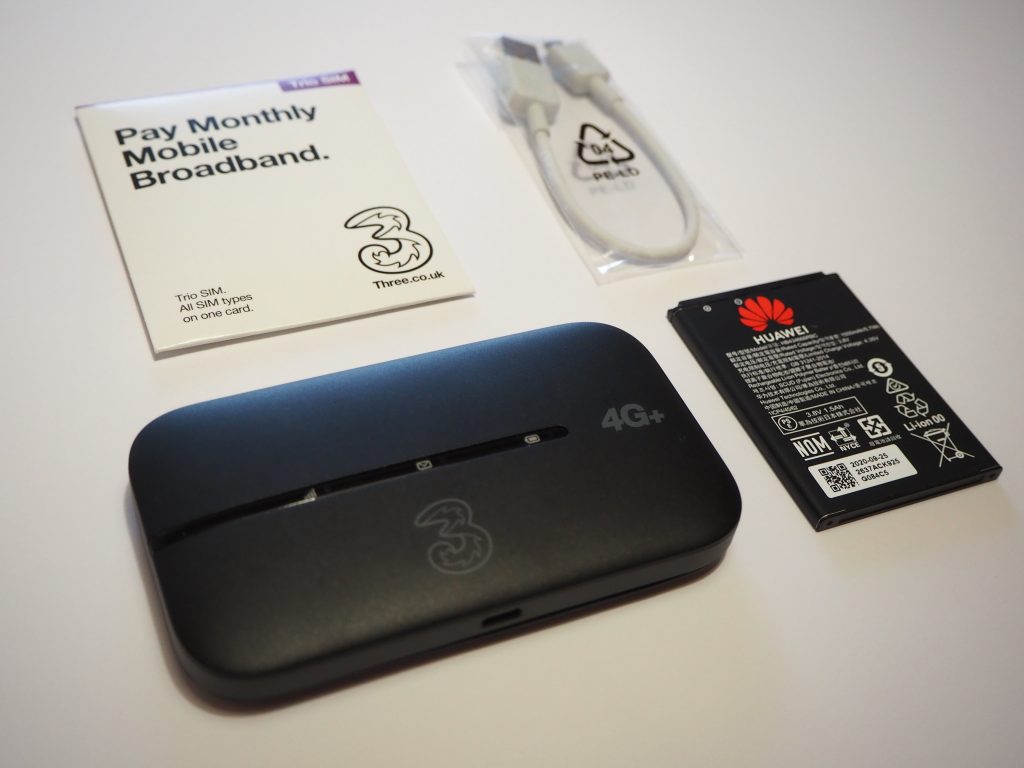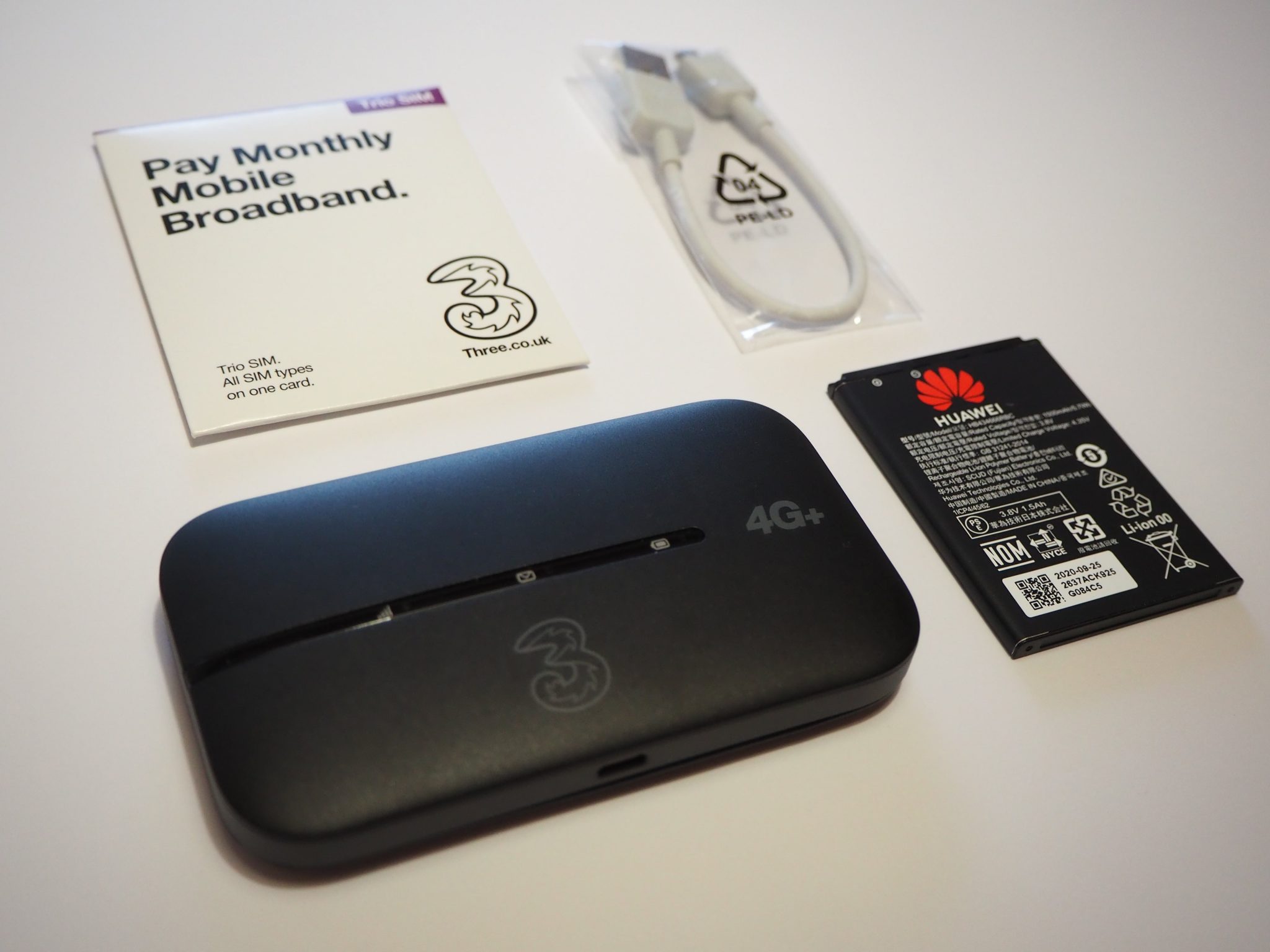 EE offers some of the most expensive MiFi packages in the UK right now. Buying their 4GEE WiFi Mini device is not going to be cheap, especially if you want a lot of data.
However, this device is a really good bit of kit. It can handle up to 64 devices connected at once, and has great battery life.
Plus, this device uses the EE 4G network, which has the best coverage of any mobile carrier in the UK. Therefore, it's easy to get a good signal.
Ultimately, money no object, this device is a great choice. But if you're on a budget, it's probably not the best choice.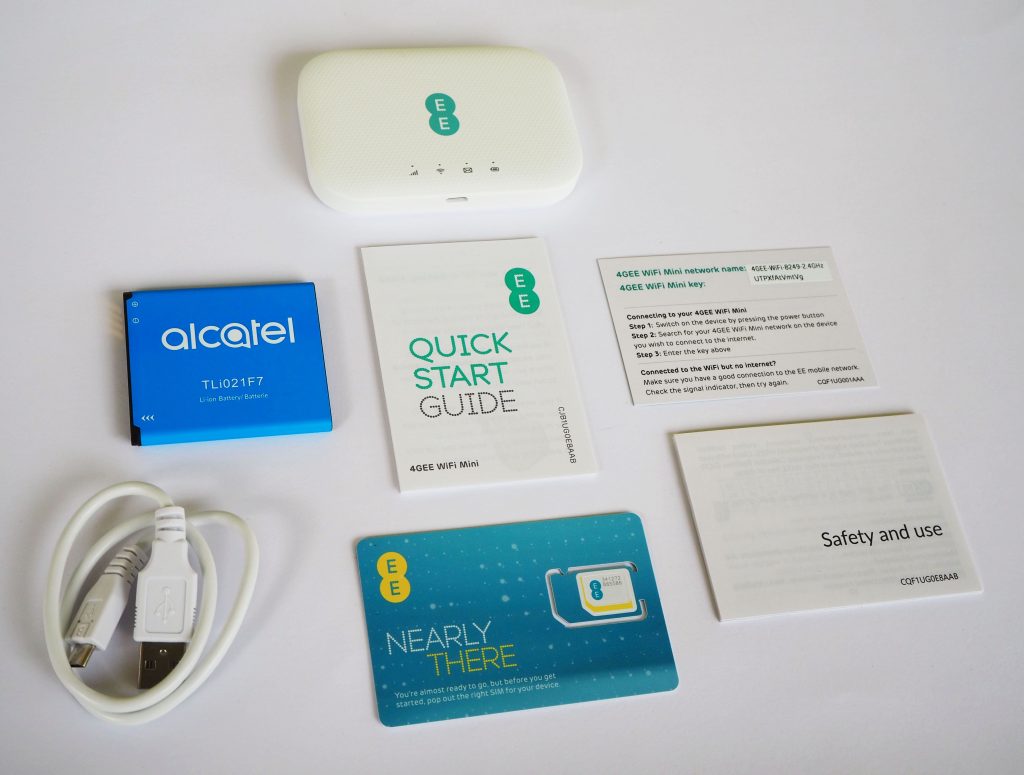 Rather than buying a MiFi device, you could also consider Vodafone's dongle.
Instead of creating a WiFi hotspot, a dongle plugs directly into the device you want get online with, such as your laptop or Macbook.
As a result, this dongle is very simple to use, and is cheaper to buy than Vodafone's mobile WiFi device. This is partly because it doesn't have a battery, since it gets its power from the device it's plugged into.
However, you'll only be able to get online with one device at a time using the K5161, which is the main downside to using a dongle instead of MiFi.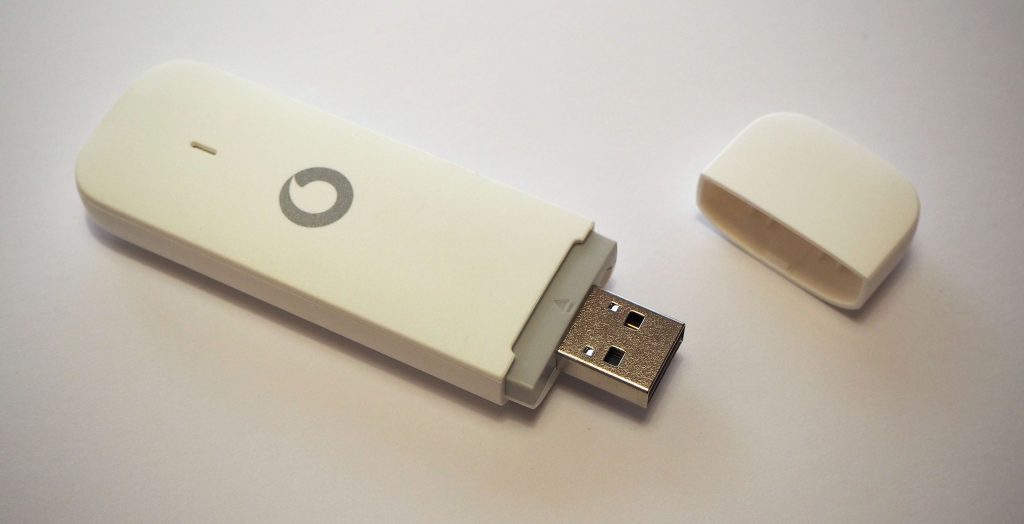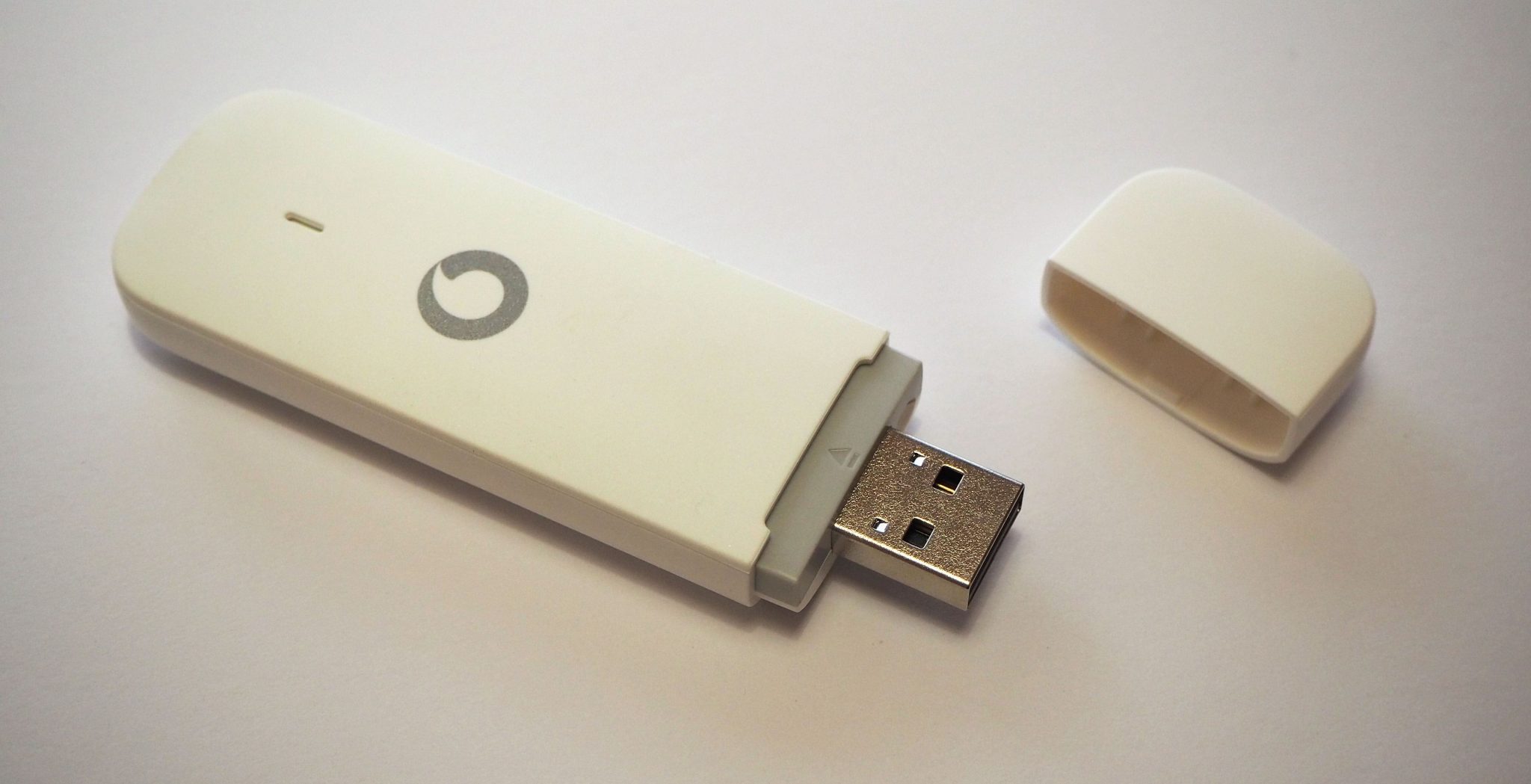 Conclusion
You've reached the end of our Vodafone MiFi review.
Still unsure whether or not this is the right device for you? Feel free to leave a comment below, and we'll get right back to you.
About the author

Tyler built his first PC at the age of 12, and since then, he's become obsessed with all things networking and internet-related. He's a massive gamer, loves Rocket League, and also plays Sunday League football.