Best UK Cities for Geeks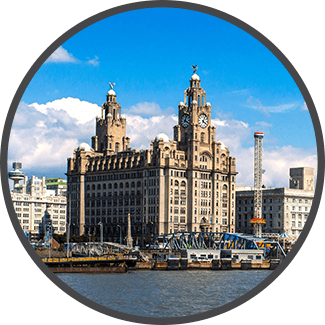 LIVERPOOL
Fast broadband, heaps of science museums, and lots of collectables stores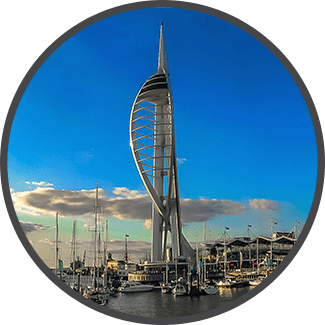 PORTSMOUTH
Ultra-fast broadband, a low cost of living, plenty of comic book stores, and regular anime/gaming expos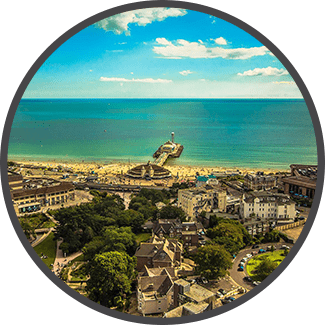 BOURNEMOUTH
Fast broadband, and 0.28 comic book stores per square mile – the most in the UK
Top 25 Best Cities for Geeks To Visit or Live*
| Rank | City | Average download speed | Collectables stores per square mile | Comic book stores per square mile | Anime/Comicon conventions each year | Live action role playing (LARP) groups | Science museums | Cost of rent (one bed apartment) | Tech jobs per 1000 people | SCORE |
| --- | --- | --- | --- | --- | --- | --- | --- | --- | --- | --- |
| 1 | Liverpool | 77 | 0.21 | 0.14 | 2 | 1 | 3 | £700.73 | 0.2662 | 67.68 |
| 2 | Portsmouth | 113 | 0.06 | 0.26 | 2 | 1 | 0 | £602.50 | 1.2053 | 64.66 |
| 3 | Bournemouth | 93 | 0.11 | 0.28 | 1 | 0 | 0 | £862.50 | 0.599 | 62.53 |
| 4 | Kingston upon Hull | 162 | 0.14 | 0.11 | 1 | 1 | 0 | £527.50 | 0.2006 | 60.50 |
| 5 | Bristol | 99 | 0.13 | 0.13 | 2 | 4 | 1 | £1001.15 | 0.8327 | 59.72 |
| 6 | Glasgow | 68 | 0.06 | 0.15 | 4 | 3 | 2 | £775.00 | 0.4361 | 58.07 |
| 7 | Blackpool | 74 | 0.23 | 0.08 | 1 | 0 | 0 | £350.00 | 0.3091 | 56.26 |
| 8 | Ipswich | 63 | 0.13 | 0.2 | 1 | 0 | 0 | £691.67 | 0.4473 | 54.68 |
| 9 | Nottingham | 85 | 0.08 | 0.13 | 3 | 2 | 1 | £708.67 | 0.3343 | 54.58 |
| 10 | Birmingham | 91 | 0.04 | 0.06 | 4 | 4 | 3 | £780.02 | 0.6095 | 53.58 |
| 11 | Stoke-on-Trent | 87 | 0.03 | 0.11 | 1 | 7 | 0 | £525.00 | 0.2387 | 53.58 |
| 12 | London | 99 | 0.01 | 0.01 | 5 | 10 | 4 | £1779.31 | 0.6841 | 53.10 |
| 13 | Norwich | 67 | 0.07 | 0.2 | 2 | 1 | 0 | £837.50 | 0.4316 | 51.42 |
| 14 | Plymouth | 99 | 0.13 | 0.1 | 2 | 1 | 0 | £800.00 | 0.0807 | 50.69 |
| 15 | Doncaster | 95 | 0.12 | 0.06 | 1 | 0 | 1 | £425.00 | 2.4978 | 49.6 |
| 16 | Newcastle upon Tyne | 68 | 0.02 | 0.14 | 3 | 1 | 2 | £721.00 | 1.6893 | 49.05 |
| 17 | Oxford | 99 | 0.17 | 0.06 | 0 | 1 | 1 | £1150.00 | 2.9875 | 48.11 |
| 18 | Cardiff | 68 | 0.04 | 0.11 | 2 | 3 | 1 | £756.25 | 1.0687 | 47.07 |
| 19 | Sheffield | 62 | 0.04 | 0.06 | 3 | 2 | 3 | £693.57 | 0.588 | 46.42 |
| 20 | Milton Keynes | 49 | 0.06 | 0.12 | 2 | 2 | 2 | £1010.00 | 1.4178 | 45.86 |
| 21 | Belfast | 171 | 0.02 | 0.06 | 2 | 1 | 1 | £787.50 | 0.4586 | 45.5 |
| 22 | Leicester | 80 | 0.04 | 0.11 | 1 | 3 | 1 | £750.00 | 0.6484 | 45.28 |
| 23 | Slough | 99 | 0.09 | 0 | 0 | 1 | 0 | £916.67 | 13.4879 | 44.76 |
| 24 | Derby | 93 | 0.03 | 0 | 1 | 7 | 0 | £500.00 | 0.9761 | 44.6 |
| 25 | Southampton | 106 | 0 | 0.14 | 2 | 0 | 1 | £754.00 | 0.987 | 44.28 |
Best Performers: Download Speeds
| Overall rank | City | Average download speed |
| --- | --- | --- |
| #21 | Belfast | 171 Mbps |
| #4 | Kingston upon Hull | 162 Mbps |
| #36 | Swansea | 130 Mbps |
| #33 | Crawley | 121 Mbps |
| #2 | Portsmouth | 113 Mbps |
For many geeks, good download speeds are an absolute must. You need fast broadband to be able to download video game updates quickly, and stream your favourite Star Trek series without experiencing buffering.
Cities outside of England performed particularly well in this area, due to a greater focus on broadband infrastructure investment, with Belfast and Swansea coming in first and third respectively.
Kingston upon Hull came in second place, because broadband in this part of the UK is provided by KCOM, which offers full fibre in most areas. In most other parts of the country, Openreach and BT have much less full fibre coverage.
Best Performers: Collectables Stores
| Overall rank | City | Collectibles stores per square mile |
| --- | --- | --- |
| #7 | Blackpool | 0.23 |
| #1 | Liverpool | 0.21 |
| #17 | Oxford | 0.17 |
| #4 | Kingston upon Hull | 0.14 |
| #5 | Bristol | 0.13 |
If you're visiting a city as a geek, it's really great to have plenty of collectables shops to explore, without having to travel huge distances.
As a relatively small city, Blackpool has plenty of collectables stores within a short distance of each other, including Brooks Collectables on Waterloo Road by the sea, and I Collectables just around the corner on Bond Street. A bit further out from the town centre, Lazy Dragon Gaming caters to Pokémon and Magic: The Gathering trading card game enthusiasts.
Liverpool is a relatively larger city than Blackpool, but has an even greater number of collectables stores, at nine in total, including a Forbidden Planet outlet. If you're looking for a greater range of stores to go to, and don't mind travelling a bit, Liverpool is a great city to visit.
Best Performers: Comic Book Stores
| Overall Rank | City | Comic book stores per square mile |
| --- | --- | --- |
| #3 | Bournemouth | 0.28 |
| #2 | Portsmouth | 0.26 |
| #8 | Norwich | 0.20 |
| #13 | Ipswich | 0.1971 |
| #6 | Glasgow | 0.15 |
Another type of store you might like to explore as a geek is comic book stores. Apart from comics, these shops also often sell action figures and other pop culture memorabilia.
Bournemouth has a very high concentration of comic book stores. There are five in the city in total, including Comix, Frog Bros Comics, and Tomodachi Ten Anime & Manga, and it's relatively easy to travel to each of them if you do a day trip.
Across The Solent, Portsmouth was close behind Bournemouth, with just 0.02 fewer comic book stores per square mile. However, many of these stores are within easy walking distance, especially around Cascades Shopping Centre, where you'll find Geek Retreat Portsmouth – a shop dedicated to comics, trading card games, figurines, and plenty of other geeky pastimes.
Further north, Norwich barely beat out Ipswich, with just 0.003 more comic book stores per square mile. Both cities have the same number of shops, at three each, but these stores are more spread out in Ipswich.
Best Performers: Anime/Comicon Conventions
| Overall Rank | City | Anime/Comicon conventions each year | Names |
| --- | --- | --- | --- |
| #12 | London | 5 | LFCC x3, MCM, London Anime & Gaming Con |
| #6 | Glasgow | 4 | Film & Comic Con Glasgow, GCC, GAGC, Animangapop |
| #10 | Birmingham | 4 | MCM, Film and Comic Con, Megacon, Birmingham Anime & Gaming Con |
| #9 | Nottingham | 3 | NCC, EM-Con, KokoroCon |
| #16 | Newcastle upon Tyne | 3 | Sunnycon, NCC, NAGC |
When it comes to in-person conventions, the major cities stood out. London has held five anime/Comicon conventions in the previous year, the most of any city in the UK, as is to be expected.
However, there were a surprising number of geeky conventions in Glasgow – the city has its own Comicon every year, as well as an anime/manga convention, which is quite rare in the UK. If you're looking for a place to live as a geek who loves going to in-person conventions, Glasgow is a great choice.
Birmingham tied with Glasgow for second place, also boasting four anime/Comicon conventions in the previous 12 months. There isn't a dedicated anime/manga convention in Birmingham, but there is the Birmingham Anime & Gaming Con for geeks who love Japanese comics and TV shows.
Best Performers: Live Action Role-Playing (LARP) Groups
| Overall Rank | City | Live action role playing (LARP) groups | Names |
| --- | --- | --- | --- |
| #12 | London | 10 | The London LARP Frothmeet, The Smoke, LOTNA, Green Cloaks, Labyrinthe, Curious Pastimes, World of Alrune, UK Masquerade, Heroquest, Forest Argent |
| #11 | Stoke-on-Trent | 7 | Curious Pastimes, Blood and Fire, Dark Colony, Orion Sphere, Herofest, Heros and Heroines, Heroquest |
| #24 | Derby | 7 | F&H, Curious Pastimes, Lorien Trust, Blood and Fire, Dark Colony, Orion Sphere, Heroquest |
| #5 | Bristol | 4 | F&H, Archaeus LARP, Field725, Bath LARP |
| #10 | Birmingham | 4 | F&H, Eerielight Games, University of Birmingham, Heroquest |
Live action role play, where you dress up as a fictional character and act out certain objectives in a group, is a popular pastime for geeks in the UK. The problem is, LARP groups are quite spread out, meaning this hobby often involves spending a lot of time driving to events if you live in the wrong place.
London has a lot of LARP groups available to join, although they are quite spread out around the city, so a car would still be useful if you plan to join more than just the group closest to you.
Stoke-on-Trent and Derby are fanstastic cities to live if you love LARP events. There are heaps of groups nearby, offering a wide variety of experiences for beginner and experienced players alike. Staffordshire is the heartland of LARP groups in the UK, with heaps of events going on nearly every weekend in the summer, and plenty more in winter, in the forests and parks around these two cities.
Best Performers: Science Museums
| Overall Rank | City | Science museums |
| --- | --- | --- |
| #12 | London | 4 |
| #1 | Liverpool | 3 |
| #10 | Birmingham | 3 |
| #19 | Sheffield | 3 |
| #32 | Cambridge | 3 |
London was once again the standout performer when it came to the number of science museums available to visit. The UK capital only came twelfth overall in our rankings because it's such an expensive place to live, but it's easy to see why geeks love to visit London.
Liverpool, Birmingham, Sheffield and Cambridge tied for second place, with three science and technology museums each to their name. If we had to pick which of these cities should have second place, it's probably Sheffield, which boasts the National Videogame Museum – an amazing place to visit if you're a gamer. 
Best Performers: Tech Jobs Per 1000 People
| Overall Rank | City | Tech jobs per 1000 people |
| --- | --- | --- |
| #23 | Slough | 13.4879 |
| #45 | Warrington | 4.3697 |
| #38 | Wigan | 4.2359 |
| #33 | Crawley | 3.4514 |
| #50 | Walsall | 3.2241 |
As a geek, it might be that your passion for technology extends into your work life, and you have a job in information technology. If you're choosing a city to live, it's good to have plenty of tech-related jobs available to choose from.
Slough was the undisputed champion when it comes to tech job availability. There are a huge number of information technology roles available on Indeed right now compared to the number of people in the city. Plus, the cost of rent is relatively low, making Slough a good choice if you're a geek working in IT who's looking for a place to move.
Resources
Press release
Download our complete press release as a Google Doc
Complete data
View a Google Sheet containing the entire dataset and score calculations
Contact Us
Tom Paton, founder, Broadband Savvy
tom(at)broadbandsavvy.com
*Data collected during August 2022. Broadband Savvy makes no warranties or guarantees as to the accuracy of the data provided.
About the author

Tyler built his first PC at the age of 12, and since then, he's become obsessed with all things networking and internet-related. He's a massive gamer, loves Rocket League, and also plays Sunday League football.